These are not your grandma's Brussels sprouts! These Balsamic Brussel Sprouts are roasted and drizzled with a balsamic reduction, for an addictive sweet and savory side dish.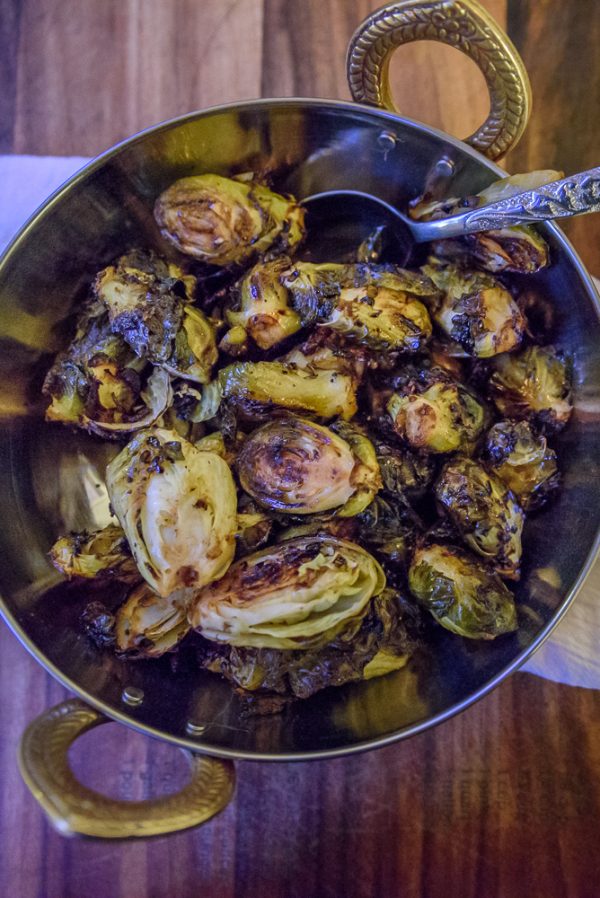 So first things first - is it "brussel sprouts" or "brussels sprouts"? I admit that I had to consult the Grammarist on this one.
It turns out that the modern brussels sprout is derived from a species originally grown in Belgium, and is named after the capital city of Brussels.
And so the correct name for this little veggie is "Brussels sprout".
That being said, most people refer to it as the "brussel sprout" anyway. In fact, that's also the only way most people search for it on the internet, so you will see that I use the terms interchangeably - no point in publishing recipes that readers can't find when they search.
So now that our grammar lesson is over, let's move on to the food.
Most of us remember brussels sprouts as a vaguely cabbage-like vegetable that people tried to make us eat as kids. It may have been boiled or steamed, and generally smelled funky and had little flavor. Sound about right?
These balsamic brussel sprouts will completely change your mind.
It turns out that brussels sprouts are actually pretty awesome. They stand up well too being roasted, baked, grilled, you name it. And their relatively neutral flavor makes them easy to pair with lots of different sauces and toppings.
While you're here, be sure to grab our FREE 5-Day Meatless Meal Plan. It's packed with tasty recipes to make vegetarian cooking easy and delicious!
Let's make Roasted Balsamic Brussel Sprouts!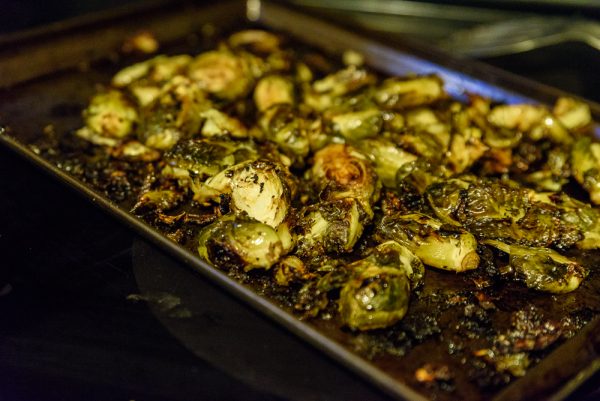 In addition to being completely addictive, these balsamic brussel sprouts are one of the easiest side dishes you can make. Sometimes, I actually eat them as a meal all on their own.
Start off with fresh brussel sprouts. Give them a good rinse under running water, and slice them each in half. If they are really big, you can slice them into quarters - you just want bite sized pieces.
Spread them all out on a big baking sheet. You can line the pan with aluminum foil, which will keep you from having to clean a sticky mess off your pan later. Toss with olive oil and salt and pepper - and roast everything in the oven.
While those are roasting, you want to make a really simple balsamic reduction. Take a good quality balsamic vinegar, and heat it to a boil on the stove.
Let it simmer until it is reduced by at least half. The more it reduces, the sweeter and more flavorful the balsamic becomes. Just be careful not to go overboard, or you will be left with sticky syrup.
If you want to make this even easier, you can cheat and buy a pre-prepared balsamic reduction. These are pretty common now, and frankly they taste just as good as the homemade stuff but with a lot less mess.
I make my own when I have the time, but like to keep a bottle in my fridge anyway. It's handy to have around for adding a dash of flavor to an otherwise bland dish.
When the brussel sprouts are almost finished roasting, toss them with the balsamic vinegar reduction and cook just a few minutes longer. The brussels sprouts will be sweet and caramelized and the slightly tangy balsamic is a perfect match.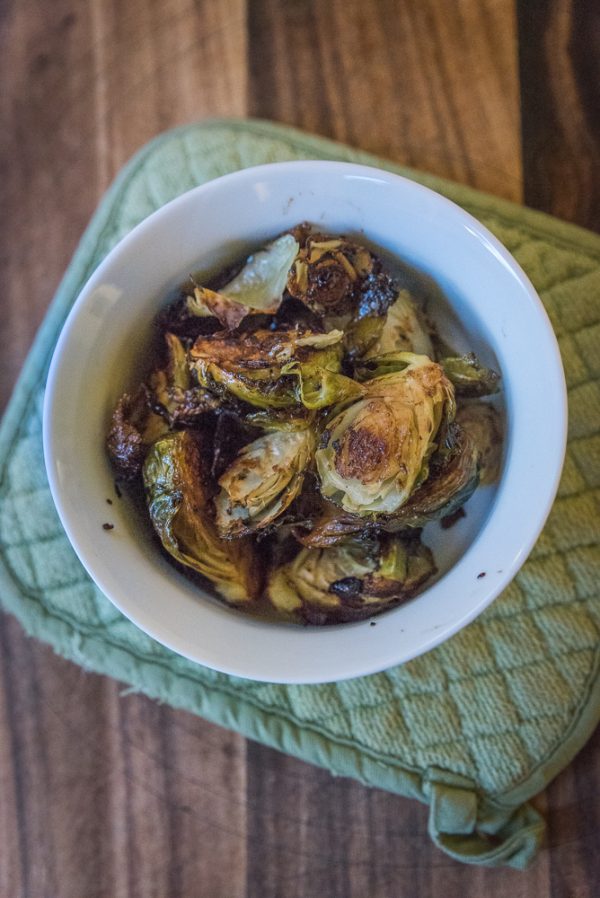 Want more delicious recipes?
Make sure you grab a copy of my free vegan toolkit - packed with my top vegan recipes, cheat sheets, pantry guides, and more.
Recipe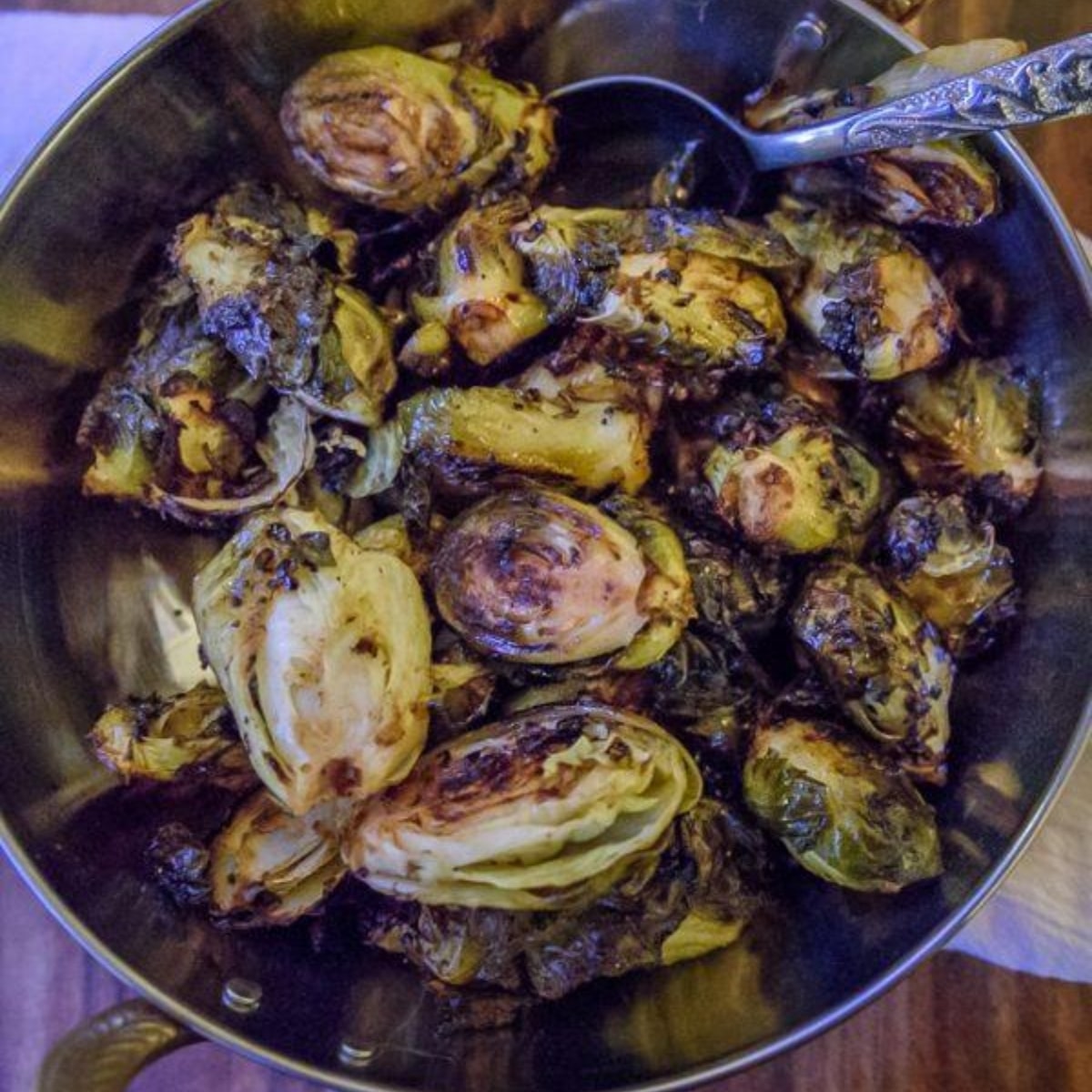 Instructions
Chop brussel sprouts in half. If they are particularly large, you can slice them into quarters. The goal is to have bite size pieces for roasting.

Line a baking sheet with a piece of aluminum foil. Preheat oven to 375 degrees (F).

Spread brussel sprouts on baking sheet in a single layer. Toss brussels sprouts with olive oil, salt, and pepper.

Roast in the oven for 20-25 minutes. They are done when they start to caramelize.

In the meantime, heat balsamic vinegar in a small sauce pot. Bring to a simmer and allow to cook until the liquid is reduced by roughly half. Be careful not to overdo it, or you will get a sticky mess!

Remove brussel sprouts from oven, and toss with balsamic reduction. Roast for additional 2-3 minutes. Serve hot!
Nutrition
Calories:
310
kcal
Carbohydrates:
37
g
Protein:
6
g
Fat:
14
g
Saturated Fat:
2
g
Sodium:
1234
mg
Potassium:
804
mg
Fiber:
6
g
Sugar:
22
g
Vitamin A:
1280
IU
Vitamin C:
144.6
mg
Calcium:
106
mg
Iron:
3.3
mg
Craving more veg-friendly recipes?
Shop our collection of vegetarian and vegan cookbooks, including our new Vegan Thanksgiving and Vegan Christmas cookbooks!
Did you make this recipe?
I'd love to see! Share your photo on Instagram and use the hashtag #deliciouseveryday for a chance to be featured or share it on my Facebook page.
And don't forget to follow Oh My Veggies on Pinterest, Facebook and Instagram for all of the latest news and competitions.