This Roasted Cauliflower Head recipe is a wonderful way to enjoy cauliflower as baking it really amps up the flavour. Bathed in an nutty Tahini Sauce with gorgeously fragrant ras el hanout topped with pomegranate seeds and toasted almonds its a far cry from the cauliflower you pushed around your plate as a child!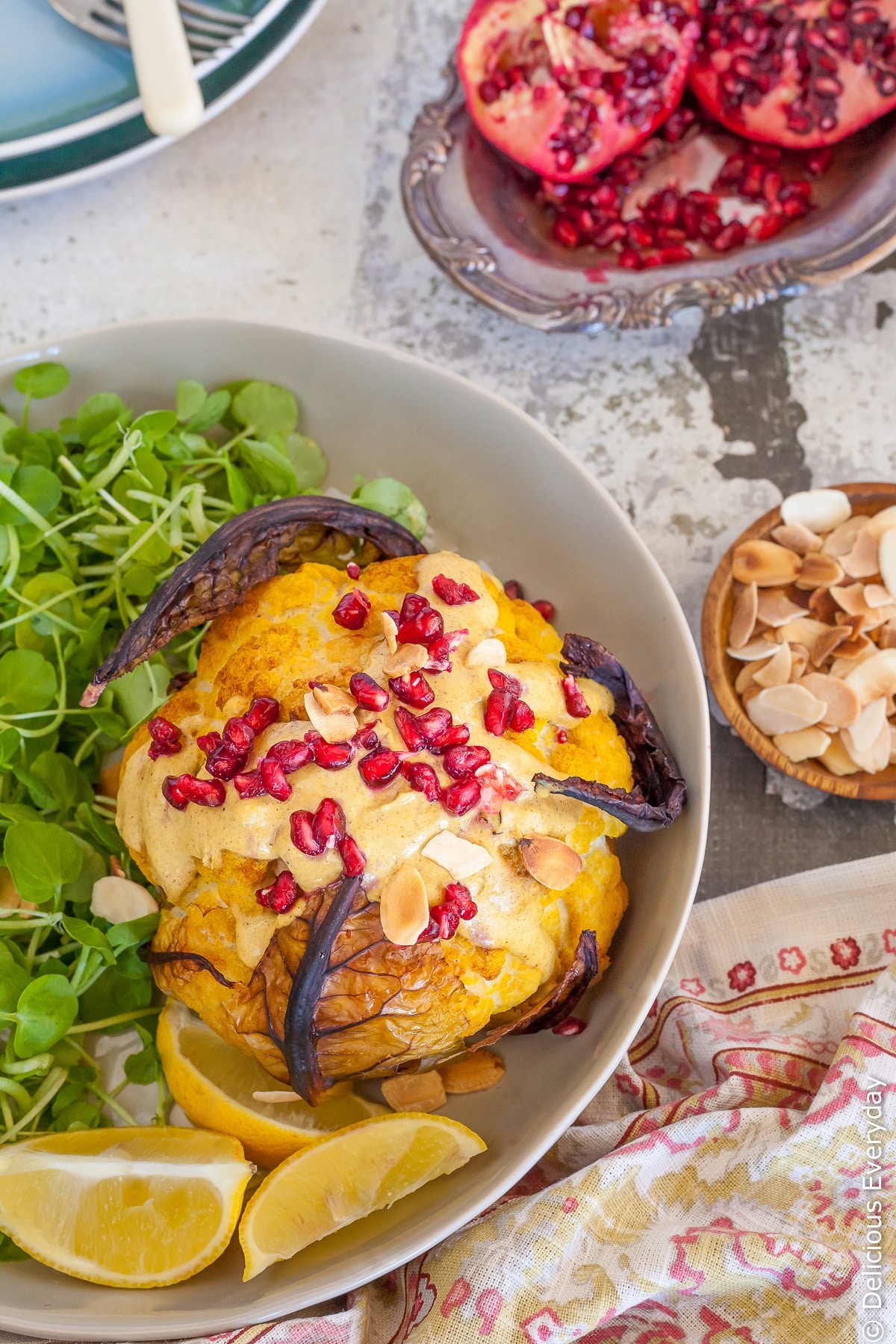 Our likes and dislikes, food-wise, begin in our childhood.
Cauliflower was one of those vegetables I hated growing up.
I put a lot of that down to how it was cooked. Back then, you really only boiled it. Not only did is smell unpleasant while it bubbled away on the stove, it tasted watery and horrible when it arrived on your plate.
Thankfully over the last few years cauliflower has seen a resurgence in popularity thanks to the delicious, new and inventive recipes. And this whole roasted cauliflower with tahini ras el hanout sauce is no exception.
I first had a version of this last week, when we dined at Gerard's Bistro, for a family lunch. I loved the slightly crispy cauliflower drenched in the nutty and fragrant sauce. And while I wasn't lucky enough to obtain the recipe from the chef, I immediately knew I had to make a version of my own.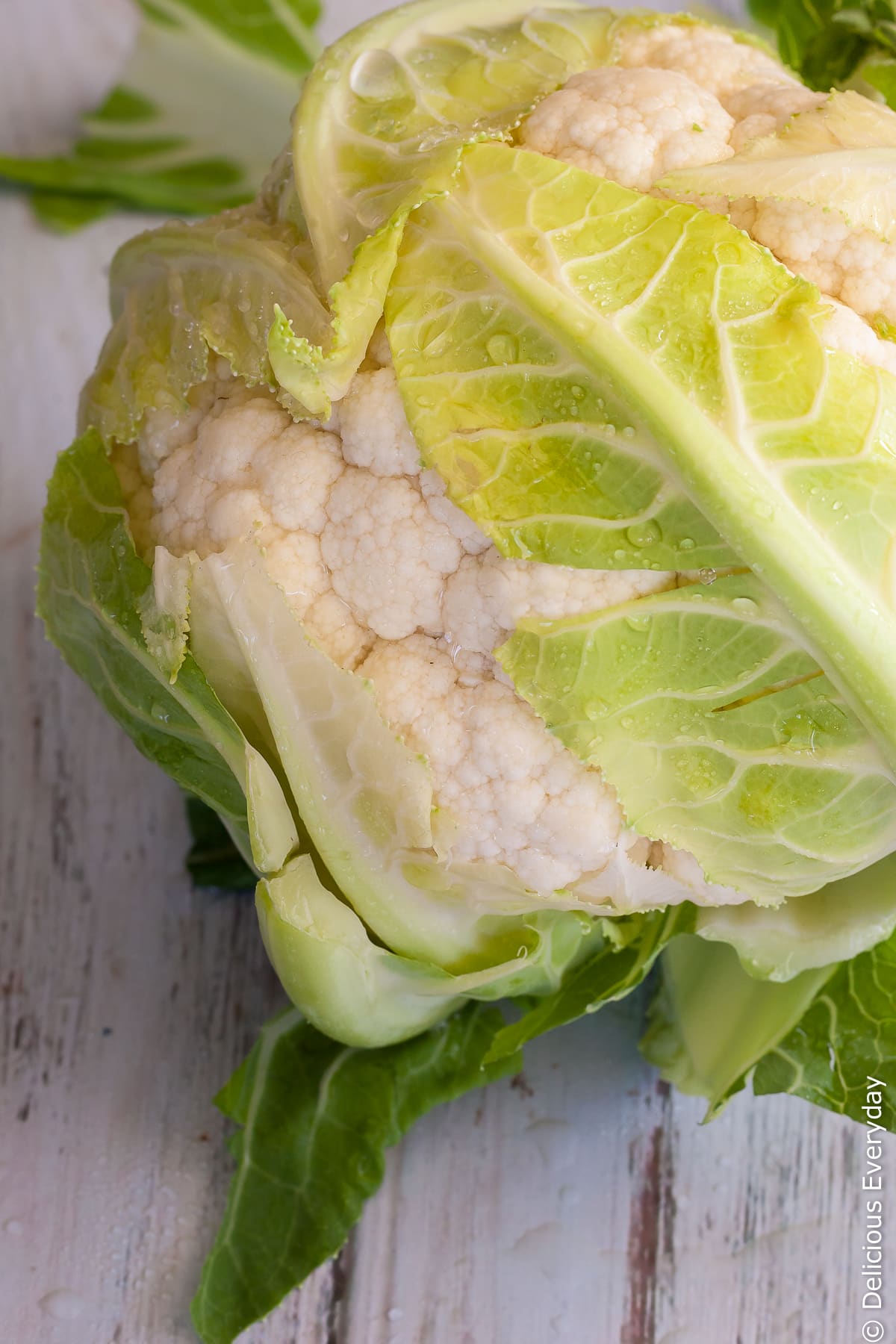 To ensure the cauliflower gets cooked through, and to infuse some additional flavours, I opted for a quick poach in vegetable stock.
The stock is infused with turmeric, cinnamon, cloves, cardamom and smoked paprika. After draining the cauliflower is then roasted in a very hot oven, becoming lovely and crisp and slightly caramelised.
Topping the roasted cauliflower head is a super easy sauce. A mixture of nutty tahini, lemon juice, ras el hanout and a slight pinch of chili powder. The finishing touch are some beautiful jewelled pomegranate seeds and toasted flaked almonds.
I suggest serving this roasted cauliflower head with perhaps some rice or quinoa (which you can cook in the left over poaching stock) flecked with a few dates and pistachios and caramelised onions. A few salad leaves would be great too!
So tell me, have you always loved cauliflower or did you only come to enjoy it over the last few years?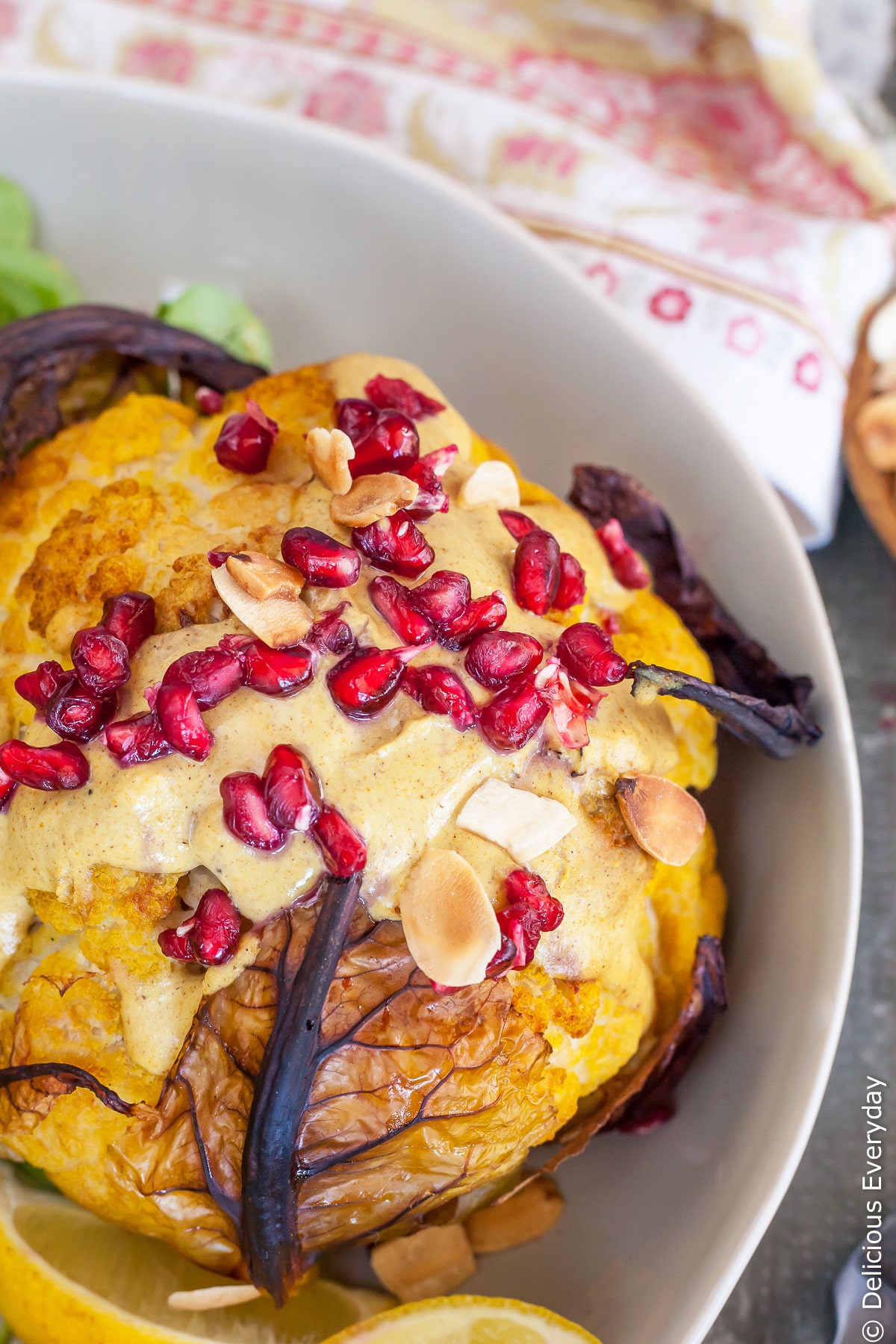 Recipe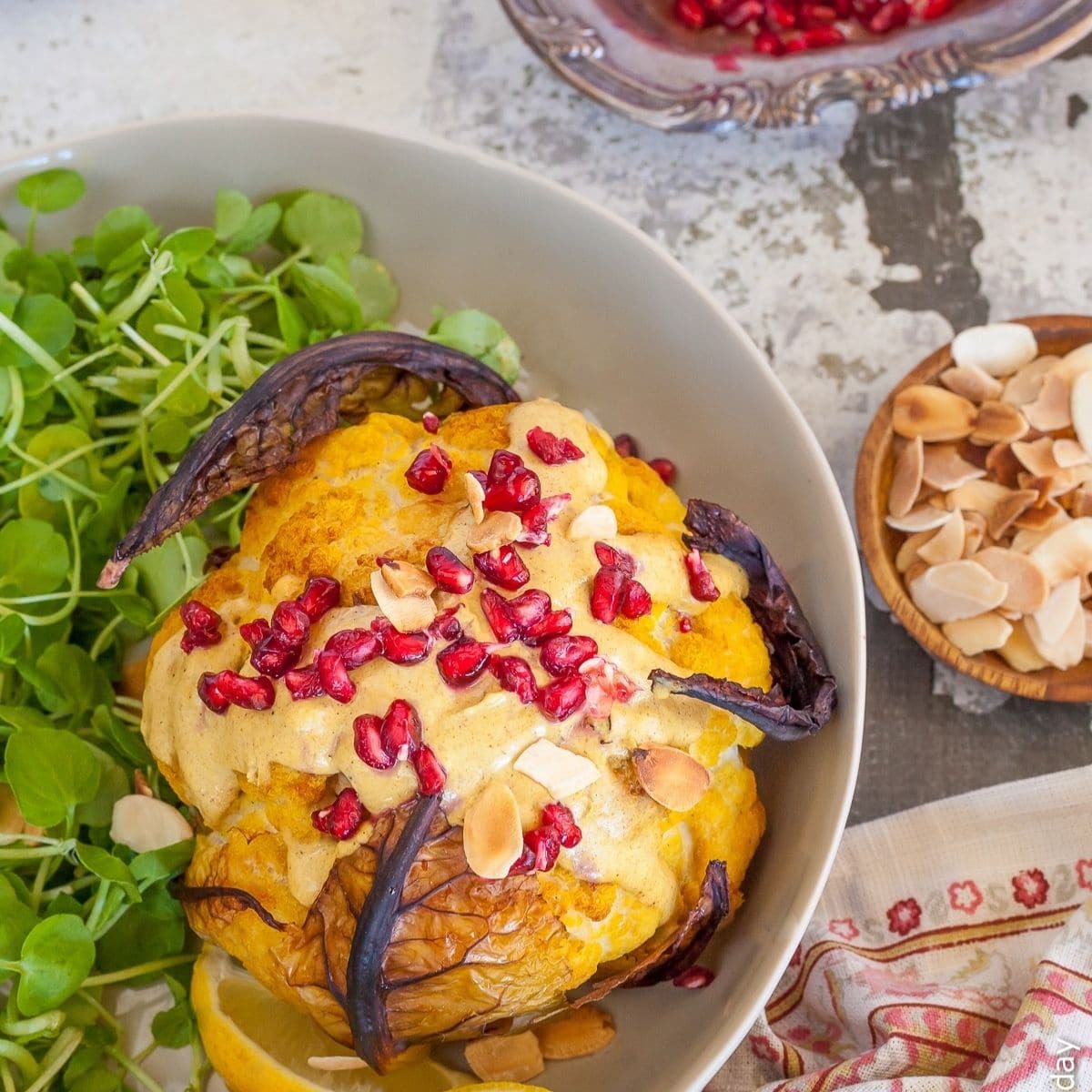 Servings:
2
as a main with a side or 4 as a side dish.
Ingredients
SAUCE:
4

tbs

tahini

3

tbs

lemon juice

1

tbs

ras el hanout

pinch of chili powder

⅓

cup

to ½ water
TO SERVE:
seeds from half a pomegranate

½

cup

toasted flaked almonds

lemon wedges
Instructions
Preheat the oven to 240 celsius (465 fahrenheit) and line a small roasting pan with baking paper.

Cut the leafy base from the cauliflower, leaving enough of the stalk in tact to keep the cauliflower whole. I like to keep a couple of the inner leaves as I think they look pretty, but whether you do this is totally up to you.

Place the vegetable stock and all of the spices in a saucepan that is just big enough to hold the cauliflower and liquid. Bring to a boil and add the cauliflower and reduce to low, and cover with a lid. Poach the cauliflower in vegetable stock for 10 minutes. The goal here is to not make the cauliflower soft otherwise it turns mushy on the inside when roasted. 10 minutes should be enough to soften it slightly.

Remove the cauliflower and drain. Shake it carefully to remove any excess liquid.

Place the cauliflower in the roasting pan and lightly rub with olive oil before seasoning well with salt and pepper. Bake for around 40 minutes, rotating the pan every 10 minutes or so to make sure it cooks evenly. Roast until the cauliflower is a deep golden and slightly dark in some patches. You can take it further and darken it more if you like, for a smokier crunchier result, although a more golden result looks much more appetising.

While the cauliflower is roasting make the sauce. Combine all of the ingredients and ⅓ cup of water in a bowl and whisk until smooth. Check the sauce consistency, and if it is too thick to be pourable add the remaining water, and whisk until incorporated.

Remove the cauliflower from the oven and place on a serving dish. Drizzle with the sauce and top with the pomegranate seeds and flaked almonds. Add lemon wedges on the side and serve immediately.
Notes
True cinnamon is delicate and breakable, so you shouldn't have any problems breaking it in half. If you can't break yours you probably have cassia bark, which imparts similar flavours and can be used as a substitute. Just keep it whole.
The leftover poaching liquid can be used to cook long grain rice or quinoa to serve on the side. To add a bit of interest to the rice or quinoa add some chopped dates, fried onions and roughly chopped pistachios. If you have any leftover stock from cooking the rice or quinoa you can use it to make my red lentil dahl which is exactly what I did and it was fabulous as the flavour profiles are very similar.
Nutrition
Calories:
482
kcal
Carbohydrates:
35
g
Protein:
19
g
Fat:
35
g
Saturated Fat:
3
g
Sodium:
104
mg
Potassium:
1326
mg
Fiber:
14
g
Sugar:
7
g
Vitamin A:
350
IU
Vitamin C:
149.4
mg
Calcium:
256
mg
Iron:
6.1
mg
Craving more veg-friendly recipes?
Shop our collection of vegetarian and vegan cookbooks, including our new Vegan Thanksgiving and Vegan Christmas cookbooks!
Have you tried this recipe?
I love to see your creations on Instagram, Facebook, & Twitter! If you make this recipe, snap a pic and hashtag it #deliciouseveryday.