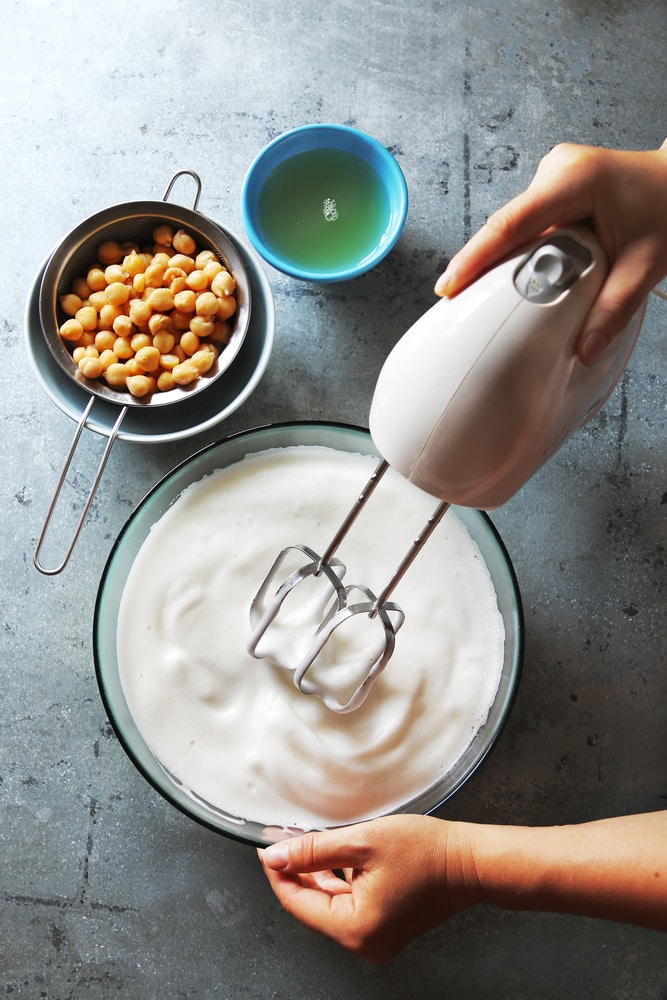 There are several vegan replacements for eggs out there, but until recently, there was one thing none of them could do: whip up into a foamy, egg white-like consistency. This changed in 2015 when it was discovered that the liquid from cooked or canned chickpeas, or aquafaba, could be reserved and beaten into a foam that looks and performs just like egg whites. (If you're a food science nerd like I am, you'll want to check out this history of aquafaba as an egg replacer.)
To make aquafaba into an egg white substitute, you'll start with a room temperature can of chickpeas. Separate the chickpeas from the liquid; use an electric mixer to beat the liquid until stiff peaks form. Depending on the recipe you're using the aquafaba in, you'll then whisk in sugar and other flavorings.
The amazing thing about aquafaba is that it really behaves just like egg whites. It's exciting because it opens up so many possibilities for vegan cooks, without requiring complicated techniques or highly processed, hard-to-find substitutes. Bloggers have been experimenting with aquafaba since it gained popularity last year and have used it to create:
S'mores
Latkes
3-Ingredient Chocolate Mousse
Buttercream Frosting
Tofu Katsu
Sugar Cookies
Aioli
Financiers
Macarons
Ice Cream
Donuts
Hawaiian Bread
Royal Icing for Gingerbread Houses
Clafoutis
Whipped Cream
Brookies
Vegetable Tempura
Pavlovas
Marshmallow Fluff
Cheesecake
(If you prefer your recipes in book form, there's also a new aquafaba cookbook.)
There's an active online community devoted to coming up with new ideas for using aquafaba, so if you're intrigued and you enjoy cooking, be sure to join in! Because aquafaba as an egg substitute is such a new idea, people are constantly discovering new ways to use it.
Aquafaba photo via Shutterstock