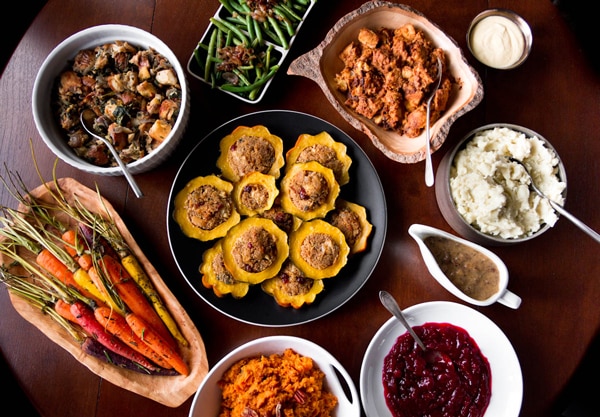 I hope you've enjoyed the week of vegetarian Thanksgiving posts that I put together with Rikki!
I've gotten so used to working on my own as a blogger that it's nice to collaborate with someone else once in a while and see my food through another photographer's eyes (or camera lens).
And Rikki isn't just an amazing photographer, but she's also a great friend and mentor who totally gets my food, so I can't imagine working with anyone else.
I'm totally thrilled with how all of her photos turned out in these vegetarian recipes for a vegetarian thanksgiving menu!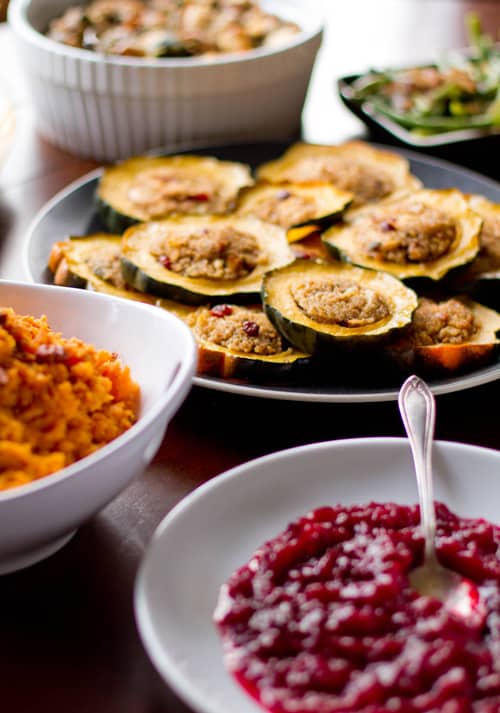 Here's our complete menu of vegetarian Thanksgiving recipes:

Roasted acorn squash rings stuffed with quinoa, apples, cranberries, sage, and cheddar. A main dish for vegetarians that also works as a side dish for everyone else!

Vanilla-scented sweet potatoes lightly sweetened with maple syrup and topped with candied pecans. The perfect alternative to the typical marshmallow-topped sweet potato casserole.

Heirloom carrots make this simple Thanksgiving side dish a showstopper.

Tender roasted green beans are topped with caramelized shallots.

Don't forget the gravy! This Wild Mushroom Gravy is the perfect accompaniment to your favorite mashed potato recipe.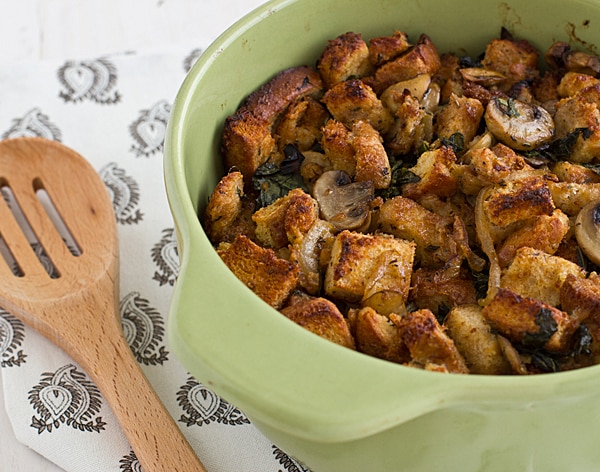 This is my favorite recipe from our Thanksgiving line-up. I'm usually not a big stuffing fan, but between the Whole Grain bread and fresh veggies, this was the best gluten free stuffing–no, the best stuffing, period–I've ever had.

The secret ingredient in this cranberry sauce is ginger ale! Don't be too intimidated to make your own cranberry sauce--it couldn't be easier.

Make the creme anglaise a day in advance and let the bread pudding cook while you eat dinner and this dessert is completely stress-free. And since it's made in the slow cooker, it frees up space in the oven too!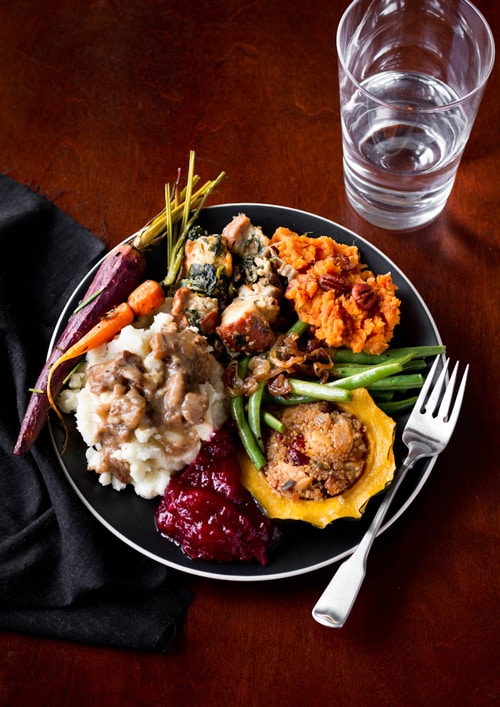 I hope through my recipes and Rikki's stunning photography, we've been able to show you that a vegetarian Thanksgiving dinner doesn't have to be about sacrifice or bland food or sad meat substitutes.
As I like to say, when the food you're eating is good, you focus on what's on your plate, not what's missing from it! Thanksgiving is about gratitude, family, and friends—not turkey.
And if you're still planning that menu, be sure to check out our new Vegan Thanksgiving Cookbook too!