Homemade cranberry sauce is so easy to make! This Ginger Orange Cranberry Sauce recipe is flavored with ginger ale and oranges for a deliciously sweet and zesty combo.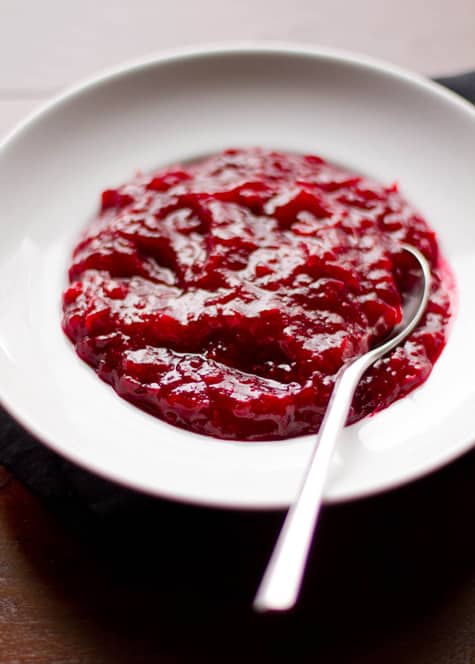 Jump to:
This cranberry sauce is perfect for Thanksgiving. Be sure to make extra so you have enough for this leftover cranberry sauce bread. And if you want an impressive crowd-pleasing appetizer, serve it over this Cranberry Baked Brie!
Canned Cranberry Sauce
I know this is very uncool of me, but I love canned cranberry sauce. Love it! When Thanksgiving is over and it's on clearance, I always buy a few cans.
I love the satisfying PLLLLOP! it makes as it comes out of the can and I love how it stands up on its own and how you can carve it up into slices, just like a turkey. It is a thing of beauty, cranberry sauce is.

But just because I enjoy the canned stuff, doesn't mean I don't appreciate homemade cranberry sauce too. It's kind of like apples and oranges, though. Two different things! And I love them for different reasons.
Homemade Cranberry Sauce
Now, if you haven't made your own cranberry sauce before, you might be thinking that it's really complicated and not something you'd be able to do in your own kitchen.
That's what I used to think, anyway.
But cranberry sauce is one of those magical things that seems like it should be really difficult, but it's way easier than you'd think.
Seriously, guys, if you have the skill set required to open up a can of soup and heat it on the stove, you can make cranberry sauce. I'm pretty sure if he had thumbs, my one-eyed cat could make cranberry sauce.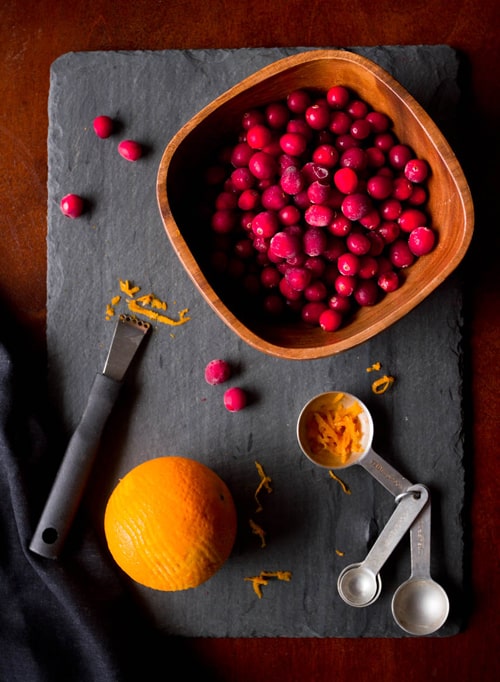 So make your own cranberry sauce for Thanksgiving this year!
I got the inspiration for this recipe from Smedette's Amaretto Cranberry Sauce. Amaretto is not something I usually have on hand and, being cheap, I didn't want to buy it just for one recipe.
But she mentioned that you could use ginger ale instead and since I'm a big fan of ginger, that seemed like a good idea to me.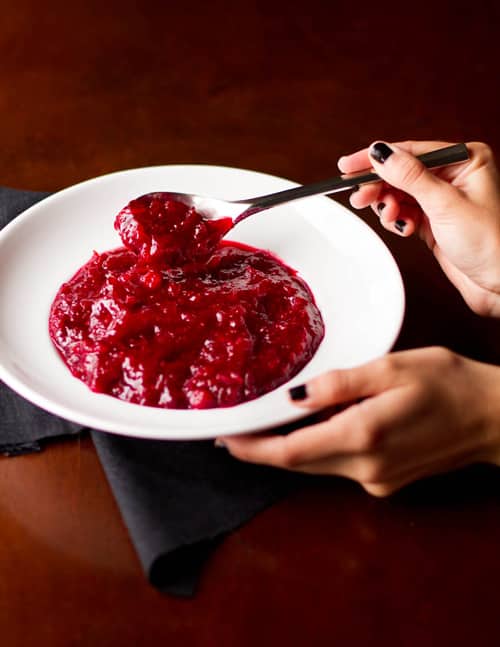 The best part about making your own cranberry sauce is the cranberries popping as you cook them. Yes, they pop!
And if you think the PLLLLOP! of cranberry sauce exiting a can is satisfying, just wait till you hear cranberries burst open!
Because cranberries are naturally full of pectin (which is released when they pop), you don't need to add anything to make the sauce jelly-like—it happens on its own.
More Recipes Ideas
If you're pulling together your holiday menu, be sure to check out my complete Vegan Thanksgiving Cookbook and these other tasty ideas:
Recipe by me, photos by Rikki Snyder.
Recipe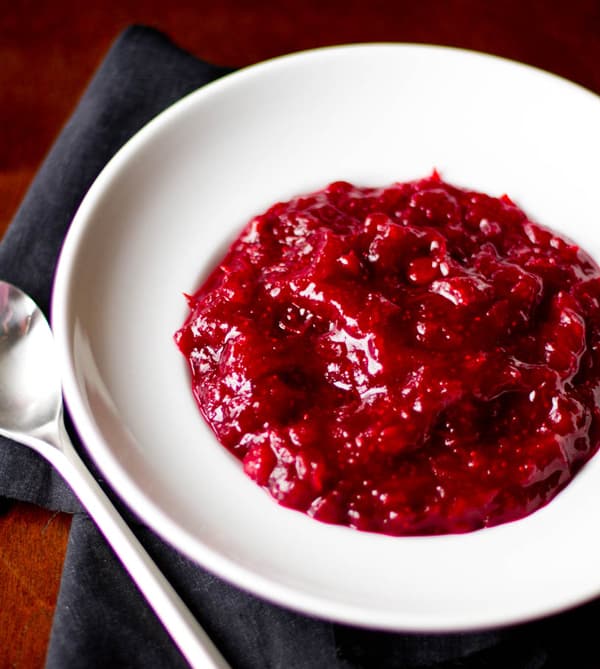 Ingredients
8

oz

fresh or frozen cranberries

½

cup

ginger beer or ale

¼

cup

freshly-squeezed orange juice

1

tbsp

orange zest
Instructions
Combine all ingredients in a medium saucepan. Bring to a boil over medium high heat.

Reduce heat to low and simmer 10 minutes, stirring often and using the back of a wooden spoon to smash cranberries against side of pan.

Remove from heat; sauce will thicken as it cools.
Notes
For a strong ginger flavor, use an extra-spicy ginger ale or beer. Alternately, you can use a weaker ginger ale and throw in a few slices of ginger as the sauce cooks. Be sure to remove them before serving, though!
Nutrition
Calories:
94
kcal
Carbohydrates:
24
g
Protein:
1
g
Fat:
1
g
Saturated Fat:
1
g
Polyunsaturated Fat:
1
g
Monounsaturated Fat:
1
g
Sodium:
2
mg
Potassium:
55
mg
Fiber:
2
g
Sugar:
21
g
Vitamin A:
48
IU
Vitamin C:
12
mg
Calcium:
7
mg
Iron:
1
mg
Craving more veg-friendly recipes?
Shop our collection of vegetarian and vegan cookbooks, including our new Vegan Thanksgiving and Vegan Christmas cookbooks!