One of my favorite slow cooker discoveries has been that you can make incredible mashed potatoes in them. No peeling (unless you want to), no chopping or boiling—or pots boiling over on the stove, for that matter. Just plop the potatoes in the slow cooker along with a little liquid, turn the slow cooker on, wait, mash, done. What more could you ask for in a recipe?
I first tried slow cooker mashed potatoes last year, and I was immediately hooked on the method. The basic formula, I've found, is this: 2 pounds of potatoes + ¼ cup of liquid (water or broth) + 2 tablespoons of butter + a little salt. For this recipe, I doubled the quantities so the result will feed a larger crowd (think Thanksgiving).
Once the potatoes are tender—about 4–5 hours on high, more like 7–8 on low—you mash them right in the slow cooker and then add milk or cream, a little more salt and maybe some pepper, and anything else you'd like. And that's it!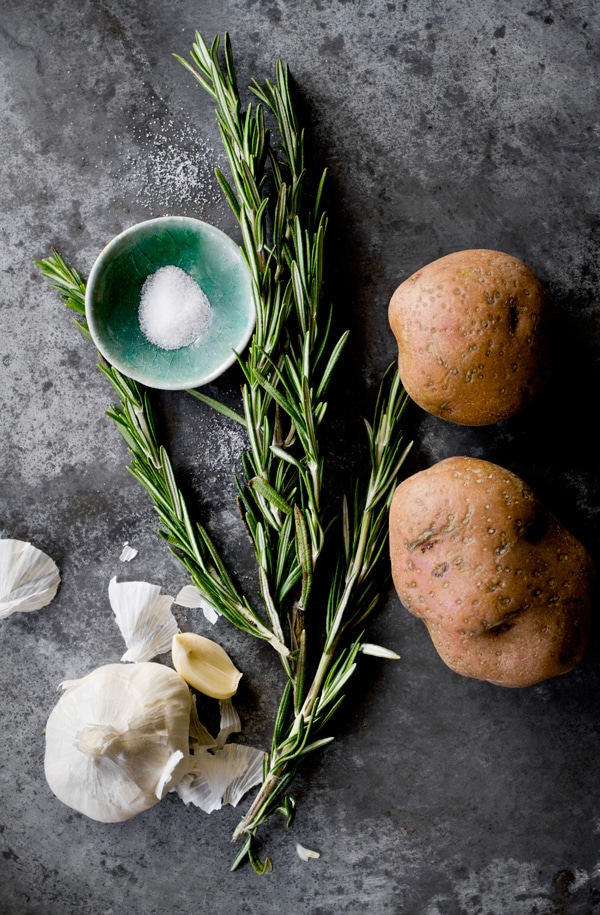 I especially love working garlic into the equation. Just add whole peeled cloves up front, along with the potatoes; the garlic cooks up tender and mellow (no roasting separately). Seriously. Easy. What's even easier? When you opt for thin-skinned potatoes like red potatoes or Yukon golds, you don't even have to peel them. Just scrub, cut into chunks and throw in the slow cooker. Yes, you have bits of peel in the final product, but personally I find that to be a very good thing. You can certainly peel them if you prefer!
For these Slow Cooker Rosemary Garlic Mashed Potatoes, Yukon gold potatoes and garlic simmer with rosemary for herb-infused nirvana. I like to finish these rich mashed potatoes with half-and-half for creaminess and a nice dollop of sour cream for a little "mmmm, what is that?" tang. Creamy goodness, right from the slow cooker. Just one more reason why slow cookers rock.
Photos by Rikki Snyder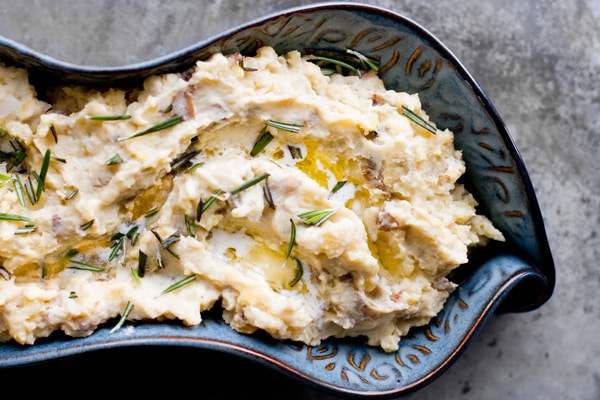 Ingredients
10

medium garlic cloves

peeled

4

lbs

Yukon gold potatoes

scrubbed clean and cut into 2-inch pieces

¼

cup

butter

cut into large cubes + more for serving if desired

1

tbsp

chopped fresh rosemary + more for garnish

1

tsp

kosher salt

½

cup

water

½

–¾ cup half-and-half

½

cup

sour cream

additional salt and freshly ground black pepper

to taste
Instructions
Place the garlic in the bottom of a 3 ½-quart (or larger) slow cooker. Top with the potatoes. Dot with butter and sprinkle with the rosemary and salt. Pour the water over the top.

Cook on high for 3–4 hours or on low for 6–8 hours, or until the potatoes and garlic are very tender.

Using a

potato masher

or sturdy fork, mash the potatoes. You may need to remove the lid and let them cool a bit before mashing. Add ½ cup half-and-half and ½ cup sour cream; continue mashing and mixing until the potatoes reach your desired consistency. If they're too stiff, add a little more half-and-half, a tablespoon or two at a time. Taste and, if you like, add additional salt along with some freshly ground black pepper to taste.

Spoon into a bowl and top with a big pat of butter, if desired. Sprinkle with a few pinches of fresh rosemary.