So you bought a tube of polenta - now what? Here are a few of our favorite ways to use them.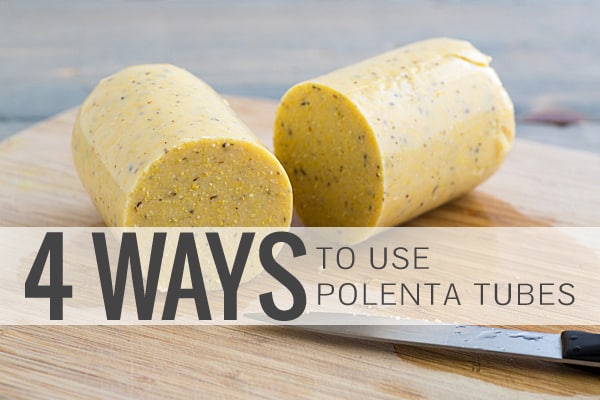 Jump to:
My first job as a wee vegetarian was cashiering and sweeping up the bulk aisle at the natural foods co-op near my high school. I remember feeling cool (okay, looking back, maybe "cool" is not the right word) because I was in the know about every healthy product on the market.
This was 1996, you guys; the general public barely knew what tofu was, let alone quinoa or cashew milk. Kale wasn't cool - in fact Beyoncé probably had yet to sample her first leaf!
There was always one item that confounded me, though: those big tubes of prepared polenta. Everyone bought them and I had no clue why, nor did I ever think to ask.
Well, one day I bought one and the lightbulb went off: These suckers are useful. Especially if you're gluten free, store-bought polenta is a lifesaver. Just slice; bake, grill or sauté; top; and serve.
No stirring, no scraping cornmeal out of your pan later. Here are four of my all time favorite ways to use polenta tubes:
Top It With Fixins!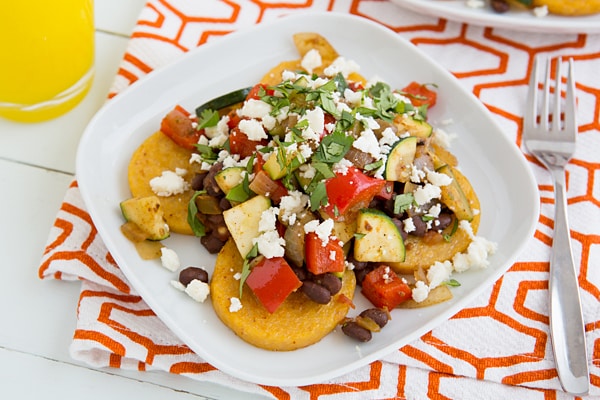 Oh, fixins. How I love thee. Crispy, golden-brown polenta slices are the perfect base for a Southwestern-style bean-and-veggie pile. This Mexican Baked Polenta with Salsa Beans and Sauteed Veggies is the kind of dinner you can eat every week and never get sick of.
Or use the delicious toppings from this Butternut Squash Polenta Bowl, but served it atop pan-friend polenta slices from the tube instead.
You can always sub in whatever beans, veggies and cheese you have on hand to create a different flavor profile too. Get creative!
You can even turn it into a dessert, like this vegan strawberry shortcake!
Make Fries With It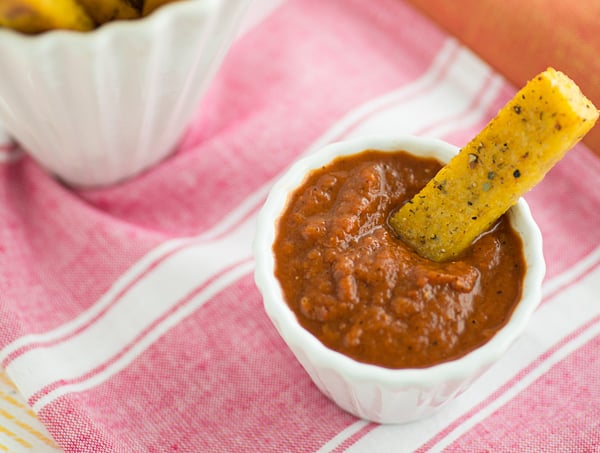 There are so many wonderful dips and sauces in the world, but sometimes you need to mix up your dipping vehicle. As much as I'd like to eat French fries all the time, that's just not very healthy or practical. Nor can a woman live on baby carrots for eternity!
Instead, I make baked polenta fries, which are perfect for dipping in tomato sauce (homemade or store-bought), aioli, mustard or any number of delicious condiments.
Try these out on the kids next time they ask for fries. Oh, and they're basically the easiest thing ever: Cut polenta into fries, bake.
Use It As "Bread"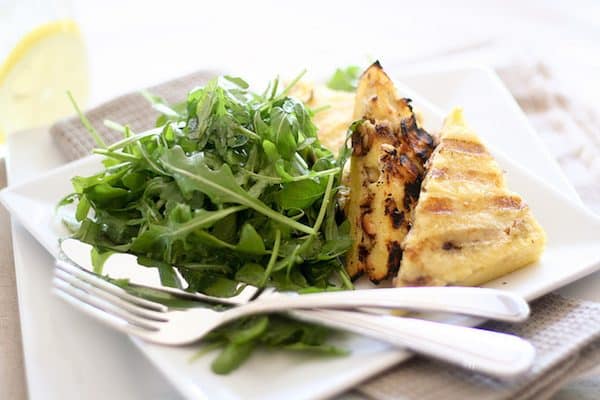 Polenta's crispy on the outside and soft on the inside when you bake or grill it, making it a perfect stand-in for toast. The Healthy Foodie's Grilled Polenta Stuffed with Bleu Cheese and Walnuts (pictured above) is like a polenta version of a beautifully browned grilled cheese.
Or try using it as a veggie-burger or sandwich "bun," like these Polenta Burger Buns. Here are some veggie burger recipes to get you started.
Make Lasagna With It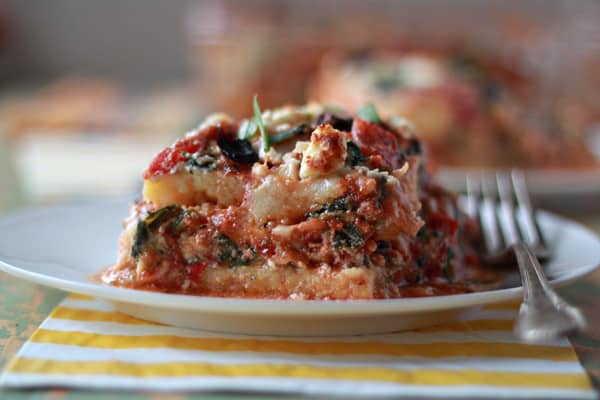 Swap in thin slices of polenta for the noodle layers in your favorite lasagna recipe (or give this Greek Polenta Lasagna a try) and you've got a filling, hearty casserole with all those comforting flavors that everybody loves. It freezes really well, too!
More Tasty Ideas
If you're loving these delicious recipes, be sure to check out these other tasty ideas too: