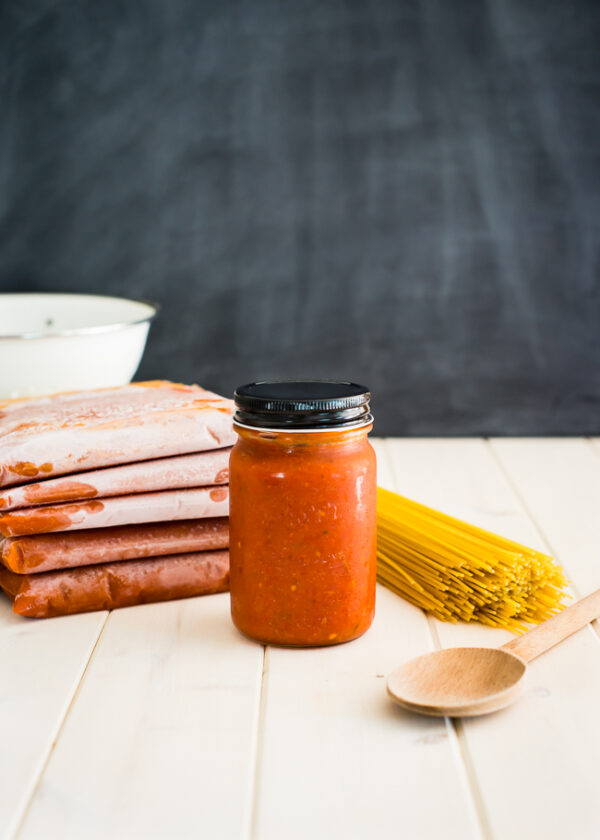 At the end of every summer, my grandmothers would preserve bushel after bushel of peaches, pears, tomatoes, jam, plums, etc, etc. I learned how to can from the best! And while I still enjoy canning when I have the time and desire (which isn't this year, sadly), I really love using my freezer to preserve food.
It's so easy to make and freeze fresh, homemade tomato sauce. If your garden is brimming with juicy, ripe tomatoes—or if your local farm stand is—this is a great way to preserve a bit of summer all winter long. Plus, I think it tastes better than opening up a can or jar.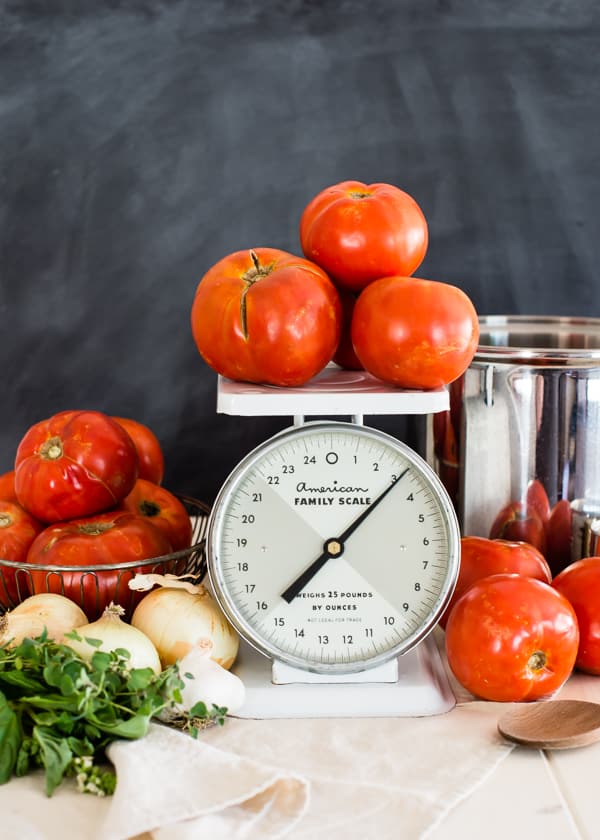 Let's get started!
The type of tomato you choose doesn't matter all that much. Just be sure to use ripe tomatoes that are brimming with flavor. Those woody, mealy, pinkish grocery store tomatoes won't cut it here. I use whatever is least expensive and looks the tastiest. You can even use a variety. For this particular sauce, I've used beefsteak tomatoes.
Ten pounds of tomatoes looks and sounds like a lot, but they will cook down. This amount should make about 8 pints. The recipe can be easily be doubled or tripled. I do this process several times, working in batches, because I don't like to overload my small kitchen all at once.
To help flavor the sauce, I add lots of diced onions, garlic and herbs. Fresh herbs are great, but dried will work, too. You can also add shredded or diced garden veggies like squash, carrots, celery, bell peppers, eggplant—whatever you like. I add a few small cans of tomato paste as well. This is optional, but it helps the sauce to thicken a bit more as it cooks and adds another layer of tomato flavor. But again, totally optional.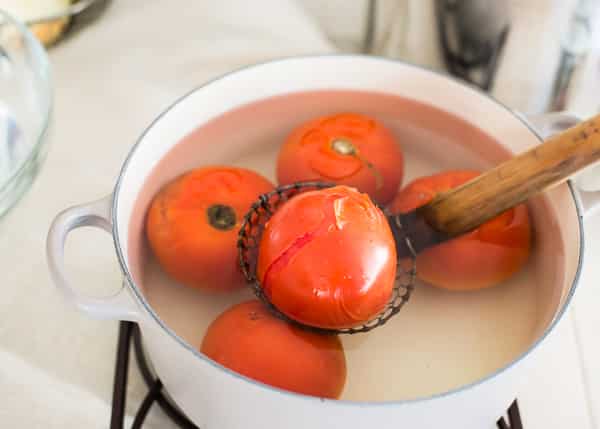 The easiest way to peel the tomatoes is to drop them into a pot of boiling water for about 30 seconds. The skins will slip right off. Let them cool a little bit to prevent burning your hands.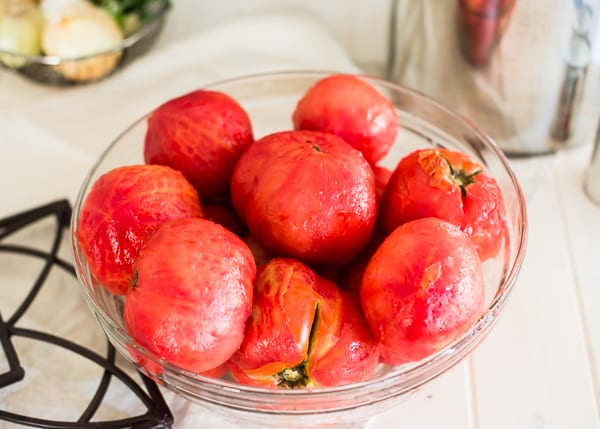 Next you can chop the tomatoes by hand, use a food processor or blender, squish them with your hands, or use a combination. (I don't need to tell you which one is more fun to do!) I like a combination of pureed and diced tomatoes, so that's what I do.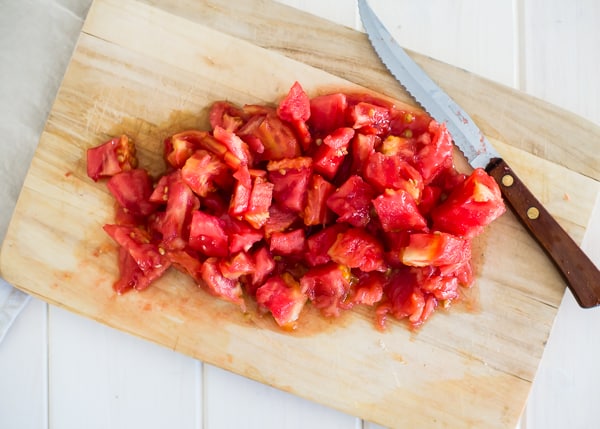 After that, it's just like making any tomato pasta sauce: heat the olive oil, add the onions and garlic, saute until they start to soften, stir in the tomato paste (if you're using it), then add the chopped tomatoes. If you're using fresh herbs, you'll add those at the end, but dried herbs can be added at this point.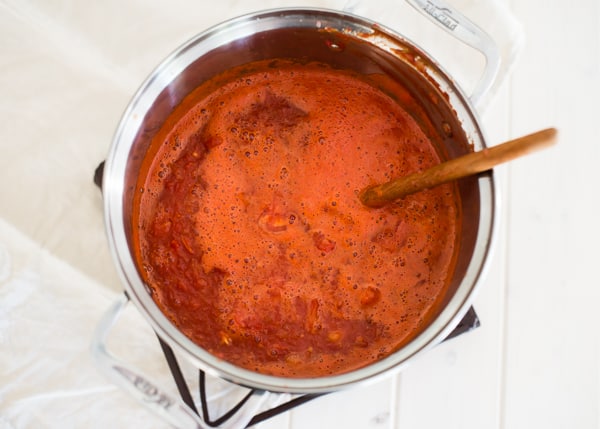 Bring the mixture to a simmer and let it cook for 1 ½ to 2 hours on medium-low heat. (You don't want the bottom to scorch.) This nice slow-and-low cooking will help bring out the flavor and soften the tomatoes. The extra liquid will evaporate as it cooks and the sauce will thicken and darken. It's magical.
Once it's cooked down to a consistency you like, add the fresh herbs, if using, and season well with salt and pepper. If needed, add a little sugar or honey to balance out the acidity. Then it needs to cool down to room temperature before freezing.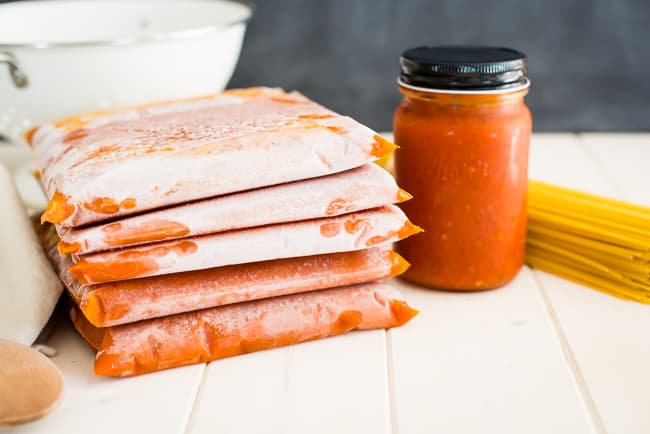 BPA-free plastic containers, resealable plastic freezer bags, or freezer-proof glass jars work great for freezing the sauce. Using plastic bags is a snap when it comes to thawing; they also stack nicely. Jars and plastic containers offer a little more protection against freezer burn, so they are better for longer-term freezing.
And that's it!
This post was originally published on September 9, 2014.
Recipe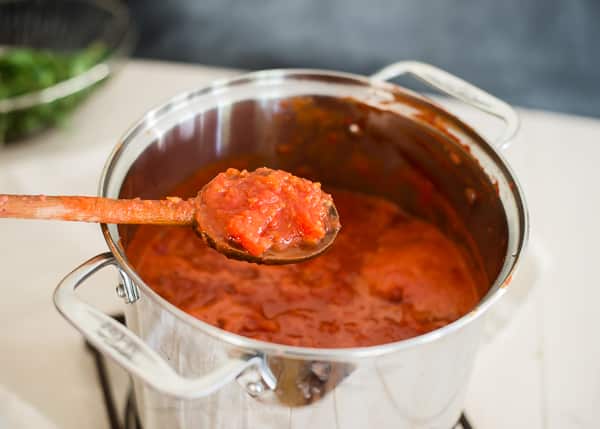 Ingredients
10-11

pounds

fresh tomatoes

6

tablespoons

olive oil

3

medium onions

diced

6

garlic cloves

minced

2

4-ounce cans tomato paste

1-3

teaspoons

sugar or honey

to taste (optional)

½

cup

chopped fresh herbs or 2 tablespoons dried Italian herbs

1

tablespoon

salt

plus more to taste

½

teaspoon

Black Pepper

plus more to taste
Instructions
Prepare the tomatoes:
Have a large bowl filled with cold water ready and waiting. Set a large pot of water over high heat and bring to a rolling boil. Working in batches, drop the tomatoes in one at a time, then let sit in the boiling water until the skins split open, 30-60 seconds. One at a time, remove tomatoes from hot water with a slotted spoon and transfer to the bowl of cold water. When cool enough to touch, slip off and discard the tomato skins and remove the hard stem end and core. Trim away any bad spots. Roughly chop the tomato using a food processor or blender, a knife, or by squishing with clean hands. Set aside.
Make the sauce:
Add the olive oil to an extra-large 8-10 quart stock pot over medium-high heat. When the oil is shimmering, add the diced onions. Cook, stirring frequently with a large wooden spoon, until onions start to soften and turn golden, about 8 minutes. Add the garlic and cook for another 30-60 seconds, stirring constantly so it doesn't burn. Add the tomato paste and cook for 1-2 minutes, stirring and scraping the bottom of the pan so it doesn't burn. Add the fresh tomatoes.

Bring just to a boil, then lower heat to medium-low and let simmer, uncovered, for 2-3 hours, until thickened. Stir occasionally to make sure the sauce at the bottom of the pan isn't burning.

Add sugar or honey, if desired, along with the herbs, salt, and pepper. Taste and add additional salt and pepper if needed.
Freeze the sauce:
Let the sauce cool completely. Pour into to freezer-safe containers or heavy-duty freezer bags. Label well with date and contents, then transfer to the freezer. The sauce will last 3-4 months, or longer if you use a deep freeze.
Notes
The yield is approximate, depending on how much the sauce cooks down.
Nutrition
Calories:
300
kcal
Carbohydrates:
39
g
Protein:
8
g
Fat:
16
g
Saturated Fat:
2
g
Polyunsaturated Fat:
2
g
Monounsaturated Fat:
10
g
Sodium:
1207
mg
Potassium:
1940
mg
Fiber:
12
g
Sugar:
23
g
Vitamin A:
6373
IU
Vitamin C:
109
mg
Calcium:
159
mg
Iron:
4
mg
Craving more veg-friendly recipes?
Shop our collection of vegetarian and vegan cookbooks, including our new Vegan Thanksgiving and Vegan Christmas cookbooks!