Top 10 gluten-free vegan pantry staples that I always like to have in my kitchen! This list contains many essentials for vegan/plantbased cooking, plus suggestions on where to use them.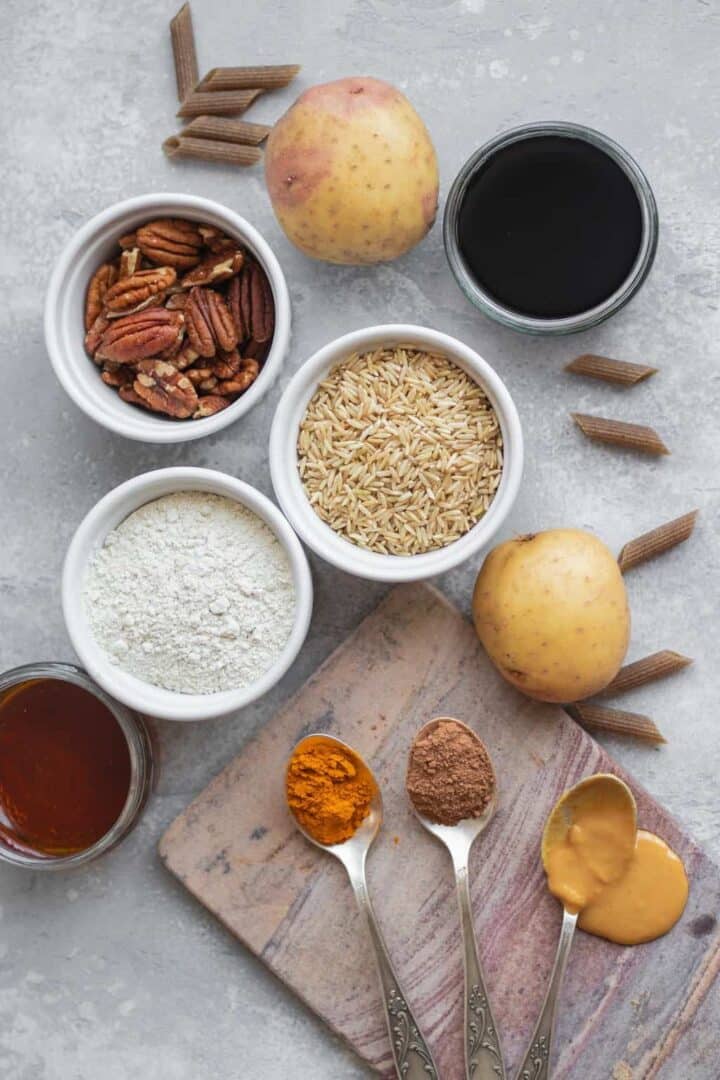 Having a well-stocked pantry is super important for many reasons. It will
Ensure you always have ingredients on hand to make a healthy and nourishing meal.
Save you money. You won't buy stuff you don't need or go out to eat as often, which tends to be far more expensive than cooking at home.
Allow you to create staple, go-to meals that you know and love.
Maybe you're transitioning to a vegan lifestyle. Maybe you're trying to eat more plantbased meals throughout the week, cut down on processed foods, or increase your intake of fruits and veggie. Regardless of your goal, it's important to familiarise yourself with a range of vegan pantry essentials.
The ingredients I listed below are long-life, mostly very budget friendly staples I have on hand as someone who eats homemade meals 90% of the time. My diet is also extremely varied. With a few exceptions, I don't like having the same meals over and over again. Cooking is a creative outlet to me, hence this blog exists in the first place. That being said, I often find that the same handful of ingredients make up the bulk of my go-to recipes!
As long as you have the essentials on hand, you can create an infinite amount of both sweet and savoury dishes. They can be fancier recipes or as simple as throwing ingredients into a bowl. Whichever one you prefer, switching things up is SO important when you're new to veganism/healthy eating. I always repeat this, because you don't want to end up thinking that this way of eating is boring and unsustainable!
Quick disclaimer: there's no single way to stock a vegan pantry. Staple items will vary depending on factors ranging from food preference to budget and additional dietary requirements. For example, I don't eat gluten, but people who don't have sensitivities will likely own items such as all-purpose flours and gluten-containing pastas. So, the list below is by no means exhaustive! The items are just suggestions for what to put on your grocery list.
My top 10 gluten-free vegan pantry staples
1. Beans and legumes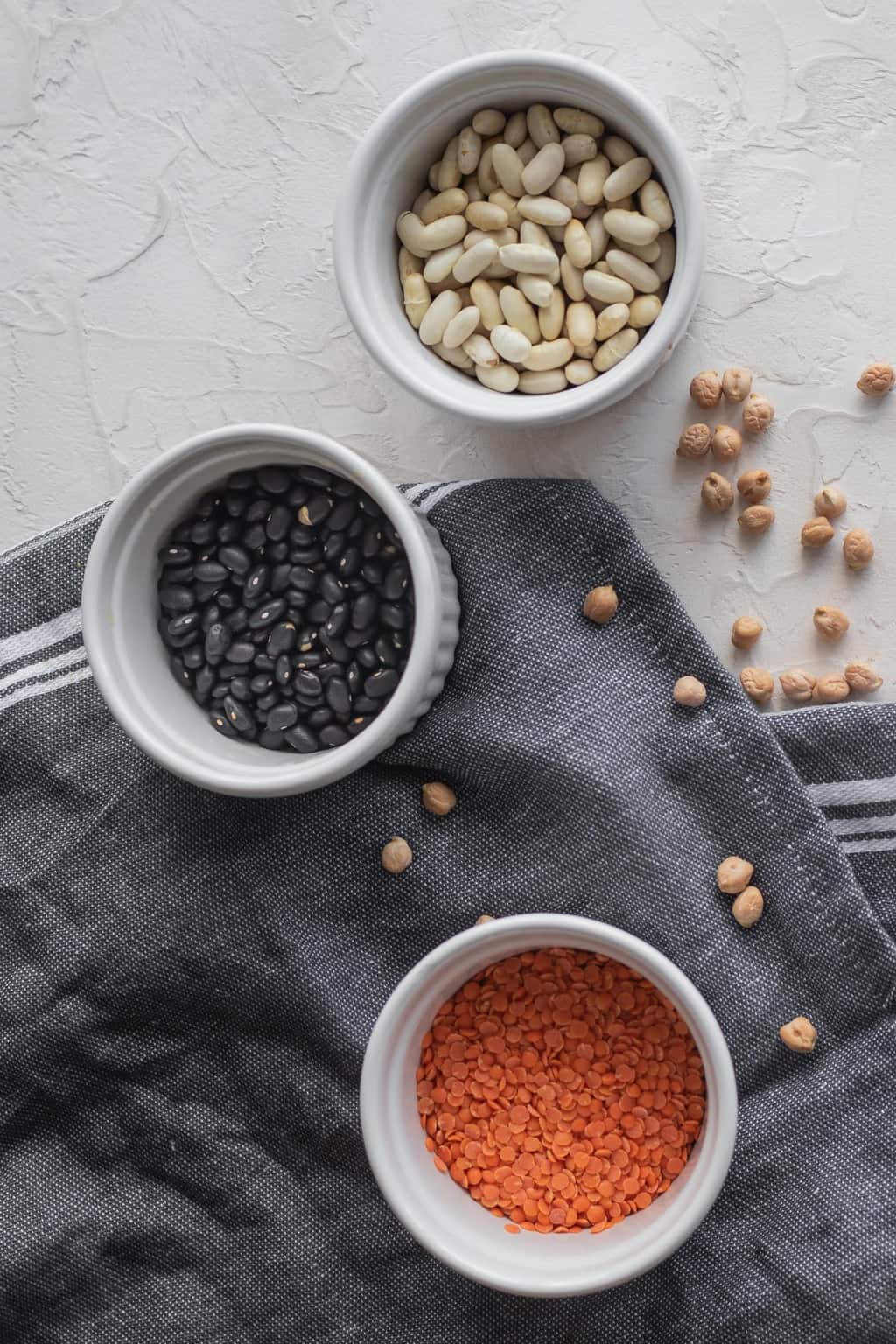 Because they're my favourite plant protein source, I eat beans and legumes pretty much every day. They carry a range of nutritional benefits, and are super versatile! I like to keep both canned and dry beans and legumes in my pantry. The dry variety tastes better, but canned can be helpful if you're short on time, or (like me) always forget to soak your beans overnight.
Some of my favourites include:
Black beans
Cannellini beans
Butter beans
Chickpeas
Edamame
Lentils: green and red
Split peas
Pinto beans
Black-eyed peas
Kidney beans
Haricot beans
Borlotti beans
What can I cook with beans and legumes?
So many dishes! Check out the following ideas:
2. Grains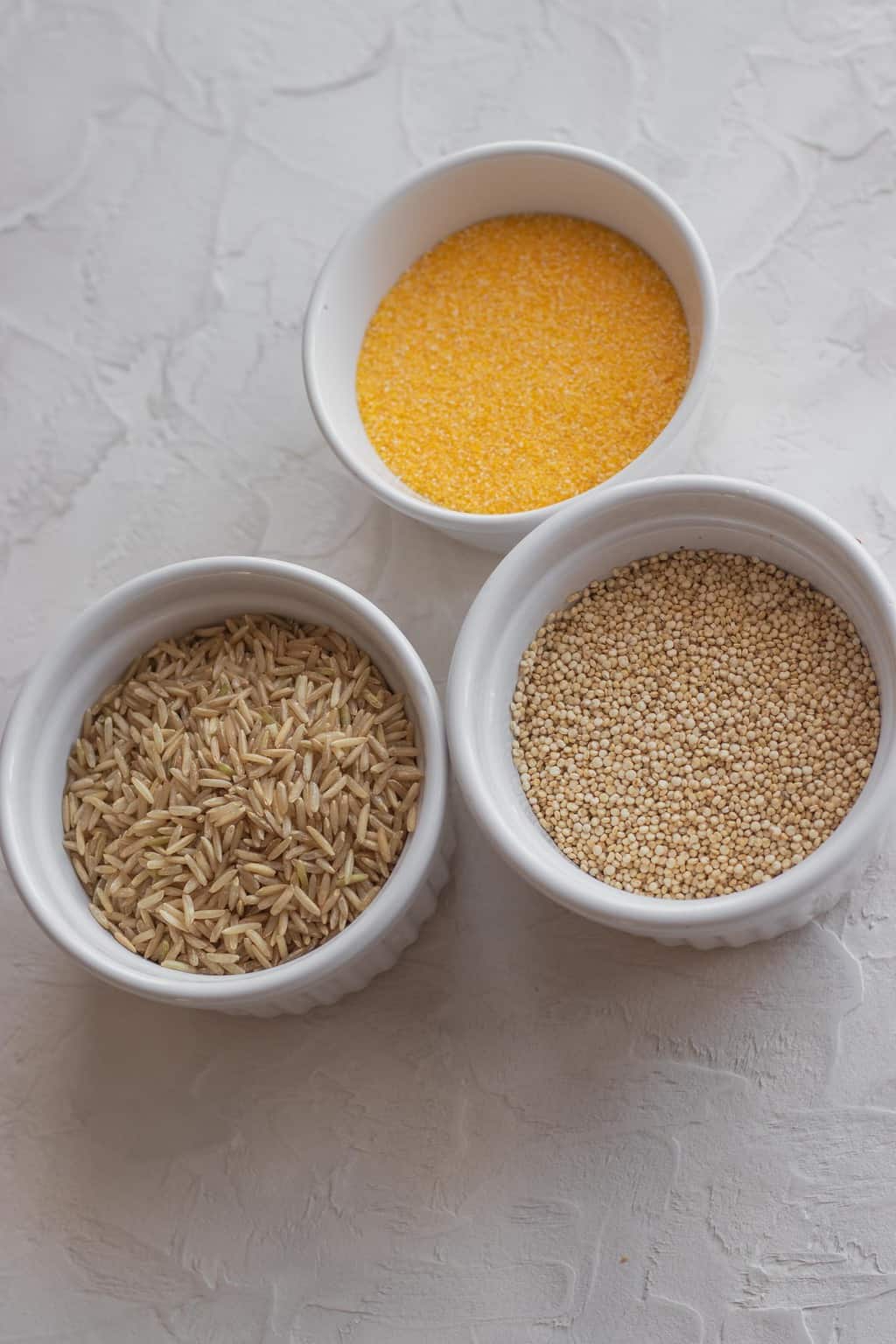 No list of vegan pantry staples is complete without grains. If I'm putting together a super simple meal without following a recipe, it's usually a bowl with at least one source of fats, carbs and protein, plus a whole array of vegetables. The carb portion is quite often a grain. They make a dish satisfying and energising, all while adding plenty of flavour. Before I went vegan, I didn't know such a wide variety existed, but now I love cooking with them and constantly trying different recipes.
GF-certified oats. I have oatmeal pretty much every day for breakfast. It's filling, it's delicious, it's super cosy on a cold morning. I like adding it to smoothies to make them more satiating. Check out my guide on making the perfect bowl of vegan oats if you want to take your breakfast to the next level.
Quinoa. A high-protein meal prep essential that can taste incredible with the right preparation.
Buckwheat. A great alternative to ordinary porridge (although it takes a bit longer to cook).
Polenta. I like to serve this as a simple side dish, or use it for baking treats such as polenta cake.
Amaranth.
Millet.
Different varieties of rice. This is another versatile vegan pantry staple. It comes in many varities: wholegrain, basmati, jasmine, sushi rice, etc. Rice is a great side dish option for for meals like stir-fries, and often the star of the show in wraps, tacos and burritos.
3. Pasta and noodles.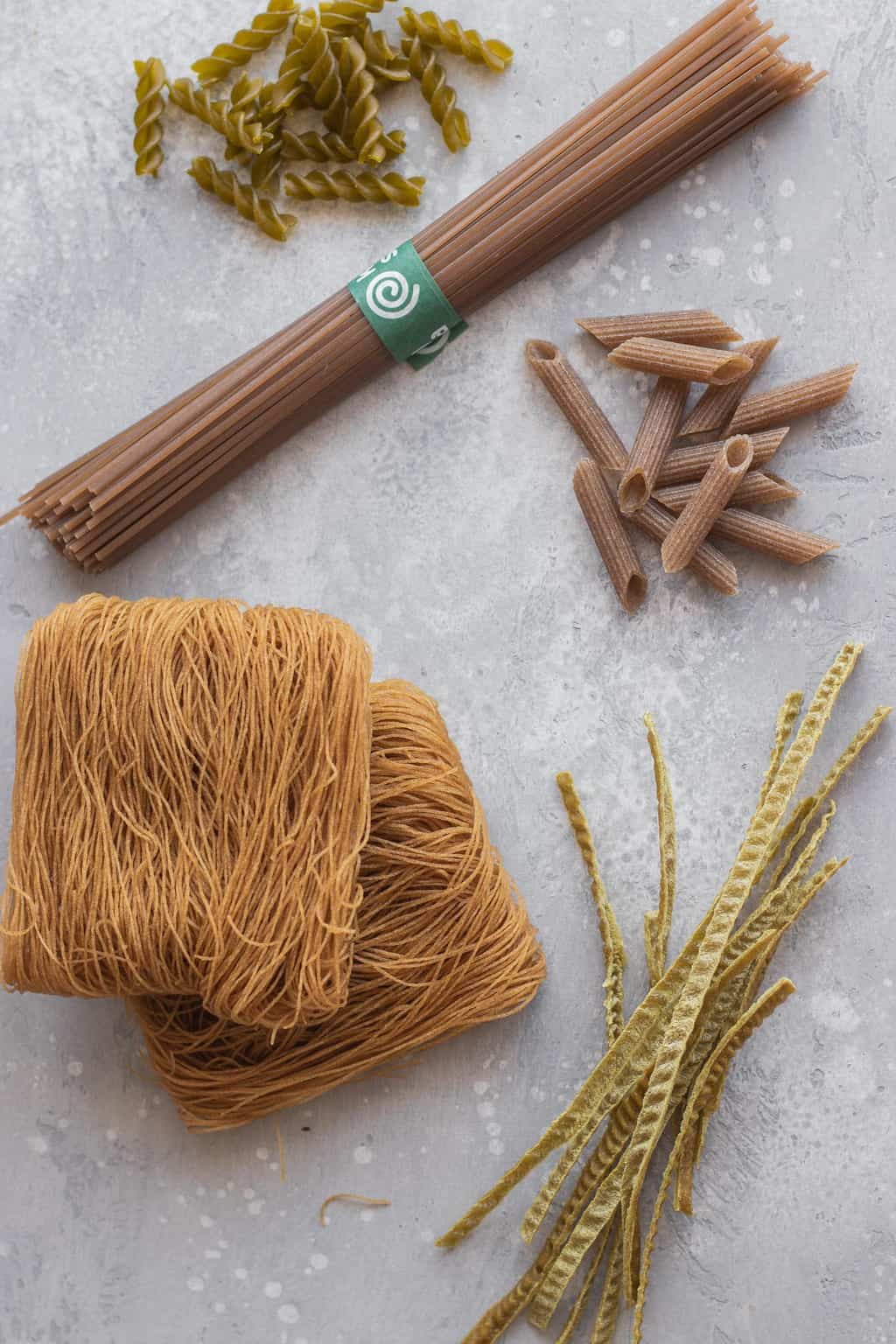 I'm not ashamed to admit that I'm a bit obsessed with pasta. The good news is that countless gluten-free options flood the market nowadays. Pasta is a fail-proof option for those days when the last thing you want to do is stand in the kitchen for hours. Some of my favourites are:
Noodles: soba noodles (made from buckwheat), rice noodles (white and wholegrain), sweet potato noodles.
Pasta: just switching up the pasta shape you use can add a new twist to a plain dish. If you don't eat gluten, most supermarkets and health food stores sell gluten-free varieties of a wide range of pasta.
Some of my favourite pasta and noodle recipes
4. Root vegetables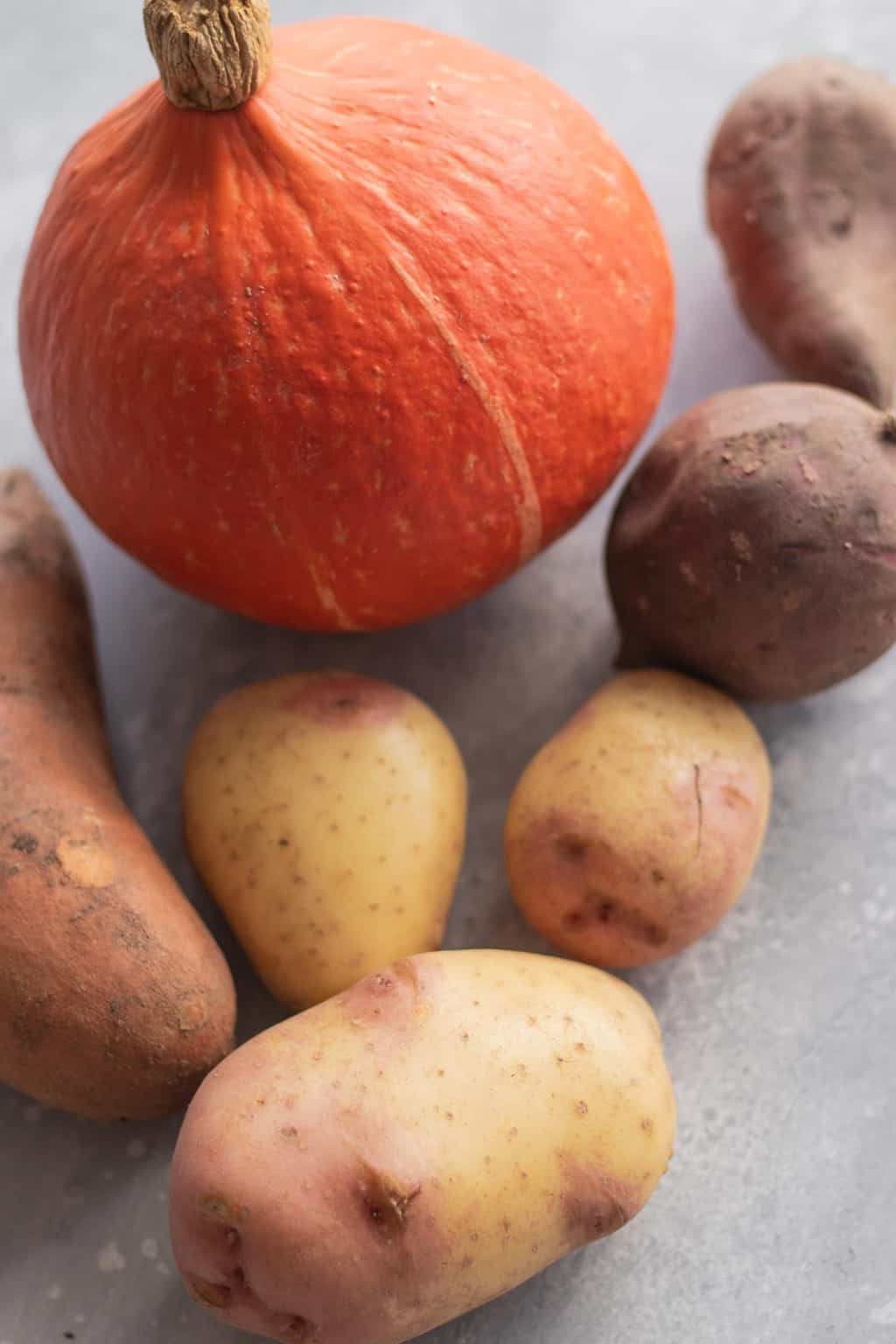 When I'm not eating homegrown root veggies (thanks to my mum's little garden), I try to buy them from farmers markets to help smaller, ethical businesses and reduce waste.
Potatoes, in any variety, are pretty much the most versatile vegetable. Utterly clueless about what you should make for lunch or dinner? Start with potatoes, and go from there. Something like homemade fries or baked/jacket potatoes are obvious dinner staples. But I also love eating them for a comforting savoury breakfast. Some of my other root veggie favourites include:
Butternut squash
All squash and pumpkin varieties, especially during fall/winter. If you want more pumpkin recipe ideas, be sure to check out my roundup of 20 delicious savoury vegan pumpkin recipes.
Turnips
Beetroot. If you think you don't like beets, try 'hiding' them in other recipes like hummus or soup.
Parsnips
5. Spices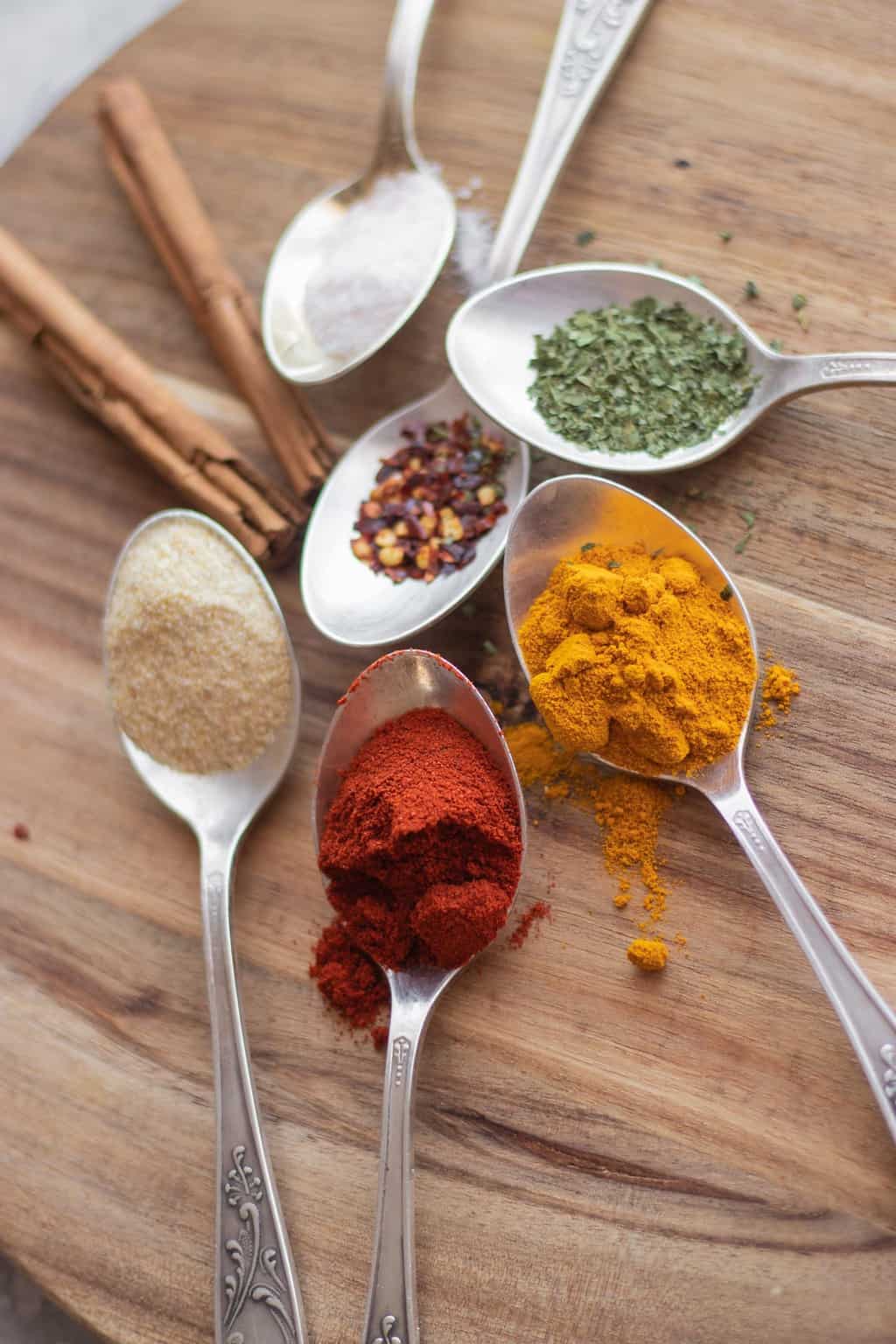 If you think tofu and vegetables are boring, think again. It's all about preparation, and spices happen to play a key role in that. Don't be ashamed of an extensive spice collection! Try out different combinations in your favourite recipes and you'll quickly discover what appeals to you the most. Spices I always have in my vegan pantry staples collection are:
Turmeric
Smoked paprika
Cumin
Curry powder
Garam masala
Garlic granules
Cayenne pepper
Dried herbs: coriander, basil, thyme, rosemary, oregano, etc.
Ground cinnamon and cinnamon sticks
Nutmeg
Fenugreek
Spice blends (just make sure they're certified gluten-free)
Bay leaves
Himalayan salt
GF Nutritional yeast
6. Nuts and seeds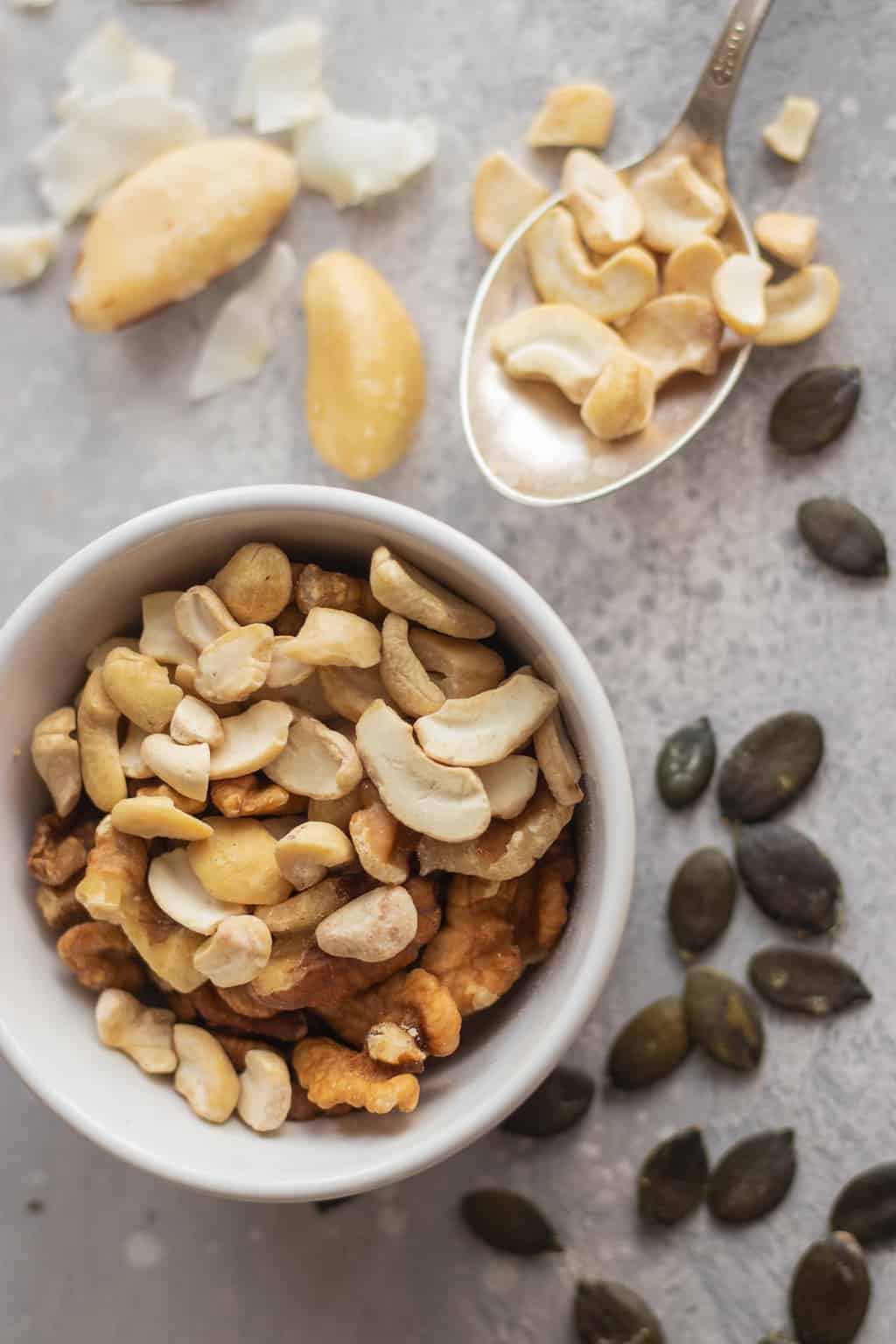 These are a great source of healthy fats on a vegan diet. But they're also a must-have within my vegan pantry staples add that perfect crunch to any meal, especially simple breakfast bowls. A handful of nuts and seeds can make a bowl of soy or coconut yoghurt far more exciting! Especially if you make homemade granola. Granola is always a great idea.
Nuts:
Cashews: they're a magical ingredient in plantbased cooking. You can turn them into anything from cheese to a creamy pasta sauce (stay tuned for recipes!)
Pecans taste incredible on oatmeal.
Walnuts
Almonds
Pistachios
Macadamia
Pine nuts
Seeds:
Chia. For a basic chia pudding, stir together 2-3 tbsp chia seeds, 1 cup soy or coconut yoghurt and 1 tbsp liquid sweetener. Let that sit in the fridge overnight, and wake up to deliciousness!
Ground flaxseed for making flax eggs that I often use as an egg substitute in baking. 1 flax egg is 1 tbsp ground flaxseed and 2 tbsp water, set aside for 15 minutes.
Sunflower seeds
Pumpkin seeds: sprinkle these on savoury dishes!
Sesame seeds.
Linseed.
Poppy seeds.
7. Nut and seed butters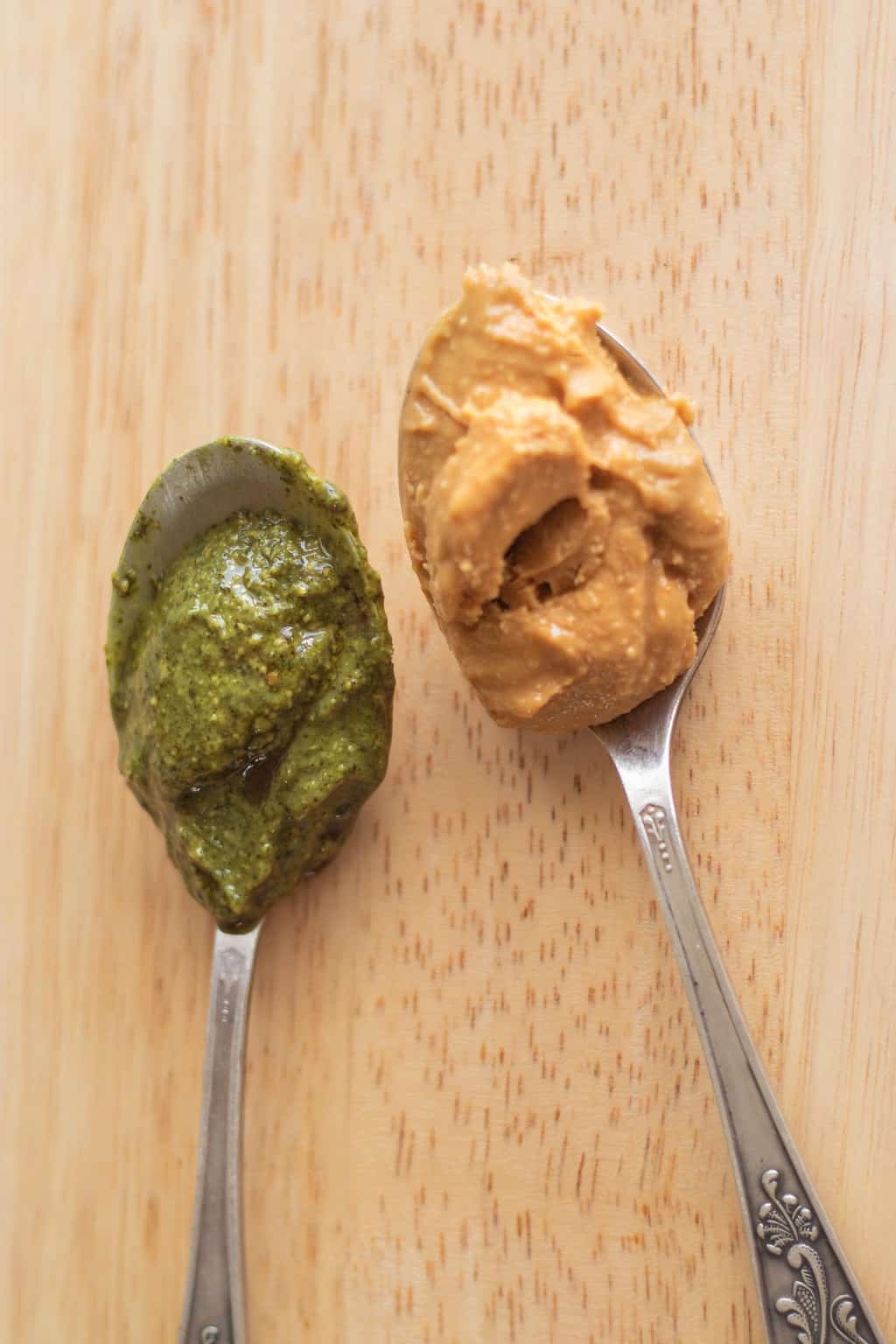 I'm always shocked when I learn someone doesn't like nut/seed butter. I could say this is a part of my vegan pantry staples simply because it's delicious. As in, I'd happily eat peanut butter straight from the jar all day long. But it's also a superb baking and cooking ingredient! I like making my own from time to time because it's healthier and cheaper, but there are plenty of good store-brought options out there too.
Nut and seed butters you'd typically find among my vegan pantry staples:
Peanut butter
Almond butter
Cashew butter
Pumpkinseed butter
Pretty much anything that catches my eye at the supermarket! I can't resist trying new mixtures and varieties.
8. Sauces, condiments and sweeteners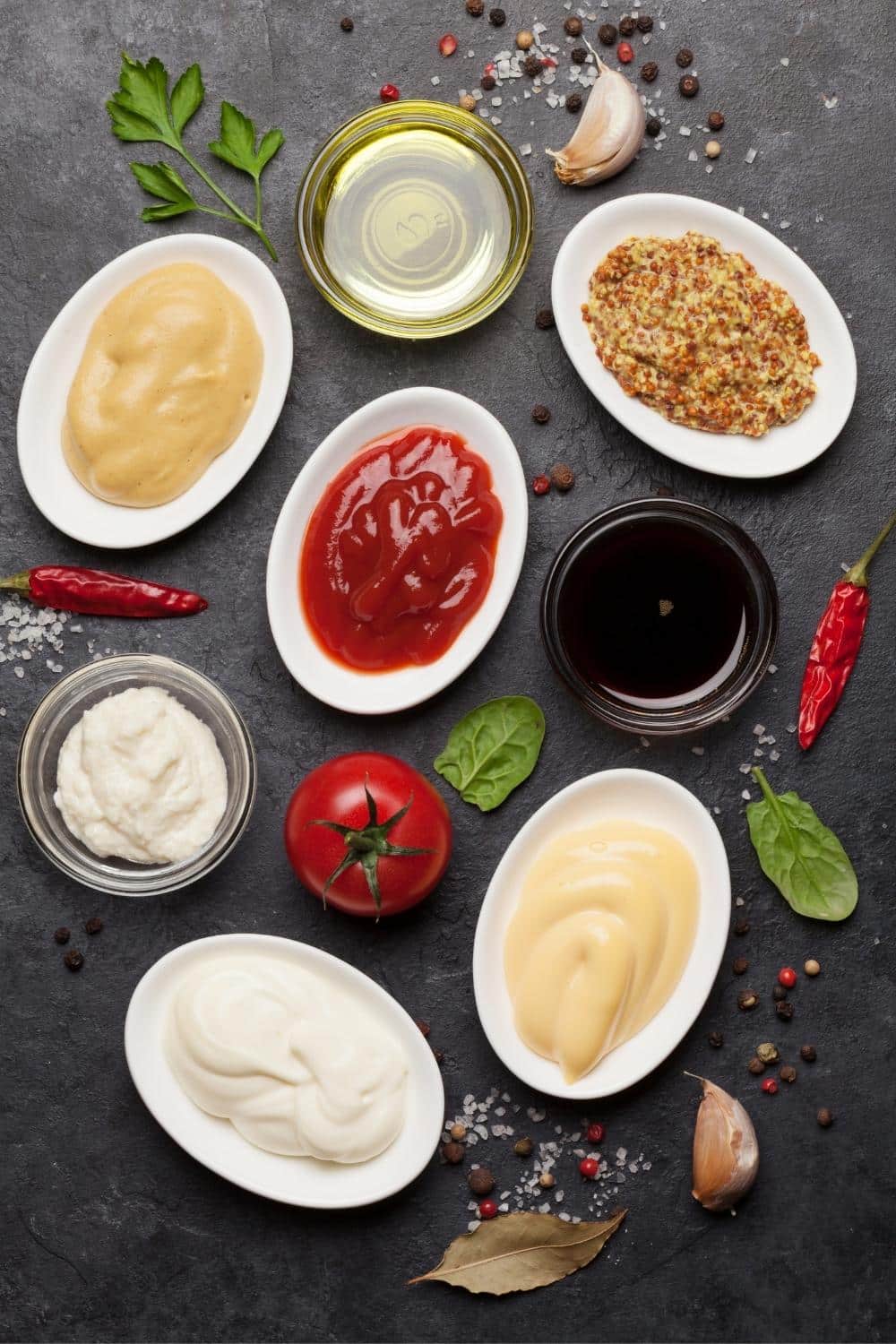 There are lots of 'fancy' vegan sauces on the market out there today. Honestly, I don't buy those very often because I prefer to make my own from simple ingredients. So, my collection of sauces, condiments and sweeteners that I'd consider my vegan pantry staples is quite minimal. Some of the items you'll typically find in my pantry are:
Tamari (GF soy sauce) and liquid aminos
Sriracha
Apple sauce
Ketchup (I look for ones with minimal ingredients and added sugar)
Tahini. My vegan pantry staples list wouldn't be complete without this delicious, versatile ingredient!
Vinegars
Vinegars add a lot of flavour to savoury dishes and work well with ingredients like tamari and maple syrup.
Balsamic vinegar: I use this as a simple salad dressing a lot, with a pinch of black pepper and dried herbs.
Apple cider vinegar: this really helps bring out the flavour of many dishes. Also, it's often used in baking as it reacts with baking powder, helping things such as pancakes and muffins rise.
Rice vinegar is one that I use multiple times a week. I love it in stir-fries and, just like balsamic vinegar, in salad dressings.
Red wine vinegar.
White wine vinegar.
Sweeteners for vegan cooking and baking include:
Maple syrup
Agave nectar
Coconut sugar
Cane sugar
Dates (ideal for raw and no-bake desserts)
9. Flours and baking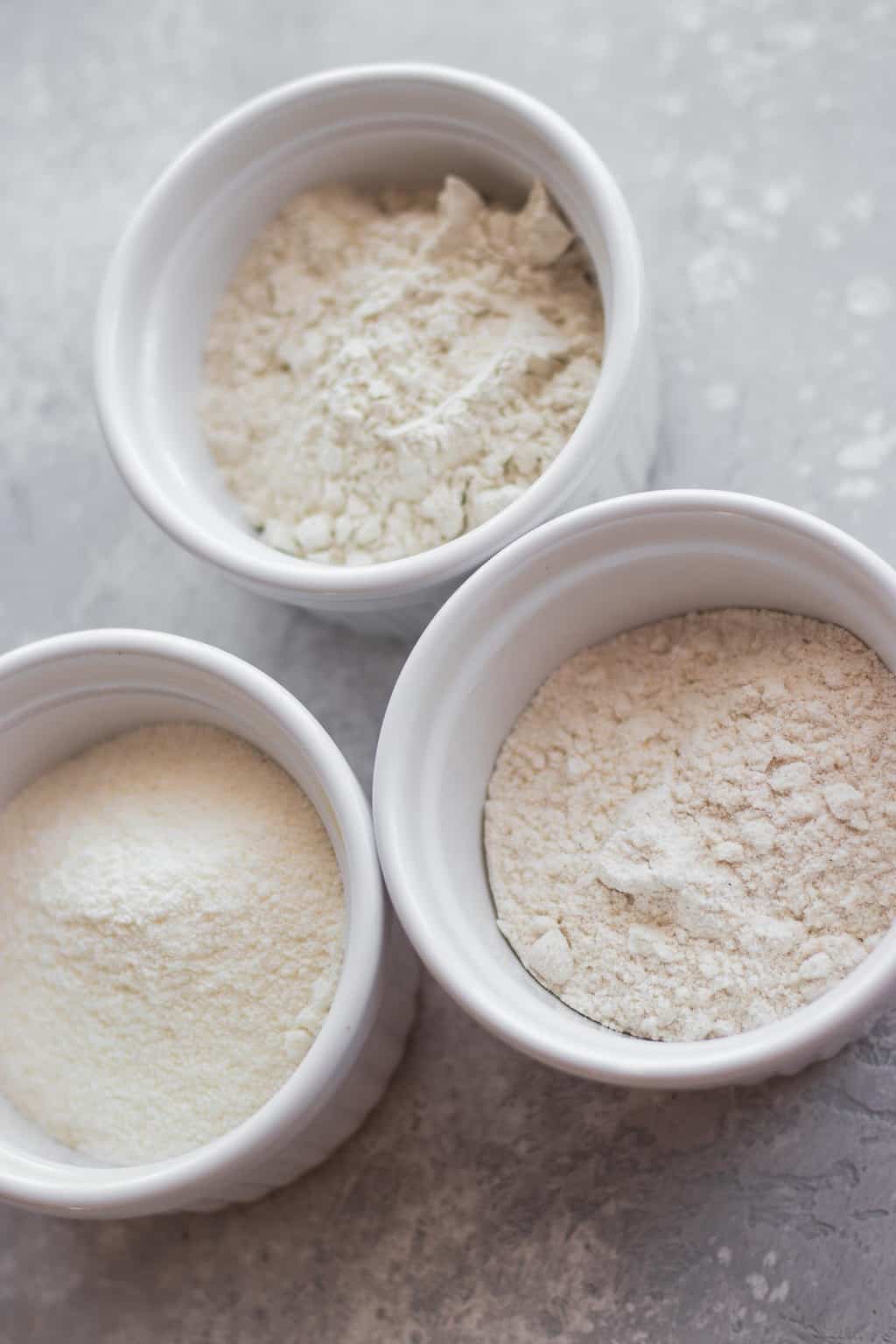 I have to admit that gluten-free vegan baking is a science as well as an art. But the good thing is that you won't feel deprived of flour options to choose from: there are so many, and each one has distinctive characteristics for different types of recipes. Don't feel like you have to buy all of these at once as your vegan pantry staples. Instead, pick the ones you think you'll use the most and add others to your collection when the need arises.
Chickpea flour: also known as garbanzo or gram flour. As it's made from chickpeas, this one has a good amount of protein. It also has a slight 'eggy' flavour, which is why I use it in recipes such as chickpea omelettes and tofu 'egg' muffins.
Almond flour is very versatile, so I'd recommend stocking up on it if you plan on doing lots of gluten-free baking.
Coconut flour: another good option for both sweet and savoury baking. I love how it helped me put together a delicious chickpea cinnamon apple cake!
Buckwheat flour is a substitute that works in a huge range of recipes. Make sure the one you buy is GF-certified, because it can be contaminated during manufacturing/transportation.
Brown rice flour: use this in combination with other gluten-free flours for baking bread, cookies, etc.
Store-brought all-purpose gluten free flour.
Teff flour.
Amaranth flour.
Arrowroot flout: I often use this as a thickener for sauces.
Tapioca flour.
10. Superfood and protein powder
These certainly aren't vegan pantry staples for many people (and don't have to be), but I like them both for flavour and for the nutritional benefits. Plus, while the price seems high at first, they typically last me for up to a couple months.
Vegan protein powder. At first, I had a hard time finding one that tasted good or didn't have a strange, chalky aftertaste. However, the brands I like and would recommend are Revolution Foods, SunWarrior and MyProtein. I like baking with protein powder, adding it to porridge, or just stirring a scoop with 1-1.5 cups of plant milk.
Cacao powder to make anything chocolatey, such as cookie sandwiches.
Maca powder for banana icecream (blended frozen bananas) and oats.
Spirulina powder smells and looks weird, but it's quite easy to mask using other ingredients.
Cacao nibs make a great topping for yoghurt and oatmeal bowls.
Wheatgrass powder.
Barley grass powder.
Goji berries (you can also get these in powdered form).
Acai powder (although frozen acai makes much better acai bowls).
Other gluten-free vegan pantry staples.
Dried fruit and berries. 
Store-bought gluten-free bread and wraps (although I prefer to make my own).
Silken tofu. 
Rice cakes and crackers. 
Canned coconut milk. 
Canned tomatoes. 
Chocolate.
Energy bars and snacks. 
Rice paper and nori sheets. 
Veggie stock (ensure it doesn't contain milk).
Vanilla extract. 
Nutritional yeast
Let me know in the comments: what do you always like to have in your pantry? Be sure to pin this post for later and share on Facebook to give some ideas to your friends and family!