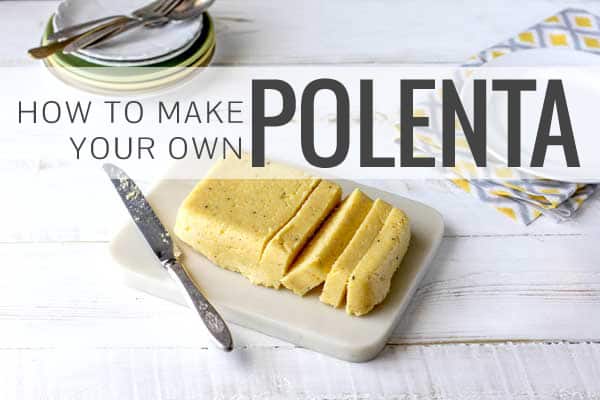 Polenta is one of those ingredients that's great for bulking up just about any vegetarian meal. Whether you serve it porridge-style topped with a poached egg and greens, or mold it into a sliceable shape for baking, grilling, or frying, you should try making it at home -- sure, buying those tubes of polenta is convenient, but homemade tastes better and you can customize your polenta with fresh herbs, cheeses, and other ingredients. And it's easy to do!
Homemade polenta has only 3 basic ingredients, minus any mix-ins you might add, and it comes together fairly quickly, with about 30 minutes active time. Double the recipe and have some for dinner tonight, then keep the rest in the fridge for later in the week -- it will last for 4-5 days.
Here's how to make your own polenta!
Gather your ingredients + bring a pot of salted water to a boil.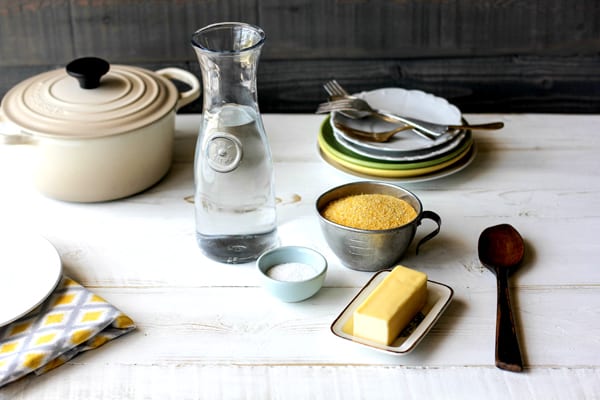 You'll need 3 cups of water, 1 teaspoon of salt, and 1 cup of dry polenta (also known as cornmeal). You can also add butter and other mix-ins, like cheese or fresh herbs, if you like.
Bring the water and salt to a boil in a large deep pot. The deep pot is important! Polenta splatters and bubbles while it cooks, so you'll want to be sure you have enough depth in the pot that it doesn't splatter all over you and your kitchen.
Add the polenta to the water.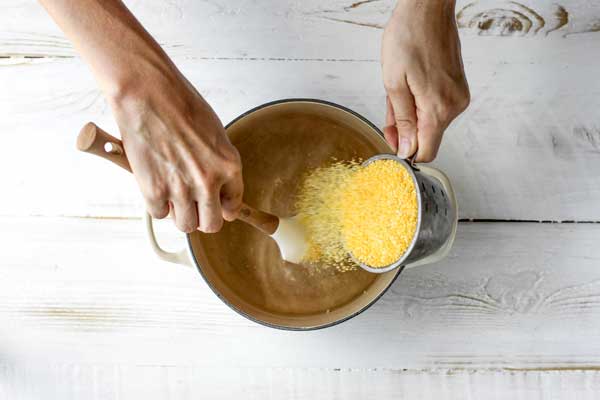 Once the water has come to a rolling boil, reduce the heat to medium-low and slowly add the dry polenta, stirring with a long handled spoon to incorporate.
Cook the polenta over medium-low heat for 20-25 minutes.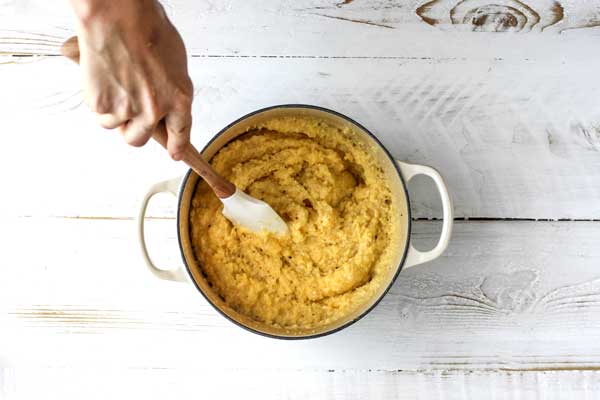 While the polenta is cooking, stir it frequently and cook it until it has become very thick -- this should take 20-25 minutes, but if you're making a bigger batch, the cooking time could increase slightly. (Note that there are instant polentas you can buy too -- these require a much shorter cooking time!)
If you would like to season the polenta with more salt and pepper, or add a few tablespoons of butter, now is your chance. You can also add in additional flavorings at this point depending on what type of dish you are making:
For cheesy polenta, add ¼-1/2 cup of grated Parmesan cheese to the polenta base.
For a more Italian flair, stir in a tablespoon or two of store-bought pesto.
For a hearty Mediterranean-inspireed polenta, try adding ¼ cup finely chopped red bell pepper, 2 tablespoons minced kalamata olives, and 3 tablespoons of minced flat leaf parsley.
Other mix-ins that we've tried include cheddar and fontina cheeses, chopped sun-dried tomatoes, fresh basil leaves, and minced garlic. Feel free to get creative with your polenta!
If you are making porridge-style polenta than you can stop here and serve it, but to make a sliceable polenta like the tubes you see at the store, you will want to complete the next few steps.
Pour the prepared polenta into a well-oiled mold.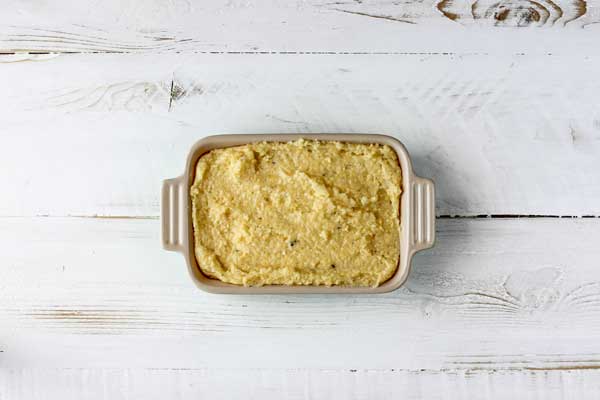 There's no right or wrong mold for your polenta. It can be a bowl, muffin tins, or even a small baking dish like I used here. The only thing that does really matter is that you generously oil the surface that will be in direct contact with the polenta. Wait for 10 minutes for the polenta to cool and set in the mold.
Remove the polenta from the mold and slice.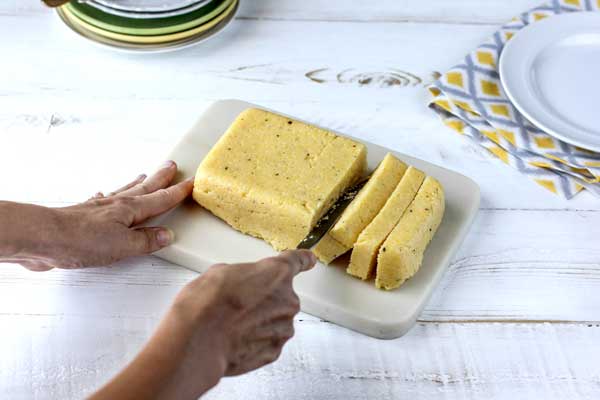 To unmold the polenta, simply place a plate or serving dish over the top of the mold, then carefully turn the mold and plate over so that the mold is upside down flush against the plate. The polenta should slide right out of the mold, but if it seems to be having a little trouble simply wiggle the mold back and forth a bit until you hear the suction break. Slice the polenta with a butter knife into 1-2 inch thick slices and serve immediately, or you can pan-fry, bake, or grill the polenta until it's golden brown and crispy.
Polenta Recipes to Try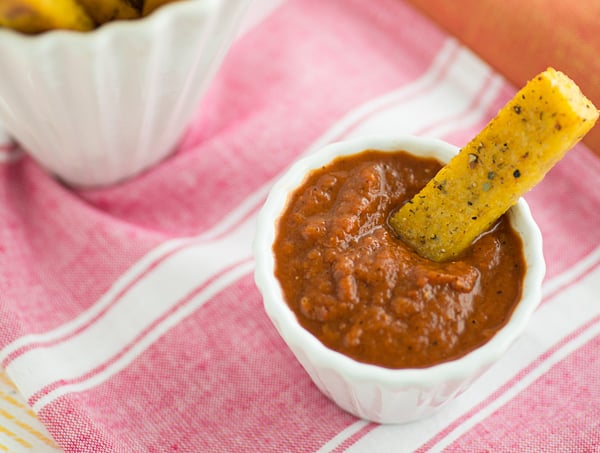 Baked Polenta Fries with Garlic Tomato Dipping Sauce // Slicing the polenta into fries and baking them in the oven makes a delicious, crispy side for veggie burgers.
Sage Polenta Bowls with Roasted Brussels Sprouts & Wild Mushrooms // A creamy polenta base topped with oven-roasted vegetables -- make a summertime version by using fresh basil and roasted tomatoes, zucchini, and corn.
Veggie-Loaded Polenta Bake // A dinner so easy, it doesn't even need a recipe!
Grilled Veggie Salad with Basil-Parmesan Polenta // Grilling polenta gives it a smoky flavor that's perfect in this summer salad.
Mexican Baked Polenta with Salsa Beans & Sautéed Veggies // Use molded polenta instead of store-bought polenta tubes in this Mexican-inspired dinner.
Chili Pot Pie // Homemade chili gets topped with a polenta "crust" to make a hearty pot pie.
Smoked Cheddar Grits with Broiled Heirloom Tomatoes // Grits? Yes! Grits are the Southern version of polenta -- they're also made by simmering cornmeal and water on the stovetop.