This salad manages to be both light and filling! Fresh greens tossed in a balsamic vinaigrette are topped with herb-marinated grilled veggies and homemade polenta.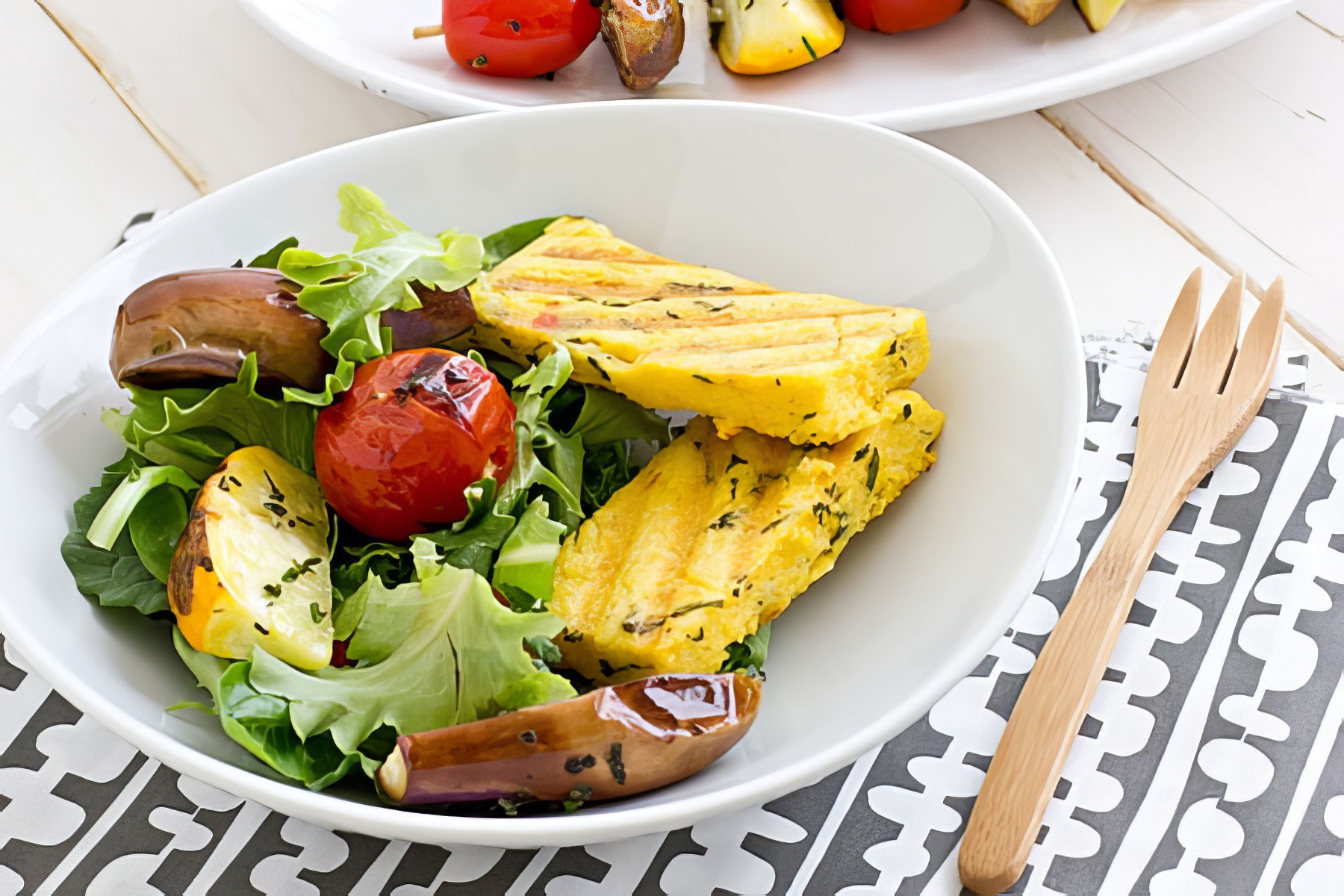 On Tuesday I mentioned how I'm going into freak-out mode over the fact that summer is almost over. More specifically, I'm freaking out because I feel like I haven't fully taken advantage of the availability of cheap, seasonal produce yet. Must! Eat! More! Veggies!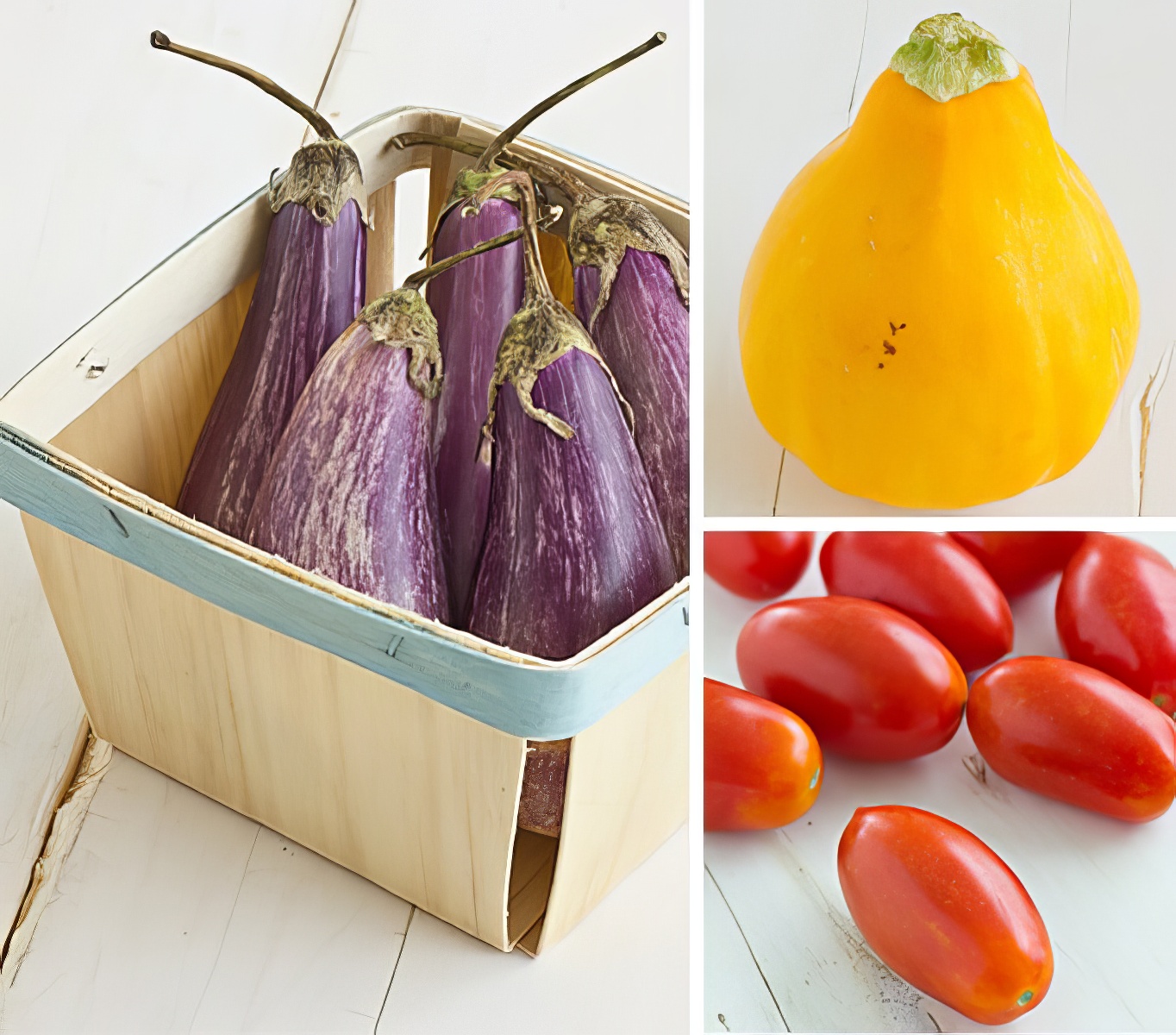 Sometimes I feel like recipes get in the way when I'm shopping at the farmers market, so I decided to throw caution to the wind last weekend and buy all the freaky weird vegetables that I usually pass by.
You know, the ones you see and think to yourself, "Well, that's really cool, but what would I do with it?" I found cherry tomatoes that look like tiny Romas and baby eggplant and papaya squash. Papaya squash! Where can you get that besides the farmers market?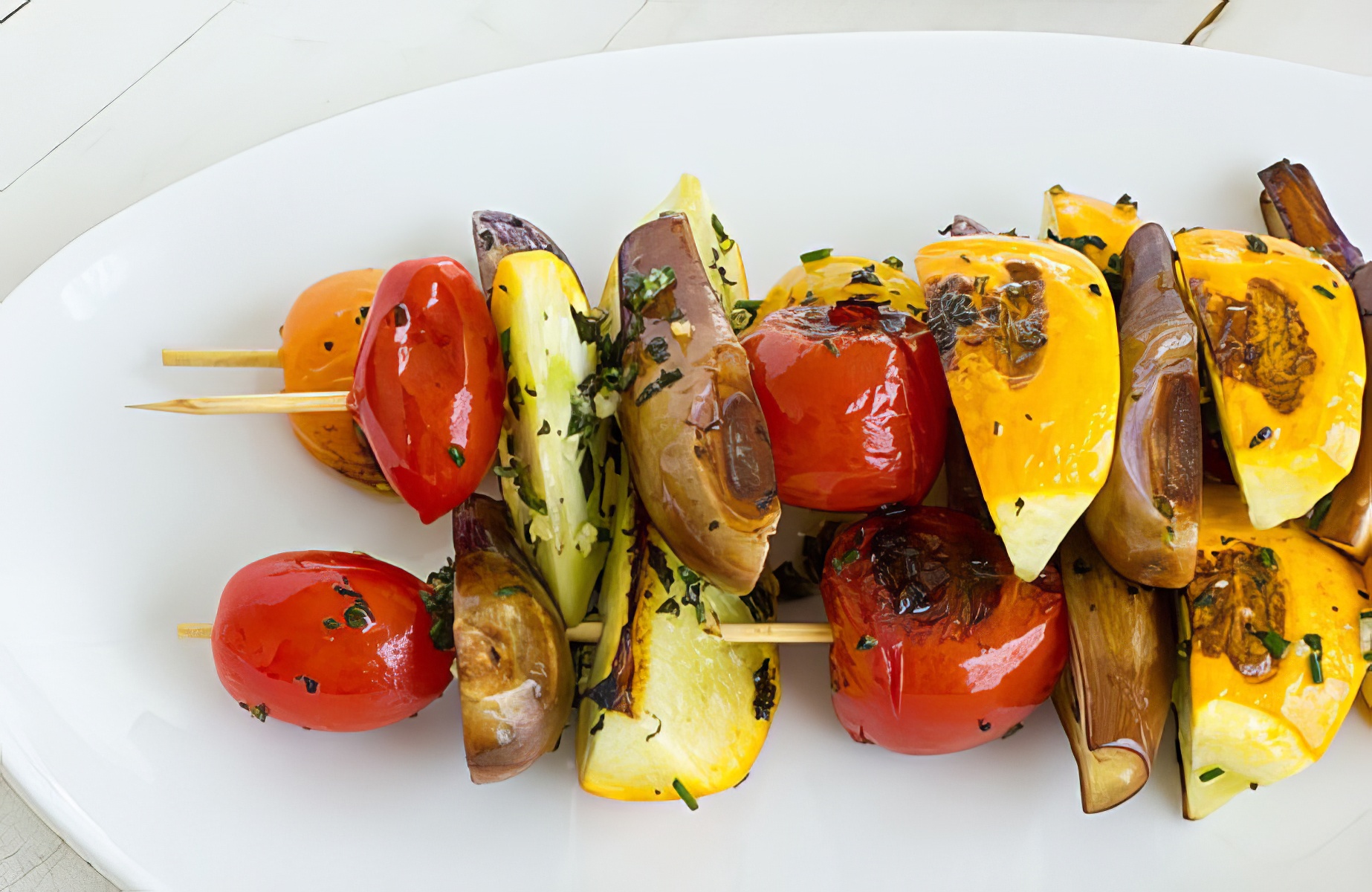 Once I got home with shopping bags full of the weirdest vegetables I could find, I had to figure out what to do with them all.
I've been working on a recipe involving grilled vegetables and polenta for a while (I freaking love polenta.) and I could never get it right. It was always so close to greatness, but something would be off about it.
First the polenta was bland; then it was too thick. Then the polenta was perfect and the veggies weren't. So I thought I'd revisit this recipe and switch things up a little bit by making it into a grilled veggie salad, served with basil Parmesan polenta. Finally, I got the recipe right. Finally!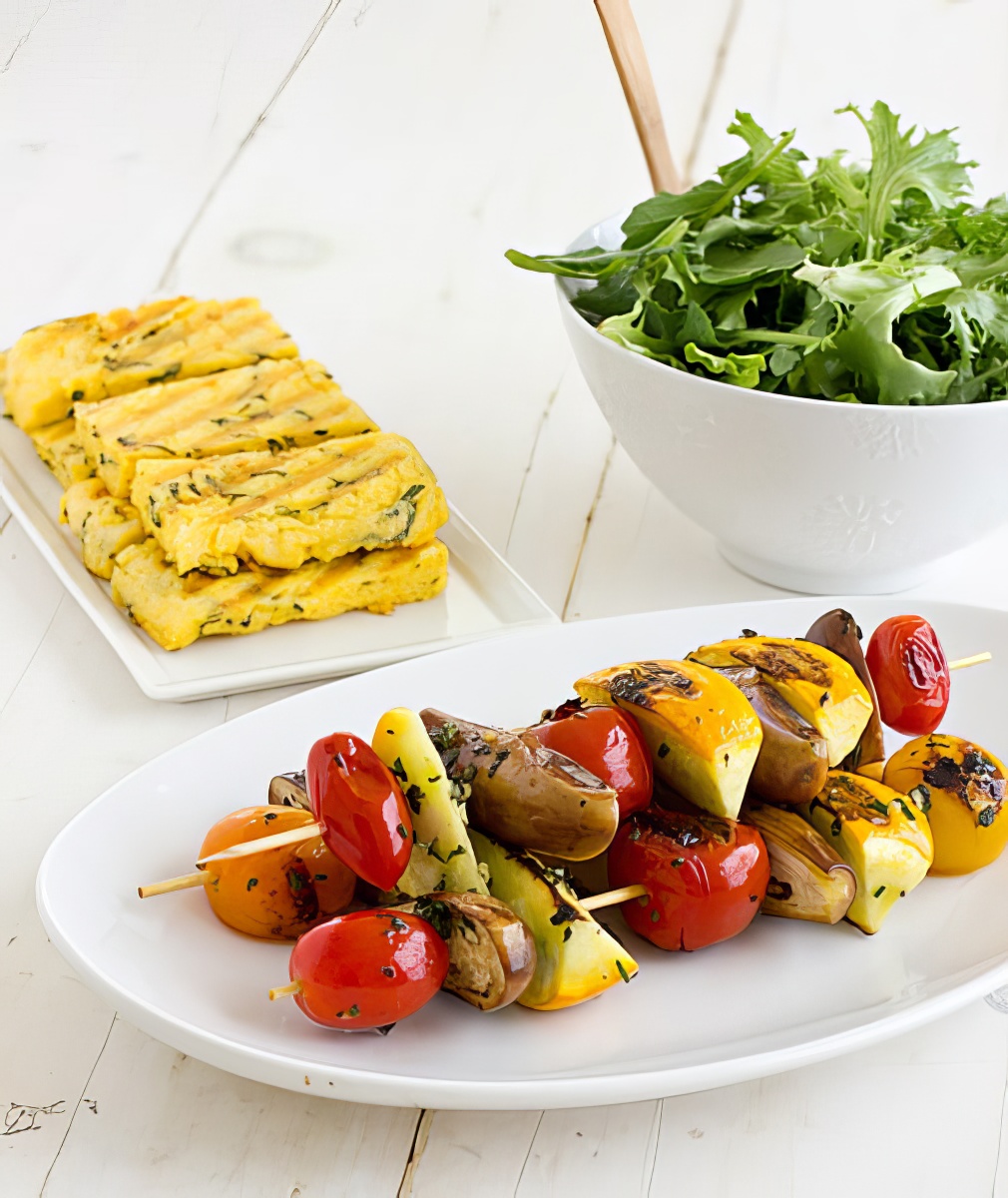 In general, I'm not a big salad eater. People are always shocked at that. "You don't eat salad? Well, what do you eat then?" (Because vegetarians subsist on salads alone. Didn't you know?)
This is the kind of salad I like - it's a meal worthy salad, but it's not heavy. And it's a great summer dinner because not only is it both light and filling, but you can use whatever veggies you have on hand.
So go buy yourself some crazy looking zucchini or a rainbow of cherry tomatoes and make this salad! Oh, and if you want to get really crazy, you can even make your own polenta.
More Tasty Ideas
And if you love this grilled polenta and veggie salad, be sure to check out these other delicious vegetarian recipes:
Recipe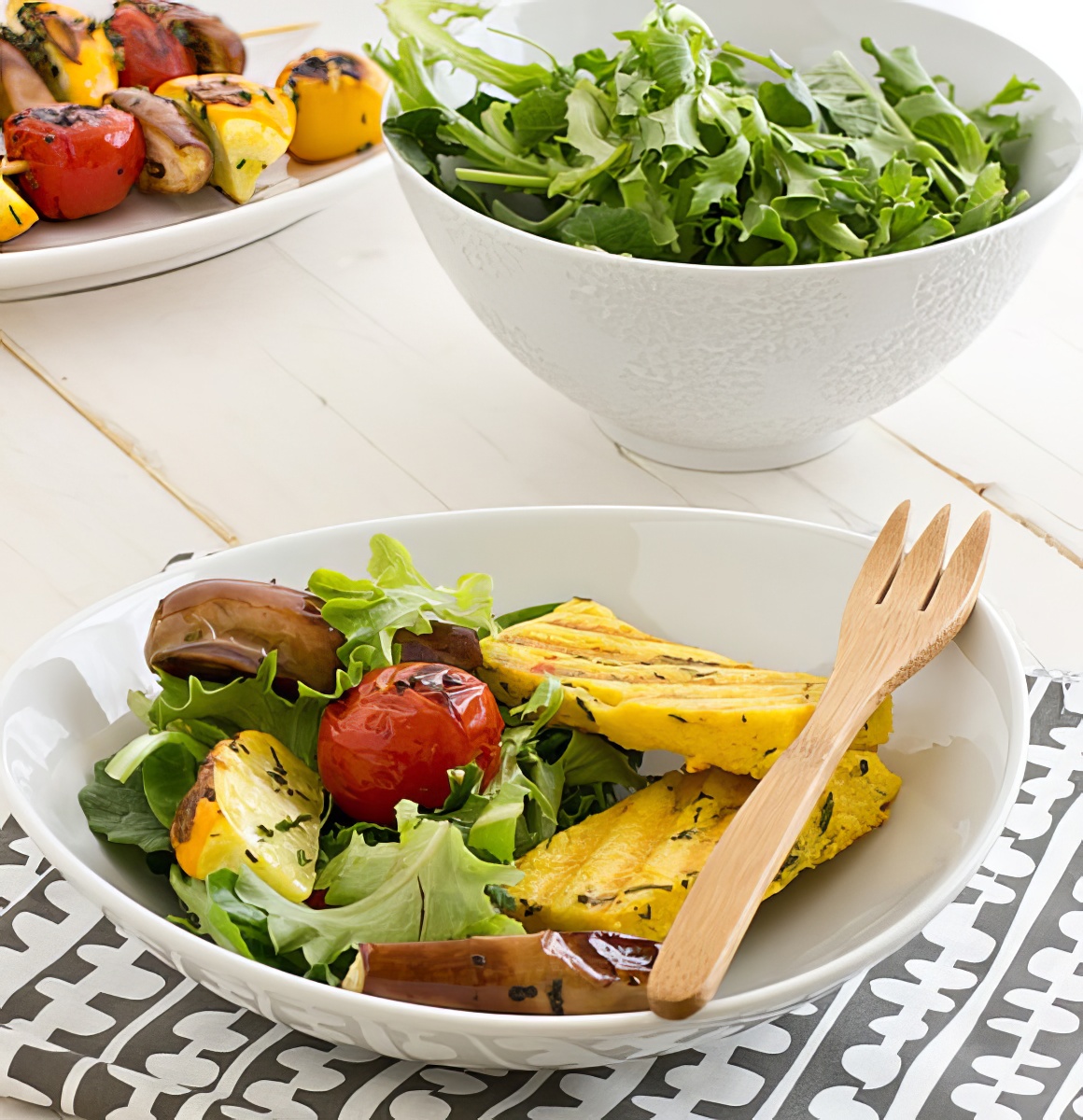 Equipment
Grill

or grill pan on stovetop
Ingredients
Instructions
Polenta
Coat an 8x8-inch baking dish with an olive oil mister or cooking spray.

Bring water to boil in a large saucepan. Reduce heat to low and slowly add polenta, whisking constantly. Remove from heat once polenta is thick and creamy, about 3 minutes. Stir in basil, cheese, salt and pepper, then transfer to baking dish. Allow polenta to cool to room temperature, then cover the dish with plastic wrap and place it in the refrigerator to solidify for at least 2 hours.

Cut the polenta into 8 evenly-sized pieces and carefully remove from baking dish. Spray or brush grill with oil and grill polenta until warmed through, about 5 minutes on each side (less on an outdoor grill).
Grilled Veggies
Whisk together olive oil, herbs, salt and pepper in a large baking dish. Place vegetables on skewers and put skewers in baking dish. Cover and refrigerate; marinate for 2 hours, basting veggies with herb-and-oil mixture every 30 minutes.

Grill veggie skewers on medium heat with the polenta, about 15 minutes or until tender, turning occasionally so all sides cook evenly.
Salad
Whisk together oil, vinegar, salt and pepper. Toss with salad greens and divide onto 4 plates or bowls. Top with veggies from one skewer and 2 pieces of polenta.
Notes
Prep time includes time for polenta to solidify and veggies to marinate--it's not all active time!
Nutrition
Calories:
383
kcal
Carbohydrates:
26
g
Protein:
8
g
Fat:
28
g
Saturated Fat:
5
g
Polyunsaturated Fat:
3
g
Monounsaturated Fat:
19
g
Cholesterol:
9
mg
Sodium:
221
mg
Potassium:
141
mg
Fiber:
1
g
Sugar:
1
g
Vitamin A:
863
IU
Vitamin C:
12
mg
Calcium:
165
mg
Iron:
1
mg
Craving more veg-friendly recipes?
Shop our collection of vegetarian and vegan cookbooks, including our new Vegan Thanksgiving and Vegan Christmas cookbooks!