Every spring around this time, I get a stone fruit itch. It's mostly benign except for the part where I can't control myself in the produce aisle and end up coming home with every variety and hybrid of peaches, plums, nectarines and apricots known to man. They always seem to ripen at exactly the same time, too, so while I start off the week with so much promise and hope (and peach juice dripping down my chin), by the end there are inevitably a few stragglers on their last legs that I refuse to let go to waste. I used to think that such fruits were only fit for pies, where they would be cooked down to an indistinguishable oblivion anyway, but lately I've come around to the idea that there is beauty in these imperfections. And also that sautéed fruit makes for a fabulous weekend pancake topper—bruises, blemishes and all.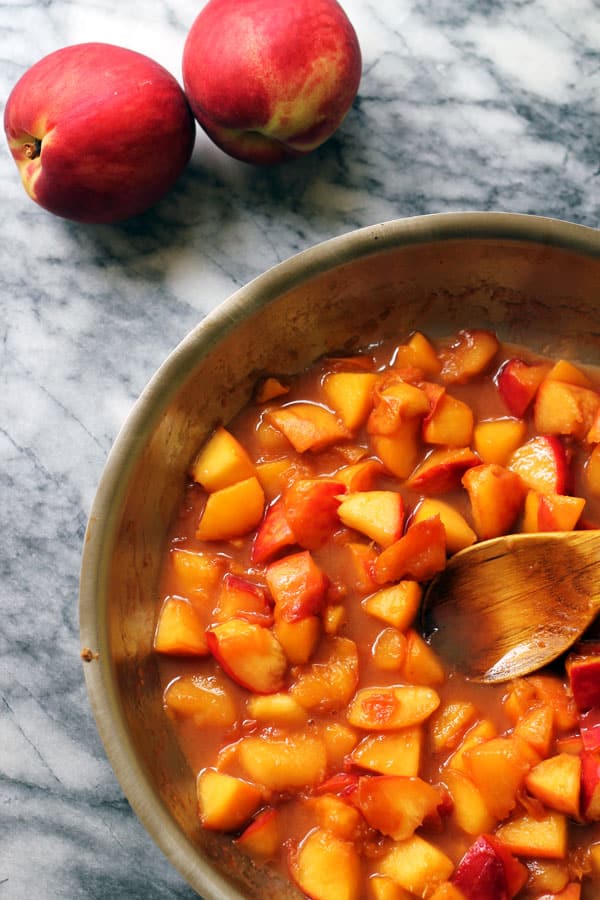 Cooking peaches down in their own juices with a splash of butter, brown sugar and maple syrup to nudge them along makes them absolutely irresistible. You'll be tempted to to just attack the pan with a spoon (and maybe a scoop of ice cream—I won't tell), but I highly recommend exercising some self-restraint and first trying them as a topping to these lemon ricotta pancakes. Admittedly, the pancakes are a little more high maintenance than most: they require you to whip the egg whites separately. I'm normally not a fan of extra steps, but for these, it is worth it. They are light and fluffy with hint of tang from the ricotta and lemon zest. I made a favorite cinnamon-y oat-based crisp to serve them with, and while you really could eat any of these components on their own and be pretty content, starting off your day with a bite that includes all three of them is certainly not to be missed.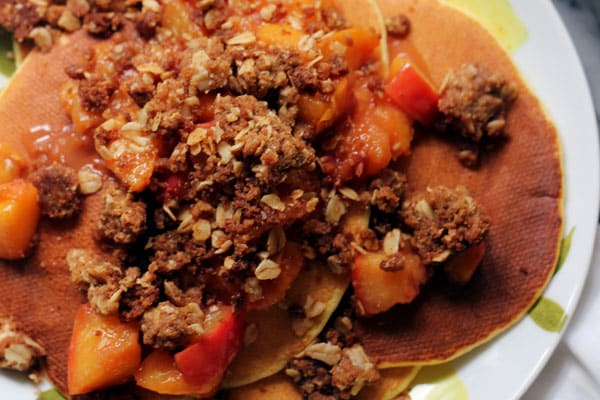 Ingredients
For the lemon-ricotta pancakes
1½

cups

flour

1

teaspoon

baking powder

½

teaspoon

salt

2

tablespoon

sugar

1½

cups

milk

3

large eggs

separated

½

cup

fresh ricotta cheese

¾

teaspoon

lemon zest
For the crisp
½

pound

unsalted butter

1½

cups

flour

¼

teaspoon

ground cinnamon

¾

cup

packed brown sugar

½

teaspoon

salt

1½

cups

old-fashioned oats
For the peaches
2

tablespoons

butter

4-5

peaches

pitted and coarsely chopped

2

tablespoons

brown sugar

1

tablespoon

maple syrup

pinch

of salt
Instructions
For the pancakes
in a large bowl, whisk together the flour, baking powder, salt and sugar.

In a medium bowl, whisk together the milk, egg yolks, ricotta and lemon zest. Mix the wet ingredients into the dry ingredients.

In a small bowl, beat the egg whites until they form stiff peaks. Fold egg whites into the batter, and let batter sit for a couple minutes.

Heat a griddle and grease with butter. Pour ¼-cupfuls of batter onto the griddle. Cook the pancakes over medium-high heat until small bubbles appear around the edges, about 1-2 minutes. Flip and cook for another 2 minutes, or until risen and golden brown. Repeat with remaining batter.
For the crisp
Heat oven to 350°F. Cut the butter into ½-inch pieces and put it in the fridge.

In a medium bowl, whisk together the flour, cinnamon, brown sugar and salt. Using your fingers, mix the butter into the flour mixture, rubbing it into the dry ingredients. When the mixture looks like coarse sand, add in the oats and mix well. Spread out on a parchment-lined baking sheet, breaking up any large clumps that form. Bake for 30-35 minutes, tossing halfway through, or until toasted and browned.
For the peaches
Melt butter in a medium skillet over medium heat. Add the peaches, brown sugar, maple syrup and butter to the pan. Saute until the peaches start to break apart and liquid thickens, about 5-6 minutes.

Serve pancakes topped with peaches and crisp.
Notes
Pancakes adapted from Food & Wine, crisp adapted from Jeni's Splendid Ice Creams at Home
Nutrition