These Vegan Chocolate Banana Pancakes are everything you want for breakfast! They're fruity, filling, and absolutely scrumptious! Top them with your favorite fruits and vegan whipped topping, and breakfast is served.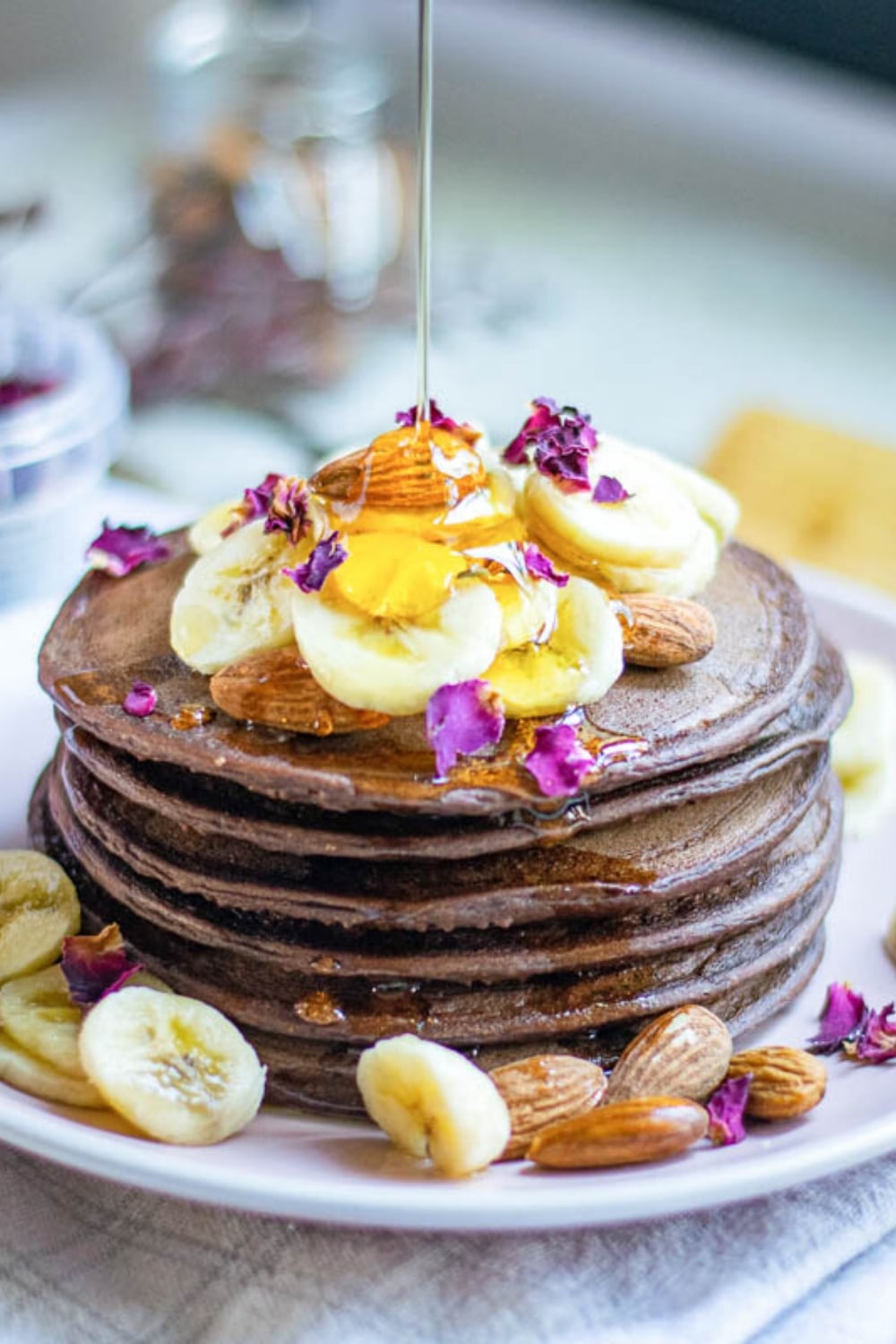 These gluten-free pancakes aren't just delicious and fluffy — they're completely vegan, too!
All you need to make them is a blender and a griddle or pan! It's super simple!
If you're looking for other simple vegan breakfast recipes, you can make some Vegan Scrambled Eggs or Vegan French Toast.
This chocolate banana pancakes recipe is...
vegan
vegetarian
gluten-free
ready in 15 minutes
an easy breakfast
How to Make Chocolate Banana Pancakes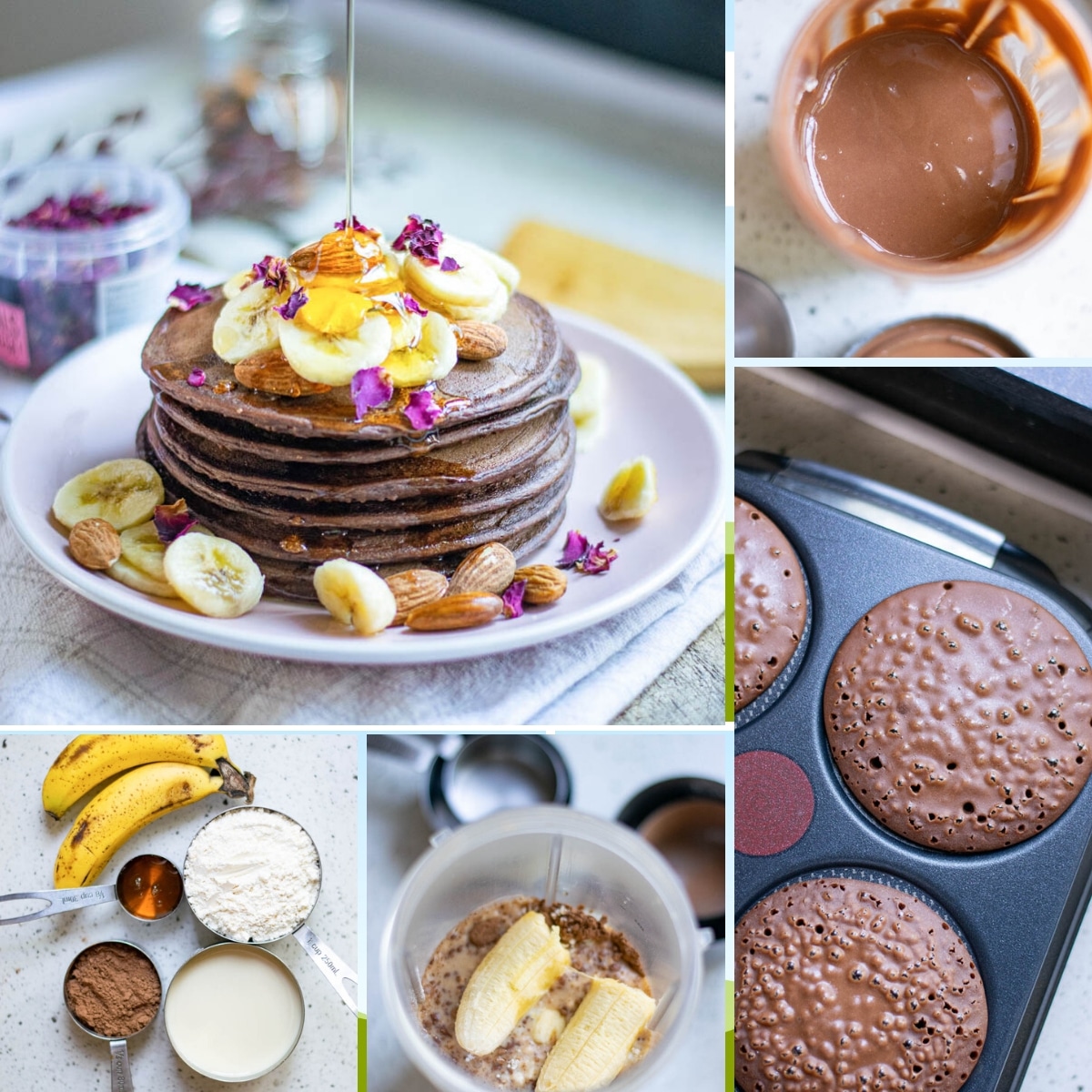 Blend together the flour and cocoa powder in a blender.
Add the bananas, milk, and agave syrup to the blender. Blend until smooth.
Preheat a nonstick pan or griddle and add a small amount of coconut oil.
Pour the batter onto the griddle so that small pancakes can form.
Cook each pancake until the underside is golden. Then flip it and cook the opposite side.
Repeat these steps until all batter is used.
Serve with your favorite toppings!
Scroll down for the full recipe with measurements and detailed instructions.
Tips & Tricks
Dry Batter
Gluten-free flour varies from brand to brand, so if your chocolate-banana batter seems a little dry, just slowly add more milk. If the batter is too liquidy, then put it in the fridge for about 10 minutes to thicken.
Griddle
Both griddles and non-stick pans are made so pancakes will not stick to them. This makes it easier to get the spatula under the pancake to flip it. But what's the difference between a griddle and a non-stick pan?
A griddle is a cast-iron plate that looks like a flat countertop grill. It's great for making more than one pancake at a time and has a drip tray that makes for easier clean-up.
A non-stick pan is also known as a skillet, but it has a chemical coating that keeps food from sticking to it. You don't need to use any oil to keep your pancakes from sticking to the pan. It has a handle, so if you don't have a spatula, you can flip your pancake with a flick of the wrist.
Variations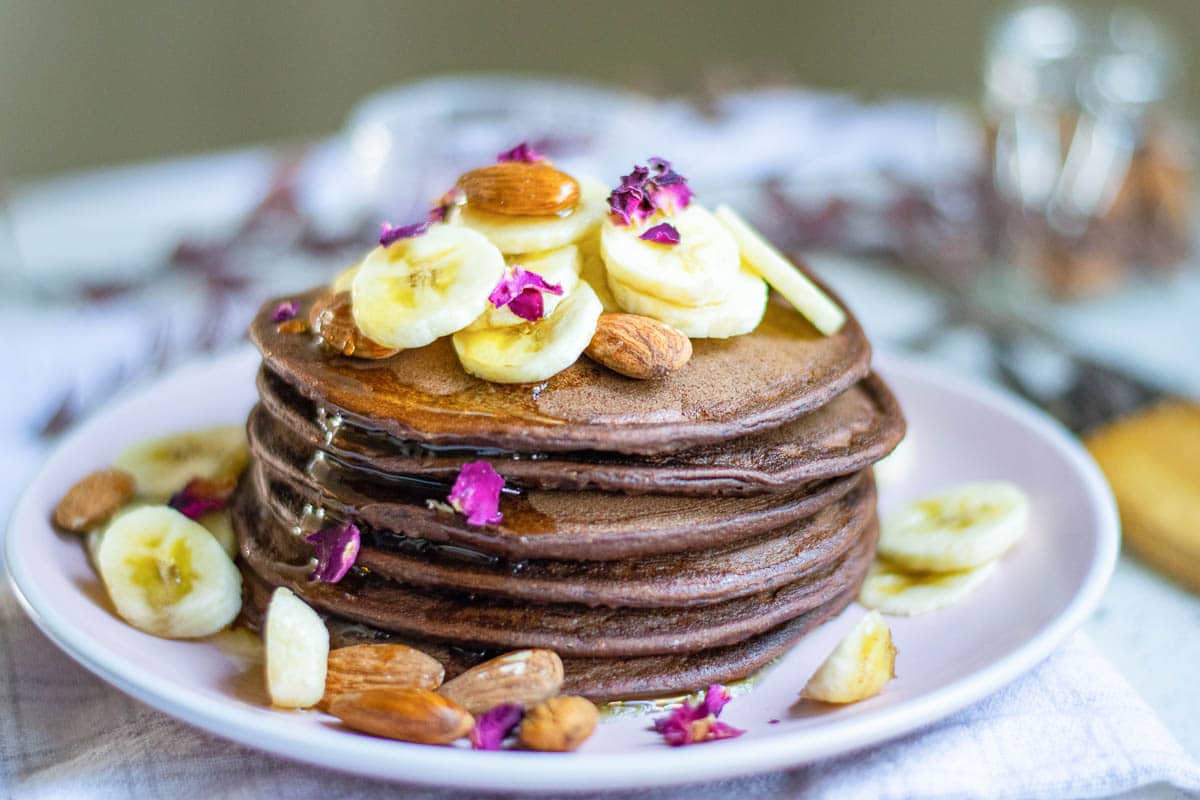 Fruit Topping
You can really top your pancakes with whatever you want, but here are a few suggestions.
To increase that chocolate-banana yumminess, top your pancakes with slices of banana and chocolate chips.
Or you can top them with mixed berries and warmed fruit jam or preserves.
These chocolate pancakes also go great with strawberries!
Whipped Topping
These Vegan Chocolate Banana Pancakes also taste great with a whipped topping. You can buy some vegan whipped topping at the store, or you can make your own!
One way you can make whipped topping is by using aquafaba. You take the liquid from 1 can of chickpeas and add a small amount of cream of tartar and whip it with a hand mixer until it forms stiff peaks. Then you add powdered sugar and a small amount of vanilla extract and whip it until it's fluffy. Use it immediately or store it in the freezer.
Another option is to use coconut milk. Put a can of coconut milk in the fridge overnight so that the liquid separates from the cream. When you're ready to make the whipped topping, scrape out the coconut cream, leaving the coconut liquid to the side. Then beat the cream with vanilla extract and powdered sugar and mix until smooth. Use it immediately or refrigerate it.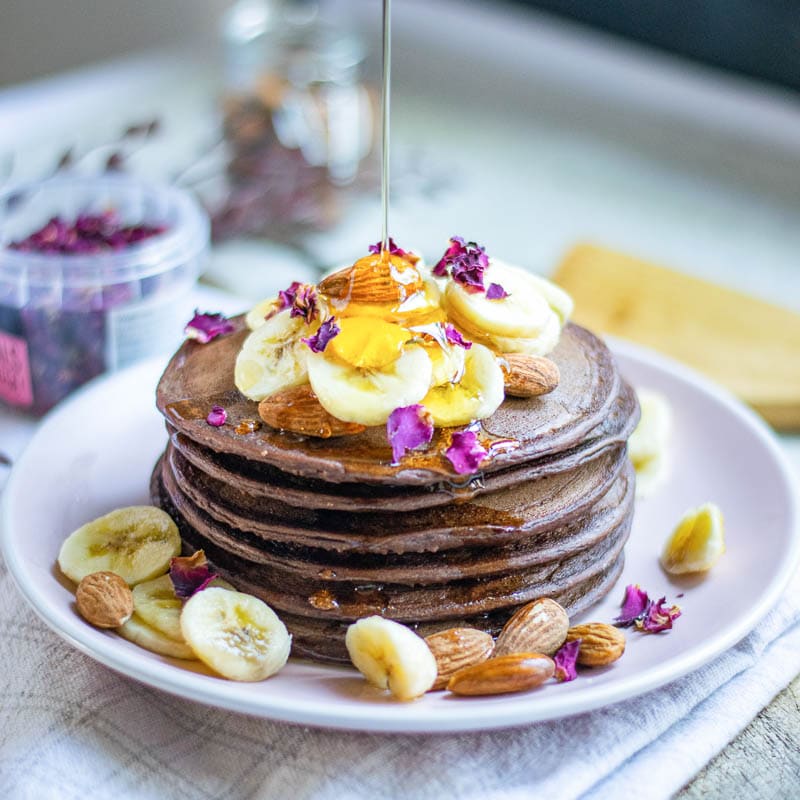 Cooking oil
Coconut oil is considered a heathier fat and will leave your vegan pancakes with an aromatic coconut flavor.
Other healthy options include olive oil and avocado oil.
If you use olive oil, it may gave your chocolate banana pancakes a slightly different flavor that may not go as well with this sweet breakfast option. Avocado oil has a more neutral flavor than olive oil and has anti-inflammatory properties.
Recipe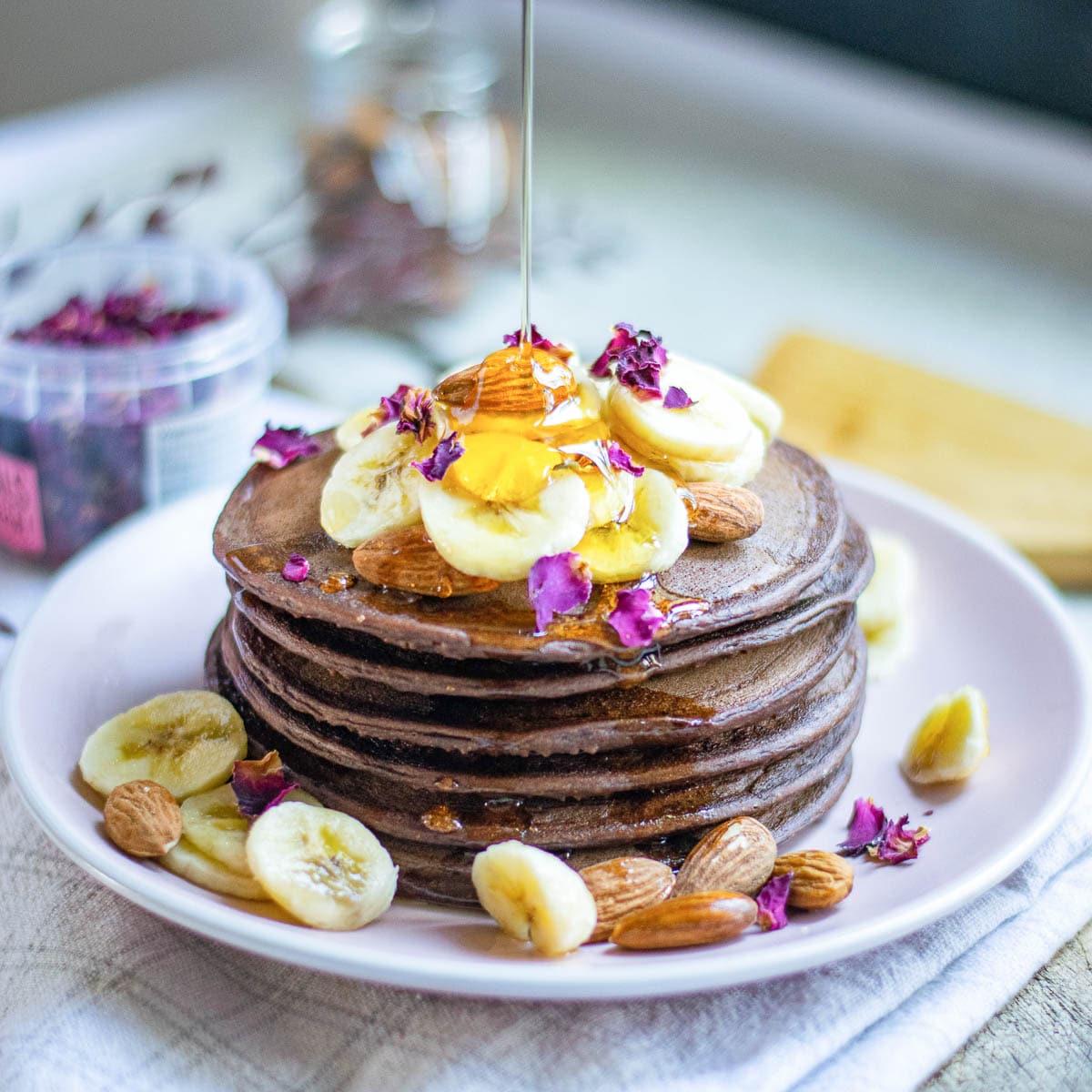 Instructions
Blend flour and cocoa powder together in a blender.

Add the bananas, milk, and agave syrup. Blend until a smooth consistency. Note: Depending on the flour brand, you may need to add a bit more milk if the batter seems too dry. If you find the batter too liquidy, place it in the refrigerator for about 10 minutes.

Pre-heat a non-stick pan or griddle, and add a dollop of coconut oil. Drop the batter onto the griddle in approximately ½ cup increments to form your pancakes. Cook for just a minute or two, until pancake is golden on the underside, then flip and cook the opposite side. Work in batches until all batter is used.

Serve with your favorite toppings.
Notes
Store 2 days in refrigerator.
Nutrition
Calories:
145
kcal
Carbohydrates:
28
g
Protein:
5
g
Fat:
4
g
Saturated Fat:
1
g
Sodium:
27
mg
Potassium:
272
mg
Fiber:
4
g
Sugar:
9
g
Vitamin A:
220
IU
Vitamin C:
7
mg
Calcium:
97
mg
Iron:
2
mg
Craving more veg-friendly recipes?
Shop our collection of vegetarian and vegan cookbooks, including our new Vegan Thanksgiving and Vegan Christmas cookbooks!