Savoury vegan buckwheat pancakes: a breakfast that's healthy, filling and just as delicious when eaten for dinner too! Have these ready in under 30 minutes and serve with a simple tahini veggie slaw that can also be enjoyed on its own. Gluten-free and oil-free.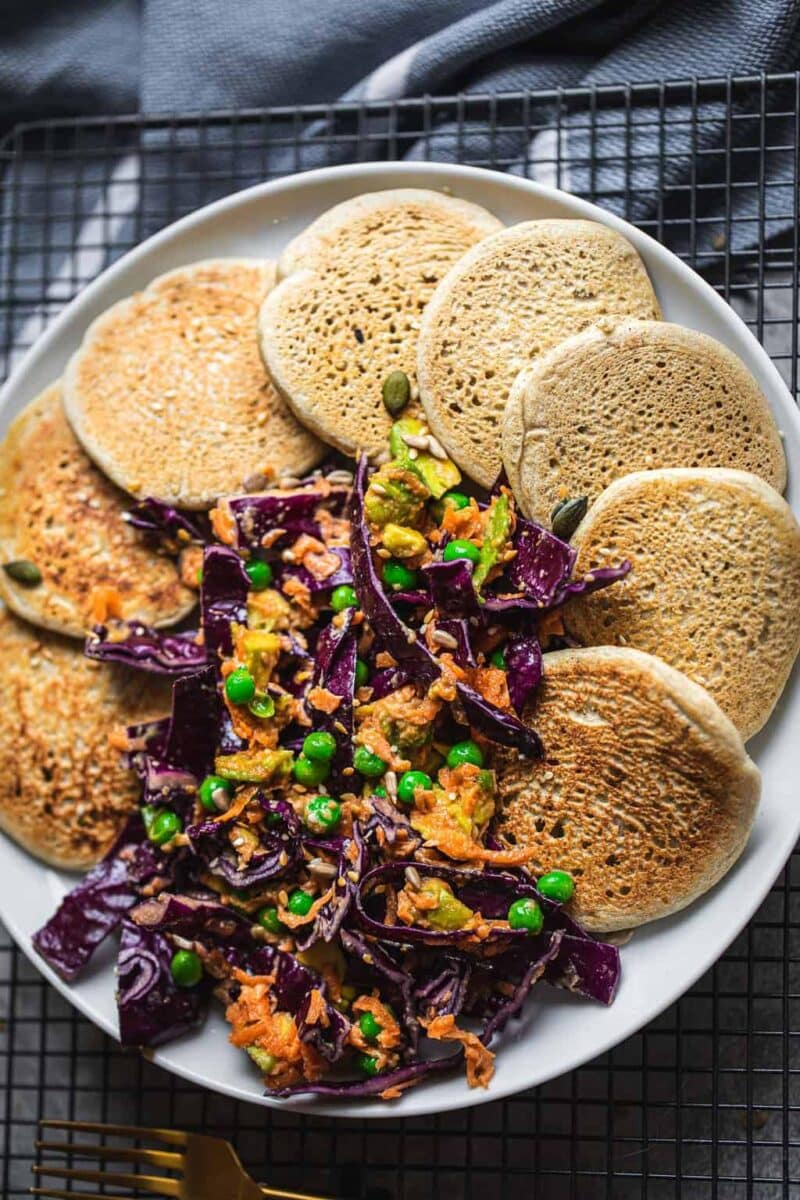 Sometimes, I just gotta start my day with savoury pancakes. Even though my sweet tooth happens to be at its strongest in the morning, a savoury breakfast can feel so comforting. Of course, I can still enjoy a good old classic that's often sweet (pancakes), just with a bit of a twist.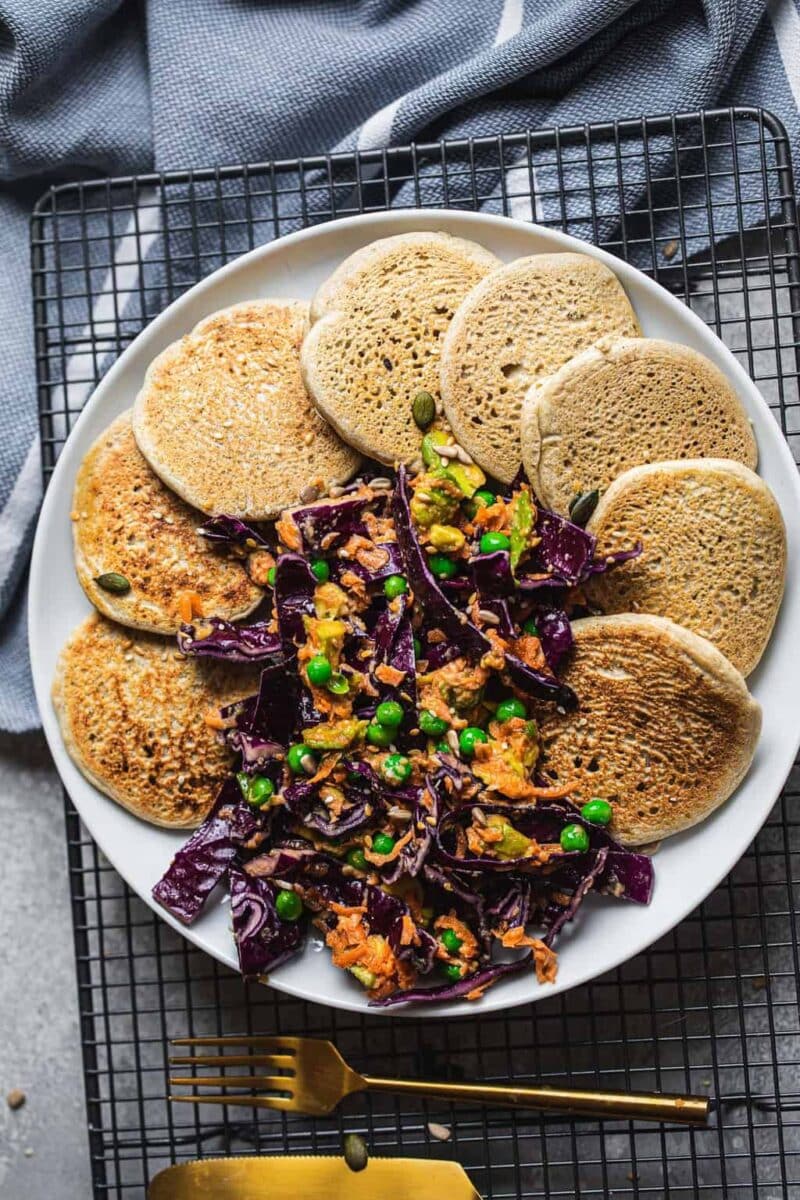 Likewise, I can never turn down breakfast for dinner. Or even dinner for breakfast, because I'm not one to stick by these rules. Pasta for breakfast? Cake for breakfast? Never say no!
That's the great thing about these buckwheat flour pancakes - just like pasta, they work for just about any meal. I think I'm going to start making them as a snack soon because you know, snacking on pancakes is something we need more of in our lives.
Savoury buckwheat pancakes
Lately, I've been obsessed with buckwheat flour. I loved buckwheat as a child and was beyond excited when I discovered the flour version in the supermarket for the first time! It's a wonderful gluten-free option for any type of baking or cooking that traditionally calls for wholegrain flour. The earthy undertones and 'strong' texture gives it an incredible comfort factor.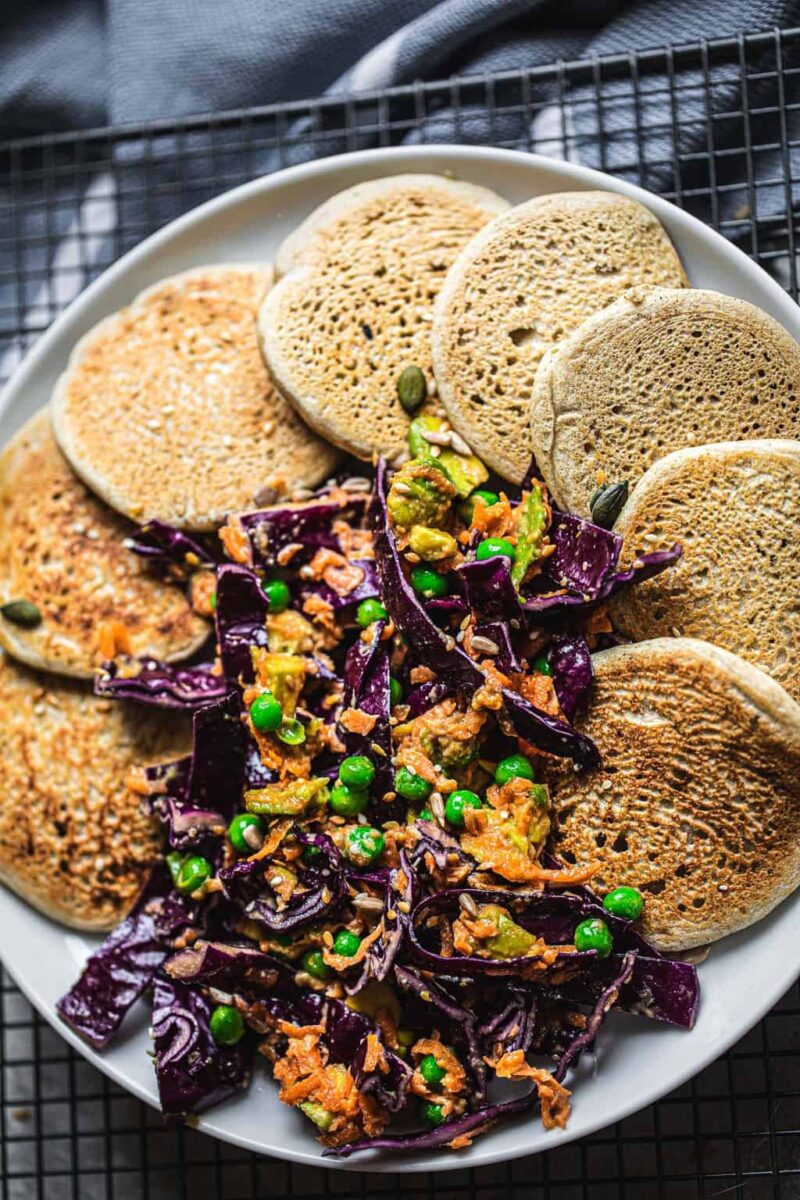 The base of these vegan pancakes is just four ingredients: buckwheat flour, water, baking powder and apple cider vinegar. I also added a pinch of cumin for a little more colour and flavour, but feel free to add any other spices of your choice. Nutritional yeast works really well too!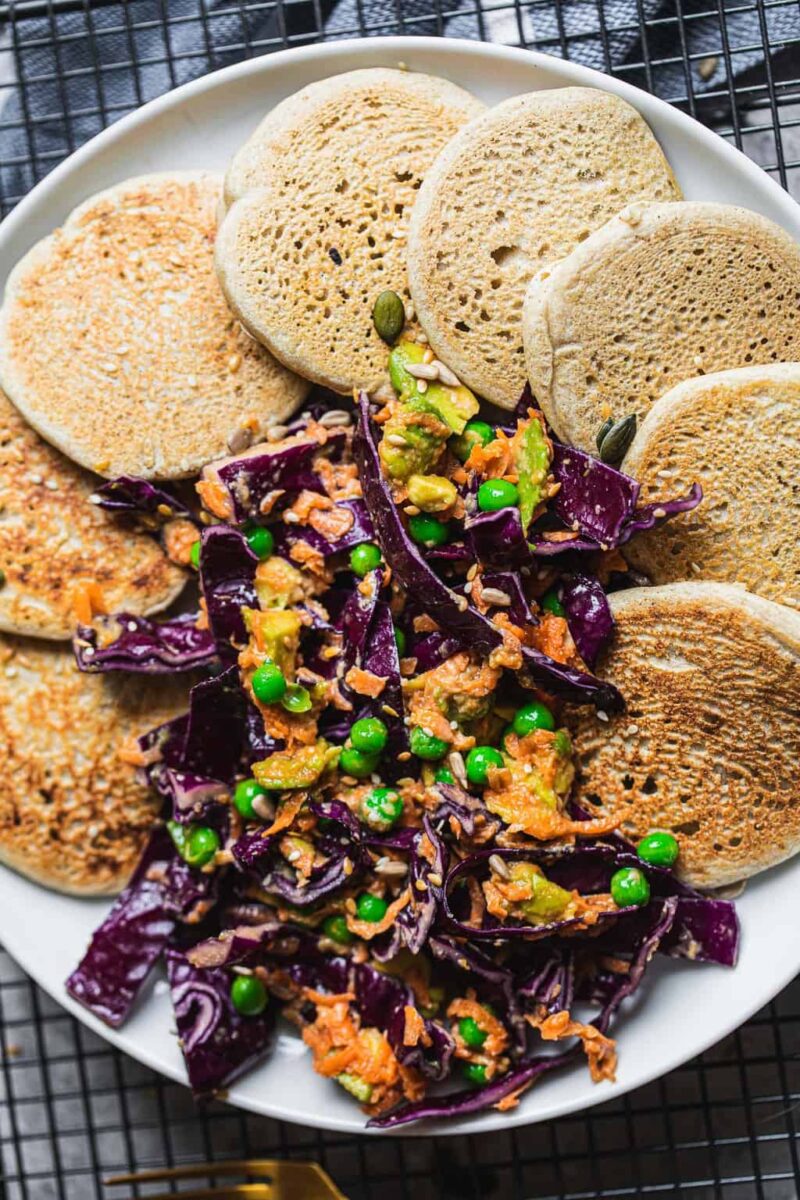 To compliment the pancakes, we're making a super simple tahini veggie slaw - the two components are good enough to eat by themselves, but even better together. You can plate them like I have in the photos, or layer them into a little pancake tower.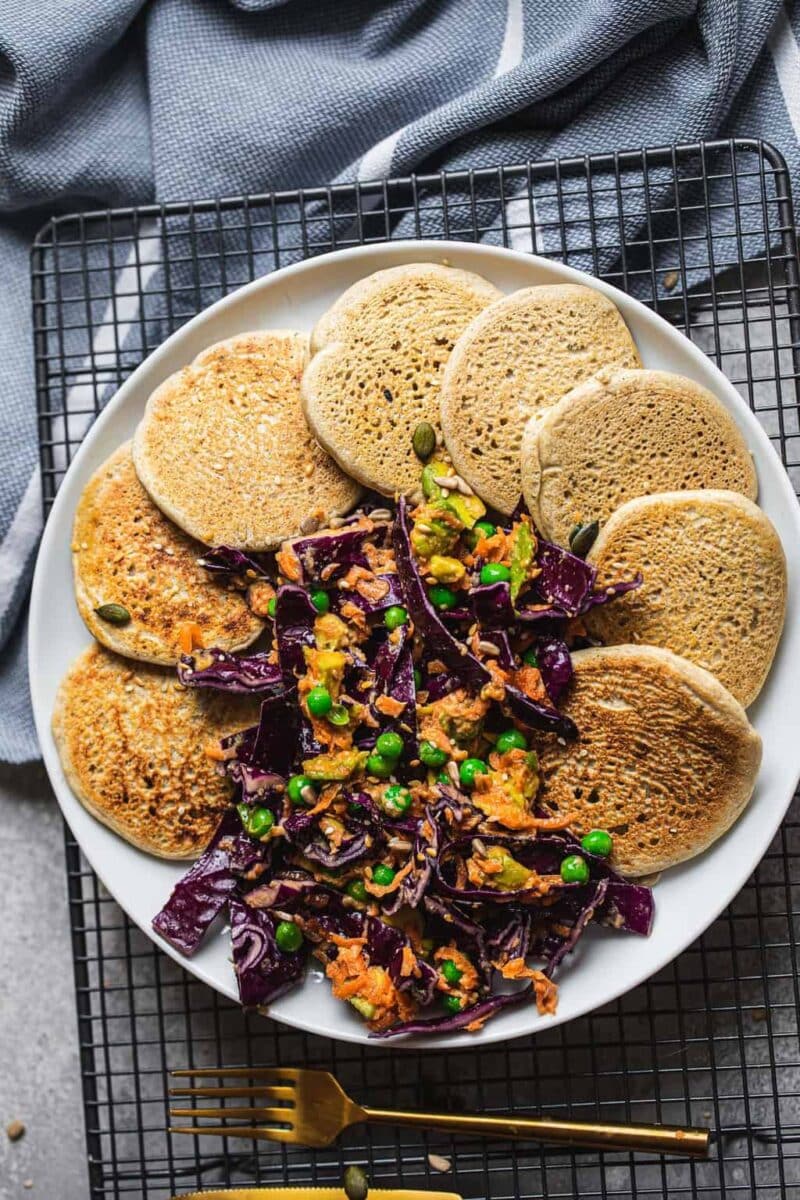 The resulting vegan buckwheat pancakes are made from wholesome ingredients, as well as naturally oil and gluten-free. The slaw is tangy and fresh, with plenty of colour and flavour. I'd recommend making a bit extra of the latter to store in the fridge for up to 2-3 days and repurpose for different recipes!
How to make vegan buckwheat pancakes
Start by adding the buckwheat flour, cumin, baking powder, apple cider vinegar and water to a mixing bowl. Whisk together thoroughly.
Then, heat a non-stick frying pan on a medium-high heat. I find that if I use one of the non-stick variety, I don't encounter any problems with them sticking and can keep them oil-free that way, but if you want to you can use a little bit of oil or cooking spray to cook the pancakes.
Use 2-3 tbsp of batter per pancake (the recipe card below makes around 10 medium-sized ones, which should be enough for 1-2 servings). Flip them when bubbles start to form on the surface and they get crispy around the edge, which should take around 2 minutes, followed by 30 seconds-1 minute on the other side.
To make the tahini veggie slaw, all you have to do is add the cabbage, carrot, peas, avocado, tahini and tamari to a mixing bowl and stir together really well.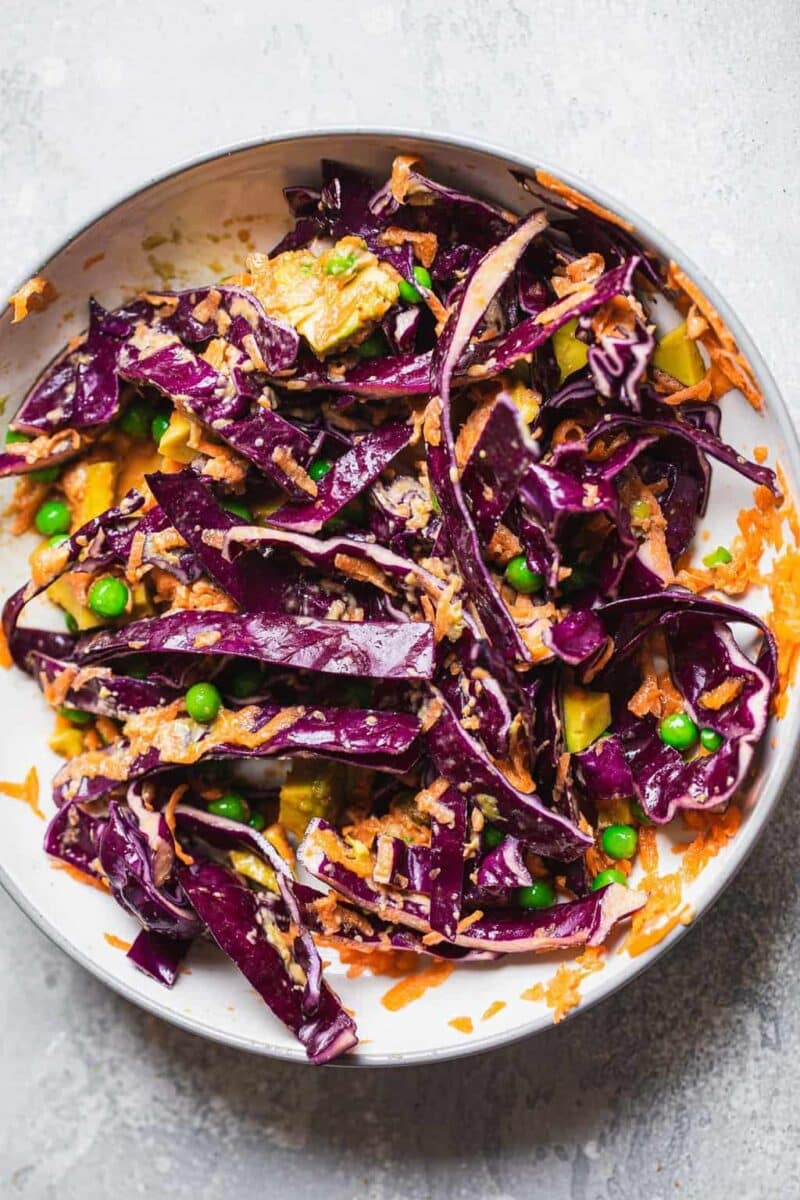 And that's all there is to making delicious fluffy and savoury buckwheat pancakes! Next all you have to do is serve with the veggie slaw and and enjoy each bite, which shouldn't be too hard to do!)
Notes and modifications:
Of course, the tahini veggie slaw is only a serving suggestion! These are super versatile, meaning you can have them with pretty much any topping for a tasty savoury breakfast. Think tofu/tempeh, beans, one-pot lentils, etc...
The buckwheat flour is kinda the star of the show here. But if you don't have it on hand you can use chickpea, wholewheat or all-purpose varieties instead.
Feel free to switch up the vegetables you use for the slaw - try leafy greens like kale and spinach.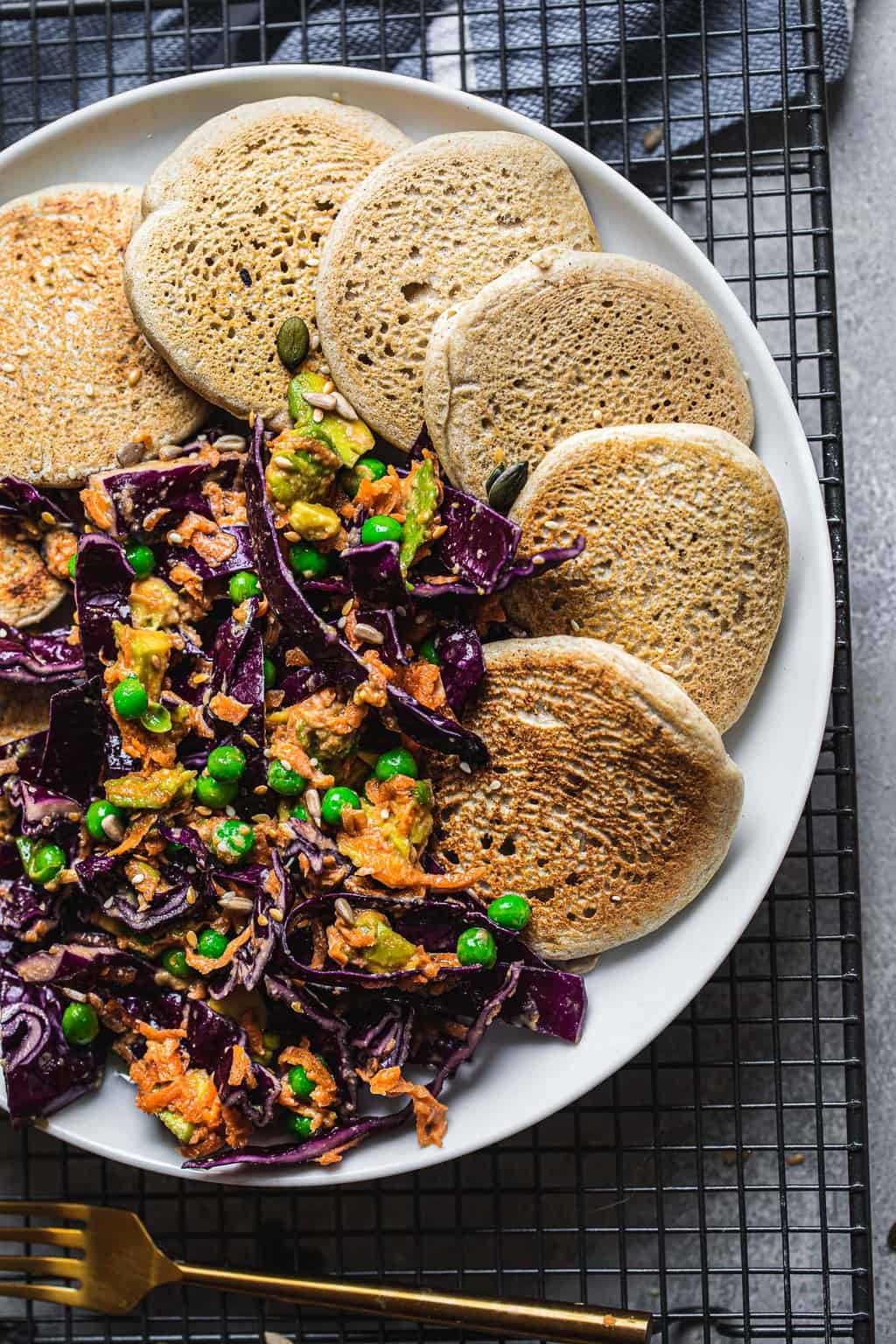 Other vegan pancake recipes you might like
Let me know in the comments: what's your favourite way to make pancakes? If you give these vegan buckwheat pancakes a go, tag me on Instagram (@ohmyveggies) so I can see your creations, and be sure to leave a rating below to let me know what you thought.
Recipe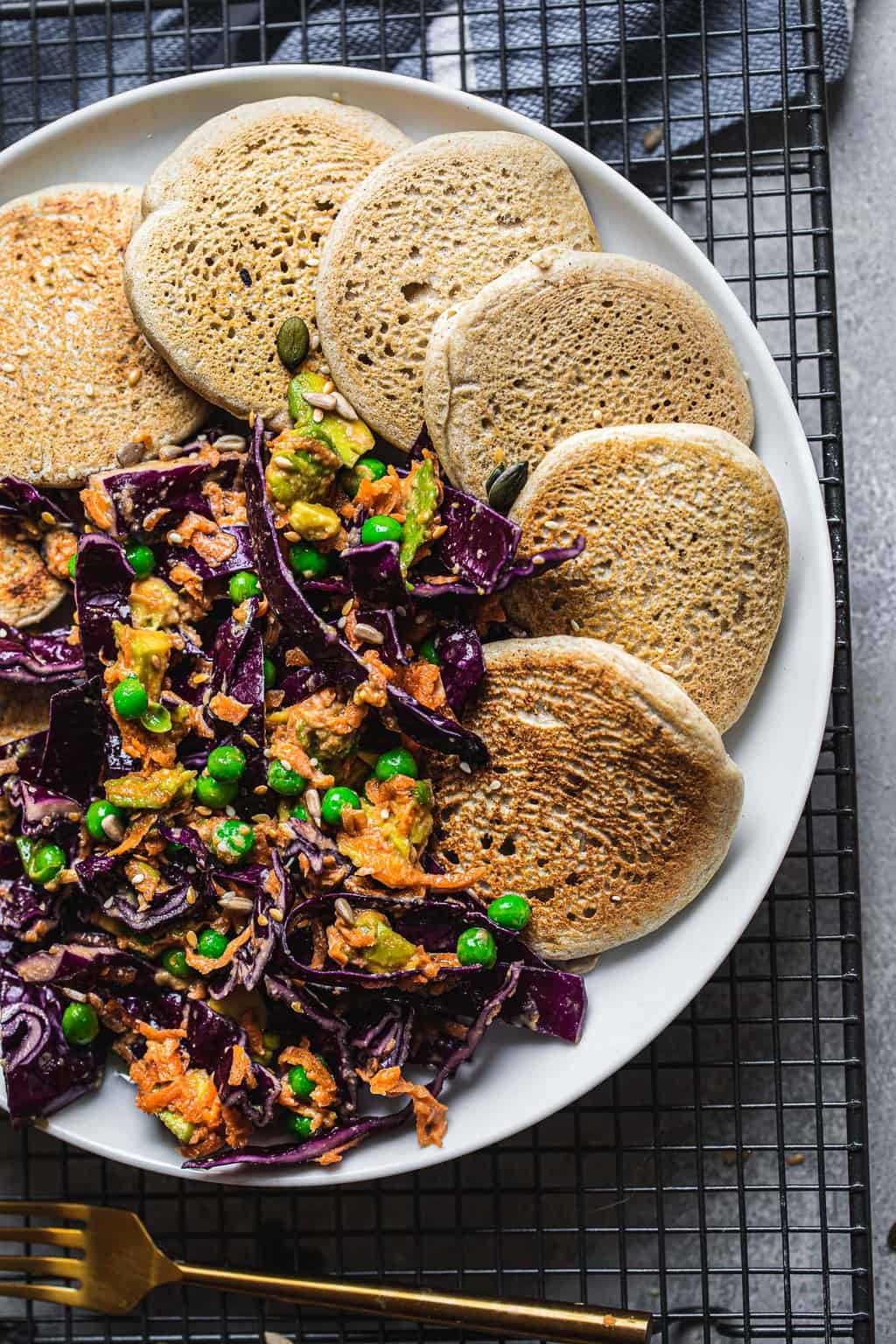 Ingredients
For the tahini veggie slaw
Instructions
Add the pancake ingredients (buckwheat flour, baking powder, paprika, GF nutritional yeast, onion, almond milk and apple cider vinegar to a blender or food processor. Blend until smooth and set aside for 5 minutes

Meanwhile, make the veggie slaw by stirring together the carrot, cucumber, red cabbage, avocado, petit pois, tahini and sesame seeds. Season generously with pink Himalayan salt and black pepper.

Heat a non-stick frying pan on a medium-high heat. Use around 2-3 tbsp batter per pancake and cook for around 1.5 minutes (until bubbles form on the surface) before slipping. Cook for a further minute before setting aside on a plate.

Serve immediately by stacking the pancakes with the veggie slaw in between.
Nutrition
Calories:
423
kcal
Carbohydrates:
63
g
Protein:
15
g
Fat:
16
g
Saturated Fat:
2
g
Sodium:
1065
mg
Potassium:
1295
mg
Fiber:
14
g
Sugar:
7
g
Vitamin A:
5943
IU
Vitamin C:
47
mg
Calcium:
225
mg
Iron:
6
mg
Craving more veg-friendly recipes?
Shop our collection of vegetarian and vegan cookbooks, including our new Vegan Thanksgiving and Vegan Christmas cookbooks!