These fluffy quinoa pancakes are made with a mixture of quinoa and whole wheat pastry flour, and served with a slightly sweet strawberry compote. The best part? Everything is freezer friendly!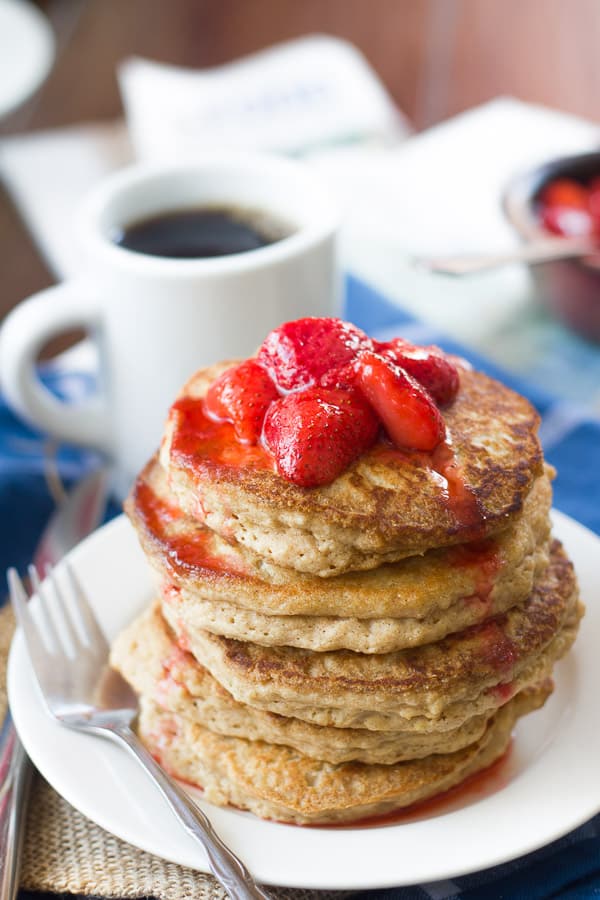 I've always favored sweet breakfasts over savory. I guess it makes sense, since I'm totally not a morning person, that I'd want something a little sweet to lure me out of bed.
Well, the whole sweet breakfasts thing worked out for me, until I became an adult and realized that in downing platefuls of pancakes, waffles and French toast, I was basically eating dessert for breakfast every day. I guess that would explain the regular 11 am energy crashes.
Some vegan savory breakfasts have managed to work their way into my rotation, but I still favor the sweet stuff. My solution: adapt my favorite breakfast recipes to be a little bit more balanced.
When I head that quinoa pancakes were a thing, I immediately had to give them a try.
Quinoa had become a favorite substitute for some of my regular carby dinner foods like rice and pasta. I continue to be amazed by all the things I can make with quinoa!
Could it replace some of the flour in my pancakes? Would I enjoy them just as much, and possibly avoid the carb crash? As luck would have it, I actually prefer quinoa pancakes to regular old pancakes.
The quinoa lends these pancakes texture, moisture and staying power. I find them to be quite a bit more filling than conventional pancakes.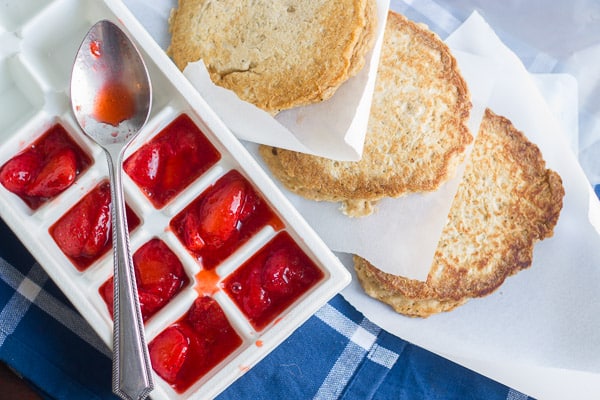 Tips & Tricks
An equal parts mix of quinoa and flour is the key. I used whole wheat pastry flour, but all-purpose works just as well.
You can serve these up with some maple syrup, but since the goal here is to balance out breakfast a bit, I went with a simple berry compote. A mixture of strawberries and just a bit of maple syrup is just as satisfying to my sweet tooth than the usual vat of syrup that makes it's way onto my pancakes.
In order to make sure I have some quinoa pancakes at hand any day that a hankering hits me, I made these pancakes and the berry compote freezer friendly.
The recipe makes a big batch, so you can keep a nice-sized stash in the freezer.
Feel free to cut down on the batch size if you want to eat these right away and are feeding just a few people.
Recipe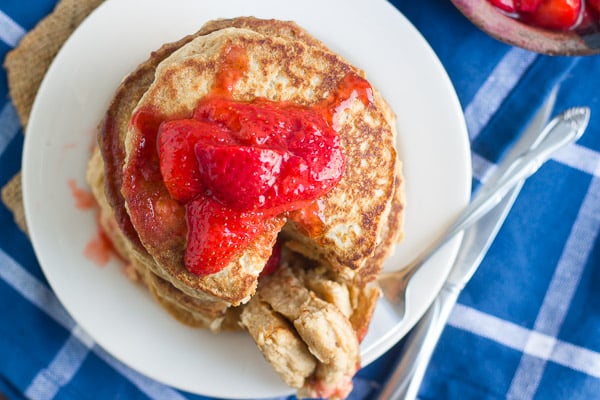 Ingredients
For the strawberry compote:
Instructions
Make the pancakes:
Stir the quinoa and water together in a medium saucepan and place over high heat. Bring to a boil, lower heat and cover. Allow to cook until all of the water is absorbed, about 15 minutes. Remove from heat and allow to sit for 5 minutes. Remove the lid and allow to cool for a few minutes while you gather the rest of your ingredients.

Measure out 2 cups of the cooked quinoa and place it into a medium-sized mixing bowl. Save any excess quinoa for another use. Add the flour, baking powder, cinnamon, and salt. Stir everything together. Stir the milk and maple syrup together in a separate bowl or measuring cup, then pour it into the bowl with the flour mixture, and stir until ingredients are fully blended. The batter will be pretty thick.

Lightly oil a griddle or nonstick frying pan and place over medium heat. Once hot, drop ¼ to ⅓ cup of batter onto the cooking surface. You can spread it out a bit with the back of a spoon if needed. Allow to cook until the batter begins to pull up and brown slightly around the edges, about 3-4 minutes. Gently flip and cook about 2 minutes on the opposite side, until lightly browned. Transfer to a plate and repeat until all of the batter is used, adding oil to the cooking surface between batches.

To freeze, allow the pancakes to cool completely. Once cool, arrange in two stacks with a sheet of parchment or wax paper between pancakes. Seal in a large freezer bag and freeze for up to 6 weeks.

To reheat, place each pancake in the microwave for about 1 minute, just until thawed, and then toast in the toaster just until the outside begins to crisp, about 1 minute.
Make the berry compote:
Stir all ingredients together in a small saucepan and place over medium heat. Bring to a simmer and allow to cook until the berries soften, about 5 minutes. Lightly mash the berries with a fork, stir and allow to simmer 2 minutes more. Remove from heat and allow to cool. The compote will thicken as it cools.

To freeze, place the cooled compote into a freezer-safe container, or divide into multiple freezer-safe containers. You can also create individual portions by dividing the compote into an ice cube tray. Once frozen, pop the cubes out of the tray and seal in individual freezer bags or containers.

To reheat, microwave in 30 second intervals, stirring in between, until the mixture is hot.
Notes
You can also use leftover quinoa if you've got some on hand. Just make sure it hasn't been sitting around too long and dried out.
Nutrition
Calories:
253
kcal
Carbohydrates:
49
g
Protein:
9
g
Fat:
3
g
Saturated Fat:
1
g
Polyunsaturated Fat:
2
g
Monounsaturated Fat:
1
g
Sodium:
336
mg
Potassium:
418
mg
Fiber:
6
g
Sugar:
10
g
Vitamin A:
217
IU
Vitamin C:
39
mg
Calcium:
208
mg
Iron:
3
mg
Craving more veg-friendly recipes?
Shop our collection of vegetarian and vegan cookbooks, including our new Vegan Thanksgiving and Vegan Christmas cookbooks!