Is there a more joyous way to begin a morning than with the enticing aroma of pancakes? The smell of these Simple Vegan Pancakes is so delicious it might even wake up your family—so be ready!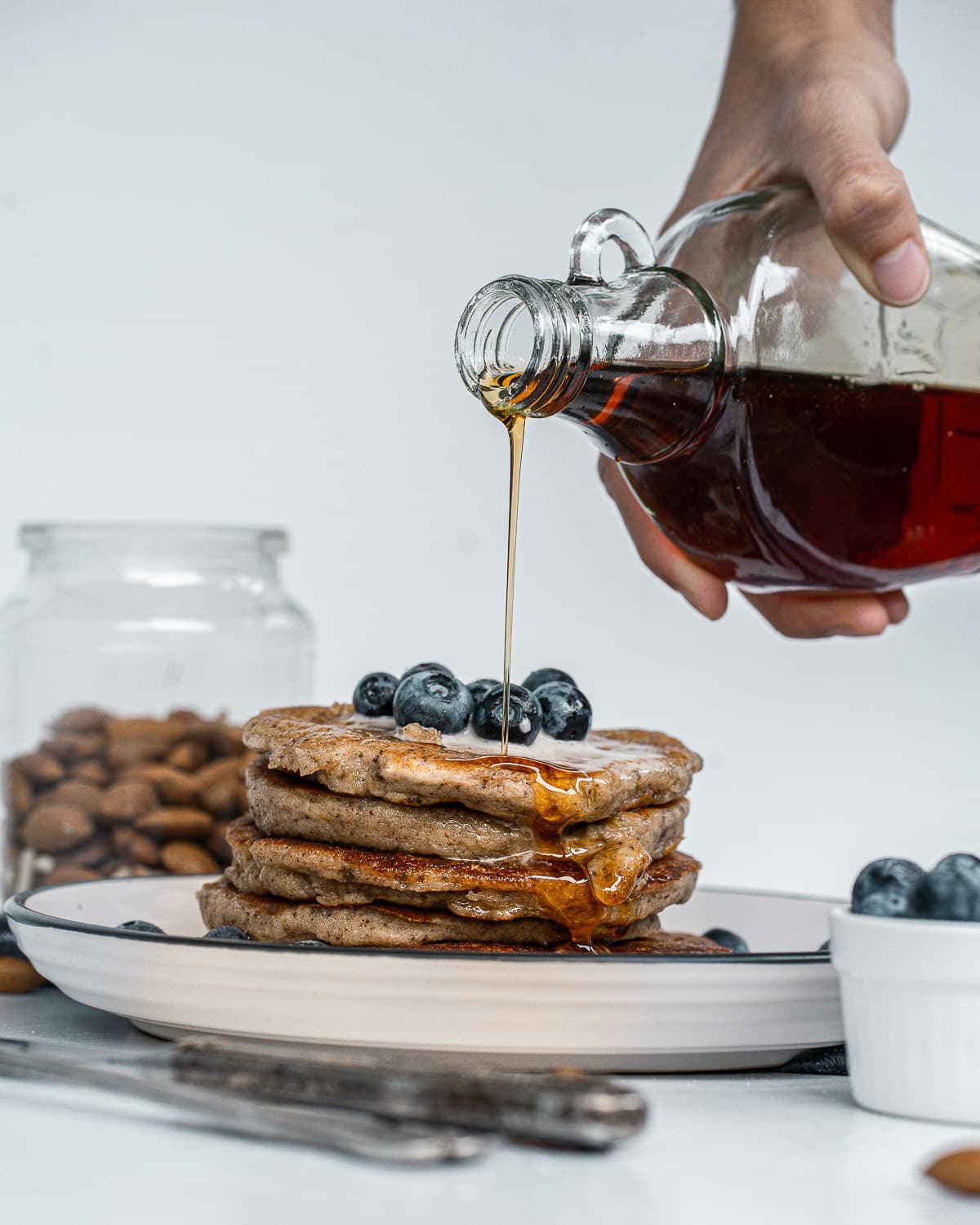 Jump to:
These vegan pancakes are incredibly simple to make! You can top them with fresh berries like we did or explore other creative and delicious toppings. (Don't worry, we'll share some more ideas below!)
This simple vegan pancake recipe is exactly that—so simple. In just a few steps it creates the most decadent pancakes. You can easily customize them with different add-ins or toppings. This vegan pancake recipe will become a staple in your house because it's easy to make and tastes fantastic!
These pancakes are made with staple ingredients that you probably already have in your pantry. They are fluffy with a soft, sweet taste. 
This Simple Vegan Pancakes recipe is...
Easy to make
Egg-less
Fluffy and dense
Drizzled with sweet maple syrup
Topped with fresh, crisp berries
100% vegan
Easy to store in the both the fridge and freezer
Great for meal prep
Can we say… perfect?!
For even more tasty ways to start your day, check out our brand new cookbook, The Vegan Brunch Book.
How To Make Simple Vegan Pancakes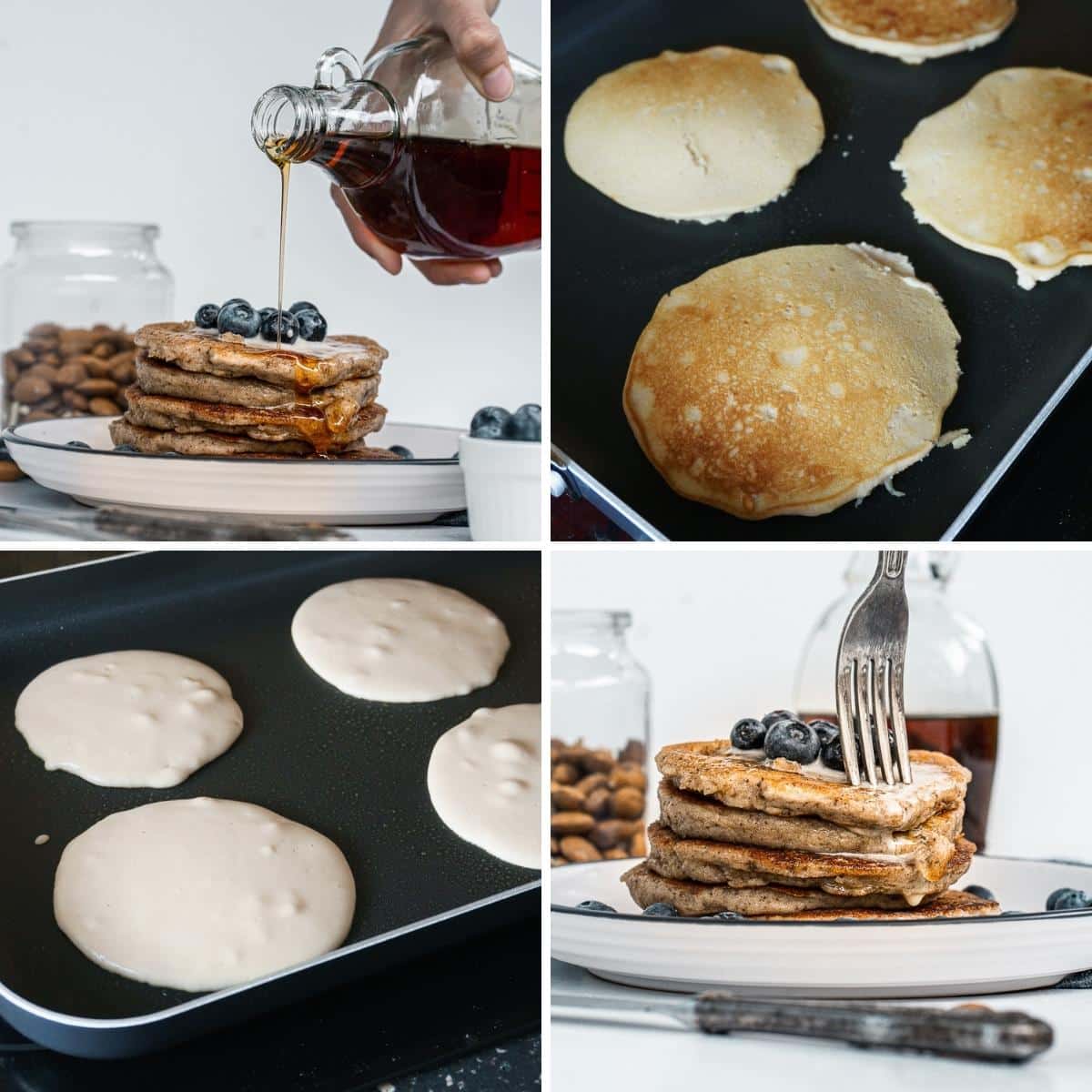 Combine the ingredients in a mixing bowl.
Whisk or mix together.
Pour into a frying pan and let it cook until golden brown on each side.
Serve with your favorite pancake toppings!
Full directions for how to make Simple Vegan Pancakes are in the printable recipe card at the bottom of the post.
Tips & Tricks for Simple Vegan Pancakes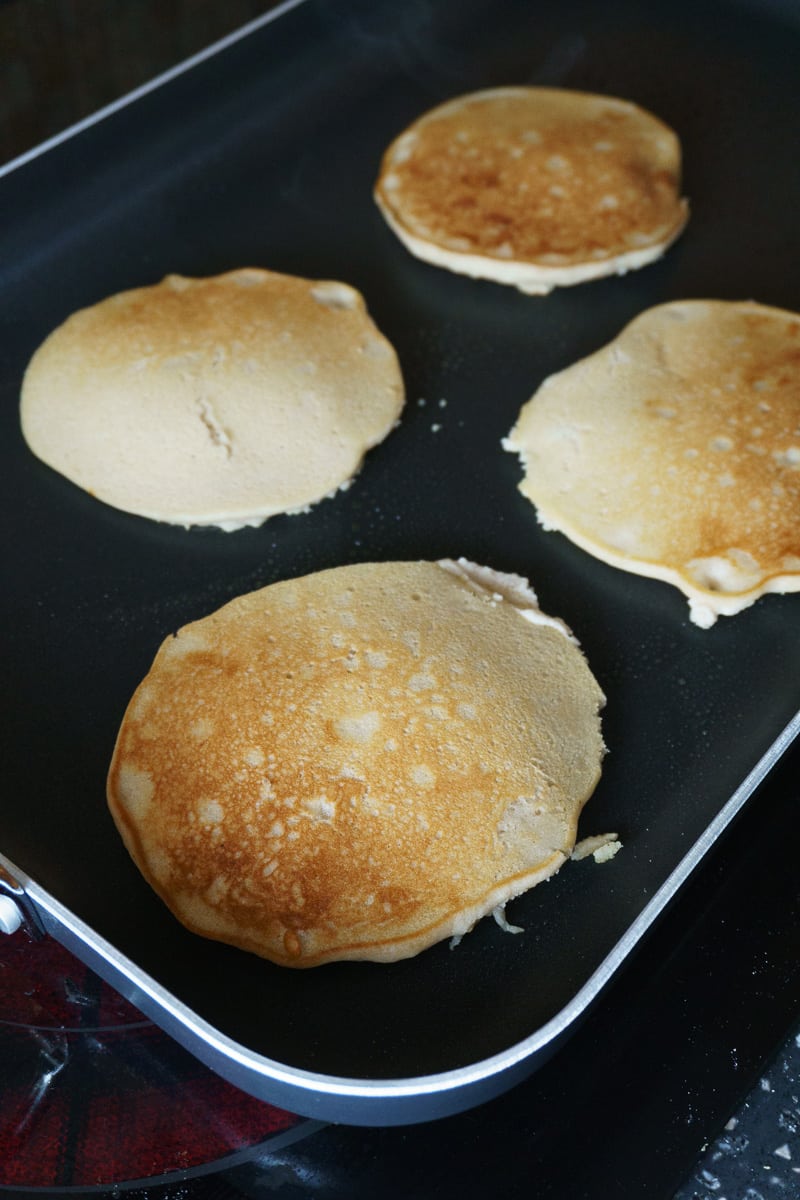 Flipping the pancakes.
It can be tricky to know when it's time to flip your vegan pancakes while they're cooking. Watch for the consistent bubbling to know they're ready. Once the vegan pancakes begin to bubble, it's time to flip them and cook the other side. Don't worry—it takes practice!
A few things that help are...
Using a non-stick cooking spray for your pan. We like Trader Joe's Coconut cooking spray, but any will do the trick!
Using a non-stick skillet or frying pan. If you don't already have one, here are a few that we particularly like! All-Clad 12-inch fry pan and Calphalon 2-Piece Fry Pan Set.
Using a good-quality spatula is critical as well. Look for something safe to use with high heat and is a good, durable material, like this OXO Good Grip Spatula.
Not overcrowding your vegan pancakes. If the pan isn't large enough to allow for two easily, don't pour two. It can be difficult to flip if the two vegan pancakes join.
Make sure your baking powder is fresh.
Baking powder is responsible for giving vegan pancakes that fluffy soft texture. It's important that you measure it accurately and make sure that it's fresh.
Too much or too little baking powder will affect the pancakes and how they turn out. If the baking powder is stale, or too old, the pancakes won't have the texture you're aiming for. Baking powder typically stays fresh for 18–24 months. 
Perfect for meal prepping.
These vegan pancakes can be stored in an air-tight container in the fridge for about 3–5 days. They can alsobe frozen for 3–4 months as well. These vegan pancakes are perfect for meal prepping!
Variations to Simple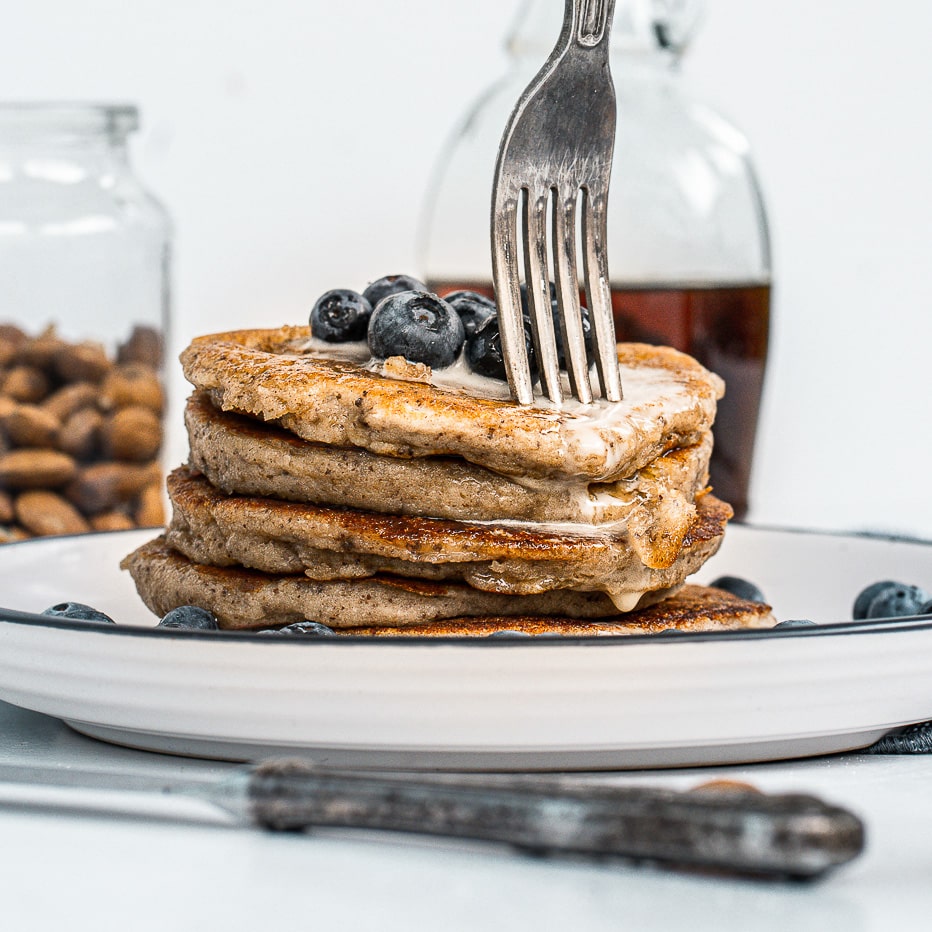 Explore different toppings! Get creative!
We used maple syrup and fresh berries to top our pancakes, but don't be afraid to try other ideas! Here are a few to get you started:
Cinnamon sugar
Icing sugar
Chocolate sauce
Sliced banana
Jam
Substitute the flour.
We used all-purpose flour for our vegan pancakes, but you can most definitely swap this for gluten-free baking flour. The mixture will still turn out and be delicious.
Get creative with mix-ins.
This simple vegan pancake recipe is perfect. It tastes delicious and is a great recipe to get creative with as well. Explore different mix-ins and play with the taste.
Some of our favorite mix-ins for vegan pancakes are...
Blueberries
Chocolate chips
Strawberries
Cinnamon and raisins
A touch of maple syrup
Vanilla extract and a sprinkle of cinnamon
Simple Vegan Pancakes FAQs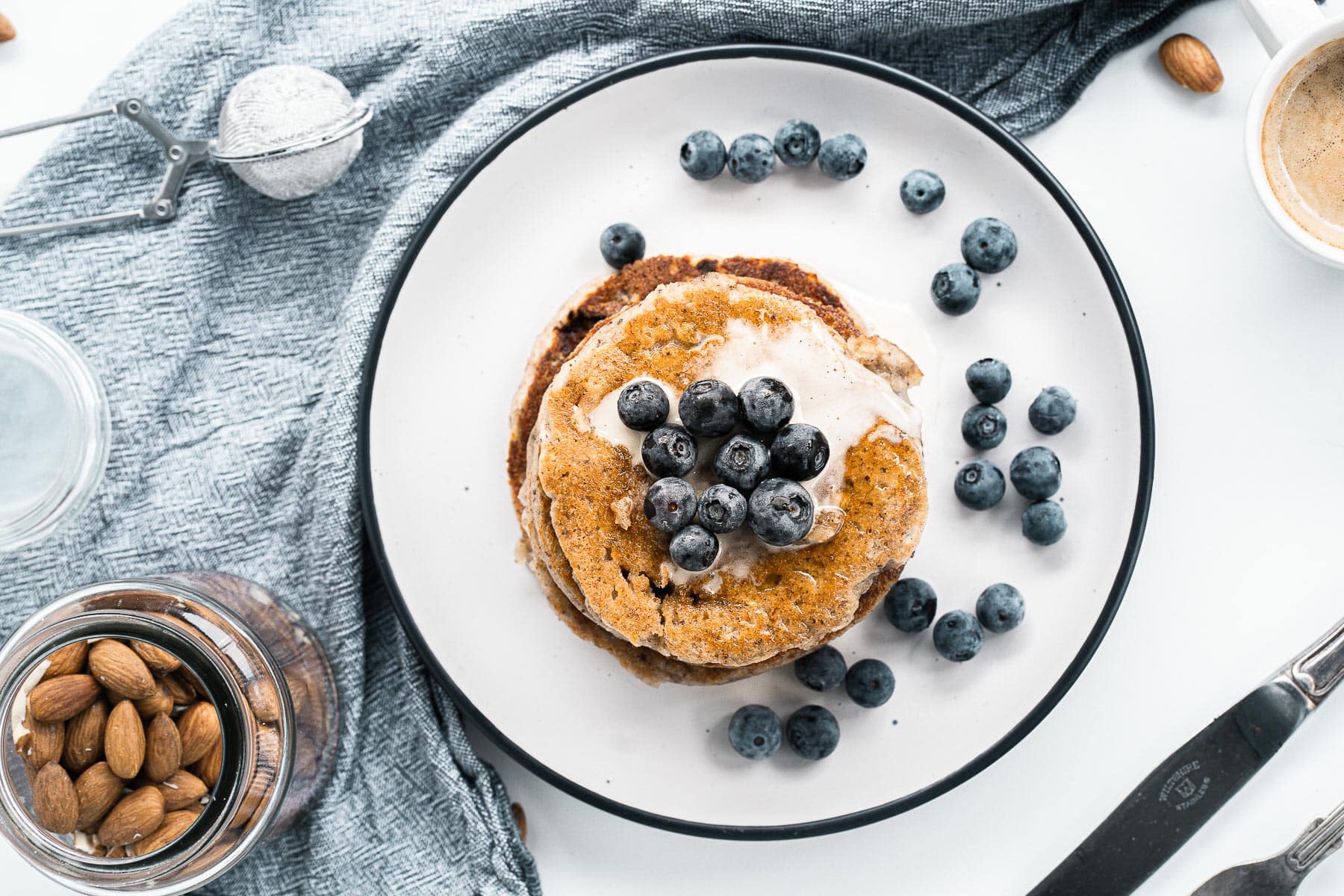 How do I make my vegan pancakes fluffy?
Don't over-whisk the mixture. Use caution when measuring to ensure the proper amount of ingredients are added. Make sure your baking powder is fresh as well. These few steps will ensure that you get heavenly fluffy pancakes!
What kind of oil should I use when making vegan pancakes?
There are several oil options you can try for cooking your pancakes. Olive oil, coconut oil, and grapeseed oil are just a few of these options. Different oils have different health benefits, so do some research before you pick one! 
How do I not mess up the first vegan pancake?
Make sure the entire cooking surface of the frying pan is coated evenly with the non-stick ingredient you choose. Also, ensure the pan is hot enough when you pour the batter in for the first pancake.
While you're here, be sure to check out our Vegetarian Freezer Cooking Cookbook. We take the guesswork out of freezer cooking with these meatless recipes that were specifically developed to be prepared, frozen, and reheated later. Talk about easy dinners!
Recipe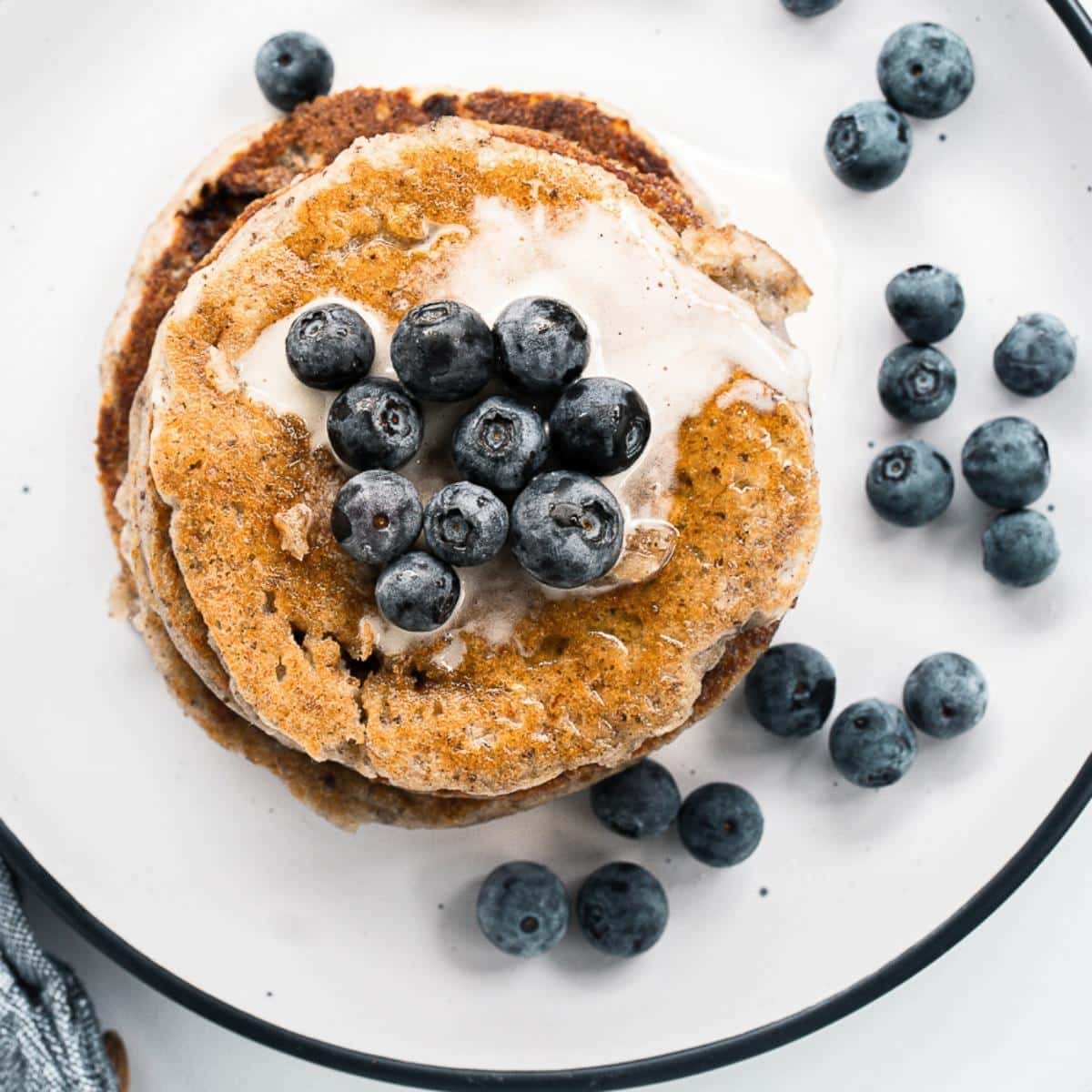 Instructions
In a mixing bowl, combine all-purpose flour, baking powder, sugar, and salt.

Add in dairy-free milk and water.

Mix until combined. Batter should be thick.

Using a non-stick skillet with a slim layer of oil, pour 2 tbsp of the batter for each pancake.

Cook in low heat for about 2 to 3 minutes for each side.

Serve immediately. Garnish with maple syrup, fruits, or nuts.
Notes
You can substitute whole wheat flour or a gluten-free baking flour for the all-purpose flour if desired.
For variations, feel free to add your favorite mix-ins such as blueberries or chocolate chips.
Leftover pancakes can be kept in the fridge for 3–5 days or frozen for 3–4 months. Reheat them in the oven or toaster oven for best results.
Nutrition
Calories:
170
kcal
Carbohydrates:
34
g
Protein:
5
g
Fat:
1
g
Saturated Fat:
1
g
Polyunsaturated Fat:
1
g
Monounsaturated Fat:
1
g
Sodium:
484
mg
Potassium:
111
mg
Fiber:
1
g
Sugar:
6
g
Vitamin A:
203
IU
Vitamin C:
4
mg
Calcium:
211
mg
Iron:
2
mg
Craving more veg-friendly recipes?
Shop our collection of vegetarian and vegan cookbooks, including our new Vegan Thanksgiving and Vegan Christmas cookbooks!