This Vegan Whipped Cream is perfectly sweet and thick—and absolutely heavenly. It's 100% vegan, but you'd never know by its luscious taste!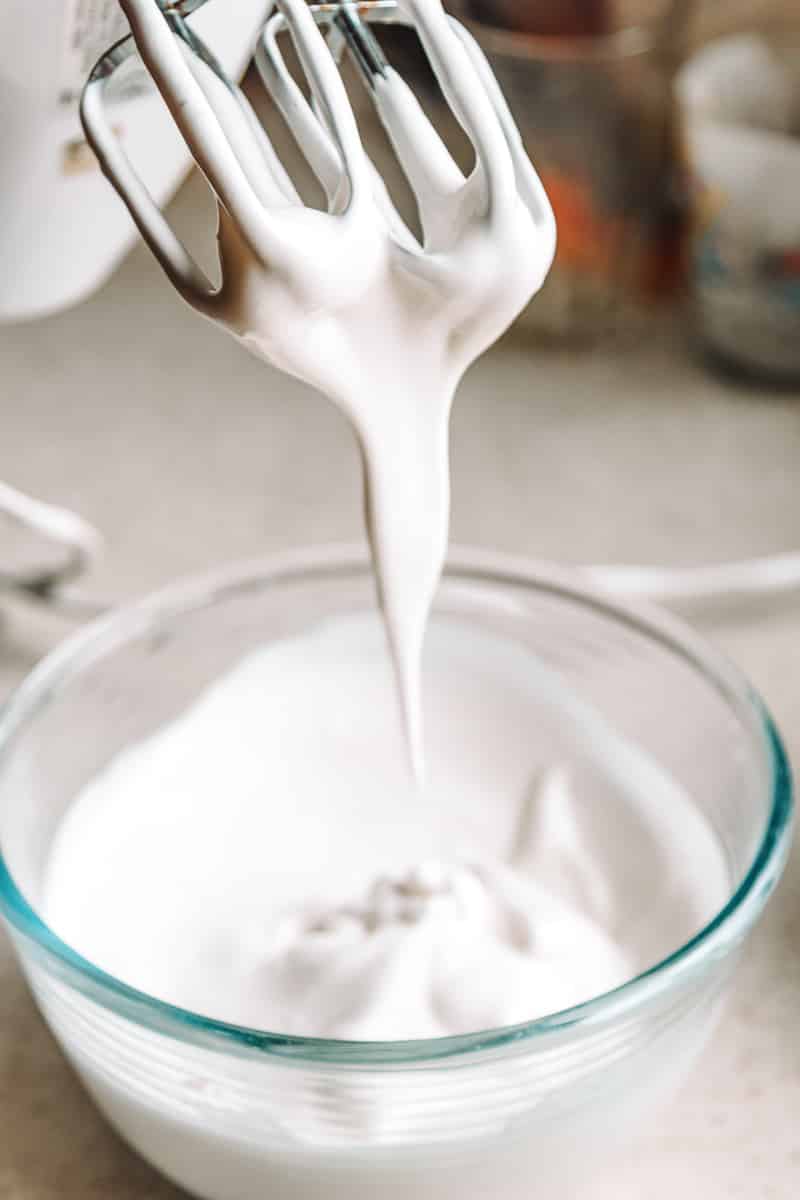 Jump to:
Pair this vegan whipped cream with a delicious pie (some of our favorites are vegan cherry pie, vegan key lime pie, and vegan banana cream pie), fresh strawberries, or even your morning oatmeal for a dessert flair to breakfast.
This whipped cream comes together with just a few simple ingredients. It has a soft sweet taste, and you can easily sweeten it to your taste. 
This whipped cream boasts a perfect texture, thanks largely to the whipped coconut cream. This particular ingredient makes the whipped cream taste absolutely fantastic. In addition, it's straightforward to make and comes together with just a couple of steps. 
This Vegan Whipped Cream recipe is...
Egg-less
100% vegan
Simple to make
Made with coconut cream
Perfect to pair with nearly anything
Thick and creamy
Absolutely delicious
For even more tasty ways to start your day, check out our brand new cookbook, The Vegan Brunch Book.
How to Make Vegan Whipped Cream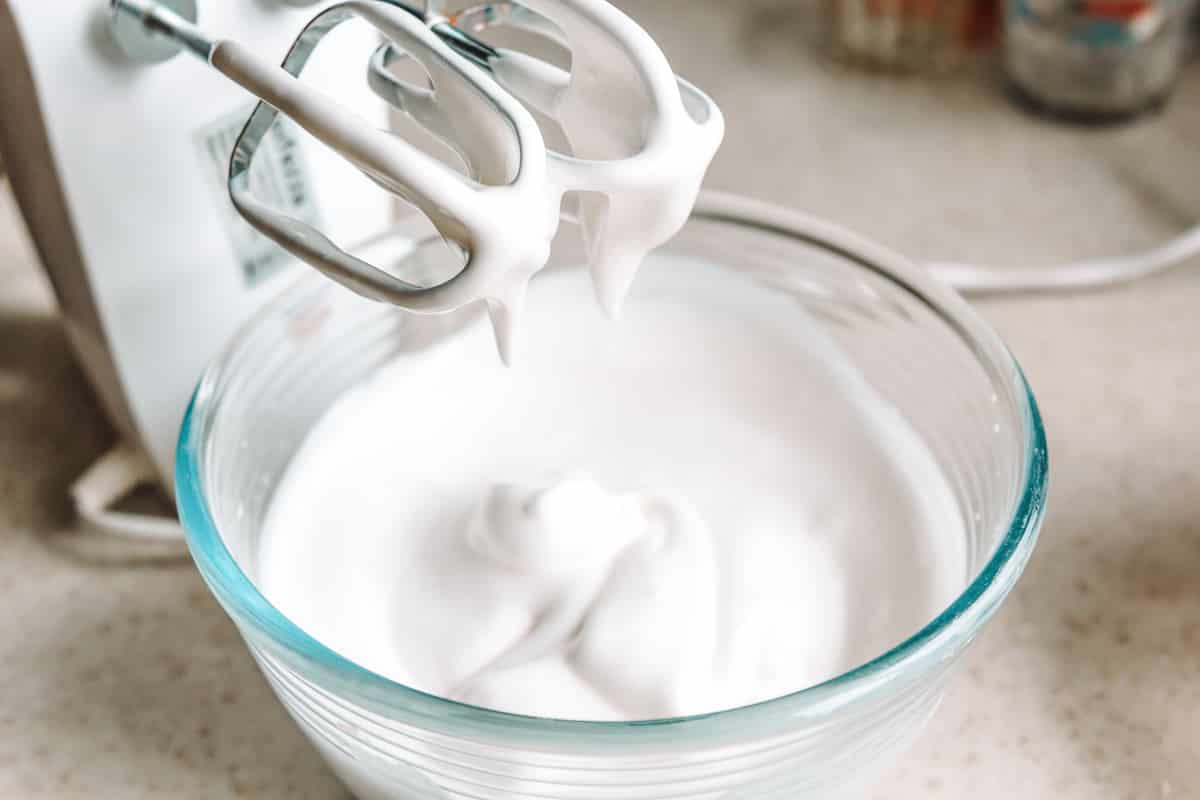 Start with chilling the coconut cream in the refrigerator overnight.
Scoop the thick coconut cream into a bowl and beat until creamy.
Add the other ingredients and beat together until smooth.
Full directions for to make Vegan Whipped Cream are in the printable recipe card at the bottom of the post.
Tips, Tricks, & Variations for Vegan Whipped Cream
Use Immediately
This whipped coconut cream whipped cream tastes best when used immediately. However, it can last in the fridge—with proper storage—for up to one week. Just know that it might harden during that time and require mixing to soften.
Cream vs Milk
Make sure not to mistake coconut cream and coconut milk as the same ingredient. This vegan whipped cream requires coconut cream. Coconut cream is thicker than coconut milk, so if you use coconut milk, you won't have the right consistency for whipped cream.
Chill Cream
Chilling the coconut cream in the fridge overnight is an essential component of this fantastic recipe. Make sure you don't rush this step. The chilling step makes the cream firm, which makes it easier to whip. If the cream isn't chilled, it won't turn into whipped cream.
Chill Tools
Heat and whipped coconut cream do not mix well. Chilling your bowl, spoon, and any other utensils that will come in contact with the recipe will help keep your coconut cream at the right consistency.
Adjust Sweetness
We get it—some of us have a sweet tooth, and that's fine! Simply adjust the vanilla extract and powdered sugar to get the taste you're craving.
Need some ideas for what to pair this vegan whipped cream with?
First—can we just say—we are not against serving this whipped cream in a bowl and indulging in it alone! It's so tasty that it doesn't need a partner. Of course, it's fantastic with nearly anything else as well, but honestly, it's also a fine dessert on its own.
But for those of you who want something more, we have you covered! Here are a couple of our favorite dishes to pair with this vegan whipped cream:
Vegan Whipped Cream FAQs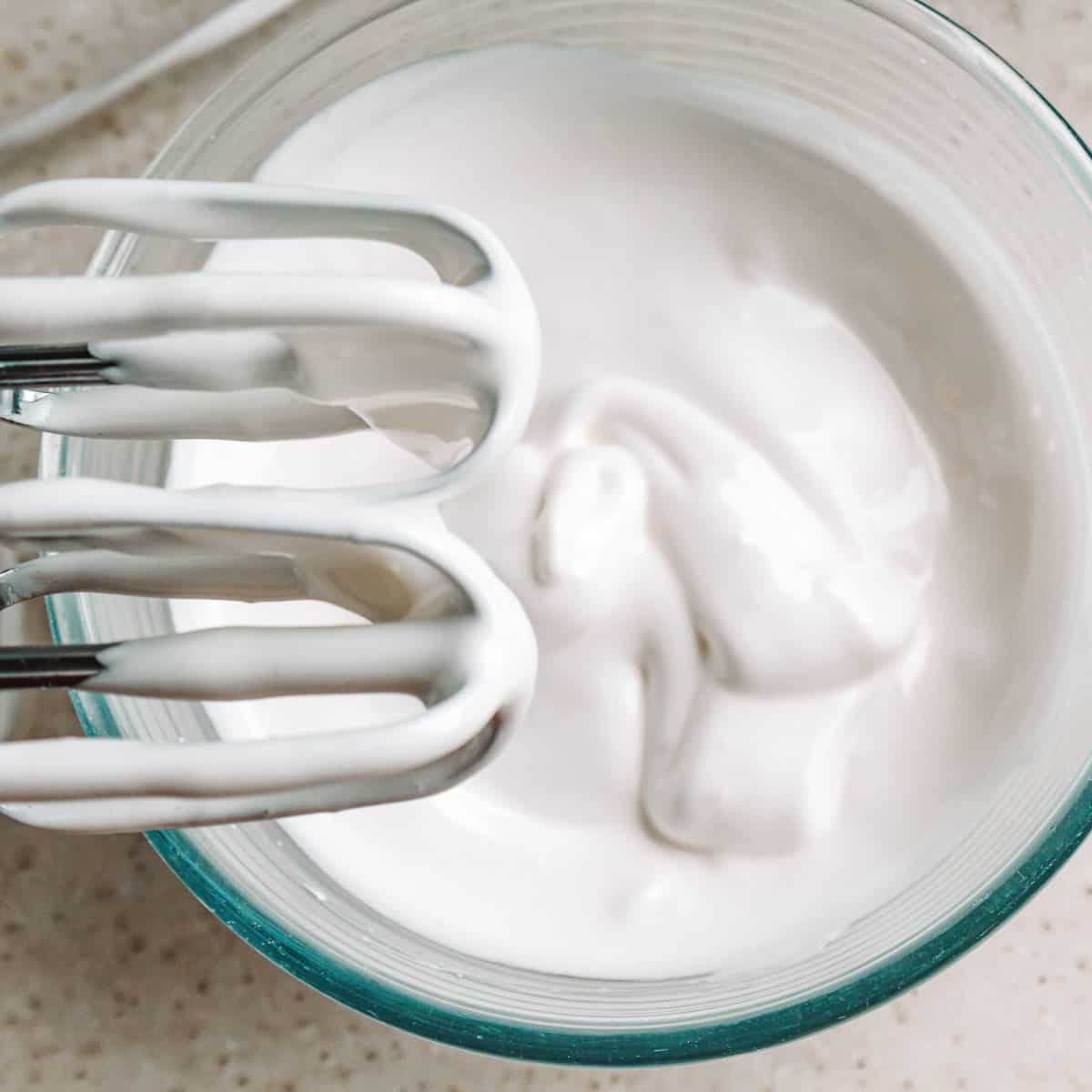 How long can this whipped cream be stored?
This whipped cream is best enjoyed immediately, but it can be refrigerated for a week. However, it might harden and require mixing upon use. 
Can you over-whip this whipped cream?
Over-whipping the coconut cream might lead to separation. Instead, just whip the cream until it is just smooth and creamy—no more.
What is the difference between coconut cream and coconut milk?
Coconut cream has a higher level of fat. Basically, it has less water and more coconut, so it has a thicker consistency. It's essential that you use coconut cream with this whipped cream recipe and not coconut milk. 
If you're here planning your holiday menu, don't miss our new Vegan Christmas and Vegan Thanksgiving cookbooks. They're packed with all my favorite holiday-worthy recipes for a plant-based feast.
Recipe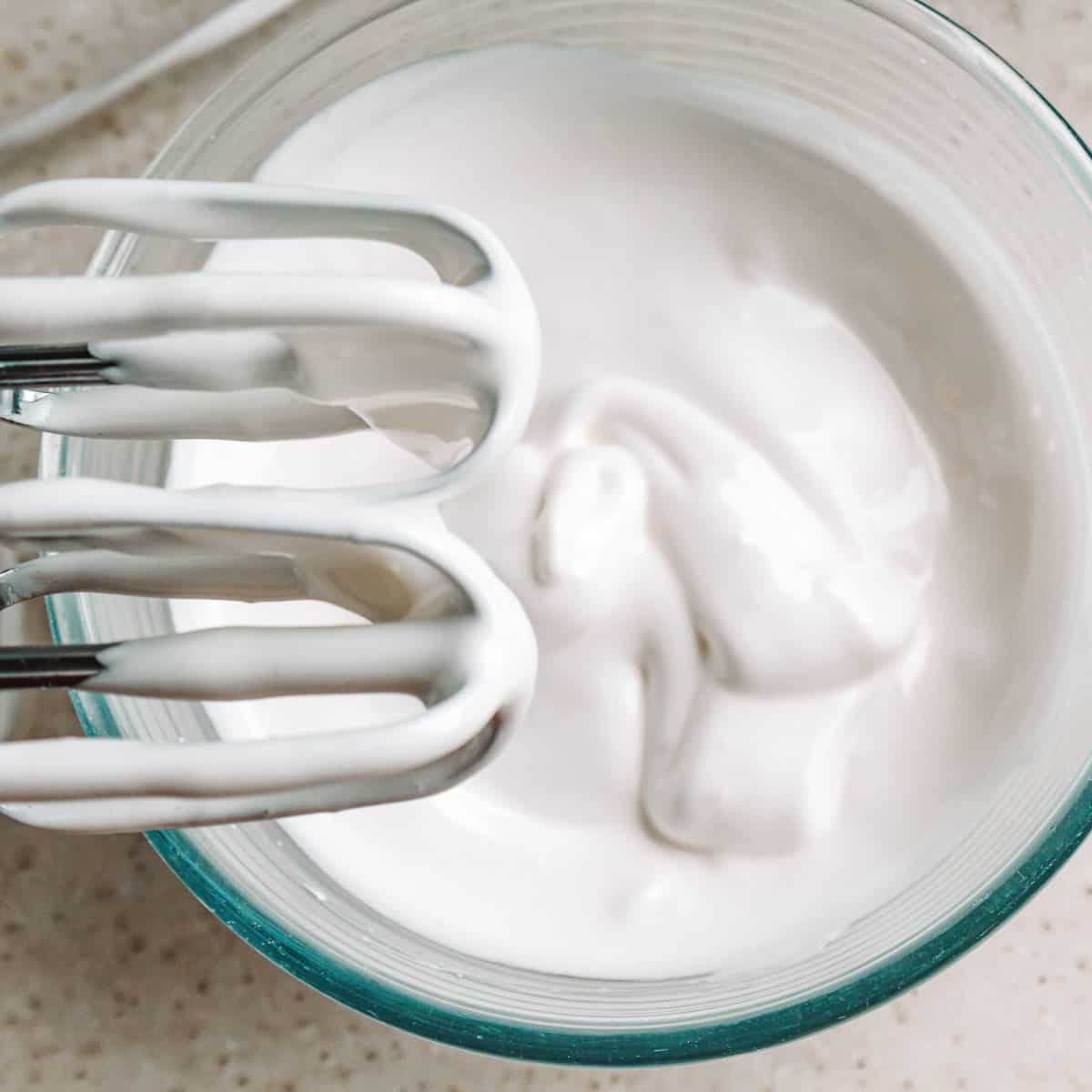 Servings:
10
servings or about 2 ½ cups of vegan whipped cream
Instructions
Make sure you have chilled the coconut cream overnight before proceeding. Do not shake up the can!

Open the can of coconut cream and use a spoon to scrape out the thick cream into a mixing bowl, leaving behind the watery liquid that remains.

Beat the coconut cream for about a minute until it becomes creamy.

Add the powdered sugar and vanilla extract and mix again until you have a smooth whipped cream.
Nutrition
Calories:
310
kcal
Carbohydrates:
17
g
Protein:
3
g
Fat:
28
g
Saturated Fat:
24
g
Polyunsaturated Fat:
1
g
Monounsaturated Fat:
1
g
Sodium:
3
mg
Potassium:
259
mg
Fiber:
2
g
Sugar:
12
g
Vitamin C:
2
mg
Calcium:
9
mg
Iron:
2
mg
Craving more veg-friendly recipes?
Shop our collection of vegetarian and vegan cookbooks, including our new Vegan Thanksgiving and Vegan Christmas cookbooks!