Creamy, thick, and packed with heavenly flavor, this Homemade Vegan Cream Cheese is easy to make and makes a perfect substitute for regular cream cheese.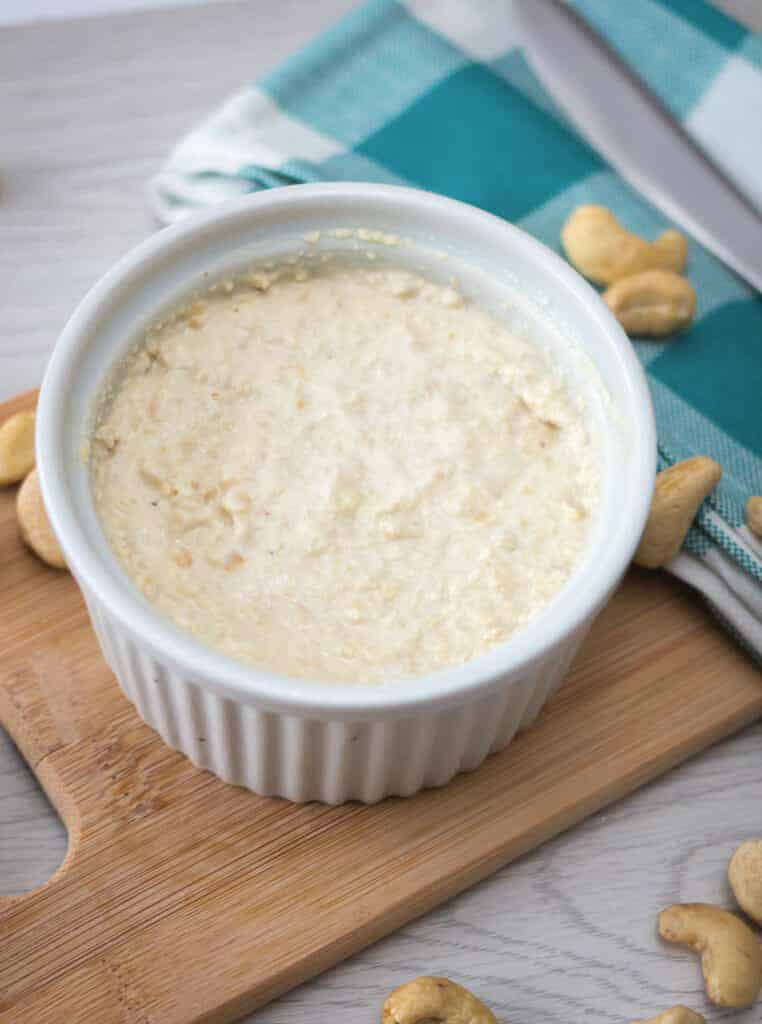 Jump to:
This cream cheese requires only a handful of simple ingredients and will please everyone, even non-vegan eaters. It's made with a special ingredient that gives it all the smoothness we expect from cream cheese. You can use this cream cheese in all the same ways you'd use traditional cream cheese. 
Some of our favorite uses for this cream cheese are...
This cashew cream cheese is so fantastic, you can use it anywhere. Even better, it's effortless to make. Simply soak the cashews and then toss all the ingredients into a blender. Finally, chill to allow the cream cheese to thicken.
Homemade cream cheese can be used in all of your recipes that call for cream cheese. It has a great texture, perfect consistency, and turns out delicious every time. Some crucial steps produce a heavenly, thick, perfect cream cheese.
This Homemade Vegan Cream Cheese recipe is...
Dairy-free
Made with cashews
Better than Philadephia brand (we promise even non-vegans will love it!)
Simple to make
Made with only a few ingredients
Completely vegan
Super creamy and delicious
And if you're looking for even more tasty lunch ideas, go check out my new e-book Healthy Plant-Based School Lunches. It's loaded with all my favorite tips for making meatless school lunches that the kids will love!
How To Make Homemade Vegan Cream Cheese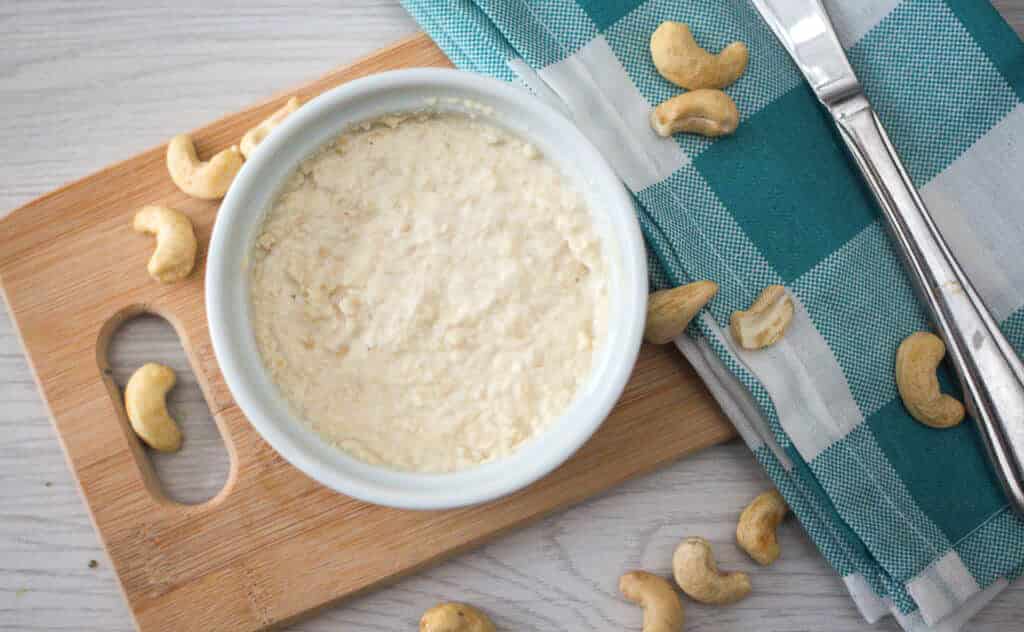 Soak the cashews in water for at least twelve hours.
Drain and discard the water when finished.
Blend all ingredients, pour into a ramekin or glass bowl, and cover.
Chill the bowl of cream cheese for eight hours. 
Let the cream cheese sit out for fifteen minutes before serving.
Use the cashew cream cheese in any recipe that requires cream cheese.
Full directions for how to make Homemade Vegan Cream Cheese are in the printable recipe card at the bottom of the post.
Tips, Tricks, & Variations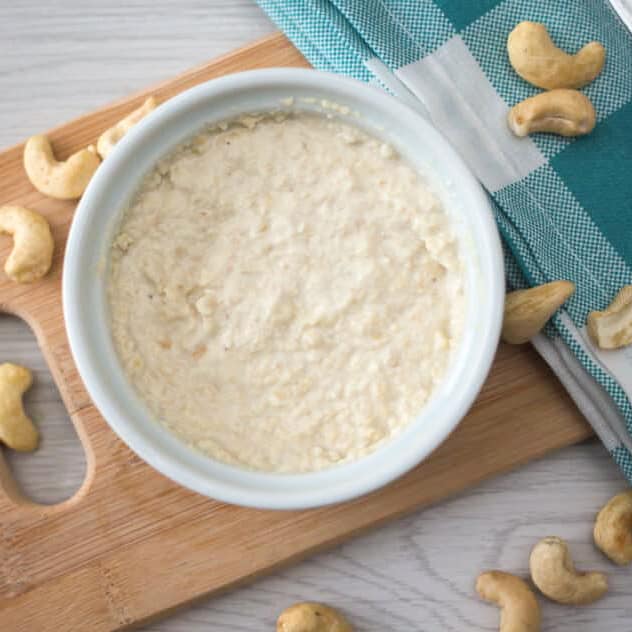 Soak Cashews
Soaking these nuts helps to remove any unwanted particles. In addition, this step removes the phytic acid and softens the cashews, making them suitable for creamy recipes.
This step—though it might seem long—is a critical one. Just toss the cashews in water overnight, and by the time you awake, the cashews will be ready for you.
Swap Spices
This cashew cream cheese is versatile and can be created precisely to your liking! The recipe calls for garlic powder, white pepper, and salt.
If you're looking for a smokier or spicier cream cheese, you can change the spices to cumin and red pepper flakes. If you prefer an onion taste instead of garlic, then swap out the garlic powder for onion powder. 
Use Glass
Using a ramekin or glass bowl for the chilling step of the recipe is essential. These kinds of dishes will help to ensure that the cream cheese flavors melt together and texture thickens while in the refrigerator.
We love this set of ramekin bowls. They are convenient, durable, and versatile. Alternatively, this set of 2 glass bowls is a great deal, and they're staples for a kitchen.
Homemade Vegan Cream Cheese FAQs
Is vegan cream cheese just as good as traditional?
Vegan cream cheese is even better than the traditional kind! While that is a subjective opinion, here's what we're thinking:
It's healthier
It's packed with protein
It maintains a great texture
It can be substituted for traditional cream cheese in any recipe
So, yes, we think that vegan cream cheese is even better! This homemade cream cheese has a smooth, soothing taste and a thick creamy texture.
Can I make vegan cream cheese without soaking the cashews all night?
Soaking the cashews is an essential step in this recipe—you can't skip it or rush it. Soaking the cashews softens them and removes unwanted substances from the nut. So it's imperative that you don't skip this step. 
What is this cream cheese made from?
The base of this homemade cream cheese is made from cashews. That's why soaking the nuts before blending is such an important step; otherwise, the cream cheese won't turn out. This vegan cream cheese is made of cashews, pressed lemon, apple vinegar, water, garlic powder, white pepper, and salt. 
Can I use this vegan cream cheese in all recipes that call for cream cheese?
You can absolutely use this cream cheese for anything that you use regular cream cheese for! This vegan cream cheese has a great texture and closely mimics traditional cream cheese.
While you're here, be sure to grab our FREE 5-Day Meatless Meal Plan. It's packed with tasty recipes to make vegetarian cooking easy and delicious!
Recipe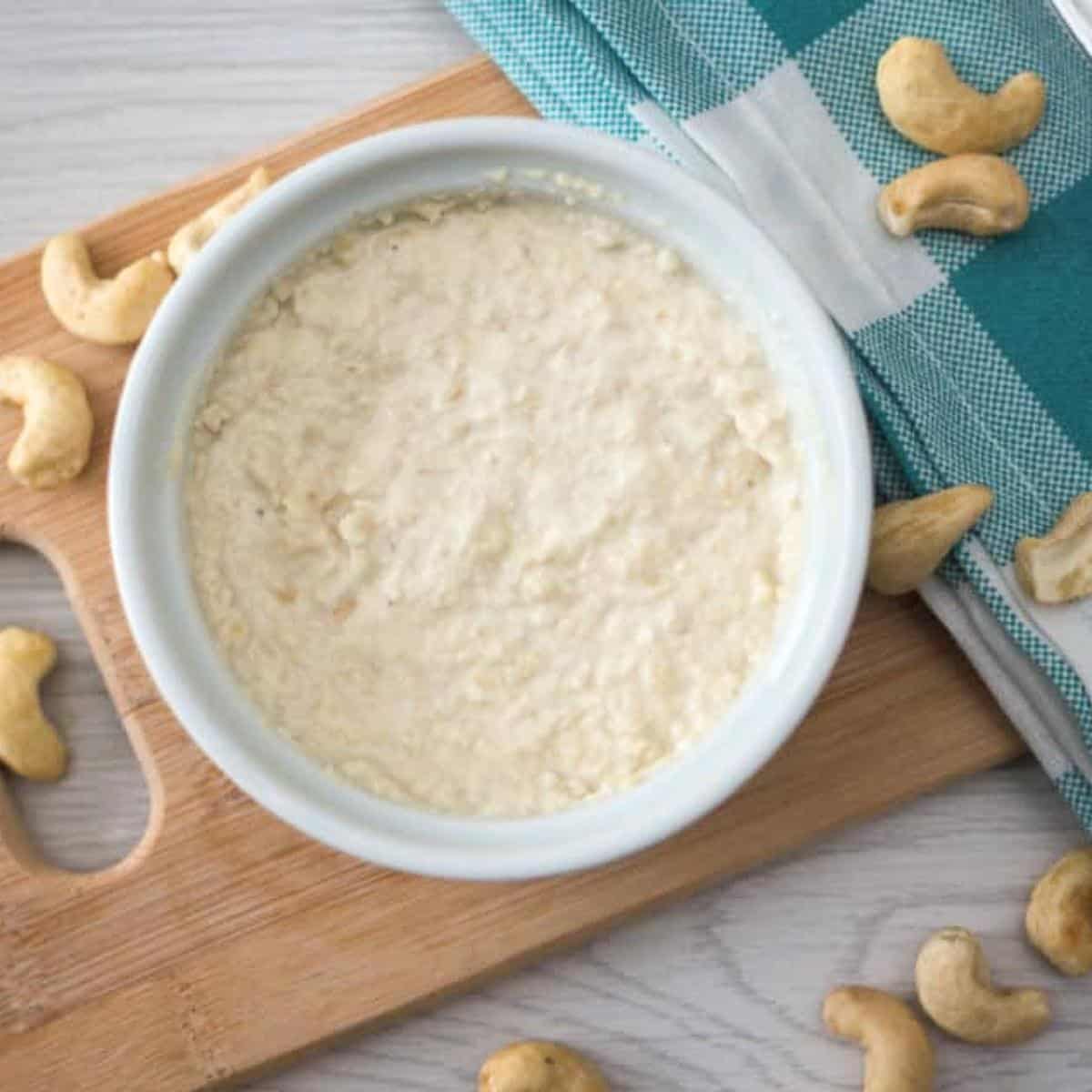 Ingredients
1

cup

raw cashews unsalted

2

tbsp

lemon

pressed

2

tbsp

apple vinegar

3

tbsp

water

½

tsp

garlic powder

½

tsp

white pepper

½

tsp

salt
Instructions
Soak cashews in a bowl of water for at least 12 hours. The more they soak, the creamier the vegan cream cheese will be.

After soaking, drain well and discard water.

Pour all the ingredients into the blender and blend for a few minutes until you have a creamy mixture.

Transfer to a ramekin or glass bowl and cover.

Chill the vegan cream cheese in the refrigerator for 8 hours before serving. This will let the flavors develop and the texture thicken a bit.

Use this cream cheese as you would regular cream cheese in your favorite recipes!
Notes
The vegan cream cheese tastes best at room temperature, like most cheeses. I recommend letting it sit at room temperature for ~15 minutes before serving.
Nutrition
Calories:
736
kcal
Carbohydrates:
44
g
Protein:
24
g
Fat:
57
g
Saturated Fat:
10
g
Polyunsaturated Fat:
10
g
Monounsaturated Fat:
31
g
Sodium:
1184
mg
Potassium:
933
mg
Fiber:
5
g
Sugar:
9
g
Vitamin A:
7
IU
Vitamin C:
17
mg
Calcium:
63
mg
Iron:
9
mg
Craving more veg-friendly recipes?
Shop our collection of vegetarian and vegan cookbooks, including our new Vegan Thanksgiving and Vegan Christmas cookbooks!