This Easy Marinated Tofu is perfect for all your tofu needs. This marinated tofu can be made with a hint of spice or left plain—either way it still tastes great! Healthy and packed with protein, this marinated tofu accompanies many things very nicely.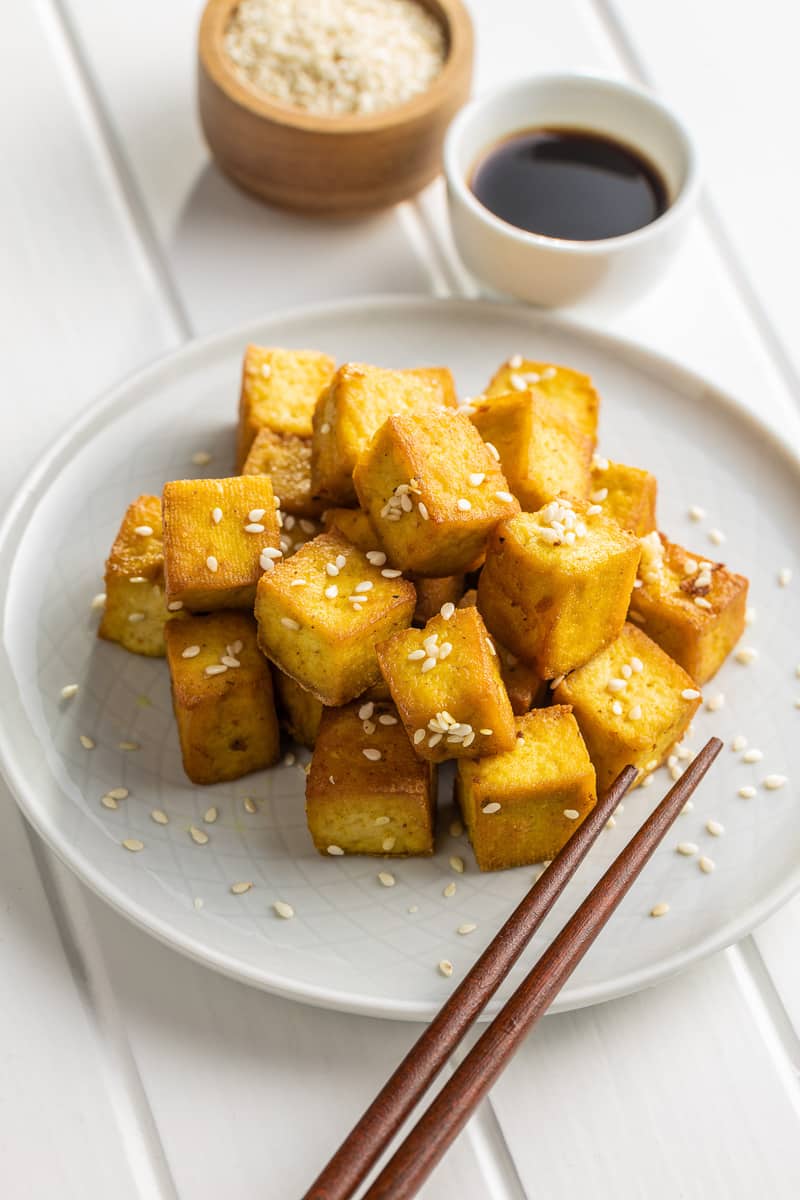 Jump to:
Some of our other favorite tofu meals are...
Tofu is one of our favorite foods to have on hand! It's nutrient-packed, hearty, and absorbs flavors well so it can take on a meaty taste. This particular recipe is sweet with a hint of smokey, and the marinated tofu ends up with a great texture. This marinated tofu is easy to make and calls for simple ingredients that you probably already have on hand.
This tofu also has a great flavor. The marinade combines soy sauce, maple syrup, rice vinegar, garlic, ginger oil, and black pepper. It gives the tofu its fantastic flavor and makes it a great accompaniment to any dish.
This Easy Marinated Tofu recipe is...
Simple to make
Sprinkled with sesame seeds
Packed with nutrients
Absolutely delicious
How to Make Easy Marinated Tofu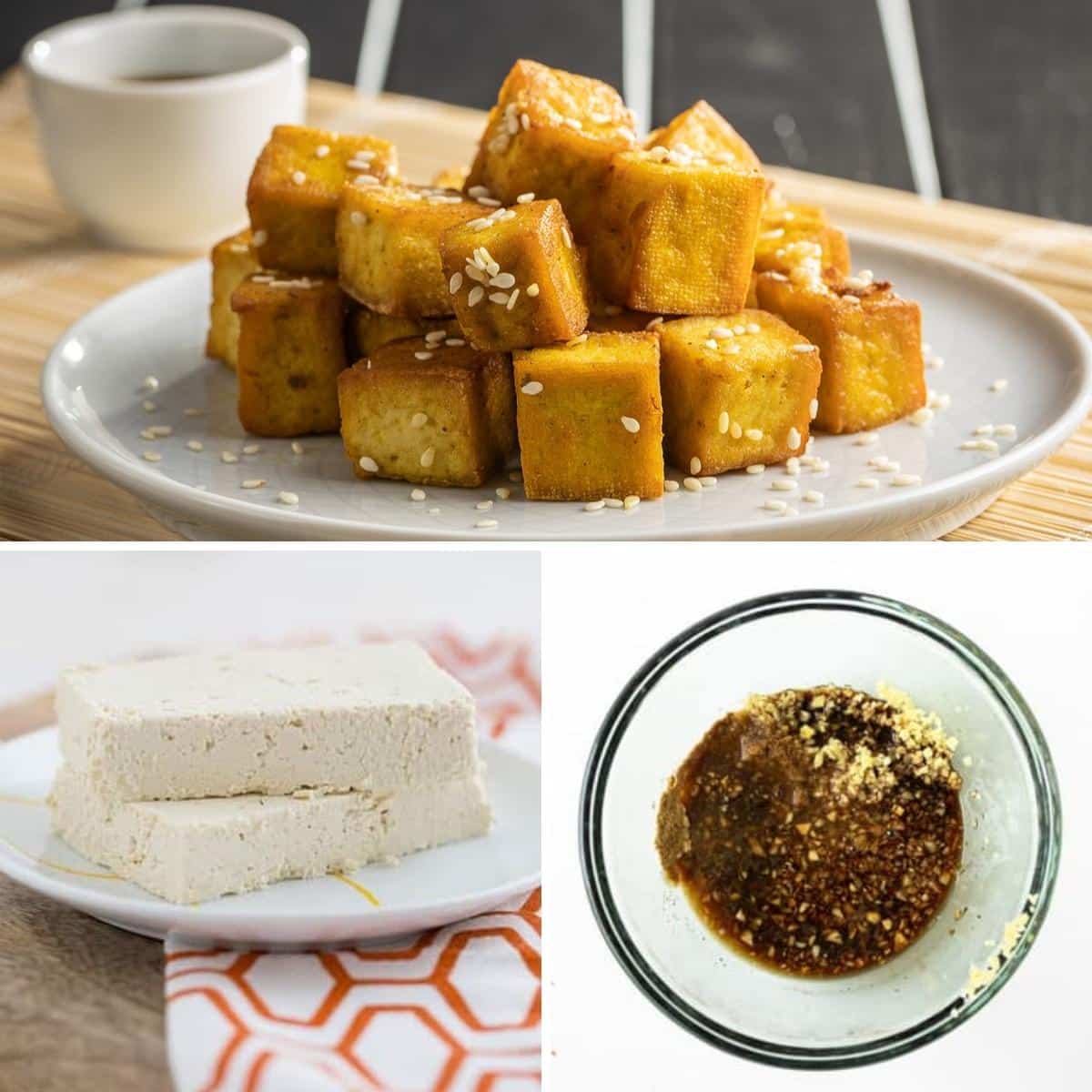 Press the tofu to remove excess moisture.
Prepare the marinade.
Combine the marinade and tofu in a bowl, cover, and chill for at least one hour.
After chilling, remove the tofu and proceed to pan-fry or bake.
Follow the instructions to cook the tofu
Sprinkle with sesame seeds after the tofu is cooked, serve, and enjoy!
Full directions for how to make Easy Marinated Tofu are in the printable recipe card at the bottom of the post.
Tips & Tricks for Easy Marinated Tofu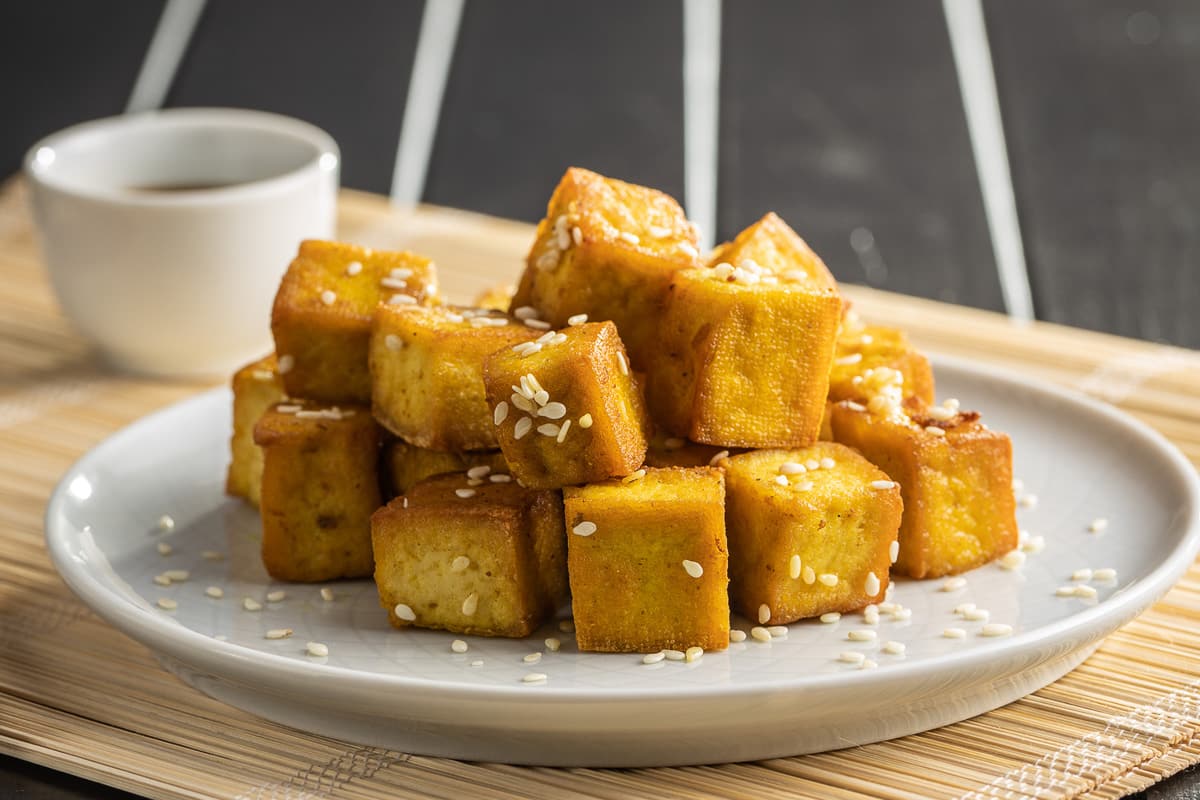 Press Tofu First
The first step of this recipe is to remove the moisture from the tofu. This step is imperative to the recipe because it ensures that the tofu can absorb the spices. In addition, this step is critical in achieving the right texture. Pressing the excess moisture out of the tofu will help it to achieve that nice crispy texture.
Make It Spicy
If you enjoy a spicier taste, then add ⅛ tsp of cayenne pepper to the marinade.
Here are a few spicy dishes we love:
Marinade the Tofu
This step makes sure your tofu is tasty! Once you've removed the excess moisture, allow the tofu to marinate and soak up the delicious spices and flavors. The longer the tofu marinades the more flavor it absorbs.
Cook Your Way
Whether you enjoy your tofu oven-baked, pan-fried, or stir-fried, this marinated tofu is versatile and easy. Try cooking your tofu with different methods to find which cooking texture you like best.
Extra Crispy Tofu
We love extra crispy tofu! To get your tofu really crispy, brush the tofu lightly with the marinade and continue cooking the tofu for a few minutes longer than the recipe says. The crispy texture of this easy marinated tofu is one of our favorite parts of the dish!
Easy Marinated Tofu FAQs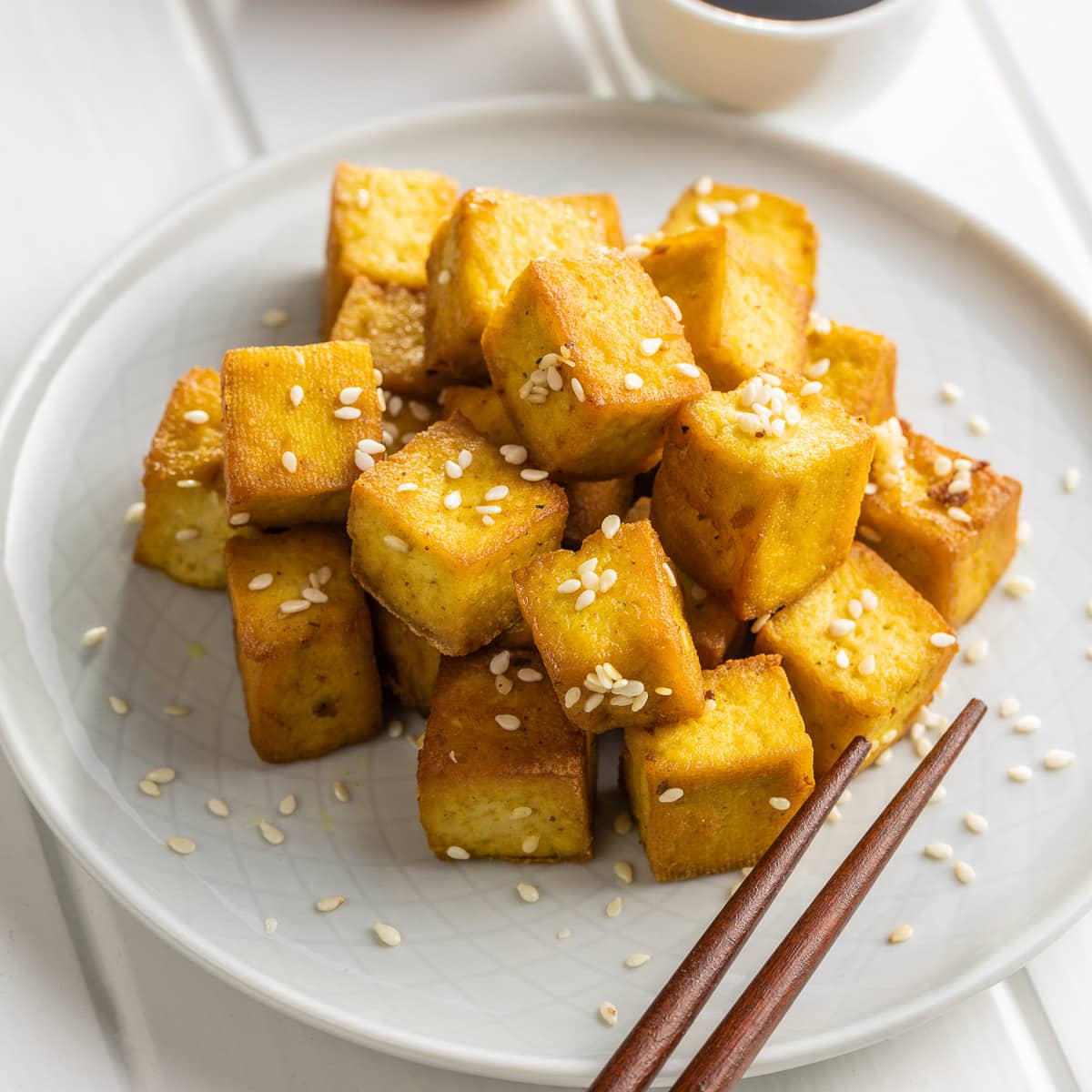 Why do I have to press the tofu?
Pressing the tofu removes the moisture and makes the tofu easier to cook with. In addition, it helps the tofu to absorb more flavor and get the texture you're craving. By pressing the tofu, you make room for the tofu to soak up more marinade, but you also make the tofu thinner and firmer for cooking.
Can I let my tofu marinate in the fridge overnight?
If the tofu is covered, you can let it marinate overnight. An easy way to do this is to throw the tofu in a sealed bag with the marinade and store it in the fridge overnight. Expect mighty tasty tofu the next day!
How do I make my tofu more firm?
To make your tofu more firm, slice it, then freeze, thaw, and proceed to squeeze out the moisture. This process increases the sturdiness of the tofu and makes it easier for the tofu to absorb the marinade.
Recipe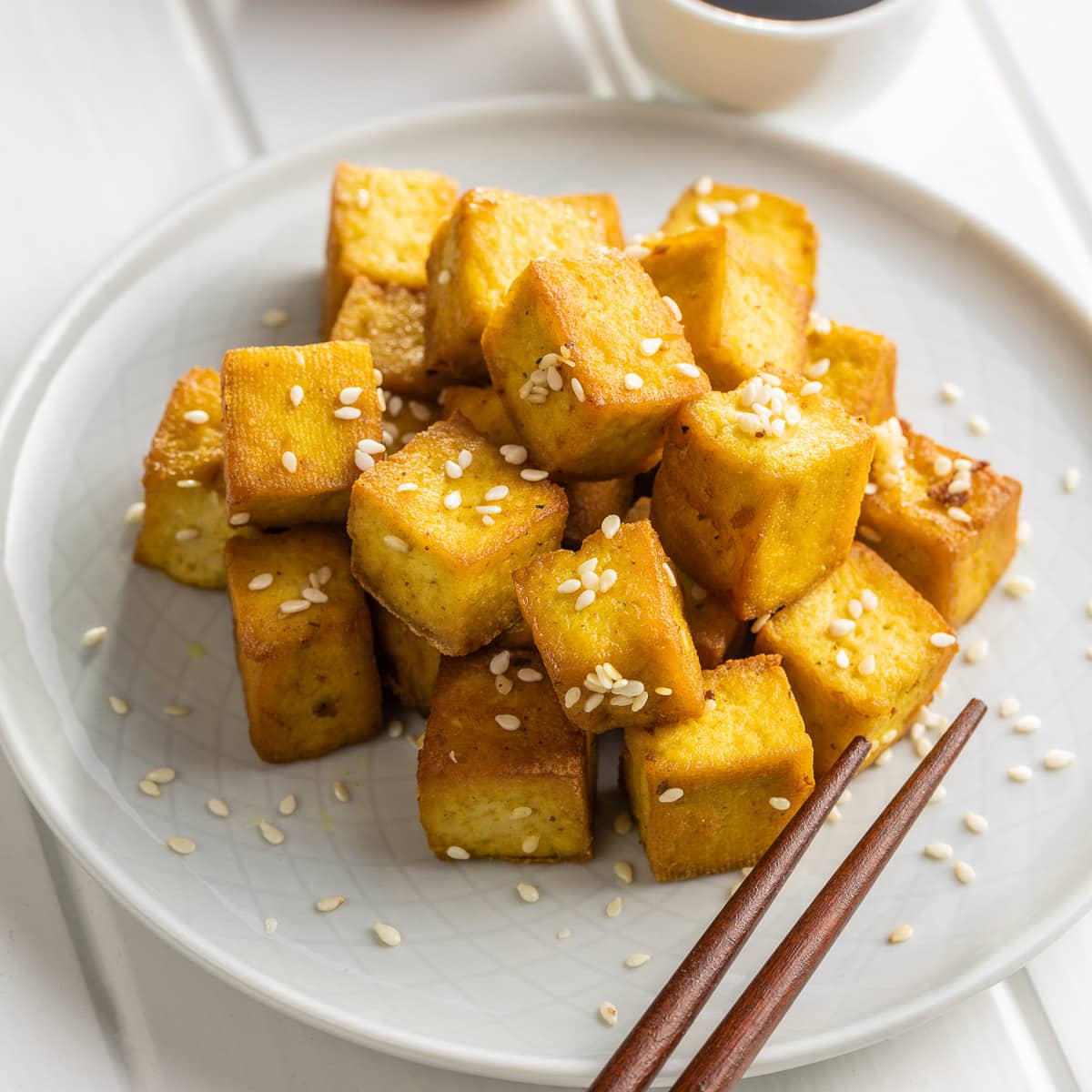 Instructions
Cut the tofu into approximately ½" cubes. Arrange them on a cutting board or other clean, flat surface. Lay a paper towel over the tofu and place a large baking sheet on top. Top the baking sheet with a heavy object—I often use a pot filled with some water to make it heavier. Leave for 15–20 minutes to squeeze out the extra moisture.

In a bowl, combine the soy sauce, maple syrup, rice vinegar, garlic, ginger, sesame oil, and black pepper. Whisk to combine.

In a large bowl, combine the tofu and marinade. Toss to evenly coat the tofu. Cover and place in the refrigerator. Allow tofu to marinate for at least one hour.

Remove the tofu from the marinade with a slotted spoon, but do not discard the marinade liquid yet. Toss the marinated tofu with the sesame seeds. Proceed with baking or pan frying the tofu, according to instructions below.
To bake:
Preheat oven to 400°F. Arrange the tofu cubes in a single layer on a parchment lined baking sheet. Bake for 15 minutes. Remove from oven and flip the tofu cubes, brushing lightly with additional marinade. Return to oven for additional 10–15 minutes.
To pan fry:
Heat a large pan over medium-high heat and spray lighly with cooking spray. Add the tofu cubes and cook for 3–5 minutes on each side, until golden brown, brushing lightly with additional marinade as you cook for extra flavor.

Sprinkle tofu with sesame seeds and serve.
Notes
For more spice, add ⅛ teaspoon of cayenne powder.
Nutrition
Calories:
123
kcal
Carbohydrates:
11
g
Protein:
10
g
Fat:
4
g
Saturated Fat:
1
g
Polyunsaturated Fat:
2
g
Monounsaturated Fat:
1
g
Sodium:
883
mg
Potassium:
252
mg
Fiber:
1
g
Sugar:
7
g
Vitamin A:
1
IU
Vitamin C:
1
mg
Calcium:
72
mg
Iron:
2
mg
Craving more veg-friendly recipes?
Shop our collection of vegetarian and vegan cookbooks, including our new Vegan Thanksgiving and Vegan Christmas cookbooks!