Did you know that you can make your own Homemade Peanut Butter in less than 5 minutes? That's right—this peanut butter takes only 3 ingredients and a few minutes to make. It's a creamy and delicious peanut butter to dip apples in, spread on bread, or eat any way you want!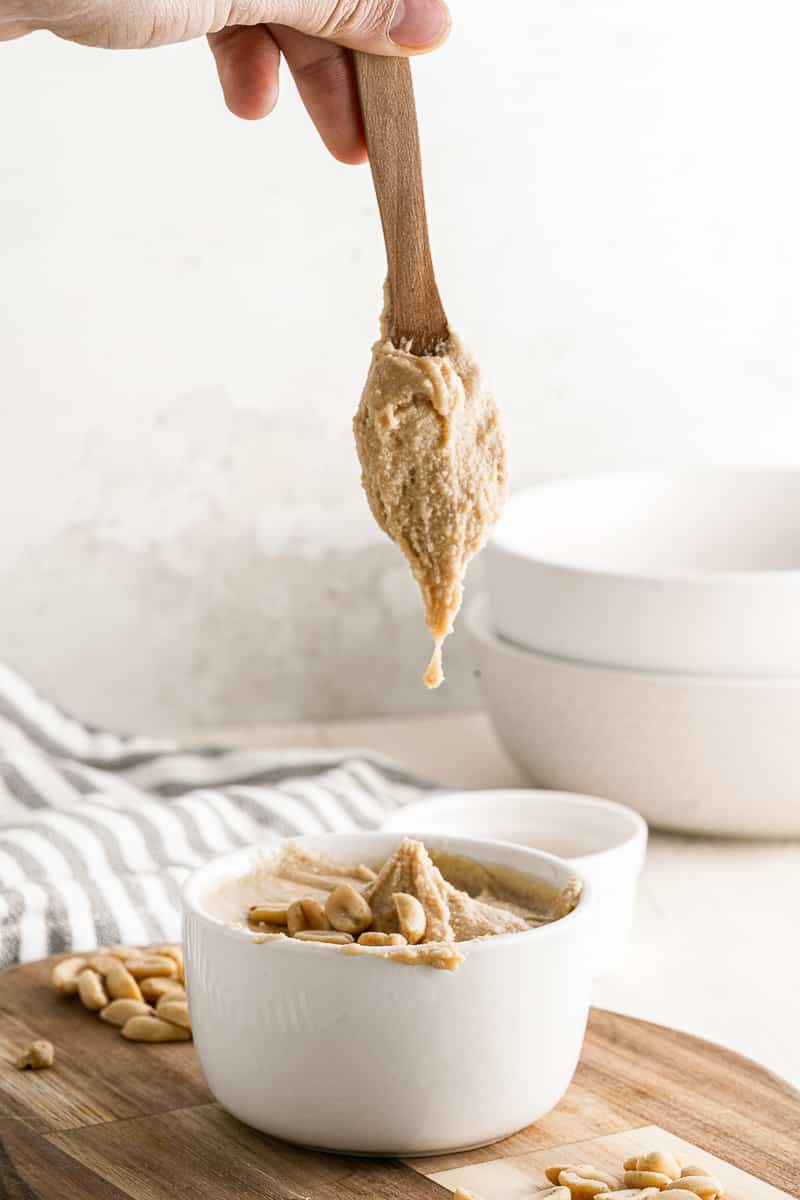 Jump to:
Once you learn how to make your own peanut butter, you'll never have to buy the jarred kind again. This homemade nut butter is made with simple ingredients and big flavor.
Spread the peanut butter on my vegan pancakes, dip churros in it, or spread on this vegan banana bread.
This Homemade Peanut Butter recipe is...
Easy
Creamy
Ready in minutes
Homemade
Made with real peanuts
How to Make Homemade Peanut Butter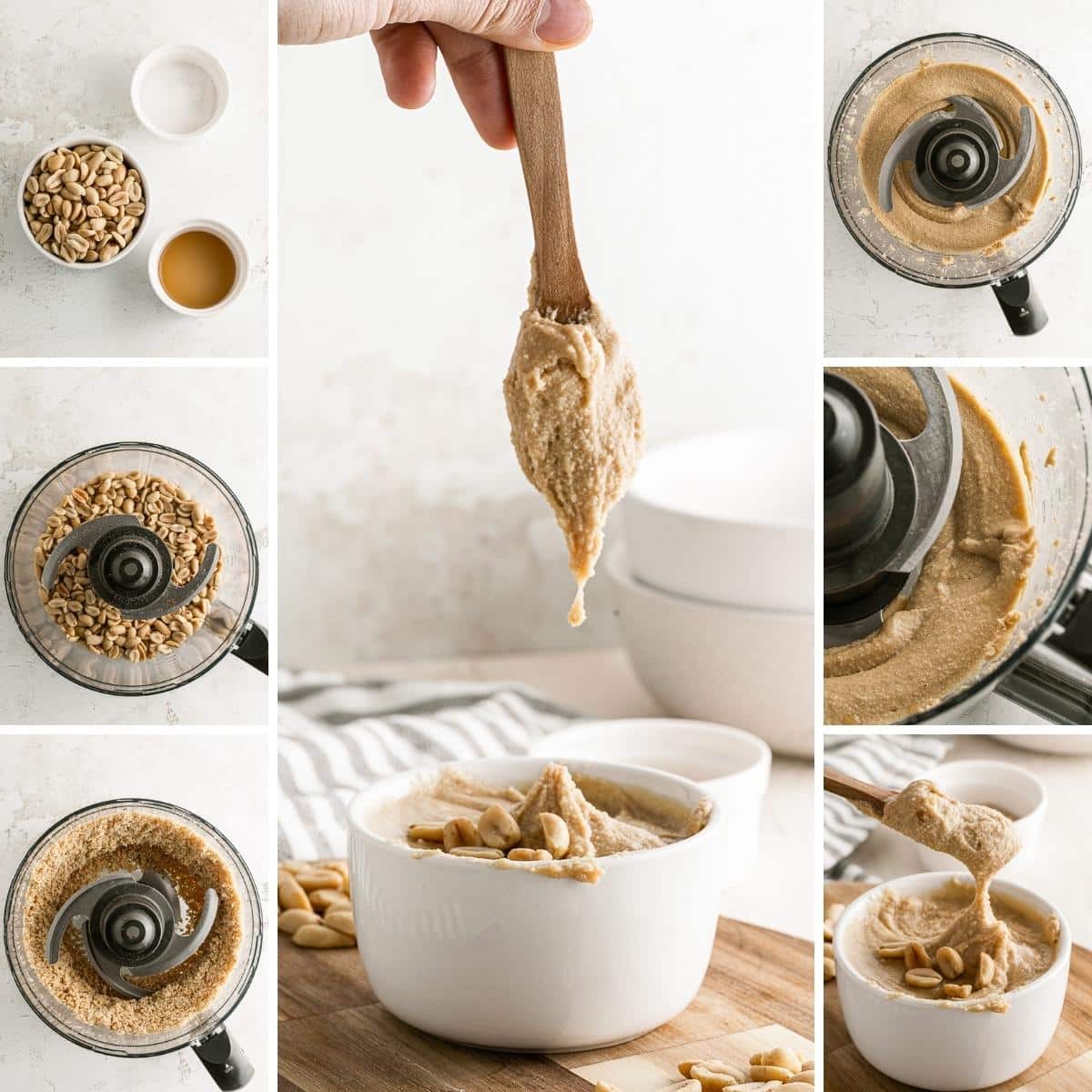 Add your peanuts into a food processor. Then you will begin to process the peanuts until smooth.
This does take time, so be patient.
Add in salt and the liquid sweetener if you find you want it sweeter. Flavor to taste.
Full directions for how to make 5-Minute Homemade Peanut Butter are in the printable recipe card at the bottom of the post.
Tips & Tricks for 5-Minute Homemade Peanut Butter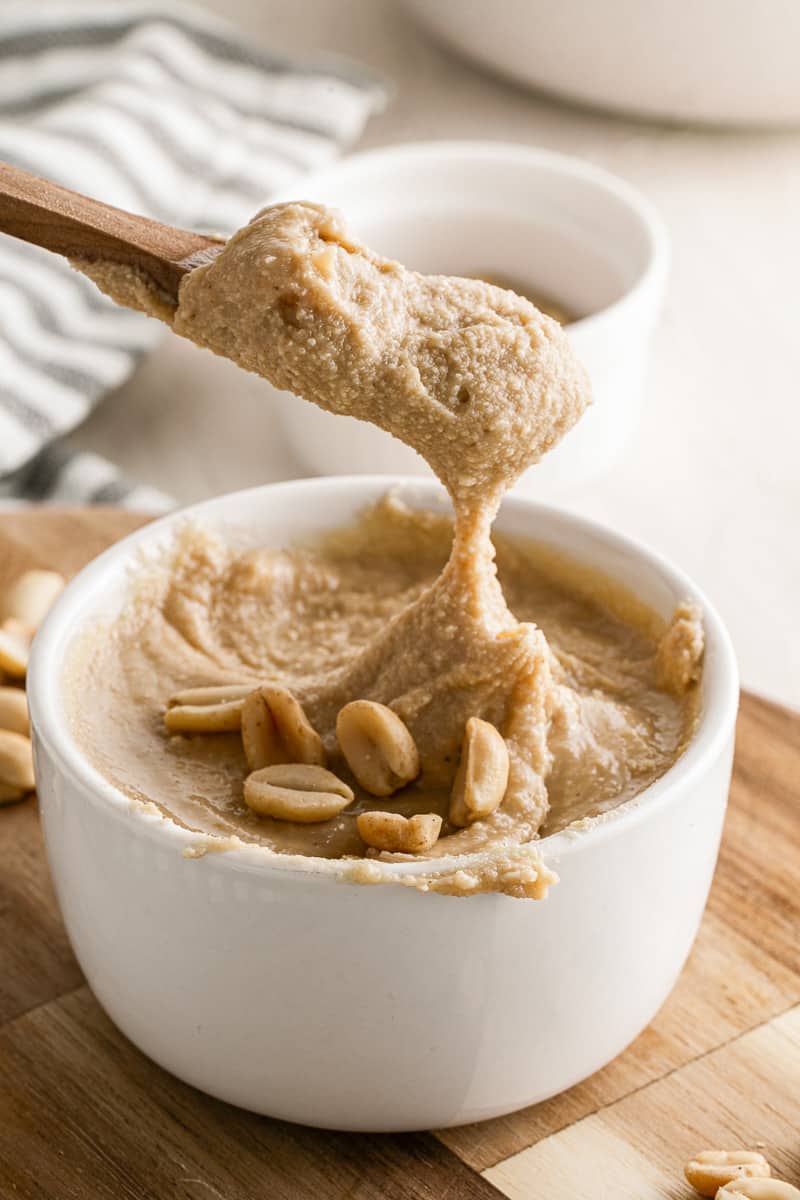 Storing Peanut Butter
You can use a plastic or jar container to store your peanut butter. Make sure it is airtight to help preserve the butter. The sealed container can be stored in the fridge or at room temperature, the same way you typically store your peanut butter.
Food Processor
I find that even with a high speed blender you may not always achieve the exact texture you can get from a food processor. Feel free to use a high speed blender if that is all you have, but you also might just want to invest in a food processor.
Flavor to Taste
The salt adds a nice salty component, and the sweetener of course sweetens the peanut butter. Once you have the peanut butter texture, taste and season your peanut butter as you see fit.
Scrape Down the Sides
You will need to stop your food processor often and scrape down the sides. The processed peanuts will stick to the edges, keeping them from being blended. So to get to a consistent texture, the sides need to be scraped.
Variations to 5-Minute Homemade Peanut Butter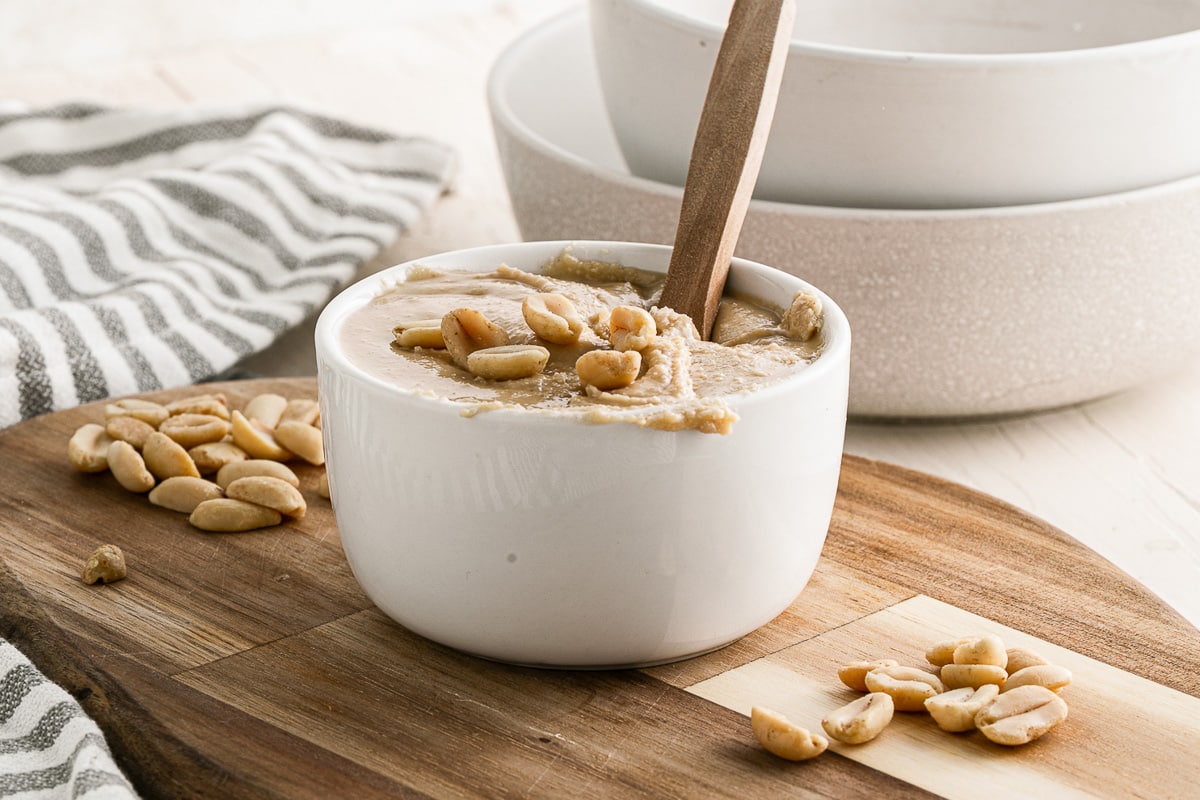 Crunchy Peanut Butter
Once you get your peanut butter nice and creamy, you can then stir in some peanuts. This turns it into a crunchy peanut butter.
Sweetening Peanut Butter
Some people like their nut butters plain, but some people prefer them to be a bit sweeter. You can use honey or maple syrup instead of stevia to sweeten your peanut butter.
5-Minute Homemade Peanut Butter FAQs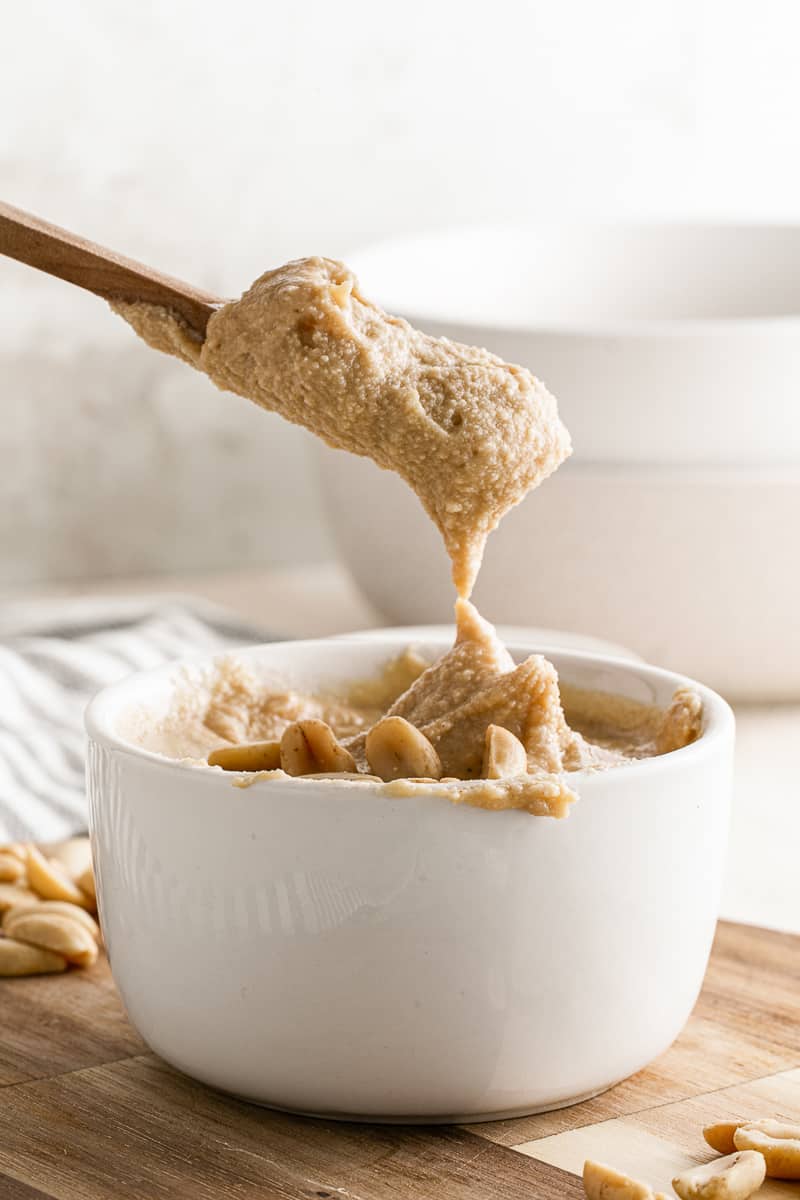 Does this peanut butter need to be refrigerated?
You can refrigerate the peanut butter or store it at room temperature in your pantry for up to a month. Either method works; it's your own personal preference. Whichever method you choose, just make sure to keep your nut butter in an airtight container!
Why does peanut butter separate on top?
You will find that homemade peanut butter tends to separate. This is a natural reaction as it sits, and all you do is need to mix it together with a spoon, knife, etc. before using.
My peanut butter isn't turning creamy; what is wrong?
This process takes time. It may take 5–10 minutes to reach the desired texture. Or if your food processor is not as powerful as some, it could take a bit longer.
Does this recipe work for other nuts?
I haven't tried this exact method for other nuts, but the process should work for other nuts, potentially with some alterations. You might find you need to add a small amount of oil to get other nuts to create that creamy texture.
Recipe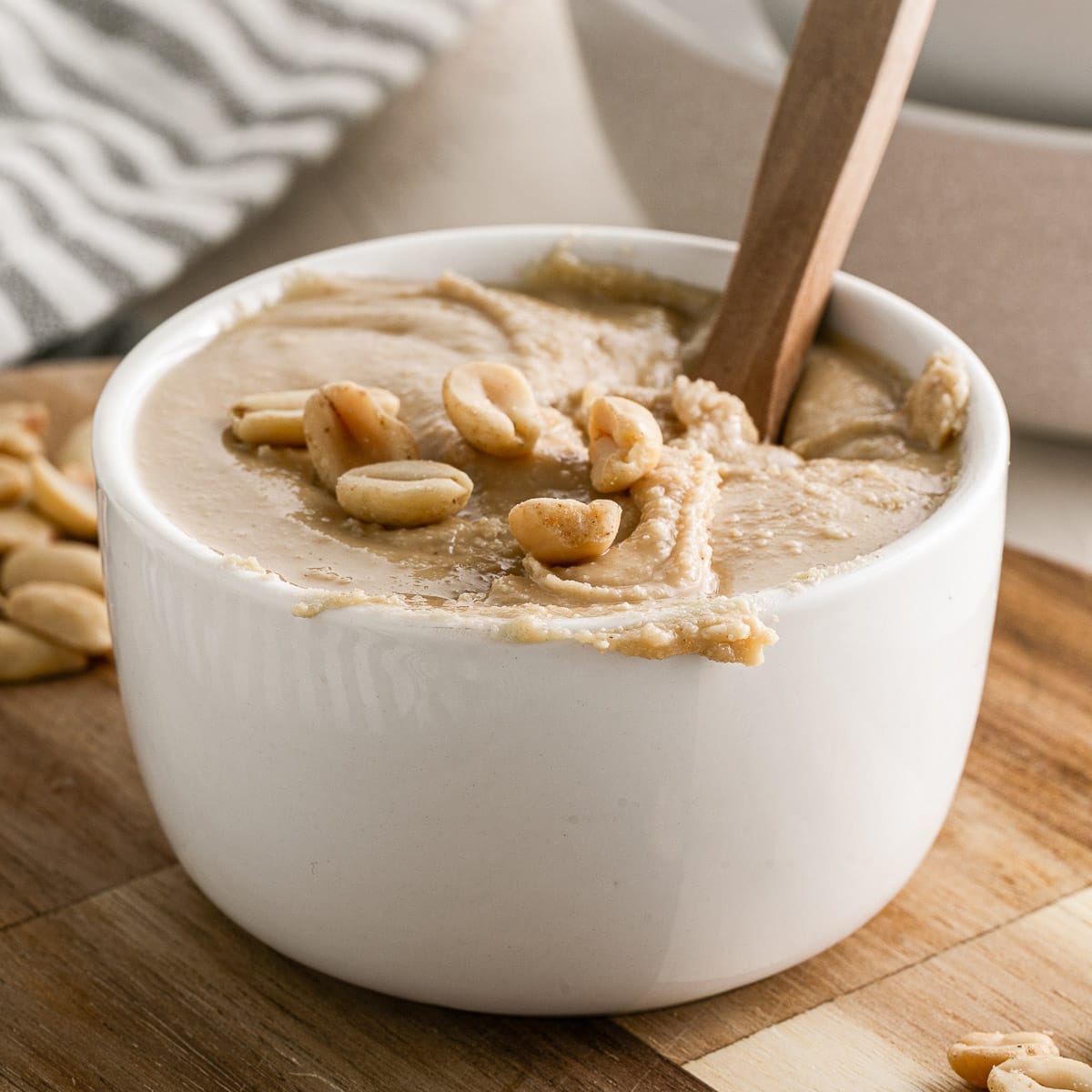 Ingredients
3

cups

peanuts

roasted, unsalted

½

tsp

salt

1

tbsp

liquid sweetener

such as stevia; optional
Instructions
Add peanuts to a food processor.

Process the peanuts until they form a smooth and creamy butter. It will take around 5–10 minutes depending on your food processor and type of peanuts.

It will be noisy at the beginning as the peanuts go from a flour consistency to a dough-like consistency. The nuts will finally release their natural oil to form a creamy peanut butter.

Taste, and add liquid sweetener if desired. Pulse to combine.
Notes
Store this homemade peanut butter in a jar with a lid in your pantry for up to one month. I prefer to store mine in the fridge! The peanut butter may separate a bit when it is stored, as all natural nut butters do. If you notice this separation, just stir up your peanut butter before using.
I enjoy my peanut butter slightly salty and without sweeteners, but you can add as much sweetener as you desire. You could also stir in some chopped peanuts to make a crunchy peanut butter!
Nutrition
Serving:
2
cups
Calories:
1248
kcal
Carbohydrates:
35
g
Protein:
57
g
Fat:
109
g
Saturated Fat:
17
g
Polyunsaturated Fat:
38
g
Monounsaturated Fat:
49
g
Sodium:
630
mg
Potassium:
1629
mg
Fiber:
21
g
Calcium:
233
mg
Iron:
9
mg
Craving more veg-friendly recipes?
Shop our collection of vegetarian and vegan cookbooks, including our new Vegan Thanksgiving and Vegan Christmas cookbooks!