If you're craving a cozy, homey bowl of deliciousness, then this Greek Lentil Soup is for you. Our soup combines healthy, nutrient-packed ingredients like lentils, carrots, celery, and seasonings into a hearty and satisfying meal.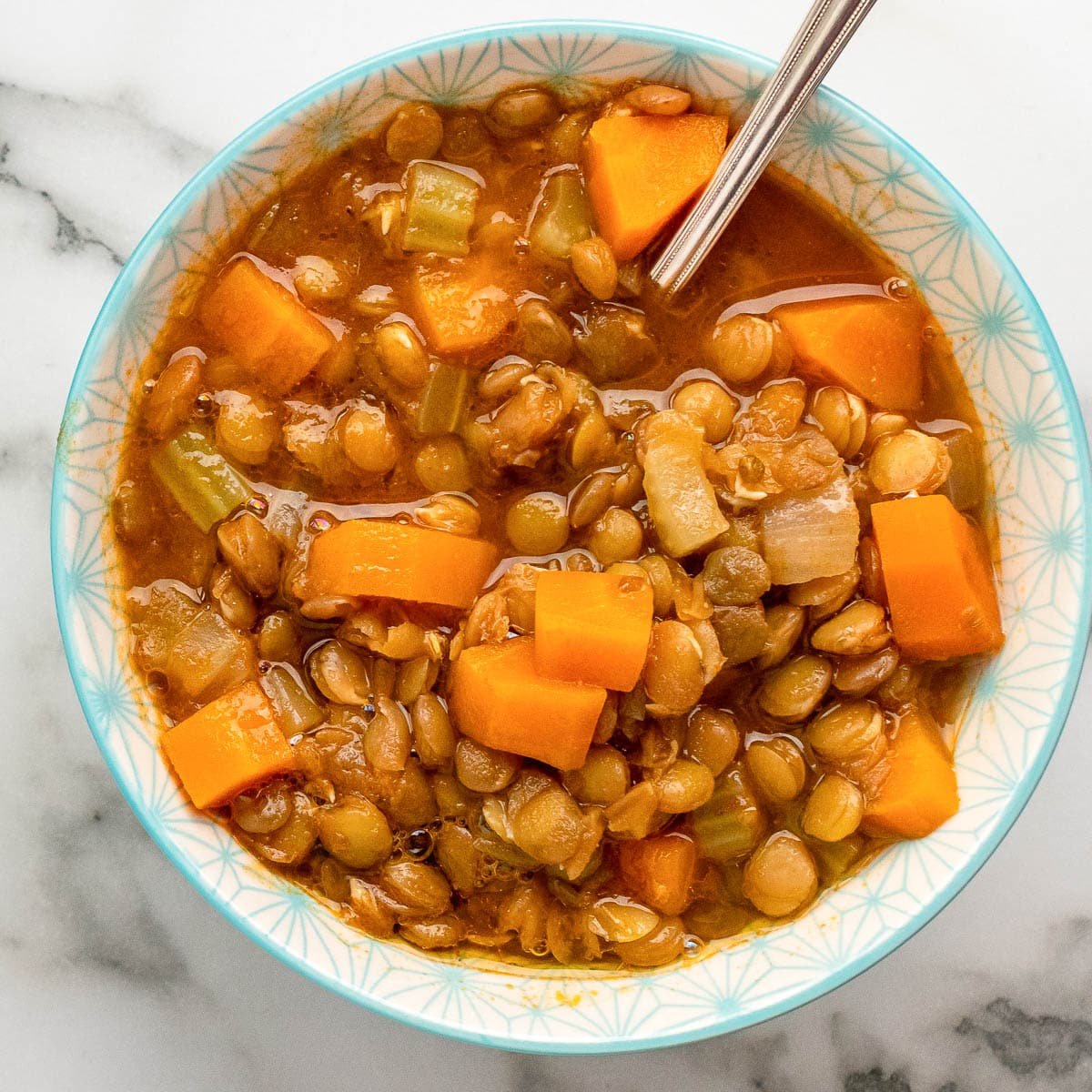 Jump to:
Greek Lentil Soup is a popular Greek dish for the cold months. Traditionally it's made with brown lentils—with family secrets being the key to delicious recipes. Lucky for you, we're spilling our secret so you can enjoy this soup no matter what!
Lentils are something of a superfood. They're delicious and packed with nutrition. Lentils are also rich in fiber, packed with protein. They are a fantastic food to integrate into your daily diet, and there are so many delicious and satisfying ways to do it!
If you're looking to try some other excellent lentil recipes, here are a few that are hearty, delicious, nutritious, and simple!
This Greek Lentil Soup recipe is...
Packed with healthy and nutritious ingredients
Hearty and delicious
Easy to make
Comfort and coziness in a bowl
How to Make Greek Lentil Soup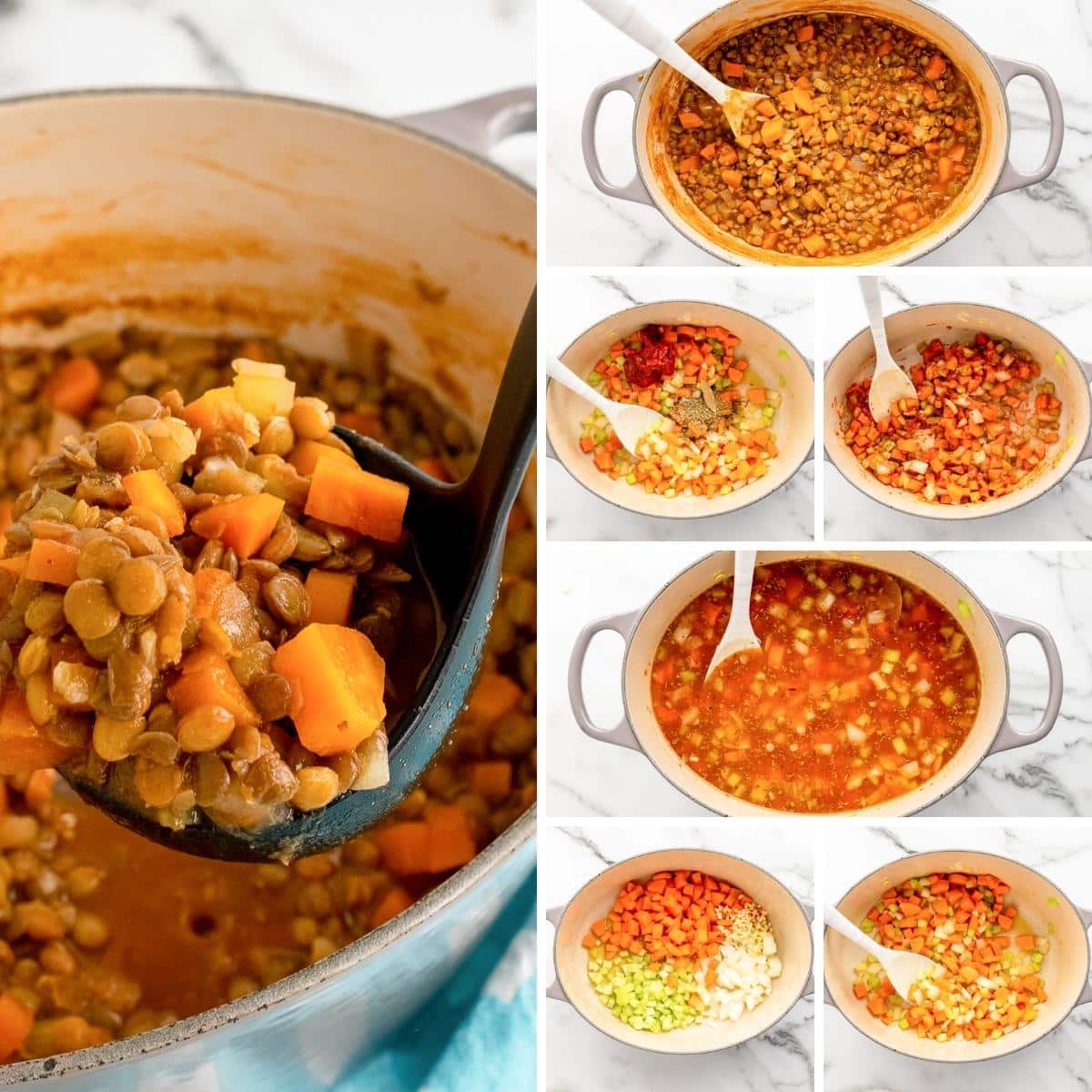 Soak lentils overnight. Then rinse and drain.
Heat oil in a large dutch oven or pot on medium heat.
Add seasonings and stir to coat.
Add vegetable broth, stir, and bring to a boil.
Simmer until lentils and vegetables are tender.
Serve warm with a drizzle of olive oil if desired.
Full directions for how to make Greek Lentil Soup are in the printable recipe card at the bottom of the post.
Tips & Tricks for Greek Lentil Soup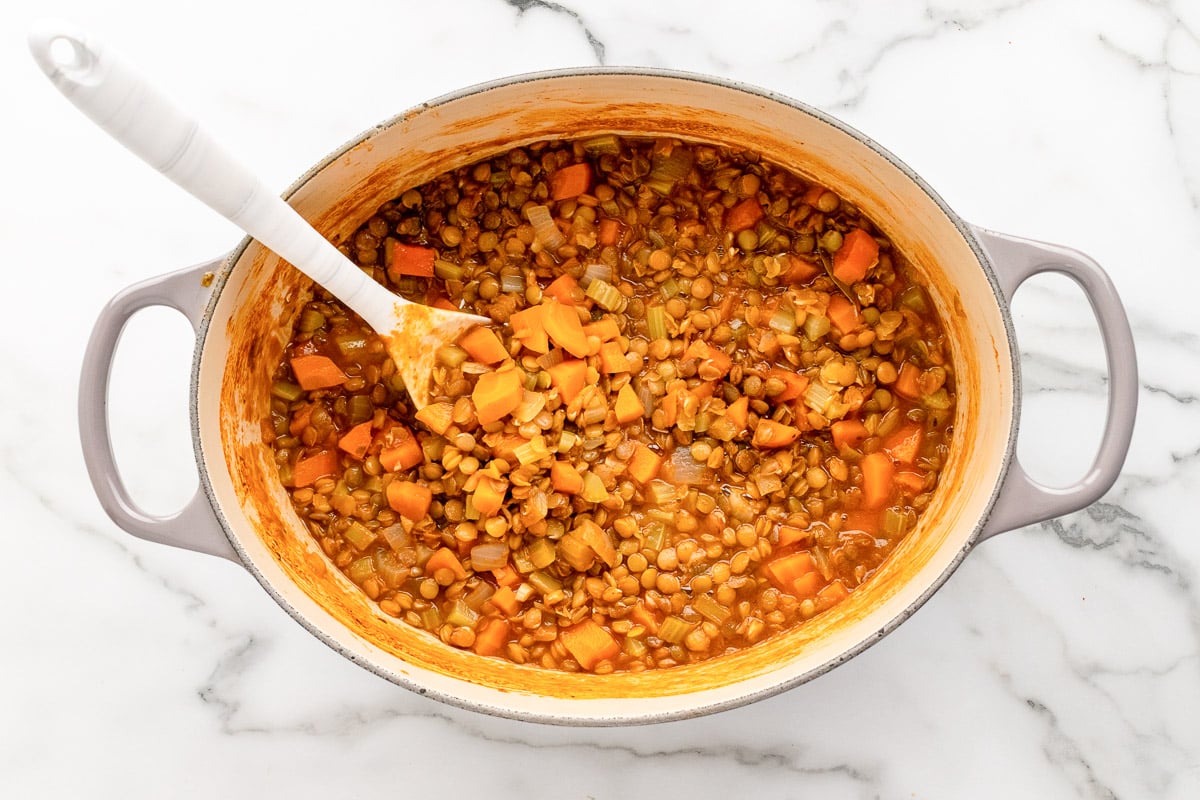 Alter Consistency
Our lentil soup is very filling and has a consistency similar to a stew. The lentils absorb some liquid, leaving you with a thicker soup. If you want your soup a bit thinner, simply add more broth.
Perfect Pair
Pair our soup with crusty bread for an ultra-satisfying meal. It also tastes great served alongside a salad. And if you make the soup a bit thinner, you can even serve it as a side to another main dish.
Reheats Well
Our Greek Lentil Soup reheats perfectly, whether frozen or refrigerated. This makes it a great recipe to add to your meal prep ideas!
Greek Lentil Soup FAQs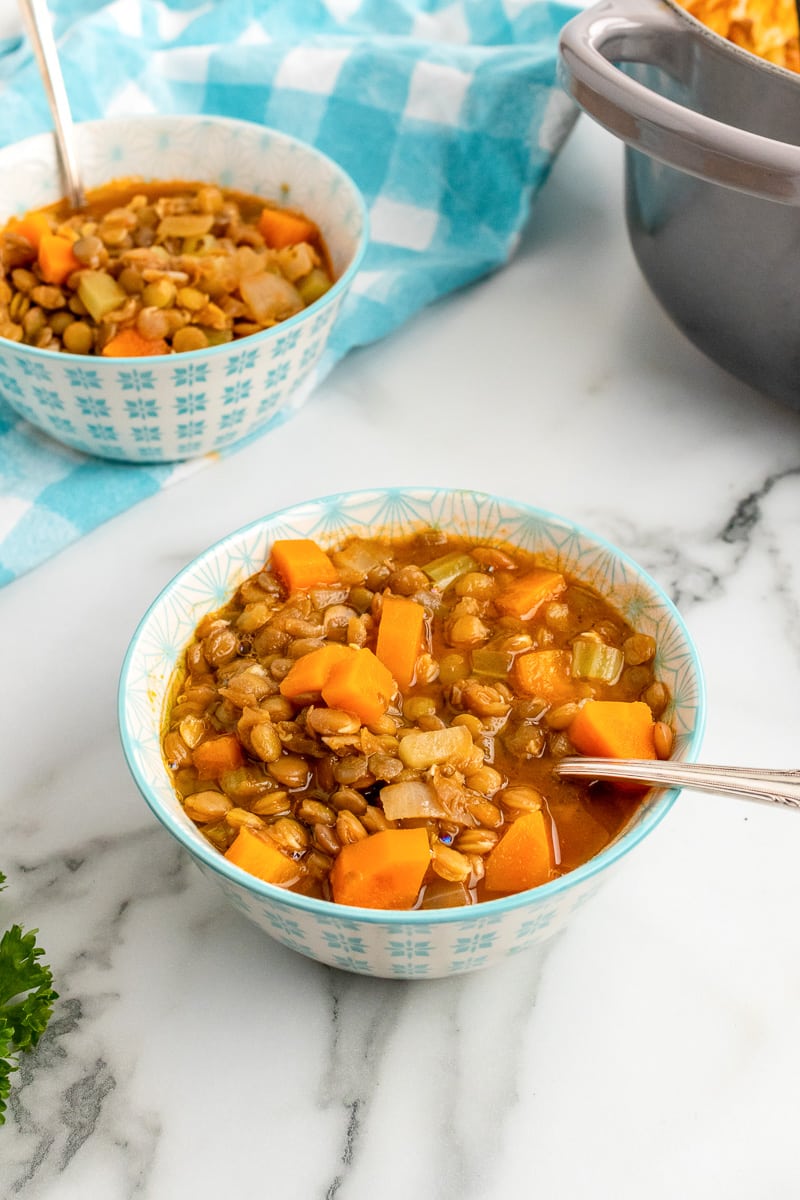 What makes lentils a superfood?
If we haven't already convinced you that lentils are amazing, this will. The use of lentils dates back to long ago, and they are a staple in Indian and Greek cuisine. They are packed with nutrition and other hard to get vitamins.
Fast Facts About Lentils:
Loaded with polyphenols
High in protein
Great source of iron
High in magnesium
Where did the word "lentils" come from?
The word "lentils" originates from a Latin word meaning lens. It's the perfect name for the little legume because that's exactly what it's shaped like—a small lens.
Are there different varieties of lentils?
There are a few different lentils varieties, but they're all very healthy. Brown lentils are the most versatile and are often used in soups and things like burgers. Red and yellow lentils have a sweet-ish flavor and become slightly mushy when cooked down. This variety is often used to thicken soups and stews while adding intense nutrition.
Black lentils are the most nutritious and have a similar earthy flavor to black beans. Lastly, green lentils take the longest of all the lentils to cook but tend to keep their shape very well. This makes them a great salad topper or side dish.
What are the benefits of soaking lentils before cooking them?
You can cook lentils without soaking them, but soaking definitely helps. Soaking lentils helps with digestion and cuts down cooking time.
Recipe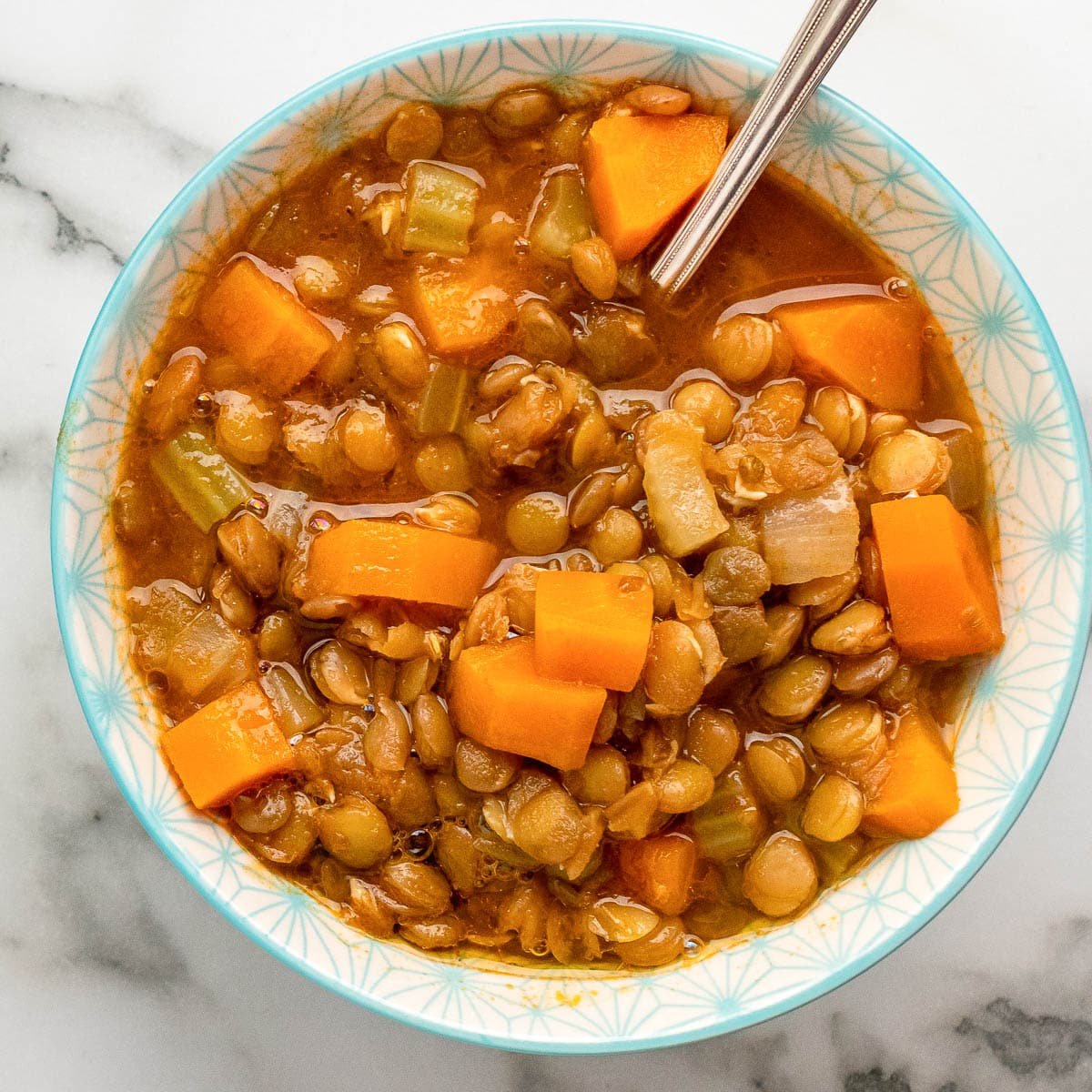 Instructions
Add dry lentils to a large bowl and cover completely with water. Allow them to soak at least two hours or overnight, then rinse and drain before using.

In a large dutch oven or pot, heat olive oil over medium heat, then add carrots, celery, onion, and garlic. Cook, stirring frequently, until veggies start to soften (about 8–10 minutes).

Add the tomato paste, oregano, salt, cumin, and bay leaf, and stir to coat.

Pour in the vegetable broth and stir.

Add soaked lentils and bring to a boil.

Reduce heat to low, and allow to simmer 30 minutes or until lentils and veggies are tender.

Serve warm with additional olive oil if desired.
Notes
This soup is very flavorful and very filling, almost like a stew because the lentils absorb lots of liquid.
Add additional broth if you want it to be more soupy.
This soup is great paired with crusty bread. It also reheats well from fridge or freezer.
Nutrition
Calories:
286
kcal
Carbohydrates:
42
g
Protein:
14
g
Fat:
8
g
Saturated Fat:
1
g
Polyunsaturated Fat:
1
g
Monounsaturated Fat:
5
g
Sodium:
1658
mg
Potassium:
796
mg
Fiber:
17
g
Sugar:
7
g
Vitamin A:
5910
IU
Vitamin C:
10
mg
Calcium:
79
mg
Iron:
5
mg
Craving more veg-friendly recipes?
Shop our collection of vegetarian and vegan cookbooks, including our new Vegan Thanksgiving and Vegan Christmas cookbooks!