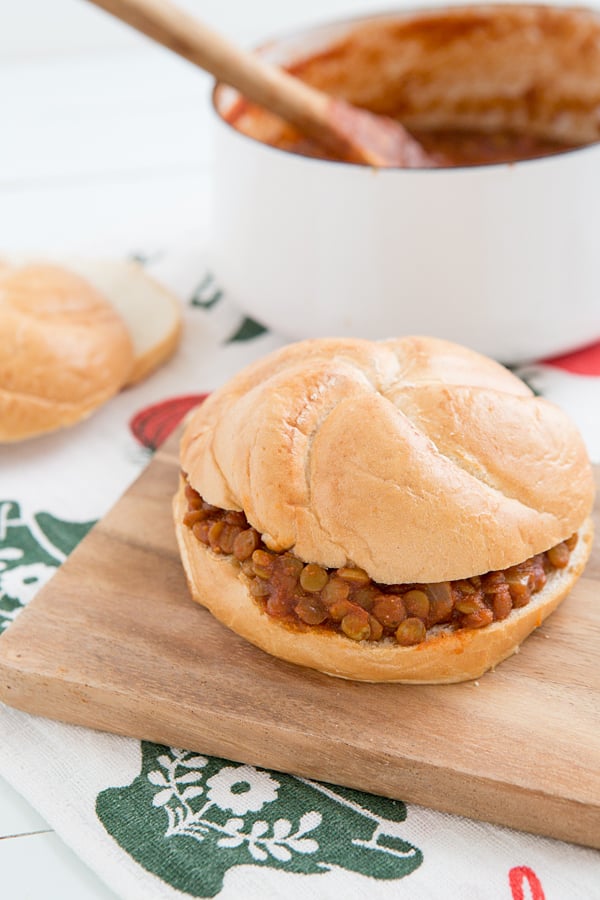 This morning I woke up in a complain-y mood. That happens when you get older. You get crotchety. You're all, "Why do people post pictures of themselves in the car all the time? Why do people use hashtags in inappropriate ways? Why won't these kids get off my lawn?" And then you go outside with a broom to chase those kids away. I didn't know what to write about Sloppy Lentils, so I told Chris I was going to write a post to complain about things, to which he replied:
"Oh, yeah, that's a great idea. People will love that."
And then he called me Andy Rooney under his breath. But I think we all know that I have several years to go before my eyebrows reach that kind of plush luxuriousness.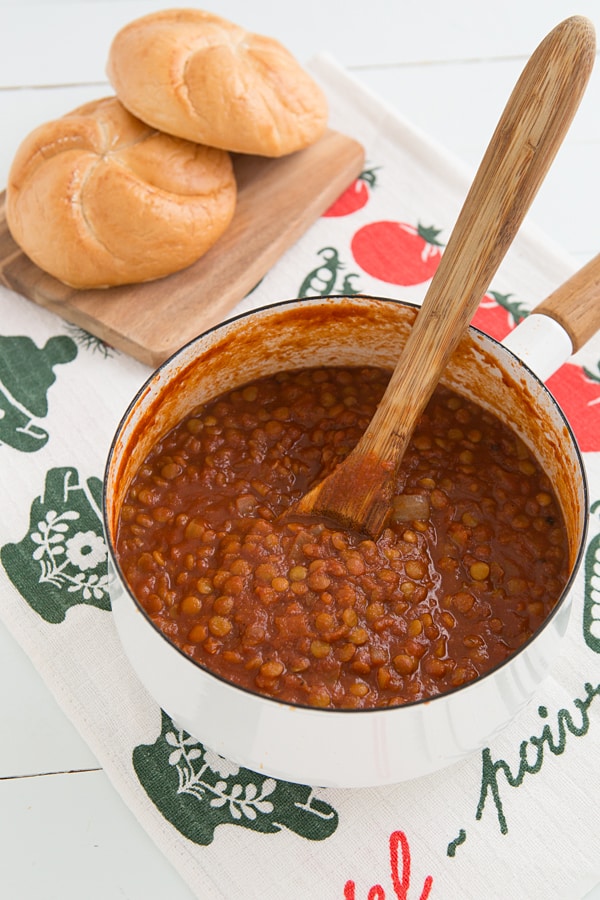 Soooo, hey! Lentils! Lentils are something I have absolutely no complaints about. If I were Herbert Hoover, I would make sure there was a bag of lentils in every pot in this fine country. (Look at me, using my degree in history!) When I was a new and new-ish vegetarian, I was all about meat substitutes, but as I've gotten more comfortable with this whole vegetarian cooking thing, I've almost entirely ditched them in favor of whole foods like lentils. Lentils are cheap and easy (in a good way!), they're tasty, and they are quick to make! Not as quick as popping some faux-nuggets or faux-wings in the microwave, but quicker than beans, which require advance soaking. Lentils don't need soaking! Just throw them in a pot with some water or broth and about 20 minutes later, they're done.
I posted a Veggie & Tempeh Sloppy Joes recipe last year, but I know not everyone is on board the tempeh train, so I wanted to make a lentil version. The sauce has molasses in it, which makes it kind of a cross between sloppy joes and baked beans. We had this in sandwiches one night and then we had the leftovers as a side dish. You can eat them either way! #delicious
Recipe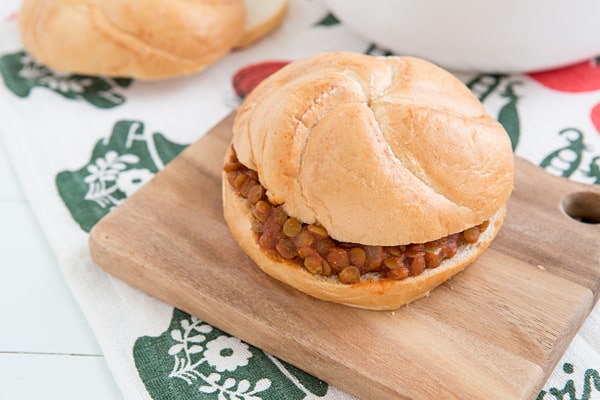 Instructions
Heat the oil in a large saucepan over medium heat. Add the onion and cook until softened and just beginning to brown, 5-7 minutes. Add the lentils and broth; bring to a boil, then partially cover and reduce heat to low. Simmer for 20 minutes, or until the lentils are tender enough to eat, but still firm enough to hold their shape (not mushy!).

Stir in the tomato sauce, brown sugar, molasses, vinegar, tamari, tomato paste, garlic powder, mustard powder, and cayenne. Increase the heat to medium and bring to a boil. Continue to cook the lentils until the sauce has thickened, 10-15 minutes more, stirring frequently. Serve the lentils on the rolls if you're making sandwiches.
Nutrition
Calories:
260
kcal
Carbohydrates:
46
g
Protein:
11
g
Fat:
4
g
Saturated Fat:
1
g
Polyunsaturated Fat:
1
g
Monounsaturated Fat:
2
g
Sodium:
975
mg
Potassium:
457
mg
Fiber:
6
g
Sugar:
13
g
Vitamin A:
318
IU
Vitamin C:
4
mg
Calcium:
109
mg
Iron:
4
mg
Craving more veg-friendly recipes?
Shop our collection of vegetarian and vegan cookbooks, including our new Vegan Thanksgiving and Vegan Christmas cookbooks!