These cookies are soft, moist, crunchy, chewy, and delicious. They're made with simple, healthy ingredients and are proudly vegan. Vegan Apple Oatmeal Cookies are healthy enough for breakfast but tasty enough you can sneak them as a treat. These cookies have a warm cinnamon flavor and are totally cozy!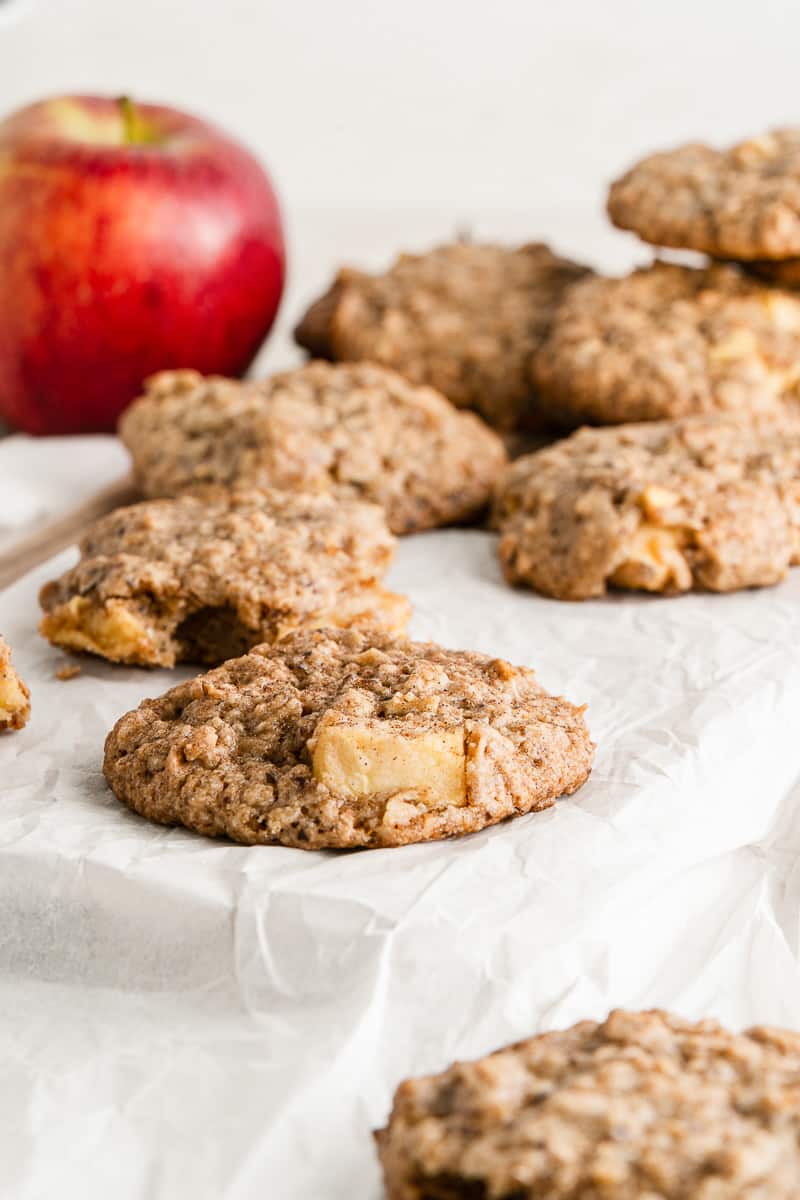 These cookies come together with simple, healthy ingredients. They're packed with nutrition but could also pass for dessert!
There is something so comforting about that apple-cinnamon combination. These apple oatmeal cookies have the perfect ratio of spice to sweet and can be depended on time after time to be delicious and appealing.
I just love that comforting, cozy, nostalgic cinnamon flavor. They're loaded with that satisfying cinnamon taste that we all know and love, and they'll make your kitchen smell fantastic!
This Vegan Apple Oatmeal Cookie recipe is...
Tasty
100% vegan
A cookie with a delightful texture
The perfect combination of soft and crunchy
Great for meal prep
Can be frozen for later
Very satisfying and cozy
How to Make Vegan Apple Oatmeal Cookies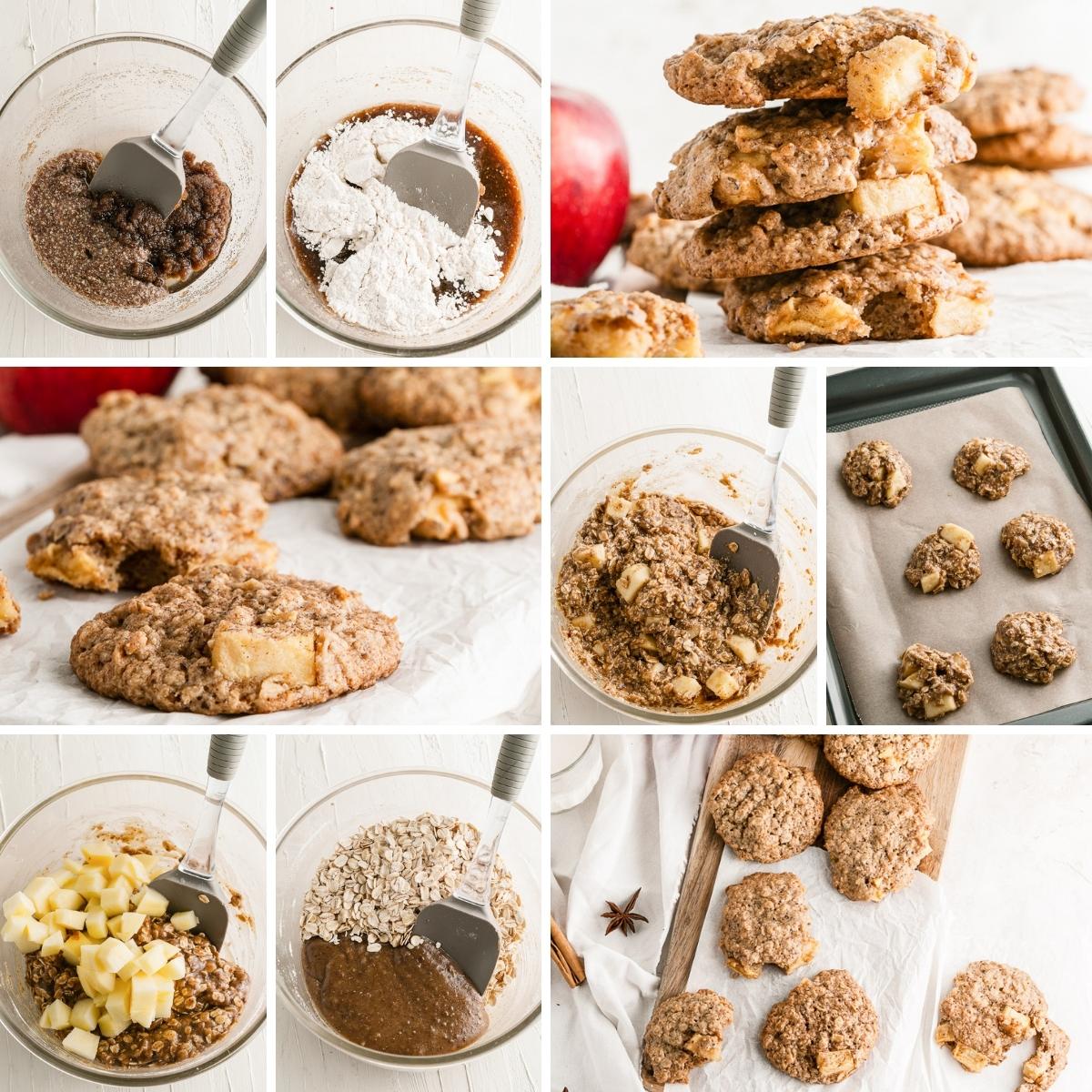 Preheat oven and prepare baking tray.
Prepare a flaxseed egg and let it sit for 10 minutes.
Combine coconut oil, brown sugar, and vanilla.
Add flaxseed egg to mixing bowl.
Mix dry ingredients in a different bowl.
Add to first mixing bowl and combine well.
Add oats and oat flour. Stir well.
Add diced apple and mix evenly.
Spoon dough onto the baking sheet.
Bake until edges are golden.
Let cookies cool and enjoy!
Full directions for how to make Vegan Apple Oatmeal Cookies are in the printable recipe card at the bottom of the post.
Tips & Tricks for Vegan Apple Oatmeal Cookies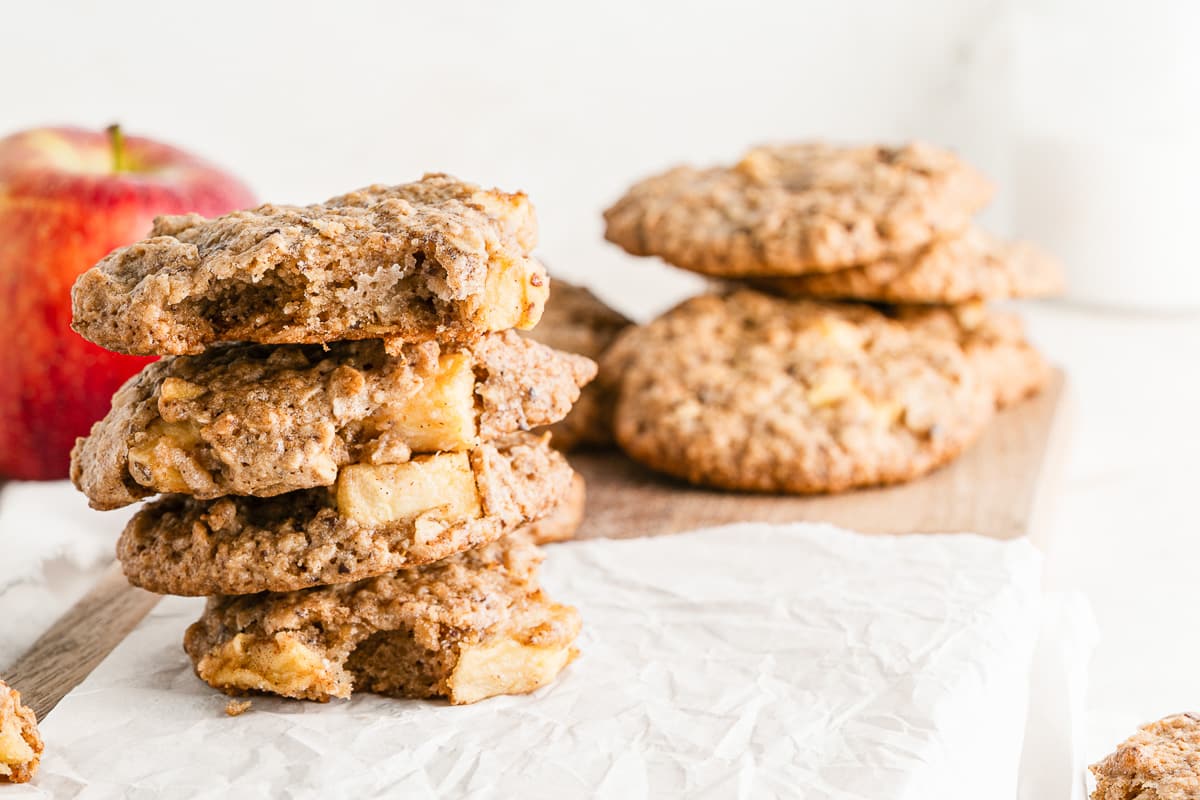 Dough Will Be Sticky
When you spoon the dough onto the prepared baking sheet, you will find that the dough is very sticky. This is because of the flaxseed egg. However, the dough is still fairly easy to work with and can easily be spooned onto the sheet. Don't be worried because the dough is sticky—it means you made it right!
Make Your Own Oat Flour
This recipe uses oat flour, but it's very easy to make yourself. Simply process rolled oats in a blender or food processor for approximately two minutes.
Perfect For Meal Prep
When the cookies are cooled, transfer them to an airtight container. They can be stored in the pantry for three days or in the freezer for two months. Perfect for vegan meal prep!
Variations to Vegan Apple Oatmeal Cookies
Softer Cookies
Swap the rolled oats for quick oats to enjoy a softer cookie. Use the exact same measurement - just swap out the oat varieties.
Vegan Apple Oatmeal Cookies FAQs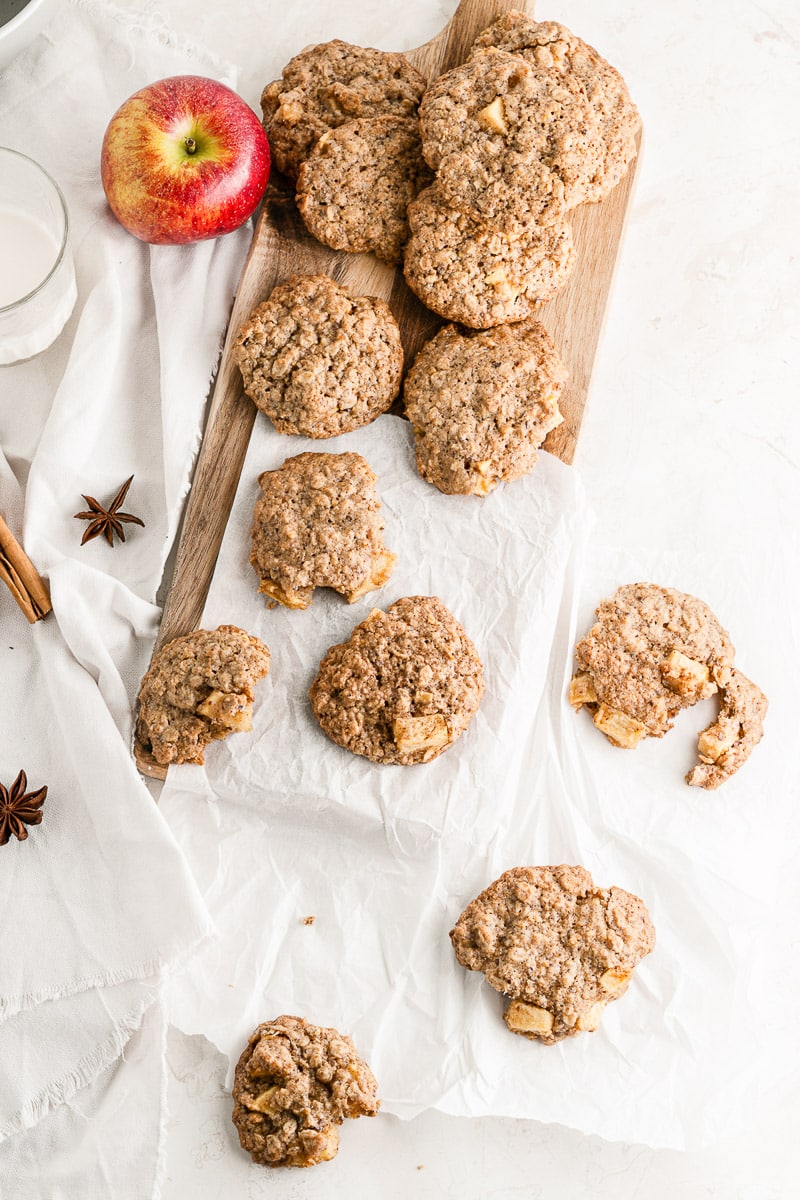 Why do my apple oatmeal cookies get hard?
Usually, hard oatmeal cookies are simply a matter of overmixing. If you overmix the flour mixture, it can cause it to over-activate. Only mix the cookie dough until it's just mixed. Additionally, you can swap the rolled oats in this recipe for quick oats if you want an even softer cookie.
Can I freeze my leftover apples?
We've all been there. Chopped too many apples but, of course, you don't want to throw the leftovers out. Don't worry—you can definitely toss them in the freezer. Simply store your extra apples in a Ziploc freezer bag, and they'll be ready for your next apple baking adventure!
If you're a fan of apple recipes like we are, consider trying these tasty Vegan Apple Fritters, a Vegan Apple Crisp, and these Apple-Cinnamon Quinoa Cookies.
More Vegan Recipes
If you love these vegan apple oatmeal cookies, be sure to check out these other delicious ideas:
Recipe
Instructions
Pre-heat oven to 350°F. Line a baking tray with parchment paper.

Prepare the flaxseed egg by mixing one tablespoon of flaxseed with 3 tablespoons of water. Let it sit for ten minutes.

In a large mixing bowl, stir together melted coconut oil, brown sugar, and vanilla extract until combined.

Add flaxseed egg and stir again.

In a different bowl, mix all-purpose flour with cinnamon, baking powder, and salt. Add that blend to the first mixing bowl and stir until combined.

Add rolled oats and oat flour, then stir to combine. Quick Tip: Oat flour can be easily made by blending rolled oats for two minutes.

Spoon the dough into 12–14 cookies, leaving two inches in between them on the baking sheet. The dough will be sticky due to the flaxseed but easy to work with.

Bake the cookies for 12–15 minutes or until golden on the edges.

Let cookies cool down before serving.
Notes
Store cookies in an airtight container for up to 3 days in your pantry or in the freezer for up to two months.
For this recipe, I used rolled oats to get a crunchier bite. You could use quick oats, too; the result will be softer cookies.
This is a great recipe for meal prep or as a handy school or work lunch.
These cookies have that warm cinnamon flavor that, combined with sweet apples, makes you feel at home. They have crunchy edges with a soft center and are proudly vegan!
Nutrition
Calories:
187
kcal
Carbohydrates:
29
g
Protein:
3
g
Fat:
7
g
Saturated Fat:
5
g
Polyunsaturated Fat:
1
g
Monounsaturated Fat:
1
g
Sodium:
103
mg
Potassium:
87
mg
Fiber:
2
g
Sugar:
15
g
Vitamin A:
6
IU
Vitamin C:
1
mg
Calcium:
23
mg
Iron:
1
mg
Craving more veg-friendly recipes?
Shop our collection of vegetarian and vegan cookbooks, including our new Vegan Thanksgiving and Vegan Christmas cookbooks!