Want to learn how to make Homemade Churros? Here's an easy recipe for crispy, fluffy, sugar-coated churros. They're delicious dipped in chocolate or eaten plain!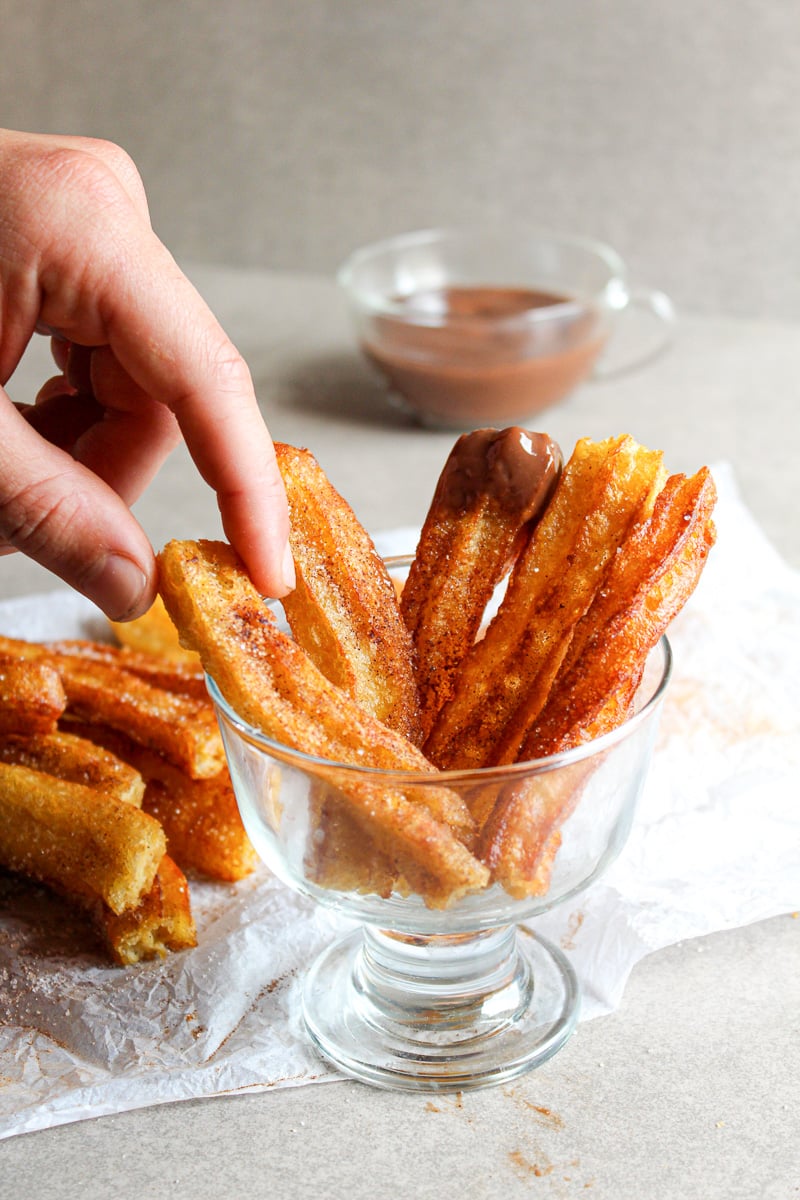 Jump to:
Break out of a dessert rut and try something new. These churros are a must-make! Skip waiting for a food truck or fair to dive in to this incredibly decadent dessert.
This Homemade Churro recipe is...
Made with simple ingredients
Dippable
Made with 7 ingredients
Homemade
Deep-fried
And if you're looking for even more tasty lunch ideas, go check out my new e-book Healthy Plant-Based School Lunches. It's loaded with all my favorite tips for making meatless school lunches that the kids will love!
How to Make Homemade Churros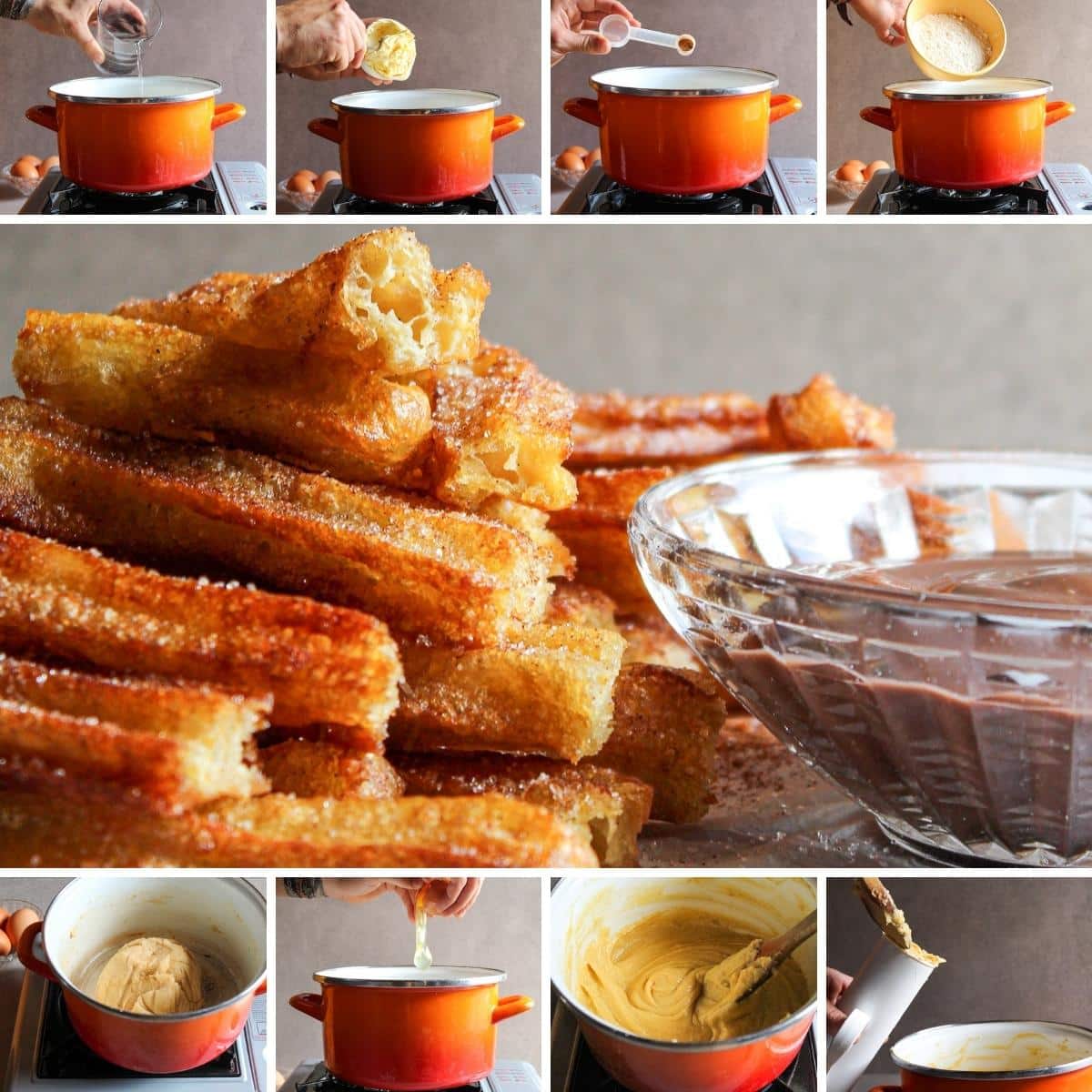 In a pot add your water, butter, salt and cinnamon. Bring to a boil then reduce heat to low.
Add in the flour and mix until it forms a ball.
Set aside and let the dough rest 10 minutes to cool.
Add eggs one at a time, mixing well.
Pour mixture into a piping bag. Then in a bowl add cinnamon and sugar and set aside for coating.
Then in a pan with oil heat it up, and then when it reaches proper temp pipe out some churros frying them in the oil.
Once done, remove and roll in the cinnamon sugar mixture then place on a paper towel lined plate.
Full directions for how to make Homemade Churros are in the printable recipe card at the bottom of the post.
Tips & Tricks for Homemade Churros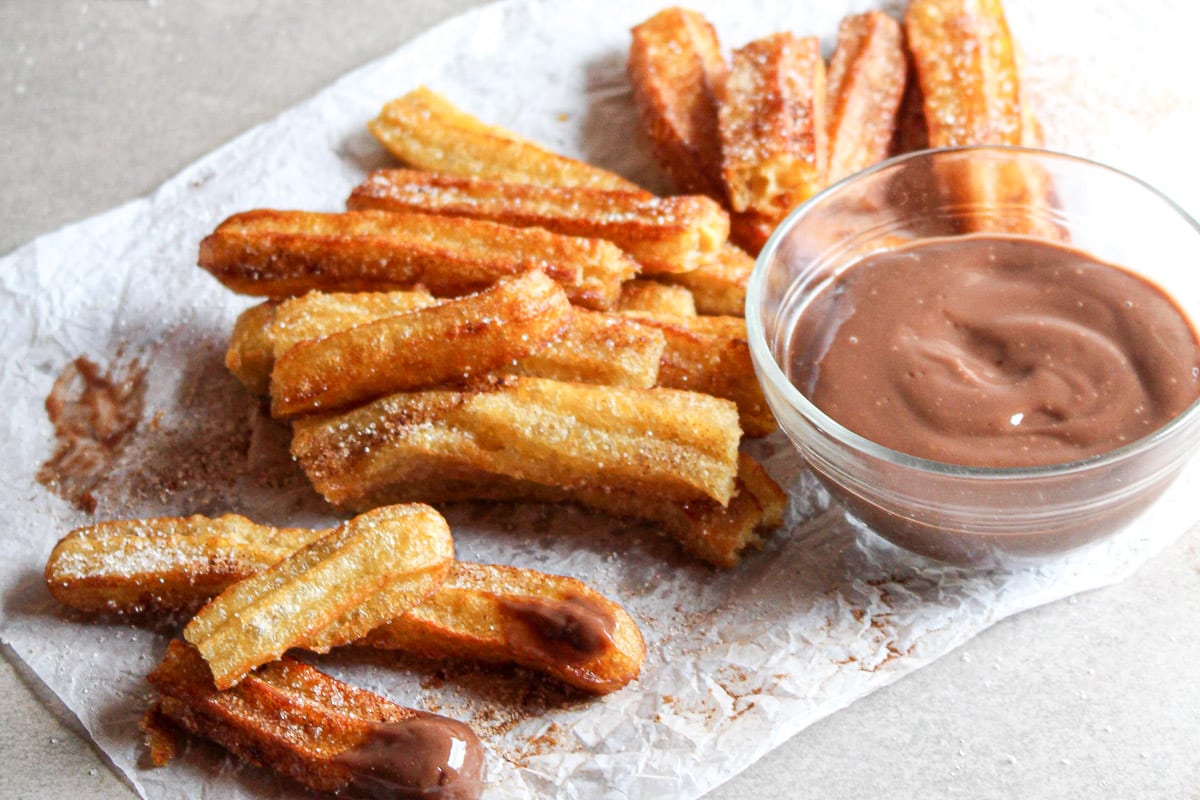 Let Dough Rest Before Eggs
It's very important you let the dough rest and cool down before adding the eggs. Otherwise, your eggs will cook into a scrambled egg-like texture and ruin the dough.
Piping Tip For Churros
A star tip is the most traditional piping tip to use for making the iconic lines in the churro dough. The lines in the star tip also help to release air which prevents your churros from breaking apart.
Frying Churros
Make sure the temperature of your frying oil is 350°F. Use a candy thermometer to ensure you maintain the right temperature! Otherwise your churros may burn or overcook if the oil is too hot.
Variations to Homemade Churros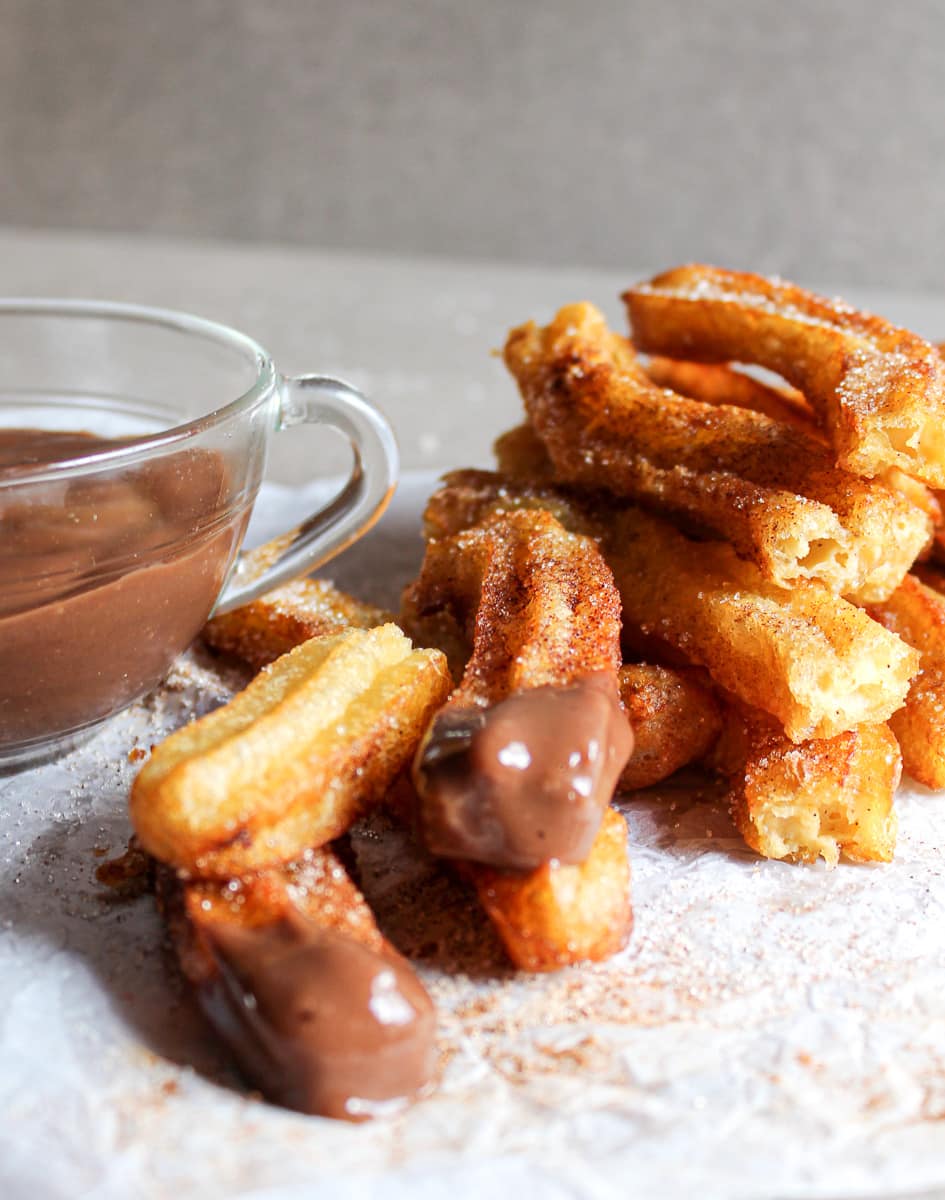 Dipping
Churros are always better when they're dipped in a delicious sauce! You could melt up some rich chocolate for dipping, or even whip up a gooey caramel sauce. The options for pairing your churros with more flavor are endless!
Adjusting the Spice
The cinnamon in this recipe adds a nice warmth of flavor to the churros. However, you can shake things up with some pumpkin spice or even apple pie spice to alter the flavor a bit.
Homemade Churros FAQs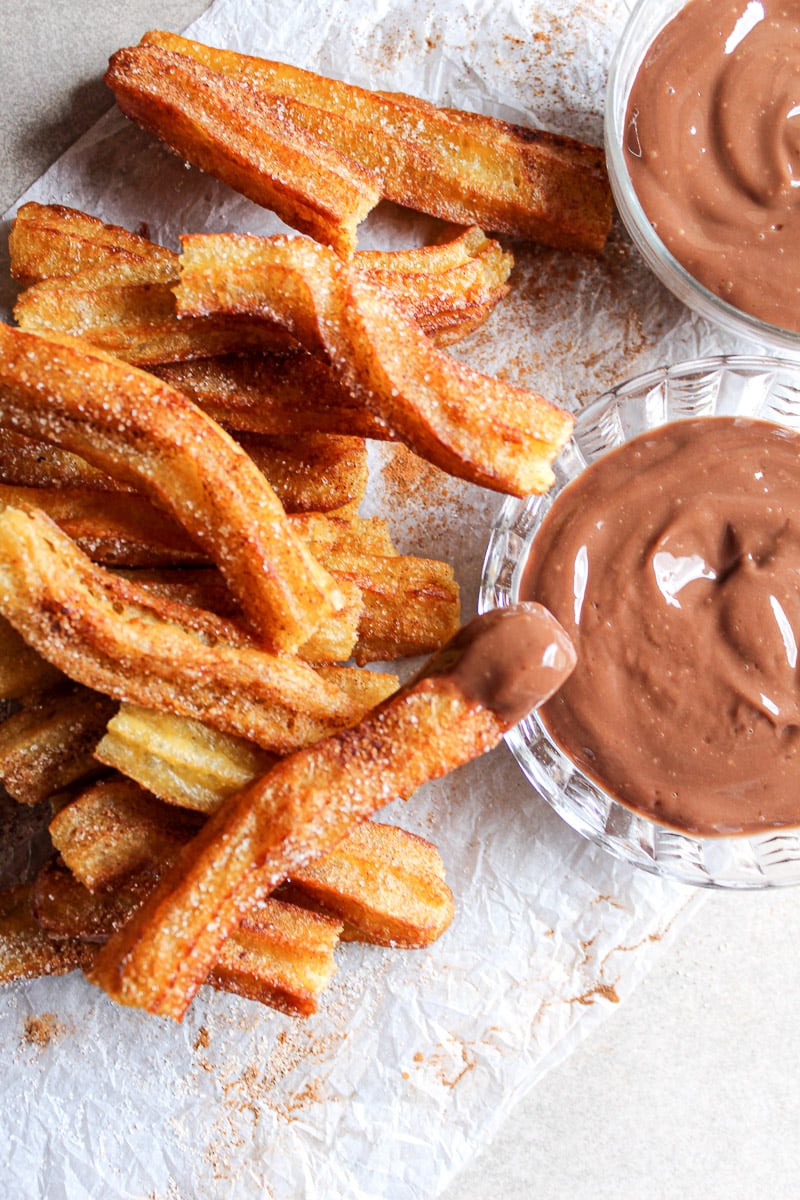 What dough are churros made of?
Churros are a Mexican dessert that is popular around the globe. They're made from a choux dough which is a homemade wet, thick batter.
Why aren't my churros crispy?
You might need to cook your churros longer, if you find that they aren't crispy. Alternatively you need to check the temperature of your oil, as it might not be hot enough to create the golden coating on the outside of the dough.
Why do my churros explode?
Churros explode if they are cooked without the lines in the dough. If your churros are round and don't have creased lines, they can overcook on the outside and explode.
How should I store leftover churros?
Churros are best when eaten fresh out of the frying pan—just let them fully cool. Then you can store your leftover churros on the counter in an airtight container for 1–2 days. You can also store your churros in the fridge. The texture will soften of course, but the flavor will still be delicious.
If you're here planning your holiday menu, don't miss our new Vegan Christmas and Vegan Thanksgiving cookbooks. They're packed with all my favorite holiday-worthy recipes for a plant-based feast.
Recipe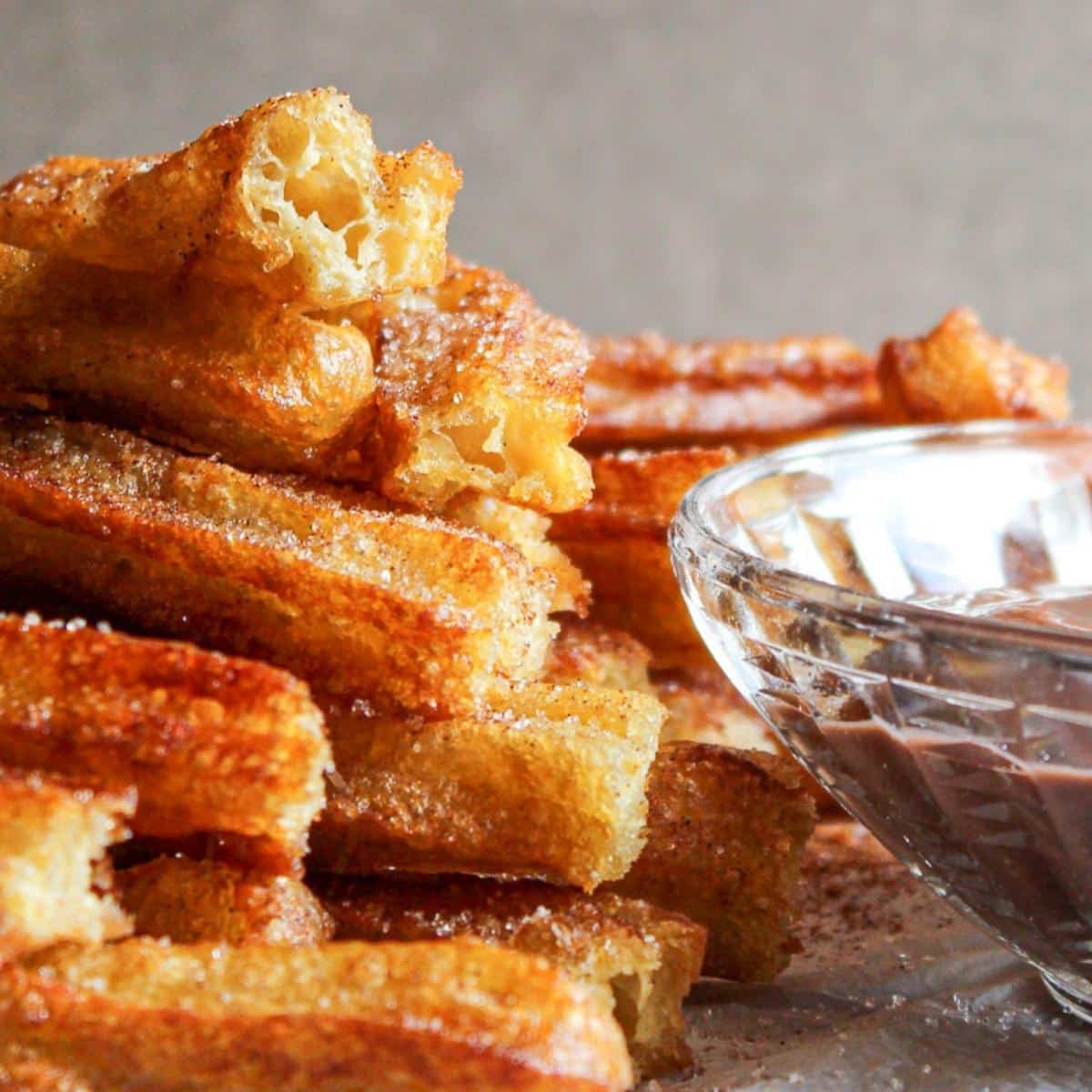 Instructions
Heat a large pot over medium heat. Add the water first.

Follow with the salt and ¼ tsp of ground cinnamon. Bring to boil, stir, and reduce to low heat.

Stir until the mixture forms a large ball.

Remove from the heat and set aside—allow the dough to rest for about 10 minutes. The dough MUST BE COOL so the eggs don't scramble when added.

When the dough as cooled sufficiently, add the eggs.

Add one egg at a time, mixing until fully combined.

Fill a piping bag with the churro dough and set aside. You may have to work in batches, depending on the size of your piping bag.

In a small bowl, combine the sugar and ½ tsp of cinnamon in a small and set it aside. This is to coat the churros after frying them.

Heat the oil in a large pan over medium heat. As soon as the oil reaches 350°F, start to fry your churros. I recommend pipping the dough directly into the frying oil, cutting with a knife every few inches to get perfect churro strips. Fry the churros until golden brown on all sides, which will take about 1–2 minutes.

Place the churros on a clean paper towel to drain off the excess oil for a few minutes. Sprinkle or dip the churros with the cinnamon sugar mixture and serve!
Nutrition
Calories:
81
kcal
Carbohydrates:
15
g
Protein:
2
g
Fat:
1
g
Saturated Fat:
1
g
Polyunsaturated Fat:
1
g
Monounsaturated Fat:
1
g
Trans Fat:
1
g
Cholesterol:
34
mg
Sodium:
61
mg
Potassium:
35
mg
Fiber:
1
g
Sugar:
7
g
Vitamin A:
61
IU
Vitamin C:
1
mg
Calcium:
17
mg
Iron:
1
mg
Craving more veg-friendly recipes?
Shop our collection of vegetarian and vegan cookbooks, including our new Vegan Thanksgiving and Vegan Christmas cookbooks!