50+ Veganuary recipes! With breakfast, lunch, dinner, snack and dessert ideas, these recipes will make your vegan New Year's resolutions much easier. A lot of healthy, gluten-free and oil-free options too, that are ideal for beginners to plant based cooking.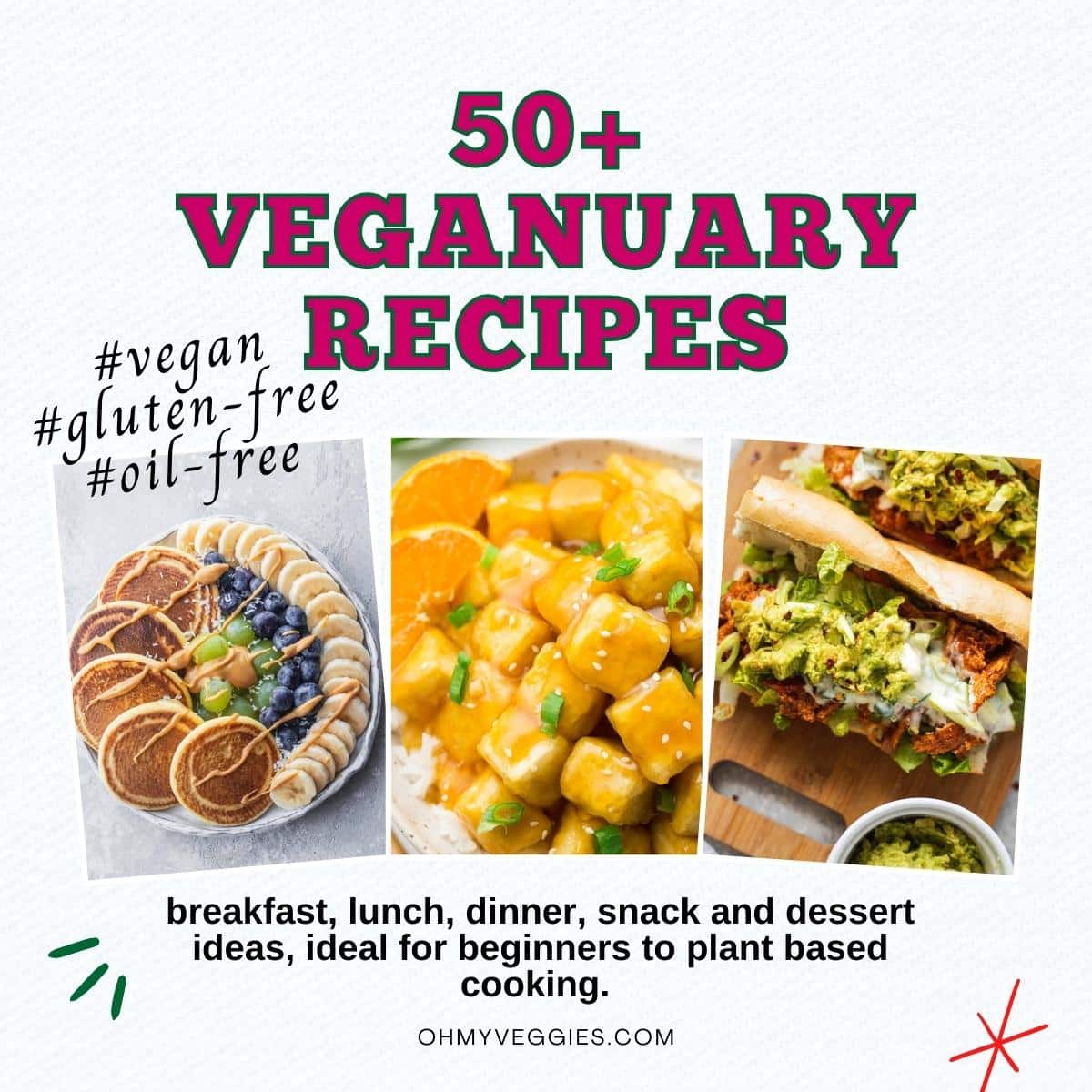 If you've never heard of Veganuary, it's a challenge which asks participants to only eat vegan for the entire month of January. Hundreds of thousands of people participate, and a lot of them stick with a plant based lifestyle for much longer.
If you want to take part in Veganuary, or simply cook more plant based meals in the New Year, you might feel a bit overwhelmed. You may not know where to start at all. And that's completely understandable: plant based cooking opens up a whole range of new ingredients and techniques. So, I've compiled this roundup of super easy and most importantly, delicious vegan recipes from myself and other bloggers.
Regardless of whether you want to go all in with Veganuary, or gradually learn how to cook with plants, there are plenty of options here for you! Get them on your weekly menu, and your resolutions will be made a lot easier.
The recipes featured here are delicious and perfect for beginners. You will find fun & versatile options such as:
Quick breakfasts you can eat on the go.
Smoothies.
Soups and stews.
Pastas.
Curries.
Gluten-free vegan meals.
Stir-fries.
Salads.
Wraps and sandwiches.
Cookies and cakes.
Dairy-free bread.
Be sure to save this post to go back to whenever you need ideas. Also share with your friends who want to eat more vegan meals or give Veganuary a go!
While you're here, be sure to grab our FREE 5-Day Meatless Meal Plan. It's packed with tasty recipes to make vegetarian cooking easy and delicious!
50+ Veganuary Recipes
50+ Veganuary recipes! With breakfast, lunch, dinner, snack and dessert ideas.
I hope you've found the perfect recipe to get you started on a delicious Veganuary! For more tasty vegan ideas, check out our complete selection of vegetarian and vegan e-books or these helpful resources: