This easy apple pie coconut chia pudding is perfect for dessert or a make-ahead breakfast! Topped with stovetop cinnamon apples, it's comforting and healthy at the same time. Vegan, gluten-free, made with minimal ingredients.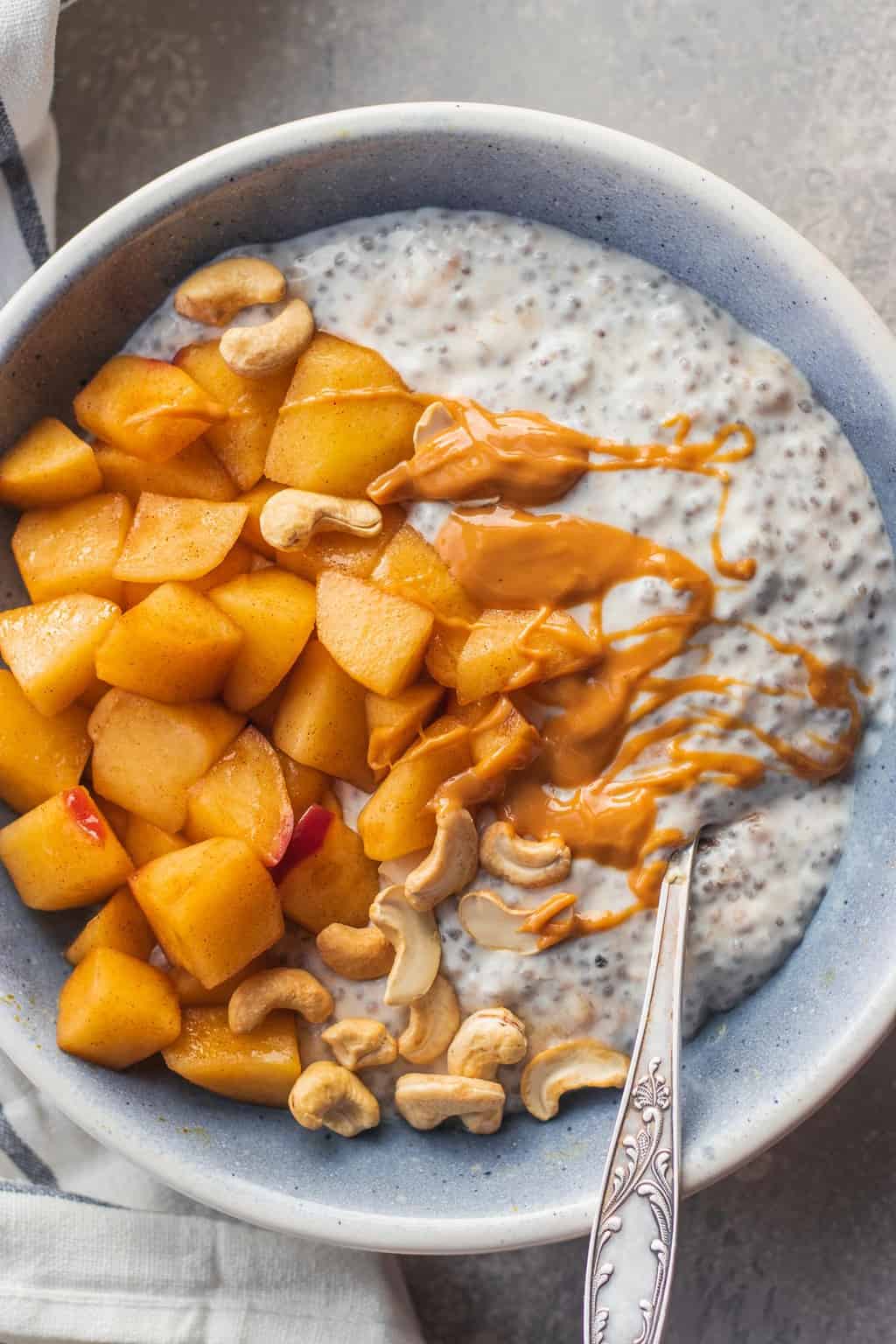 I love chia pudding at the moment - a lot. It's such an easy make-ahead breakfast. All you have to do is leave it in the fridge overnight, and wake up to deliciousness waiting for you, which is great if you find that your mornings are quite busy. They're also great as a pre or post-workout snack, or just as a delicious and healthy treat to enjoy at any point in the day!
4-ingredient coconut chia pudding
This chia pudding is incredibly easy and needs only 4 ingredients:
Chia seeds: these are the base of the recipe, of course. If you've never used chia seeds as an ingredient before, this is the perfect starting point!
Coconut milk: this recipe uses the canned variety, which is a great way of achieving a thick and creamy texture.
Plant based yoghurt: once again, this is used to really take the creaminess to the next level.
Mashed banana: a great way to sweeten chia pudding naturally!
Of course, you can add other ingredients, such as cacao powder or more sweetener, to tailor the chia pudding to your preferences. However, you only need those 4 ingredients for a fail-proof basic recipe!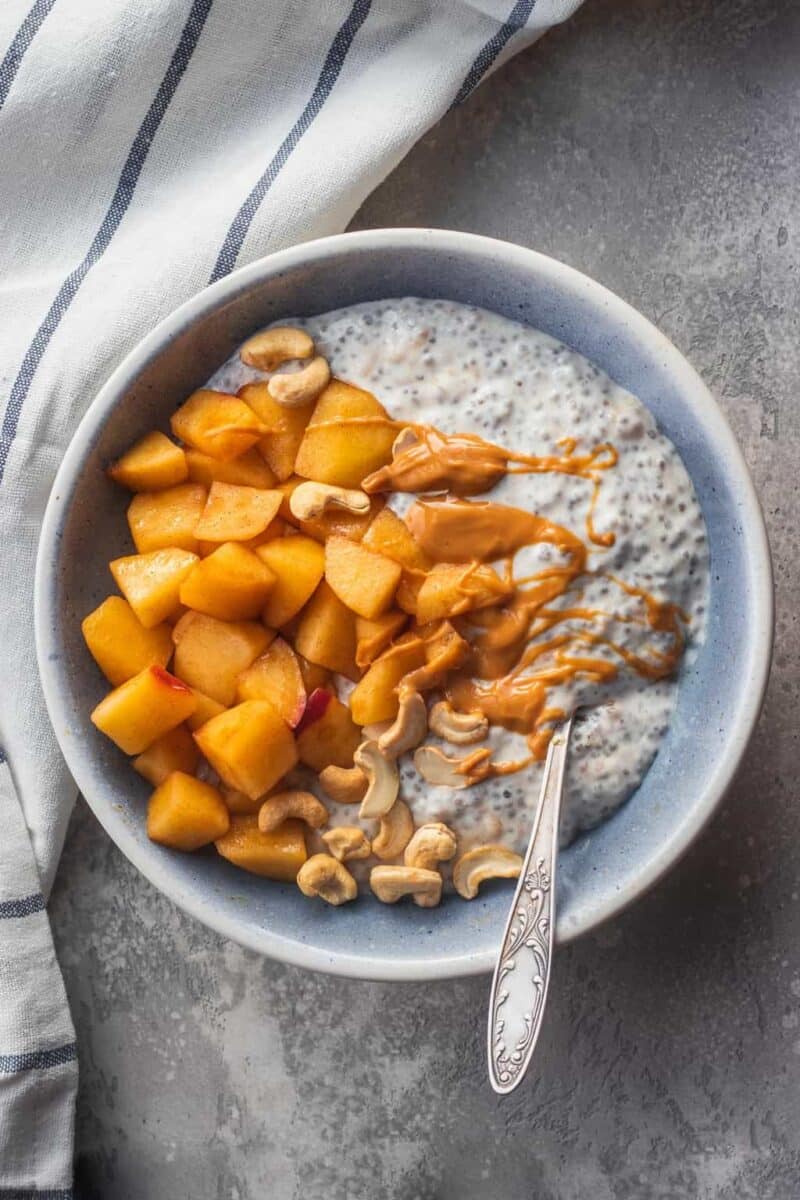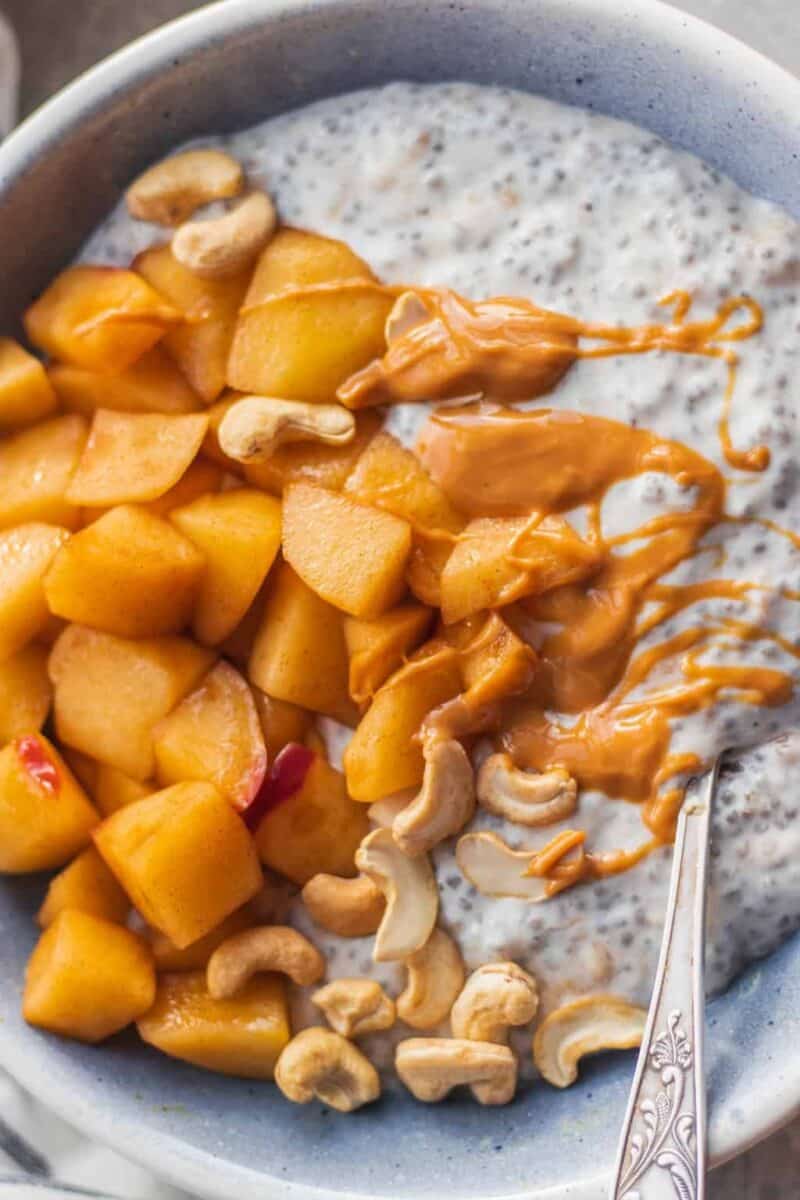 How to make coconut chia pudding
It's incredibly easy. Add the chia seeds and the coconut milk to a bowl and whisk them together for around 30 seconds. Then, add the soy yoghurt and mashed banana, and continue whisking until any clumps are gone and the ingredients are thoroughly combined.
Next, leave to set in the fridge in a jar for at least 30 minutes, but preferably overnight for the best results. Take out and serve with toppings of your choice.
Cinnamon stovetop apples
To make this chia pudding exciting and cosy, we're topping with easy caramelised stovetop apples. These will most definitely make your kitchen smell amazing! The contrast between the warm apples and the cool chia pudding makes the result a breakfast to look forward to!
All you have to do to make the apples is, first of all, add them to a saucepan with a splash of water and maple syrup. Allow them to cook on a low-medium heat for around 7-10 minutes (depending on how crispy you want them).
Meanwhile, stir together some corn starch/arrowroot powder with water. Add this to the apples and stir for 2-3 minutes more, allowing the sauce to thicken.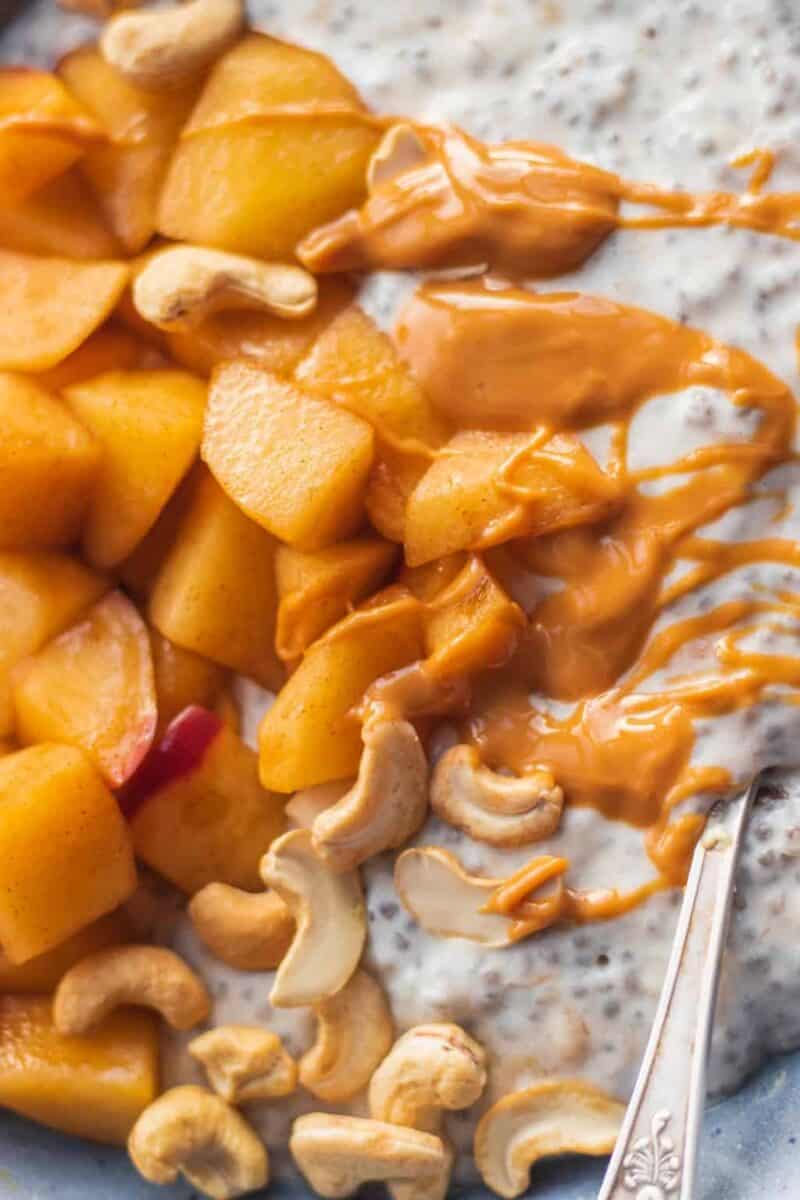 Serve on top of the chia pudding with peanut butter and cashews, and enjoy!
Tips for the perfect chia pudding
In order to make this recipe perfect each time:
Whisk together the ingredients really well to prevent them from clumping together.
Leave the chia pudding in the fridge for enough time to achieve the thickest, creamiest texture. At least half an hour, but overnight is preferable.
Be generous with toppings! The stovetop apples really take this breakfast to the next level.
You can also try blending the banana with the coconut milk if you can't get rid of clumps just by mashing.
Notes and substitutions
I would recommend using a canned coconut milk variety for this recipe. It has the best flavour and results in the creamiest, smoothest texture. But I understand that it is quite high in fat, so you can replace it with a low-fat version. A richer plant based milk variety such as oat milk also works.
If you don't like the texture of chia pudding, blend this in a high speed blender such as a Vitamix after leaving it in the fridge.
I like using soy yoghurt for this recipe because it has the most neutral flavour. But any plant based yoghurt variety works.
You can replace the mashed banana with either a tbsp of maple syrup or a few drops of Stevia.
What's to love about this apple pie coconut chia pudding?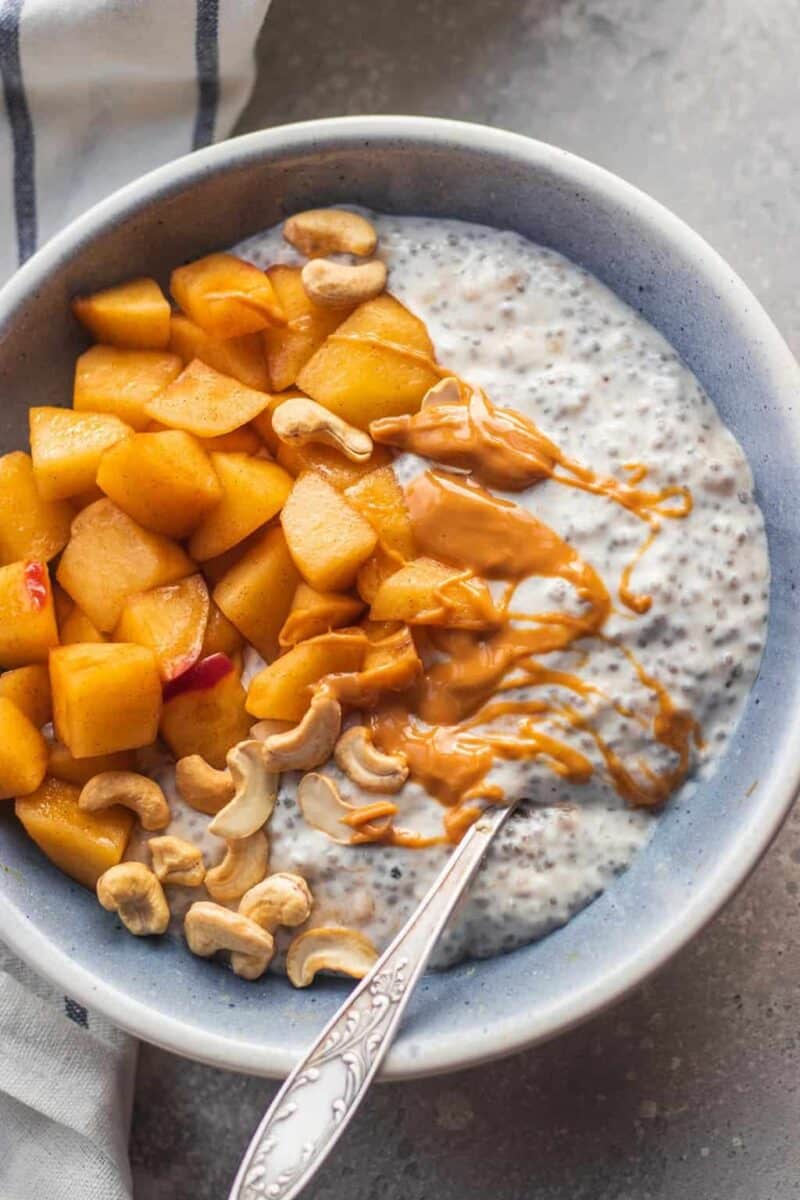 The finished product is...
Silky smooth.
Perfect as an energising, filling breakfast.
Also great as breakfast for dessert!
Easy to make.
Gluten-free.
Healthy.
Oil-free.
Ready in no time (if you don't count the time in the fridge).
This coconut chia pudding is also super versatile because you can top it with anything you fancy, from fresh fruit to nut butters and chocolate. The cinnamon apples are just one suggestion.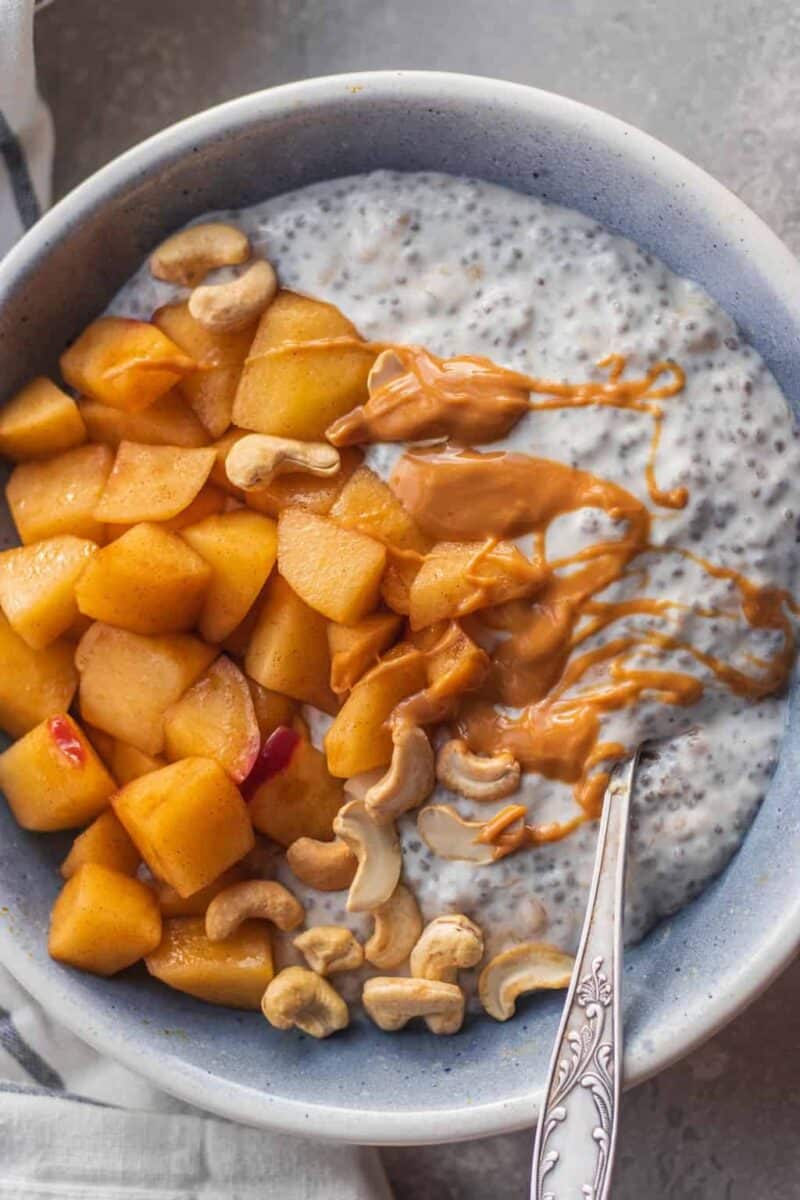 Let me know in the comments: are you a fan of chia pudding? If you give this recipe a go, be sure to tag me on Instagram (@ohmyveggies) or comment a photo on Pinterest so I can see your creations!
Recipe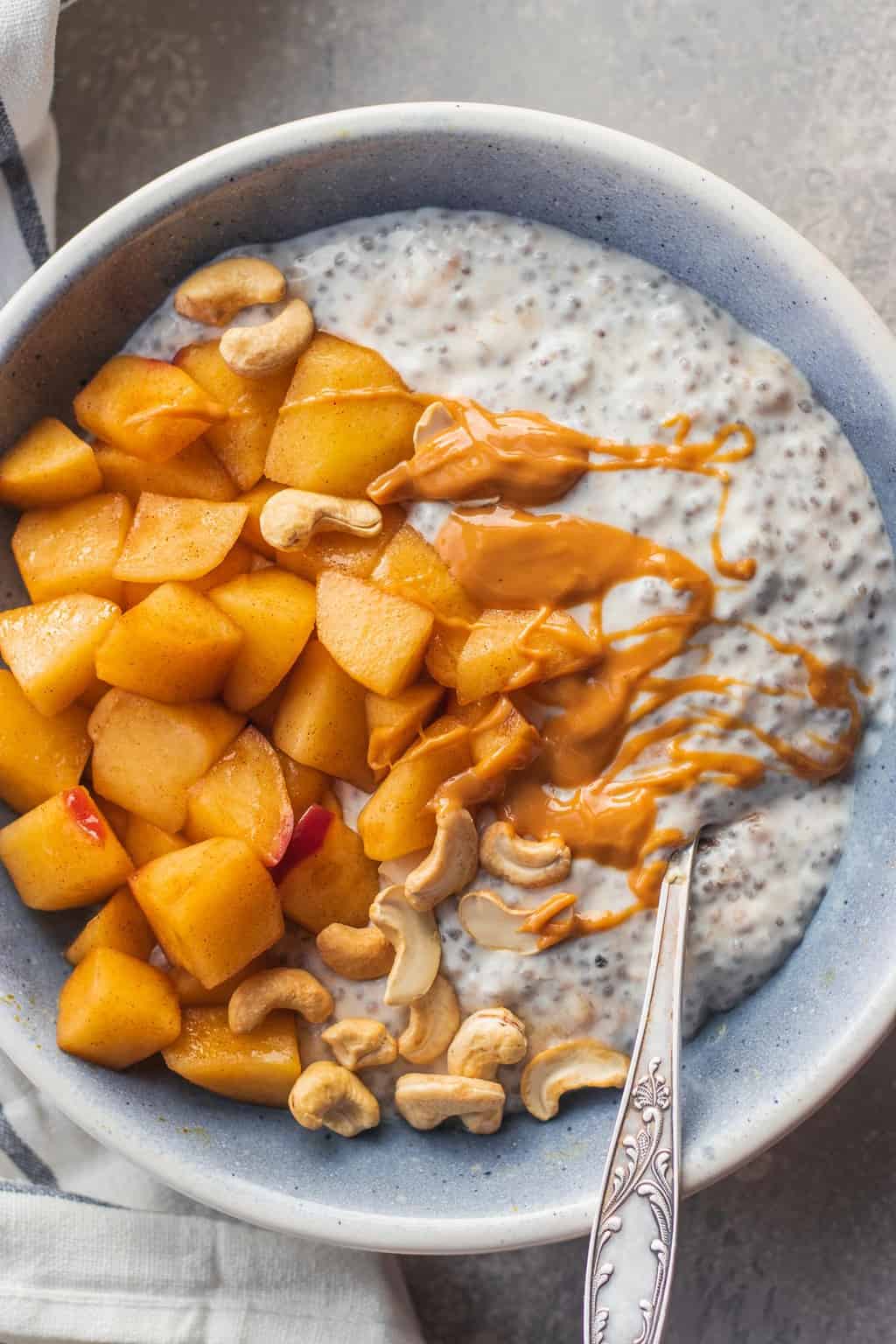 Ingredients
For the chia pudding
2

tbsp

chia seeds

½

cup

coconut milk

canned, either light of full fat

½

cup

soy yoghurt

or any vegan yoghurt of choice

1

medium

banana

mashed
Instructions
To make the chia pudding
In a bowl or jar, stir together the chia seeds, coconut milk, soy yoghurt and banana. Leave in the fridge for at least 4 hours, preferably overnight.
To make the stovetop apples
Add the apple, maple syrup and cinnamon to a non-stick saucepan with a splash of water. Cook over a low heat for 7-10 minutes, stirring occasionally. Meanwhile, stir together the water and the cornstarch in a small bowl.

Add the cornstarch mixture to the apples, cooking for a further 2-3 minutes to allow it to thicken. Serve immediately over the chia pudding.
Nutrition
Calories:
485
kcal
Carbohydrates:
87
g
Protein:
5
g
Fat:
14
g
Saturated Fat:
7
g
Sodium:
94
mg
Potassium:
803
mg
Fiber:
17
g
Sugar:
49
g
Vitamin A:
195
IU
Vitamin C:
20.5
mg
Calcium:
200
mg
Iron:
2.4
mg
Craving more veg-friendly recipes?
Shop our collection of vegetarian and vegan cookbooks, including our new Vegan Thanksgiving and Vegan Christmas cookbooks!