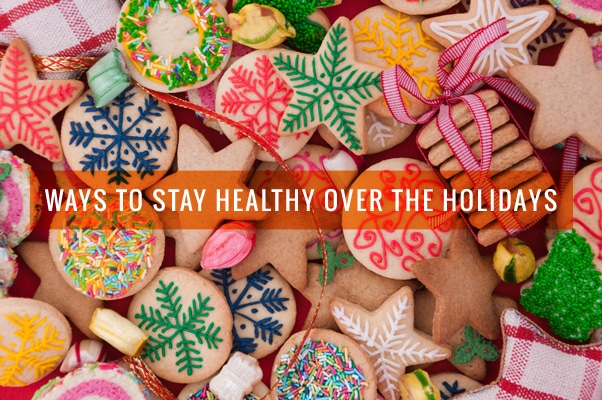 The holiday season is upon us, and with it plenty of good times, cheer… and temptation. What's the best way to get through the holidays as healthy as possible? The good news is that with a bit of thoughtfulness, balance, and moderation, you can have your holiday cheer and eat it too!
Fill up before you go out
If you know that hitting the holiday party circuit is going to mean eggnog and cheese balls and shortbread galore, don't show up to a party with an empty stomach. It's much harder to make healthy choices when you're hungry, so fill up with a nourishing and veggie-loaded meal before you head out the door. That way you'll be able to make mindful decisions about what you really want to eat, rather than ravenously shoving gingersnaps in your mouth. Aim for a meal that includes a serving of satiating protein, healthy fats, and whole grains to fill you up and keep you satisfied before you hit the buffet.
If you fill up on healthy foods before you head to your event, you're less likely to overindulge. It's equally if not more important to fill up before you head to an event where you know alcohol will be involved – especially if you want to get invited back next year!
Stay hydrated
It can be difficult to distinguish between hungry and thirsty sometimes, so a good trick to make sure you're eating because you're actually hungry and not just because temptation is all around you is to down a glass of water first. If after a few minutes you're still hungry, then eat something! It's also a season that typically includes a lot of alcohol, so make sure you're reaching for a glass of water before wine, and spacing out your cocktails with water between each drink.
Be a happy herbivore
Most holiday parties will have a decent selection of fresh vegetables on offer, from salads to crudite platters. Load up your plate with whatever fresh produce is on hand before you start adding other things. Aim for at least half of your plate to be fruit and veg, and you're good to go.
Moderate and alternate
Got a holiday party on Tuesday? Then have a salad for dinner on Wednesday. Friday is eggnog night? Stick with green smoothies the day before. Unless you've got a holiday party every single day of the week, you should be able to space out indulgences with days of healthy eating to give yourself a break from holiday eating.
It can be helpful to write out a weekly meal plan with healthy eating days scheduled in. But if life happens and you suddenly find yourself under the mistletoe with a mug full of mulled wine, just take a deep breath and go with it. It is the holidays, after all.
Cheer mindfully
The holiday season, and the food traditions that come with it, only rolls around once a year. Whether it's your grandma's famous shortbread or the chocolate rum balls that only get made in December, be sure to enjoy it! Savor each and every bite, and do it mindfully. Remember to put your fork down between mouthfuls and take your time so you can really appreciate the flavors. Thank whoever made what you're enjoying so much. Ask for the recipe! Eat what you love, and own it, no excuses. You may find that with mindful eating you'll eat less but enjoy even more.
Embrace it!
This is a special time of year and we shouldn't forget that! It's all well and good to have healthy eating goals throughout the season, but don't forget to relax and enjoy it as well. The New Year will be on us soon enough, and with it an opportunity to reset and move forward. So enjoy the shortbread and gingersnaps and chocolate rum balls while they're here, because it won't last forever!
My nutrition philosophy is all about balance and moderation. I aim to eat as healthy as possible about 80% of the time, and indulge and enjoy the other 20% of the time. At this time of year the scales tip a little more towards that indulgent 20%. But so what? A couple of weeks of holiday eating is not going to ruin your overall nutritional well being – I promise you.
Mathematically speaking, 20% of 52 weeks is 10.4 weeks. You're hardly going on a 10-week holiday eating bender, are you? For most people this stretch lasts for 2-3 weeks, which puts you way under 20% if you're following the 80/20 rule. So relax, embrace, and enjoy.
Christmas cookie photo via Shutterstock