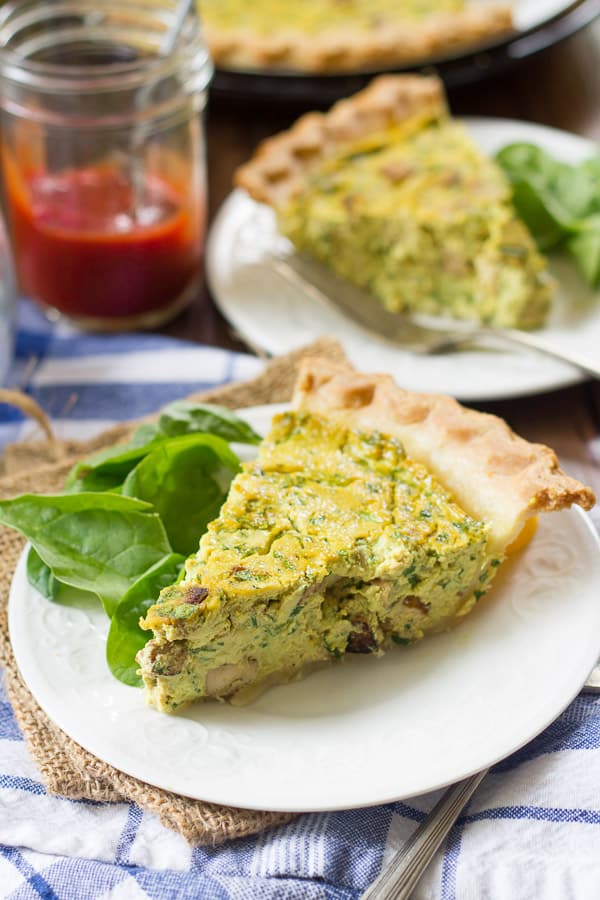 Confession: I was never a big fan of eggs. There were times when I wanted to like them so badly, because you really can turn eggs into some of the coolest dishes. It wasn't until I met my husband, who loves eggs big time that I started veganizing some egg-based recipes. I was surprised by a couple of things. First, most eggy dishes are super easy to create vegan versions of. Second, they turned out pretty darn convincing, and now my egg loving husband will take tofu eggs over the real deal any day. The biggest surprise of all was that I loved the vegan versions of all of the dishes. I think by being able to customize the flavors (which I'll talk about below) I was able to create something that weighed in heavily on the stuff I liked about eggs, but not so much on the things I didn't like.
Since I'm all about customizing my eggy dishes to suit my tastes, I decided to come up with a totally adaptable quiche formula, and quiche probably reigns as the coolest egg dish of all. I mean, come on, it's an egg pie!
Crust
This is the easy part. If you opt to make it really easy on yourself and use a store bought crust, you'll find that lots of the brands available at the supermarket are vegan. You should still check the ingredients though, because you'll occasionally run into a brand that contains dairy, or even lard.
There are also plenty of vegan pie crust recipes available--just look for recipes that use shortening or vegetable oils instead of lard or butter. If some milk is required, swap it out for non-dairy milk, like soy or almond. If you're up for something a little different, try an almond crust, puff pastry, or even making mini quiches in wonton wrappers (some contain eggs, so check the ingredients), or phyllo cups. Just be sure to decrease the bake time for anything smaller than a standard pie crust.
Filling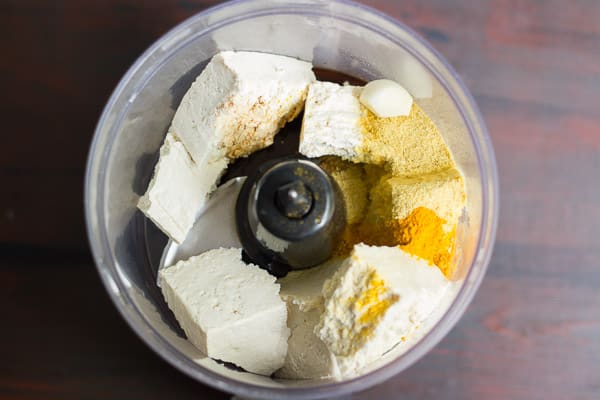 Believe it or not, there's only one essential ingredient to a basic vegan quiche: tofu. Tofu blends up creamy, and then bakes up to take on the consistency of eggs. It's pretty amazing. You'll need a single 14-ounce block of extra-firm tofu for one quiche. Drain the water from the package, break it into a few chunks, and stick them into the food processor.
From there, you'll want to season the tofu. While tofu is the only required ingredient, it wouldn't make a very tasty or pretty quiche all by itself. Nutritional yeast, turmeric and salt are my three go-to seasonings. Two or three tablespoons of nutritional yeast flakes will give the quiche some savory, almost cheesy, flavor. A pinch of turmeric will add some natural yellow color, so it actually looks like it's made of eggs. Just don't go overboard – ½ teaspoon of turmeric is plenty, and the color tends to intensify during baking. You'll also want to add some salt. Regular old table salt works, but soy sauce or tamari can also be nice too for extra flavor.
If you really want to create a convincing quiche, get your hands on some kala namak, also known as black salt. It contains sulfur, which gives it a super eggy taste and smell. I actually find it a bit too intense (my egg loving husband digs it a lot though), so I prefer to serve it on the side as opposed to adding it to the filling. You can pick up a jar of kala namak at an Indian market or online.
From there, add in anything you might otherwise put into a quiche, or just anything that sounds good to you. Hot sauce, a splash of lemon juice for tang, some garlic, and dried spices are all great choices.
Blend everything up in a food processor until it's nice and smooth. If the mixture is so thick you can't get it to blend, add a splash or two of non-dairy milk. Give the mixture a taste-test. It might taste a bit weird (uncooked tofu has an odd flavor), but if the flavors seem balanced, you're okay to proceed.
Add-Ins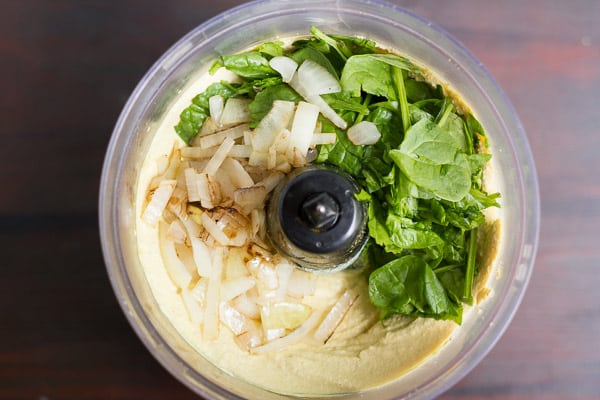 Again, think about what might taste good in a regular old quiche here. It probably goes nicely in a vegan quiche too. I always include some veggies. Delicate greens like spinach are nice because you can throw them right into the filling without any precooking, while harder veggies usually benefit from a brief steam or sauté before adding to the mixure.
I usually just throw my veggies into the food processor and pulse until they're well-incorporated, but if you do this be really careful not to puree them. Larger mix-ins can be added separately, or just arranged over the crust before you add the filling.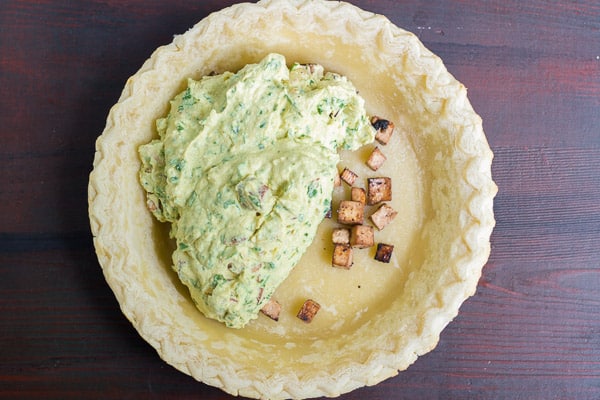 Here I've incorporated some baby spinach and sautéed onions during the food processor step, then placed a layer of tofu bacon (made according to this method) over the crust just before adding the filling. Pour the filing over the crust and smooth out the top with a spatula.
Bake
And we're back to a process that looks pretty similar to that for making a regular old quiche. Place your quiche into an oven preheated to 375°F and bake it until the top begins to brown and the filling firms up a bit. About 35 minutes should do it.
Serve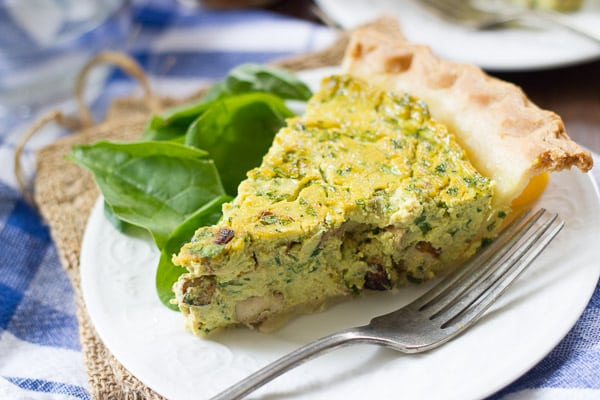 Allow the quiche to cool a bit before cutting into it. Serve it up, if you like, with your favorite sauce. I always like some salsa or hot sauce with mine.