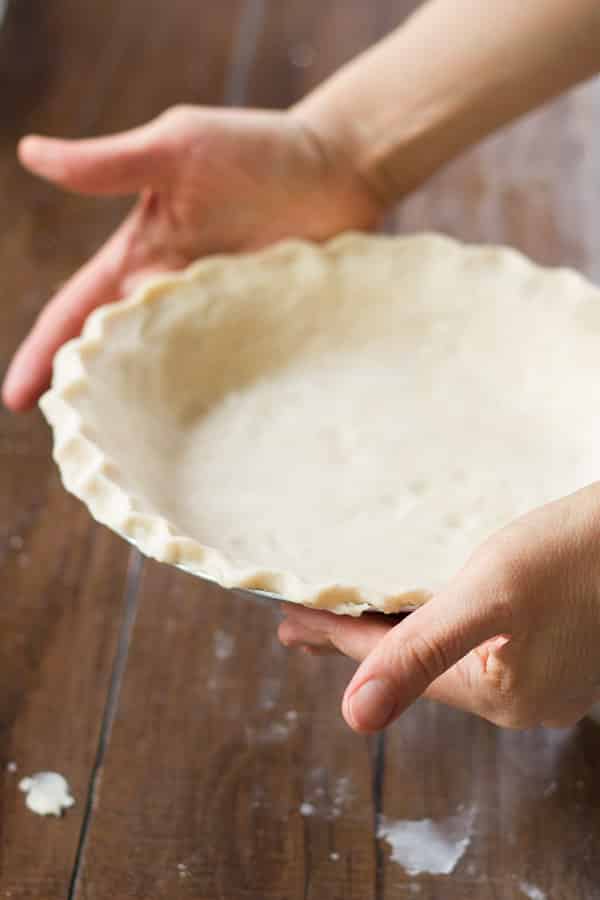 We love pie in my family, and pie pretty much always takes center stage on Thanksgiving. A few years ago though, I was bummed out when a family member made a delicious looking apple pie, only to find out that the crust had lard in it, so I couldn't eat it.
Now, there are probably a few vegan premade pie crust options available at your supermarket, so that's one solution, but I always like to have the option of creating my own vegan version of stuff like this. Also, isn't homemade always way better? As it turns out, homemade vegan pie crust is easier to make than you'd think.
There are a few options available as far as ingredients are concerned, but I decided to go with a coconut oil pie crust because (1) I always have coconut oil on hand, (2) I love the little bit of coconutty flavor it gives the crust, and (3) it's actually pretty darn easy! So without further ado, here's how to make your very own, 100% vegan pie crust, using coconut oil.
Ingredients
You only need 4 ingredients to make vegan coconut oil pie crust, and you've probably got them all on hand: coconut oil, flour, salt and water.
You can use refined or unrefined coconut oil here. I generally keep the unrefined stuff around, because it's what I prefer. Unrefined will give your crust a bit of a coconutty flavor though, so if you don't like the taste of coconut, or you're making a crust for a savory pie, go with refined. Whichever variety you decide to use, make sure it's in a solid state (not melted).
All-purpose flour is what most of us will have on hand, and it's super easy to work with, so I'd go with that variety, at least for your first crust. Once you get a feel for DIY coconut oil pie crust making, you can try out whole wheat, spelt, or whatever variety of flour you fancy. You'll just end up with some variation in texture.
Make the Dough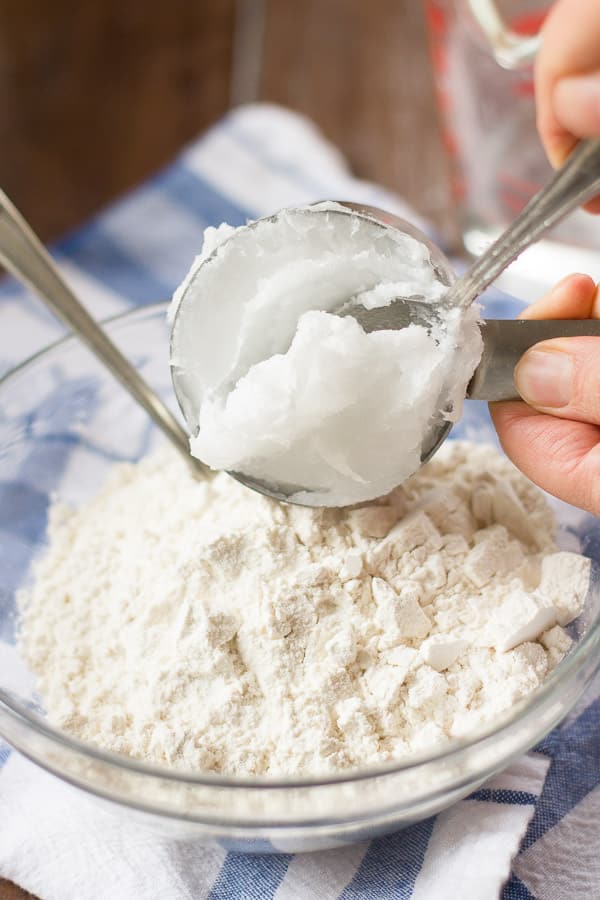 Place 1 ½ cups of flour into a mixing bowl and stir in ½ teaspoon of salt. Now, grab your jar of coconut oil, and remember that it should be solid; if your house is on the warm side it might be liquid, in which case you'll need to chill it for a bit.
Measure out ½ cup of coconut oil and add it to your flour mixture. The next step is very similar to what you'd see in a regular old pie crust recipe: take a pastry cutter, a couple of knives or a fork, and cut the coconut oil into the flour mixture. Keep doing this until you get a fine, crumbly mixture. (Pro tip: use a bigger bowl than I did!)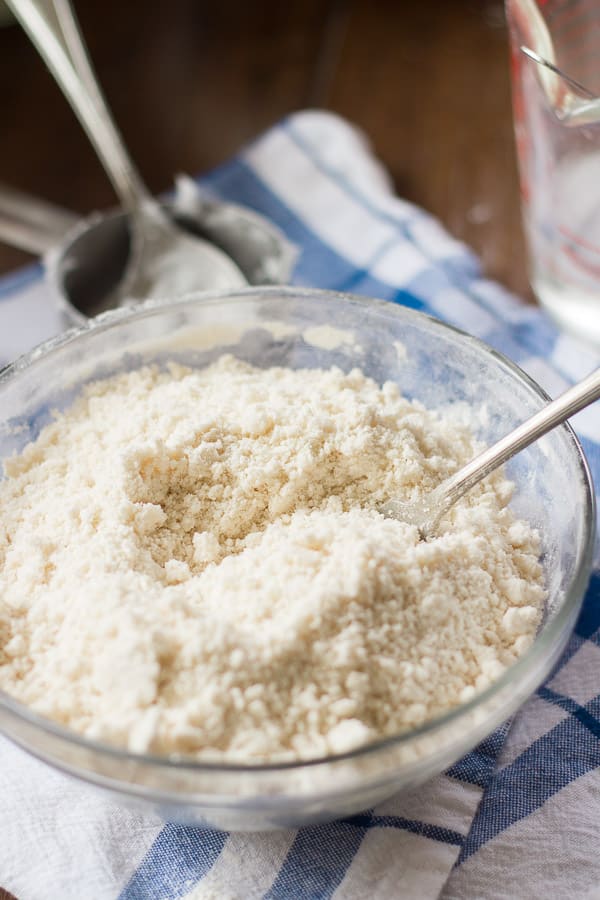 Next grab a glass of ice cold water. If your water isn't super cold, add a few ice cubes to cool it down. Add a tablespoon of the cold water to the flour mixture and give it a stir with a fork or spoon. Now add another tablespoon of water. Keep adding and mixing. Once you've added about 3 to 4 tablespoons, you should start getting some large clumps. Ditch the utensil and start mixing it with your hands.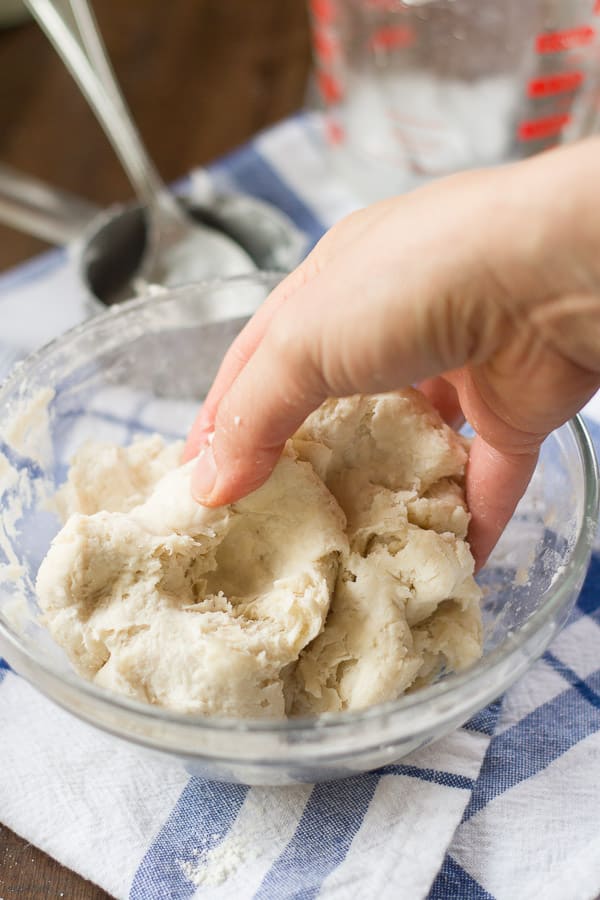 By the time you get to 7 or 8 tablespoons of water, you should have a nice dough going, so stop adding water at that point.
Make the Coconut Oil Pie Crust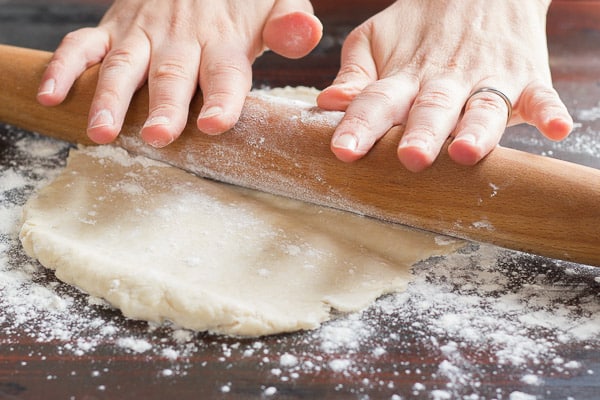 Shape your dough into a ball, then sprinkle a work surface and rolling pin with some flour. Roll the dough into a big circle, about 14 inches, or large enough to cover your pie plate and leave some overhang.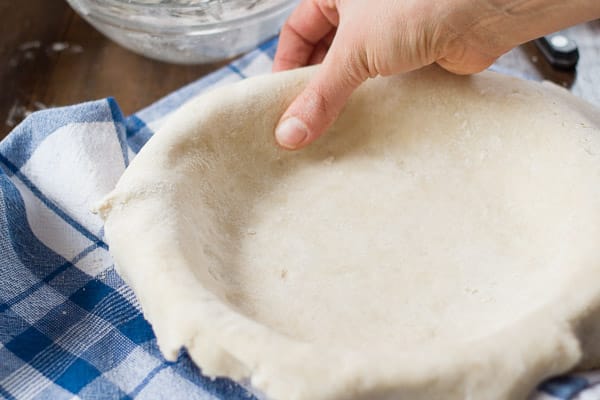 Now place the dough into the pie place and gently press down, so it conforms to the shape of the plate. Use a knife or some kitchen shears to trim any excess dough from around the edges.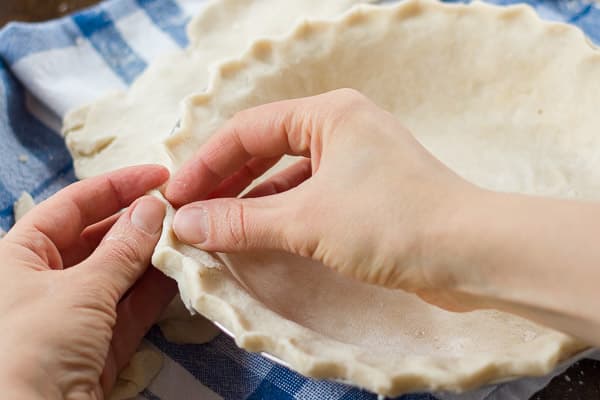 Use a fork or your fingers to create some scallops in the edges.
Make a Pie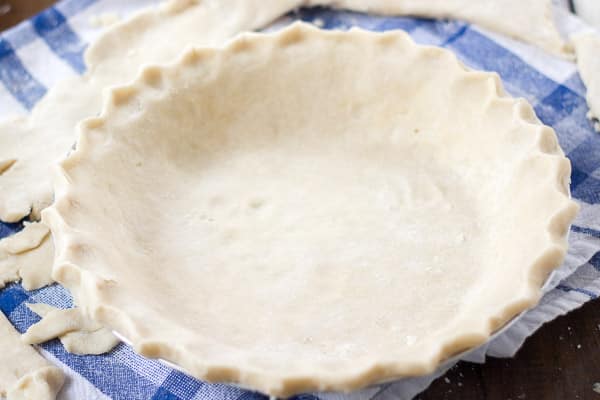 From there, you can use your coconut oil pie crust just like you would any other. You can even freeze it for later if you'd like. Just place it in a large freezer bag and seal it tight. Take it out of the freezer and give it about an hour to thaw before using.
If you're making a baked pie (like pumpkin), fill it and bake according to the recipe. If you're making a no-bake pie, you'll still need to bake the crust, just without the filling. Cover it with foil and place some pie weights or dried beans in the center. Bake it at 400°F until it's nice and flaky, about 30 minutes. Transfer to a cooling rack, allow to cool, fill and serve.
If you need some pie-baking inspiration, check out our collection of 19 Must Make Vegan Pies.