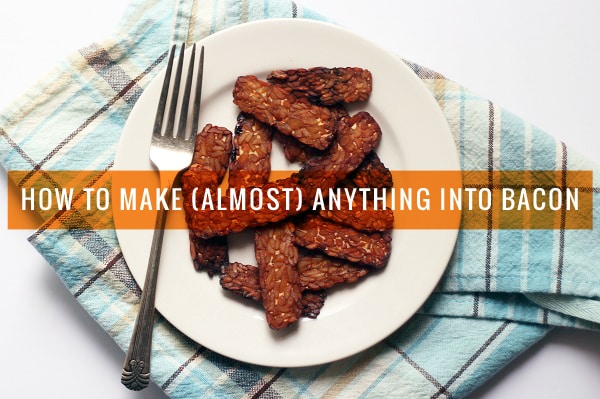 I spend a lot of time reading food blogs, and that includes all types of food blogs – not just vegan and vegetarian ones. I mean, hey, I might not be making the recipes from every blog I read, but I never undervalue their inspirational content. I have days when I shake my head and wonder "Is the whole world obsessed with bacon?" Then I look at my own content and go "Oh yeah, I guess I am too."
I should qualify that statement: I'm obsessed with meatless bacon. I'll be totally honest with you and say that bacon was last on my list of items I might ever miss when I went vegetarian. I was never a big bacon fan. Vegan bacon is a different story though. My favorite vegan foods soaked and cooked up in a smoky, salty, savory and slightly sweet marinade? Sounds good to me!
Since the first vegan baconizing event took place in my kitchen a few years back, I haven't been able to stop experimenting. I fell in love with the combination of flavors and became, well…obsessed with bacon. My attempts at turning new things into bacon were usually successful, and I think I've gotten it down to a formula that works (almost) every time.
Choose Your Bacon Base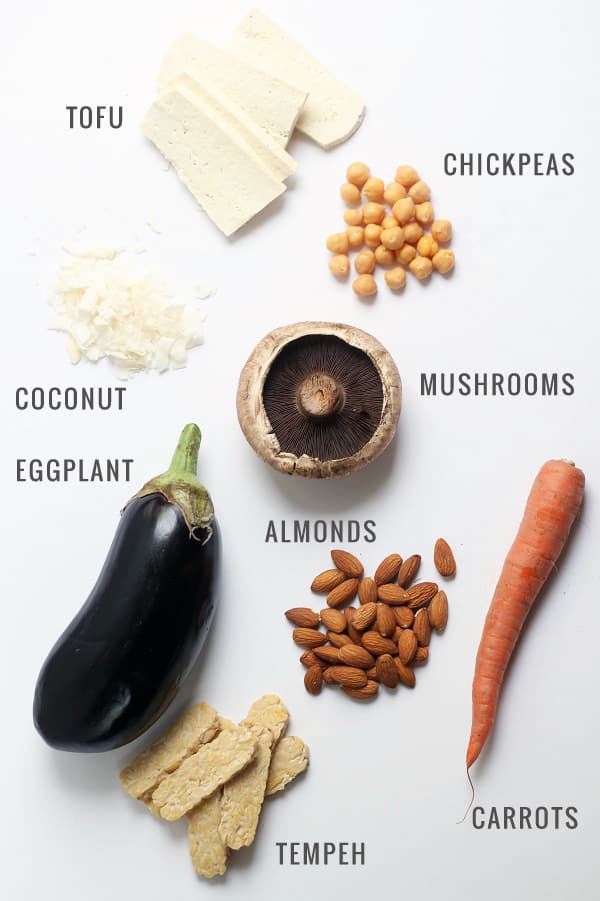 I know, the title says turn almost anything into bacon, but let's be real: bacon strawberries, bacon peanut butter, and bacon black olives probably aren't going to happen. There are couple of keys. First, you want something sufficiently porous so as to suck up your bacon flavors, which we'll talk about below. Things that you might normally marinate before cooking are generally a good bet. Mushrooms, well pressed tofu, tempeh, and even chickpeas are all pretty absorbent, so they work great, and you end up with an intensely flavored vegan bacon. Things like nuts and seeds, while less porous, will still absorb a little bit and get a nice surface coating, so you'll end up with a milder end product.
You also want something with a relatively neutral flavor, or a flavor that will compliment, or at least not compete with, the marinade. Coconut, carrots and eggplant all have distinct flavors, but they go nicely with the smokiness of bacon, so they work.
Finally, when choosing your bacon base, consider the texture you'd like to end up with. If you want something crunchy to replicate bacon bits, try flaked coconut, nuts or seeds. If you want something juicy to put on a sandwich, go with a portabella mushroom or a slab of eggplant. If you want something somewhere in between, perhaps to replicate breakfast bacon strips, try tempeh.
Make Your Marinade
I mentioned the distinctive bacony flavors above: smoky, salty, savory and slightly sweet. Those are the flavors you want to incorporate into your marinade. For the smoky flavor, which is perhaps the most distinctive, I generally go with liquid smoke. Another option is smoked paprika, though this gives a much milder smoky flavor. I sometimes include a few dashes of smoked paprika in addition to liquid smoke.
Salty and savory conveniently come in a single ingredient: soy sauce, tamari for those who are gluten-free, or liquid aminos for those who are soy-free.
For sweet, it's your call. Maple syrup is my favorite sweetener, and it adds a touch of authenticity since lots of non-vegan bacon includes maple flavors. Agave and brown sugar work well too, though with brown sugar you'll want to heat and/or stir your marinade well to make sure you dissolve it completely.
The other flavor you'll find in bacon that might not be as readily apparent is sour. For this I like to use apple cider vinegar, though white vinegar also works.
The key is adding the ingredients in the right ratio. I generally start with the following, by volume:
1 part smoke (liquid smoke)
3 parts sweet (maple syrup, agave, sugar, brown sugar)
4 parts sour (white vinegar or cider vinegar)
4 parts savory and salty (soy sauce, tamari, liquid aminos)
This ratio has more to do with the intensity of the flavors in the ingredients themselves than how apparent the tastes are in bacon. So while smoky is probably the most dominant flavor in bacon, you include it in the smallest amount in your marinade, because it is intense!
Taste test and see if it needs anything. The amounts will vary a bit depending on personal preference and the particular ingredients you choose.
Also consider how much marinade you'll need. It's always safest to go with a bit more than you think you'll need, but don't go overboard. You don't need to completely submerge your bacon base, just get it well coated.
Sometimes I also add a bit of oil to the marinade. This isn't necessary, particularly for bases that already have a bit of fat in them, but in those that don't it will help with browning and crisping.
Marinate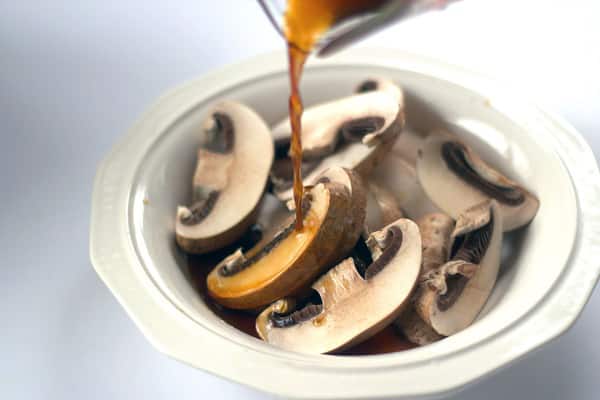 Soak time can be anywhere from a quick splash in your marinade, up to 12 hours or so in the refrigerator. It's up to you, and generally, the longer the soak time, the more flavor gets into your base, and the more intense the flavor of your bacon is. Coconut is the only base that I usually skip soaking altogether for, as it quickly sucks up the marinade like a sponge.
Cook
For the most part, you can cook your bacon just like you would normally cook whatever ingredient you've chosen as a base. So for tofu, baking it works great. Coconut bacon also does best in the oven, though be careful, as this one burns quick. I like to pan-fry eggplant and tempeh. You can even throw your bacon on the grill in the summer, or use a food dehydrator for a raw bacon with a jerky-like texture.