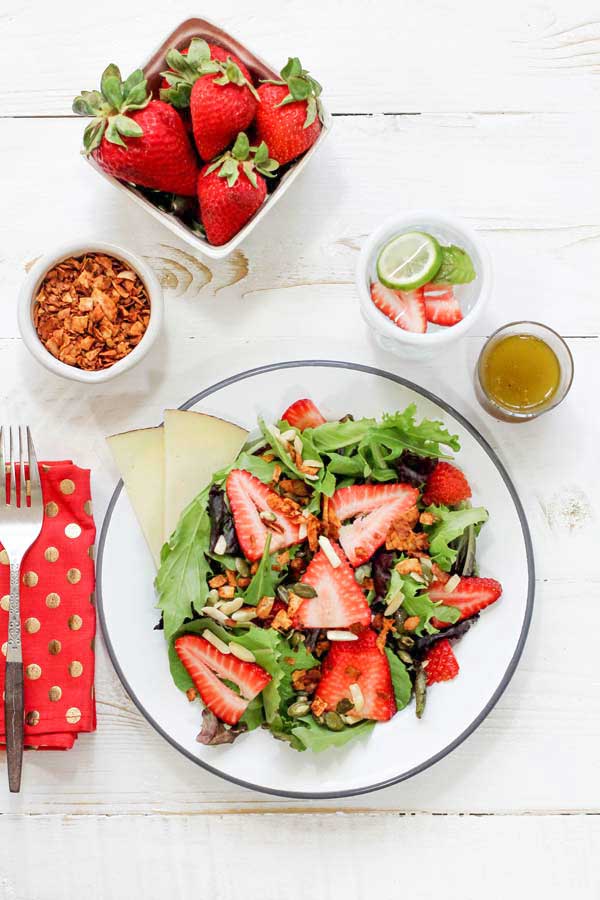 A few years ago, when we lived in Georgia, a restaurant that we frequented served up a seasonal strawberry salad with mixed greens, nuts, and bacon all tossed in a black pepper vinaigrette. I would skip the bacon and even without it, it was one of the best salads I've ever had. I crave it to this day -- especially when I see a basket of strawberries.
Since strawberries are in season now, it seemed like the perfect time to take a stab at creating my own version of that strawberry salad -- this time, with the bacon. Well, with coconut bacon. If you haven't made coconut bacon before, I have a step-by-step tutorial on how to make it on Beard & Bonnet. It's really simple to do and it's completely worth it. Most bacon substitutes get the flavor right, but the texture is wrong. Coconut bacon is about as close as you can get to nailing both the flavor of bacon and the crispy texture too.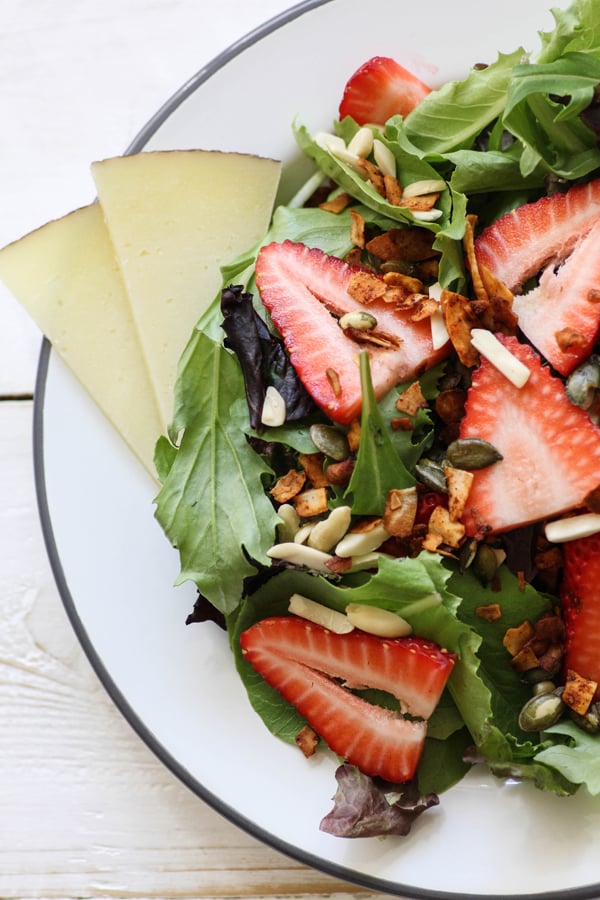 So does it taste like coconut? Well, a little bit, but it's hardly detectable. And if you're one of those people who dislikes coconut flakes because of the chewy texture, don't worry -- the coconut gets crispy in the oven, so that chewiness goes away.
The sweet spring strawberries are the perfect compliment to the savory, salty bacon. I opted to use a prepared salad mix from the store, which makes this simple salad even easier to throw together. I used an herb blend because I love the little bits of cilantro, basil, and dill running through the greens, but you can use any lettuce mix you want -- just toss in a few of your own favorite herbs before serving.
To finish things off, I added almonds and roasted pepitas for some crunch (and protein!) and drizzled it all with a homemade black pepper vinaigrette. I like having my salad with a few thinly sliced wedges of cheese on the side to round out the meal, but this is one of those salads that's satisfying all by itself -- no need to add soup or a sandwich!
Recipe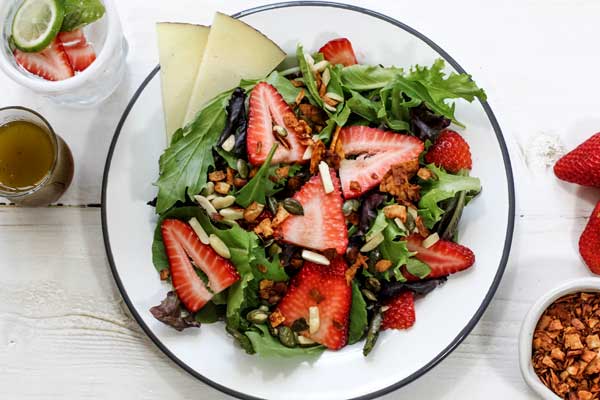 Servings:
4
large meal-sized servings
Ingredients
Instructions
Make the coconut bacon:
Preheat the oven to 325°F. Place oven rack in the center position.

In a medium bowl, whisk together the soy sauce, maple syrup, liquid smoke, and water. Add the coconut and stir until the coconut absorbs the liquid. Sprinkle paprika and black pepper over the top. Stir to combine.

Spread the coconut flakes in an even layer onto a large rimmed baking sheet lined with parchment paper and bake until dark brown in color, 10-15 minutes. The bacon will go from perfectly browned to burnt really quickly, so after 10 minutes, be sure to keep a close eye on it. It should closely resemble the color and look of crumbled bacon when it's done.
Make the black pepper vinaigrette:
Combine the red wine vinegar, sugar, black pepper, garlic, and salt in a small mixing bowl and whisk to combine. While continuing to whisk, slowly drizzle in the olive oil to blend. Alternately, you can add all of the ingredients to a mason jar, fasten the lid securely and shake vigorously for 30 seconds until combined.
Build your salad:
Place your prepared salad mix in a large bowl and sprinkle with salt and pepper. Toss to combine. Add the sliced strawberries, almonds, pepitas, and coconut bacon. Toss again. Divide between 4 large serving plates or bowls and drizzle each with dressing. Serve with additional coconut bacon.for topping.
Notes
You'll have some leftover vinaigrette and coconut bacon from this recipe. The vinaigrette will last a week or two in the fridge, and the coconut bacon keeps for a few days in a tightly covered container at room temperature.
Nutrition
Calories:
758
kcal
Carbohydrates:
24
g
Protein:
11
g
Fat:
72
g
Saturated Fat:
26
g
Polyunsaturated Fat:
9
g
Monounsaturated Fat:
34
g
Trans Fat:
1
g
Sodium:
456
mg
Potassium:
557
mg
Fiber:
10
g
Sugar:
11
g
Vitamin A:
139
IU
Vitamin C:
44
mg
Calcium:
76
mg
Iron:
4
mg
Craving more veg-friendly recipes?
Shop our collection of vegetarian and vegan cookbooks, including our new Vegan Thanksgiving and Vegan Christmas cookbooks!