Photos by Emily Caruso
I can't think of a single ingredient that divides vegetarians and vegans quite as much as bacon. There's the "I miss it soooooo bad and dream about it every night" camp, and the "of all non-vegetarian foods, bacon is the one I miss the absolute least" camp. I'll be honest and say I was never a fan of bacon, so I put myself in the second camp.
Here's something cool, though: Despite having no interest whatsoever in conventional bacon, I absolutely love baconizing vegetarian foods! Does this make any sense whatsoever? Actually, it does. Bacon does have some great attributes; it's just that conventional bacon also has a bunch that I'm not a fan of. It's weird, but I had to become a vegetarian in order to discover how much I really love bacon. (Nope…that doesn't sound crazy at all.)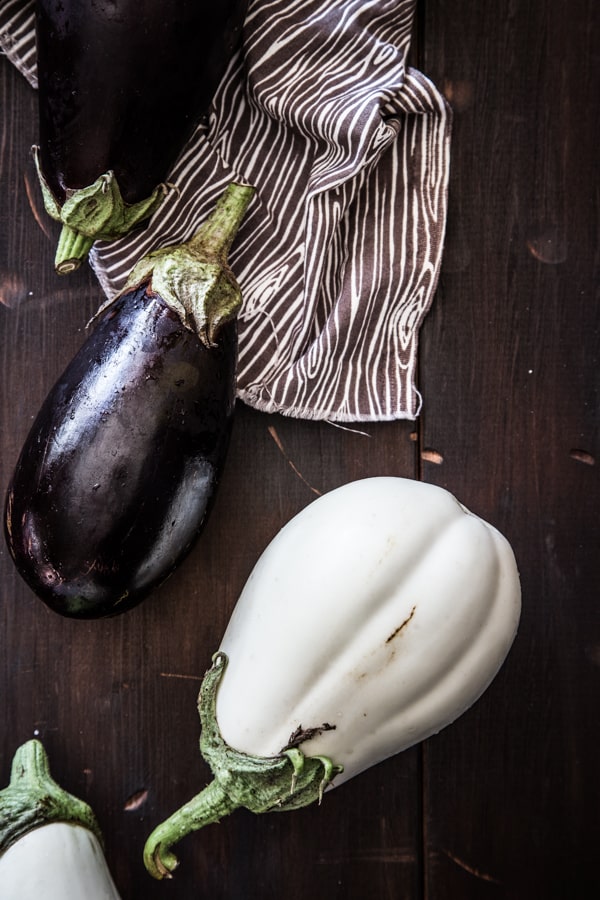 So, let's talk about all the great things bacon has to offer, taste-wise: salty, smoky, tangy, that ever-so-slight hint of maple sweetness. These are all some pretty awesome flavor qualities if you ask me. The great thing about vegetarian bacon is that you can take all of these delicious aspects and infuse them into your favorite veggie food. Coconut makes fantastic crunchy bacon. Prefer something more hearty and maybe with a little protein? Tempeh will do the job. I could go on all day, but I'd rather get into my favorite veggie bacon base—eggplant.
Eggplant does an amazing job of soaking up flavors, so it's no surprise that the eggplant in this vegan BLT is packed with flavor. It also cooks up tender, with just a bit of browning on the outside. A perfect bacon material indeed. In this sandwich the eggplant bacon adds some bulk and juicy goodness, which is perfectly complemented by crunchy romaine lettuce and sweet summer tomatoes. The icing on the cake (or sandwich) is a spicy sriracha cashew mayo that adds just the right kick to balance out the smoky flavors of the eggplant bacon. I really hope this sandwich makes a bacon lover out of you, too.
Recipe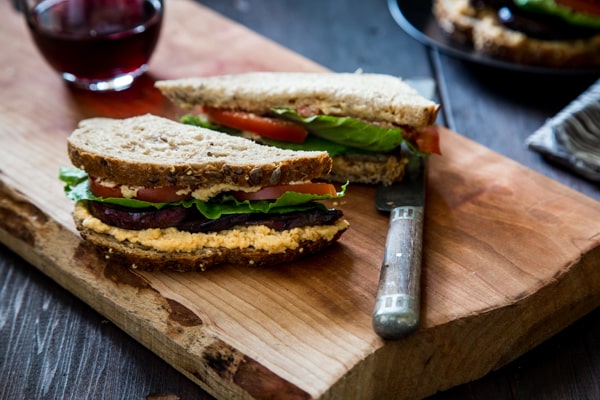 Ingredients
Sriracha cashew mayo:
1

cup

raw cashews

soaked in water for 4-8 hours then drained and rinsed

3

tablespoons

fresh lemon juice

1 large lemon

3

tablespoons

plain soy or almond milk

1

tablespoon

Sriracha sauce

less or more to taste

¼

teaspoon

salt
BLT sandwiches:
8

slices

sandwich bread

Sriracha cashew mayo

Eggplant bacon

4-8

romaine lettuce leaves

1

large or 2 small ripe tomatoes

sliced
Instructions
Make the eggplant bacon:
In a medium bowl, stir together the soy sauce, apple cider vinegar, 2 tablespoons olive oil, maple syrup, and liquid smoke. Add the eggplant slices and stir gently to coat. Marinate at room temperature for 30 minutes or more, stirring every 10 minutes or so to keep eggplant well coated.

Coat a large skillet with 2 teaspoons olive oil and place over medium-high heat. When hot, add eggplant slices in a single layer, working in batches if needed. Reserve marinade. Cook until the eggplant slices are browned on bottoms, about 3-5 minutes. Pour half of marinade into skillet (or less if you're working in batches) and cook another minute, until marinade cooks off.

Flip the slices and cook until they're browned on other side, about 3-5 minutes. Add the remaining marinade to the skillet and cook another minute, until the marinade cooks off again. The eggplant slices should be tender at this point.
Make the Sriracha cashew mayo:
Place the soaked cashews in a food processor fitted with the S-blade and process until a thick paste forms. Add lemon juice, milk, Sriracha, and salt. Continue blending until smooth and creamy, stopping to scrape down the sides of bowl as needed.
Assemble the sandwiches:
Slather one side of each bread slice with the mayo. Divide eggplant among four bread slices, followed by lettuce, then tomato slices. Top with the remaining bread slices, slice in half with a sharp bread knife if desired, and serve.
Notes
You will have more than enough Sriracha mayo for 4 sandwiches. However, I don't recommend scaling down the batch size unless you've got a small blending device that you're sure can adequately blend a small batch of cashews. You can freeze the extra mayo, use it some other recipes, or just store it in the fridge for a few days, as chances are you'll get a hankering for more of these sandwiches.
Nutrition
Calories:
455
kcal
Carbohydrates:
52
g
Protein:
14
g
Fat:
23
g
Saturated Fat:
4
g
Polyunsaturated Fat:
4
g
Monounsaturated Fat:
13
g
Trans Fat:
1
g
Sodium:
1319
mg
Potassium:
755
mg
Fiber:
7
g
Sugar:
16
g
Vitamin A:
2728
IU
Vitamin C:
15
mg
Calcium:
194
mg
Iron:
5
mg
Craving more veg-friendly recipes?
Shop our collection of vegetarian and vegan cookbooks, including our new Vegan Thanksgiving and Vegan Christmas cookbooks!