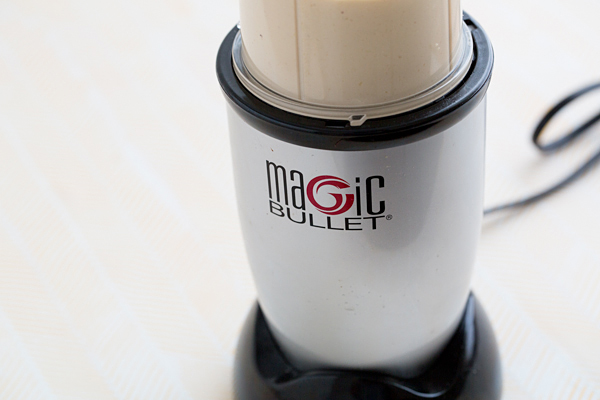 I first saw the Magic Bullet
on an infomercial when I was in high school, so for that reason alone, I was a little bit skeptical. I have a Vitamix, so what use could I possibly have for a smaller, weaker blender? But even though I love my Vitamix, I started having some minor complaints--I make a lot of cashew cream and with a big blender, you need to make big batches because smaller ones won't blend. When you make something thick and creamy, it's almost impossible to scoop everything out of the bottom of the blender. This is annoying! My food processor is great too, but I hate dirtying it up for a small batch of salad dressing or cashew mayo.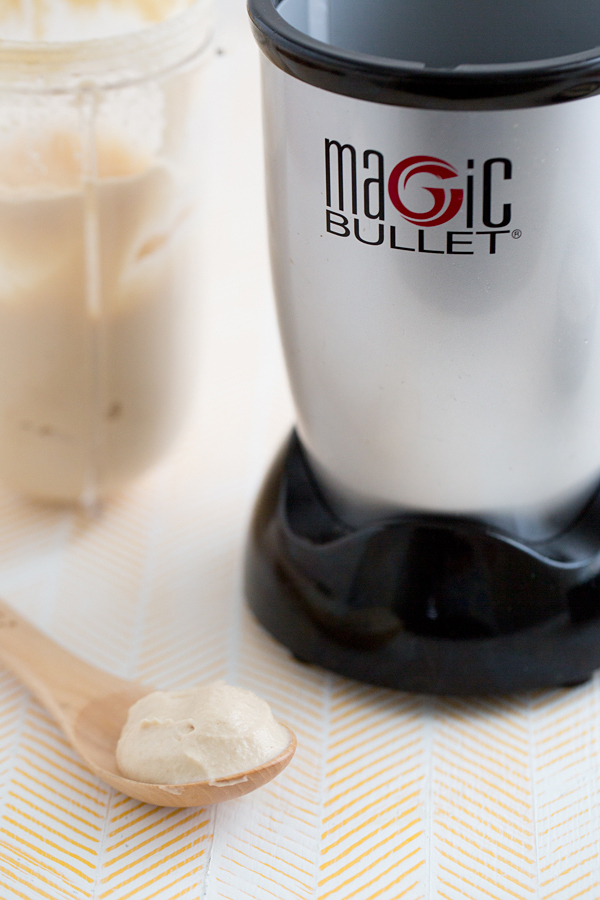 A few months ago, I was at Target and I decided to pick up a Magic Bullet on a whim because it was on sale and it looked like the perfect size for cashew cream. So yes, I totally bought a $50 small appliance for the purpose of making cashew-based creams and dressings. But like I said, I make them a lot! As soon as I started using it, I fell in love. It blends almost as well as my Vitamix--as you can see from this photo, the cashew cream is almost completely smooth and I can make it in small batches and achieve this consistency, unlike the Vitamix where you really need to use at least 1 cup of cashews. I've also used the Magic Bullet for pestos and salad dressings and they've all turned out perfectly.
The Magic Bullet has a blade that screws onto the blender jar. You put the ingredients into the jar, affix the blade you want to use, then turn it upside down and twist it into the base. Once it's in the base, the blender will start running. I really love the jar and lid--I can make a batch of salad dressing and store it in the fridge in the blender jar. There are a lot of things I don't use that came with the kit, like the mugs with the colored rings, but despite that, I still think the Magic Bullet was well-worth the $50 I paid for it.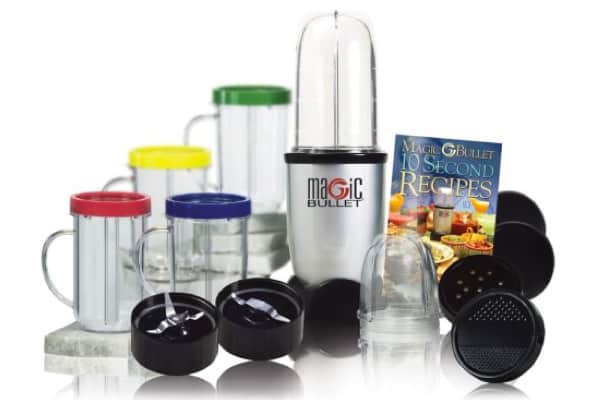 That said, the Magic Bullet does have its limitations. I find the jar to be too small for the huge smoothies I like to make, so I still use my Vitamix for that, and I also use it for soups and pretty much anything that makes a big batch. The Bullet is my go-to when I need to make something smaller. There are a lot of negative reviews on Amazon citing the Bullet's inability to chop vegetables; while I haven't tried chopping vegetables in it myself, I can't see how it would work well for that, so I wouldn't suggest purchasing it for that purpose.
Buy It!
I bought my Magic Bullet from Target, but you can also buy it online from amazon.com
for $49.88.