Photos by Emily Caruso
I use wonton wrappers a lot in my kitchen, but rarely for their intended purpose. For those of us who don't want to mess with rolling out pasta dough, wonton wrappers make a good package for homemade ravioli. You can use them to make itty-bitty lasagnas or stuff them with fruit and bake them to make an easy dessert. And you know what else you can use them for? Crispy little crusts for mini tarts, pies and quiches!
There are a lot of crustless mini quiche recipes out there and while I enjoy a good crustless quiche as much as the next person (um, a lot?), the lack of a crust makes them not-so-great as a finger food. But adding an easy wonton crust makes them work for parties, without tacking on a bunch of extra work or ingredients. Who needs that?! When I'm entertaining, I need to focus on not having a complete meltdown, not rolling out dough for mini quiches.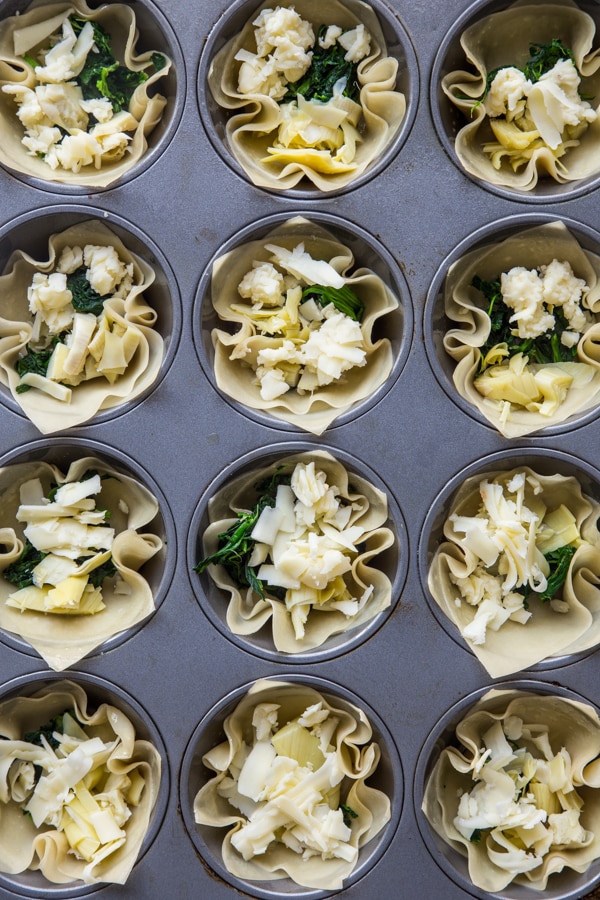 (And if you're not making these for a crowd? They freeze really well! I'll pop three of them in the oven for a quick breakfast.)
Like most quiche recipes, this one is easy to tweak with your favorite cheeses and fillings. I've also made it with frozen chopped broccoli and cheddar. You'll want to make sure any vegetables you add are dry—if they add too much moisture to the egg mixture, the quiche will take longer to bake and the crust might overcook in the meantime—and keep the proportions of the recipe more or less the same. If you decide to use a stronger flavored cheese, like Parmesan, pair it with a mild cheese like mozzarella for a total of 1 cup.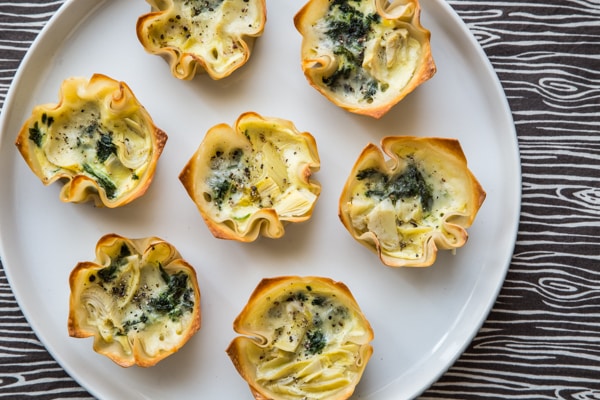 Servings:
24
mini quiches
Ingredients
3

large eggs

1 ½

cups

reduced-fat milk

¾

teaspoon

salt

Pinch

of nutmeg

1

cup

shredded Fontina or Swiss cheese

½

cup

frozen chopped spinach

thawed and squeezed to remove excess water

½

cup

chopped jarred or canned artichoke hearts

drained well
Instructions
Preheat oven to 350ºF and place an oven rack in the center position if you don't have it there already. Spray 2 muffin tins with oil or cooking spray.

Place 1 wonton wrapper in each cup of the muffin tin, then place a second wrapper in each tin with the corners facing in the opposite direction. Spray the "crusts" with oil, making sure the corners are well-coated, then divide cheese, spinach, and artichoke hearts into each cup.

Whisk together the eggs, milk, salt, and nutmeg in a small bowl with a spout or a large measuring cup. Carefully pour the egg mixture into each wonton crust.

Bake the mini quiches for 12-15 minutes on the middle rack, or until the corners of the wontons are browned and crisp and the centers are cooked set. Let the quiches cool for 5 minutes, then serve.
Notes
If you're not serving them as an appetizer, these quiches make a great grab-and-go breakfast. To freeze them, cool the quiches on a wire rack, then place them in freezer bags or an airtight plastic container. To serve, place the frozen quiches on a baking sheet and bake them at 350ºF for about 15 minutes, or until warmed through. To microwave, place 2-3 quiches on a small plate and microwave 30 seconds at a time or until heated.
Nutrition
Calories:
84
kcal
Carbohydrates:
10
g
Protein:
4
g
Fat:
3
g
Saturated Fat:
1
g
Polyunsaturated Fat:
1
g
Monounsaturated Fat:
1
g
Trans Fat:
1
g
Cholesterol:
29
mg
Sodium:
260
mg
Potassium:
55
mg
Fiber:
1
g
Sugar:
1
g
Vitamin A:
478
IU
Vitamin C:
1
mg
Calcium:
62
mg
Iron:
1
mg