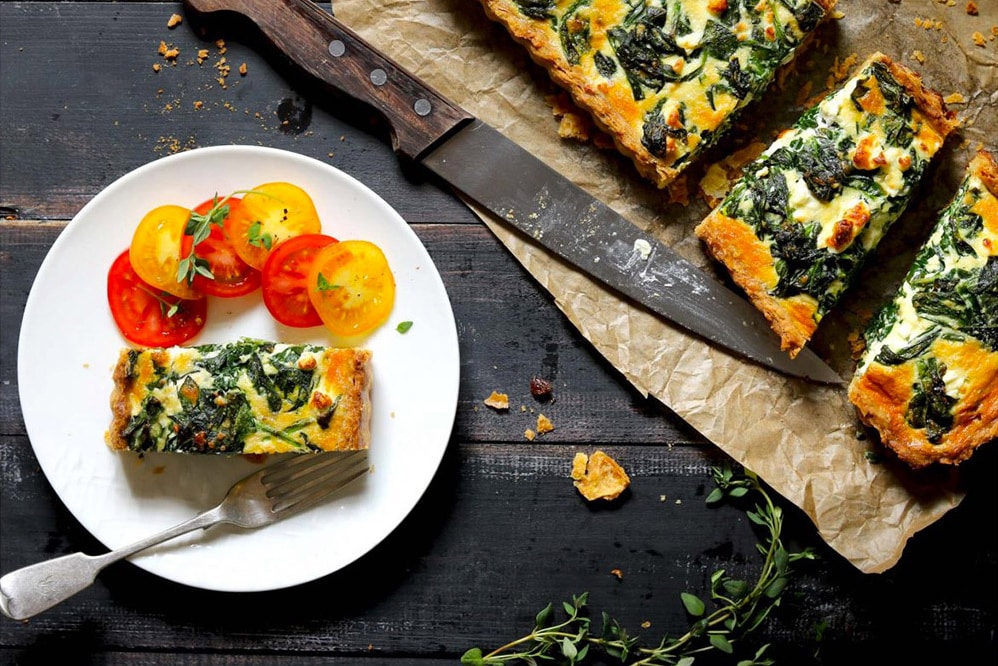 Few things are as good as a pie, but a quiche — the pie's savory cousin — does come mighty close. The classic filling made from a mix of dairy and vegetables provides endless possibilities and flavor combinations from mild to spicy and snack to whole meal. Here are 17 incredible quiche options!
Kale Quiche // This tasty vegetarian kale quiche is loaded with fresh tomatoes, kale, and sharp cheddar cheese. It's a delicious savory vegetarian breakfast!
Mustard and Onion Quiche // Zingy Dijon mustard and roasted mustard seeds enhance the flavors of this caramelized onion pie from Cake and Whisky.
Spinach Artichoke Mini Quiches with Crispy Wonton Crusts // Don't have time or energy to prepare a full-blown pie crust? No problem, wonton wrappers from the store make a deliciously crispy shell for these little bites.
Spinach Quiche // This spinach, shallot, garlic and feta pie is full of delicious vegetable goodness. The Last Food Blog even baked fresh thyme leaves into the crust. Perfect for summer!
Caprese Quiche // Nothing can go wrong with tomatoes, mozzarella and basil, especially when they are baked in a crispy crust like this summery pie from The Life Jolie.
Airfryer Macaroni and Cheese Mini Quiche // Recipe This knows how to make macaroni and cheese even better: mix them up with some dairy (including more cheese!), fill them into pastry cups and cook them crispy in an airfryer.
Spinach Smoked Gouda Frittata with Tomatoes // A smoky gouda is the perfect match for the spinach and the fresh tomato slices in Pinch and Swirl's frittata.
Lentil Veggie Asparagus Frittata // Blended red lentils take the place of the eggs in this creative, crustless and vegan quiche by Vegan Richa.
Southwestern Style Quiche with Quinoa Crust // Chipotle and smoked paprika powder give this black bean, onion and bell pepper pie a deliciously sassy flavor.
Spinach Goat Cheese Mini Quiches // These little cups are full of spinach, goat cheese and sun-dried tomato flavor and sit in a yummy garlic and almond meal crust. The perfect on-the-go snack!
Beetroot and Goat Cheese Mini Quiches // The FoodOlic baked these beautifully-colored mini quiches in a cup made from grated and seasoned potato, which works great with the goat cheese and beetroot flavors!
Crustless Spinach Artichoke Jalapeno Quiche // Jalapeno provides a nice kick that works great with the classic spinach and artichoke combo in this crustless pie from From a Chef's Kitchen.
Christmas Tree Mini Quiches // Who knew that you could make a cute little christmas tree out of Romanesco broccoli florets and pomegranate seed? These goat cheese mini quiches from Happy Kitchen Rocks are sure to get you into the holiday spirit.
Spinach and Cheddar Tater Tot Quiche // Who could resist a tater tot crust? No one, am I right? Especially when you fill it with cheesy spinach goodness, like The Kittchen did here.
Chard and Cheddar Quiche // Instead of the usual dairy, My Menu Pal used kefir for a healthy and low–fat pie packed full of delicious leafy greens.
Cauliflower and Walnut Crust Quiche // The deliciously crispy, brown and gluten-free crust in Divalicious' pie is made with cauliflower and finely chopped walnuts for yummy nuttiness.