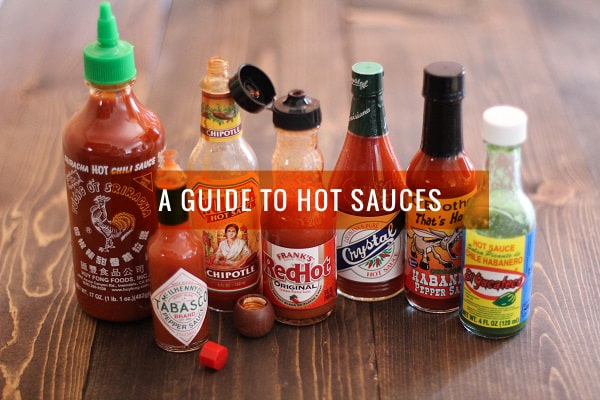 Remember the first time you mixed Cholula and ranch dressing for your taquito dipping sauce and it pretty much changed your life? Or the time you and your friends had a contest to see who could handle more Tabasco in their Bloody Mary? Chances are, you have one -- or twelve -- hot sauces on hand at all times.
All it takes is a small drizzle of a spicy, tangy, salty sauce to turn an uninteresting meal (scrambled eggs, anyone?) into something exciting. We love using hot sauce from all over the world in our recipes and at the table, so we thought we'd put the spotlight on this spicy subject for A Guide to Hot Sauces. (An aside: So is it "chile" or "chili?" It can be either, as it turns out. After doing a little research, we decided to go with "chile" here.)
What Makes Hot Sauce Hot?
Hot sauces are made with chile peppers such as habenero, ghost peppers, cayenne, jalapeño, chipotle (which are really just smoked and dried jalapeños), Scotch Bonnet, and more. Chiles contain capsaicinoids, the compound that gives them their heat. Because some chiles are hotter than others, the Scoville scale is used to measure spice level -- the higher the Scoville units, the hotter the sauce. For instance, jalapeños range from 2,500 to 10,000 on the Scoville scale, whereas Africa's Peri peri pepper clocks in at 175,000. Some of the most fiery sauces add pure capsaicin extract along with chile peppers for an even hotter result.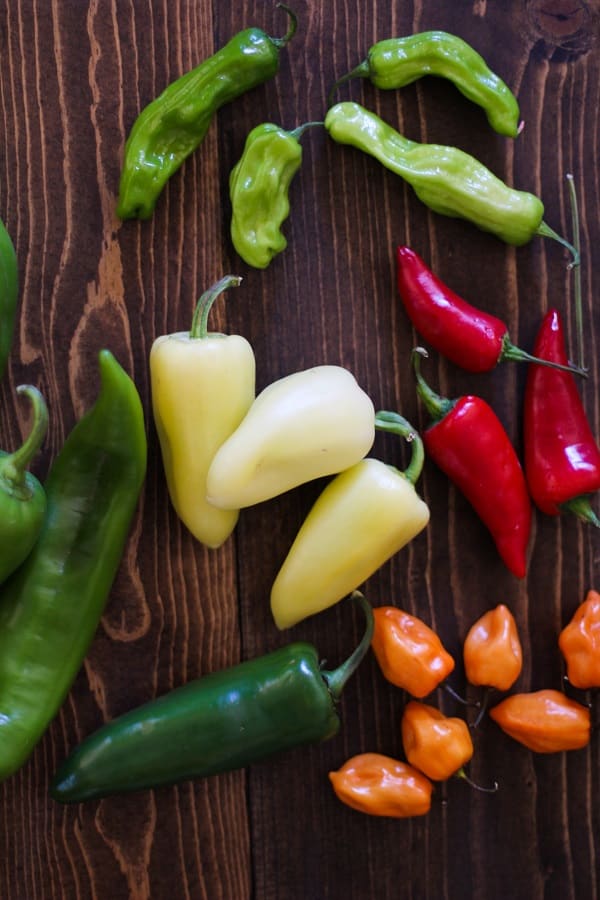 How is Hot Sauce Made?
The process of making hot sauce isn't as simple as one might think. While throwing together a hot sauce at home can take as little as a few minutes, some commercially-produced hot sauces require years.
Each company has a method for making their sauces unique. The process generally starts with harvesting fresh chile peppers and making them into a paste, which is then often fermented in wooden barrels or stainless steel vats for a few months, or up to several years. The paste is then mixed with other ingredients, like vinegar -- a common ingredient in U.S.-made hot sauces. Vinegar acts as a natural preservative and also contributes to the sauce's zip. Companies may also add a proprietary spice blend, garlic, fruits, vegetables, and more, for their own saucy spin on the good stuff.
How to Choose Your Hot Sauces
First and foremost, select a sauce based on how much heat you can handle. Some sauces even include their Scoville rating right on the package. If you're after a moderate kick, good ol' Tabasco -- which ranges between 2,500 to 5,000 Scoville units -- may do the trick. But if you really love the burn, you might look to Blair's Reserve sauces, which can range between 34,000 and 800,000 units.
You can also make your selection based on the quality of ingredients -- for instance, whether the sauce is organic or not, whether or not it's naturally sweetened, or what additional ingredients were thrown into the mix.
If you only use hot sauce occasionally, a big name brand is likely your go-to; however, if you are well-versed in the art of hot-saucing, you likely purchase artisan sauces from natural food stores or online.
You can also select a sauce based on chile flavor. For instance, smoky chipotles and fruity habeneros taste very different from one another.
Because each country has a different approach to hot sauce, using local chiles and spice blends that best complement their individual foods, you might also make your selection based on where your dinner originated. Coordinating your bottle with your cuisine may just take your hot-saucing to a whole new level!
Hot Sauces from Around the World
While there are countless international hot sauces, Americans most commonly use hot sauces that are made in (or inspired by) regions in the U.S., Mexico, and Southeast Asia. Here's the spicy scoop!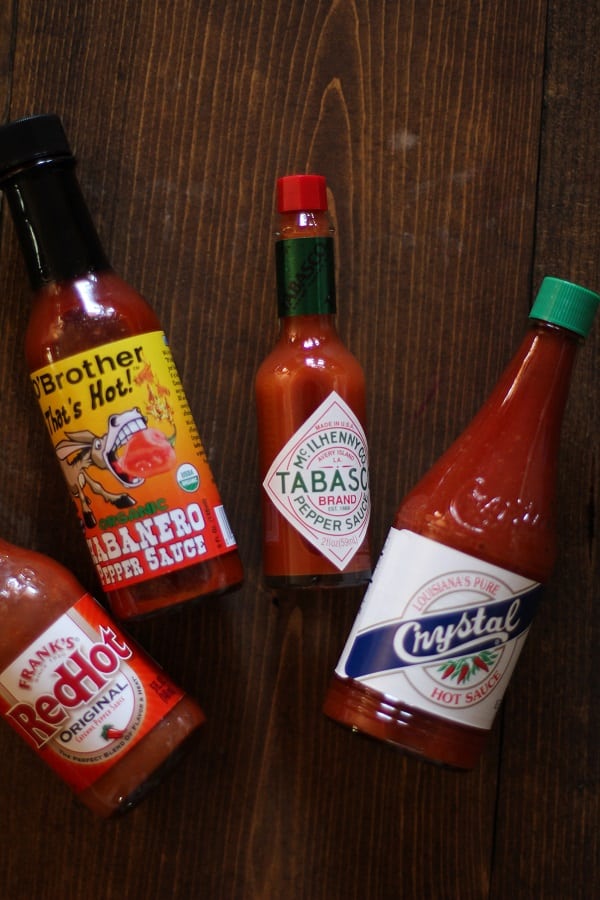 American
Just like each country has its own spin on hot sauce, within the United States, you'll find a diverse range of hot sauces from state to state. Here are some of the most notable regions, styles, and sauces.
Tabasco & other Louisiana hot sauces
Probably the most well-known of all American hot sauces hails from the deep south. Louisiana's Tabasco Original Red -- a vinegar-based sauce made with aged red Tabasco peppers -- is well-loved for amping up everything from pizza to popcorn. While it has a definite kick, Tabasco's Original Red Sauce registers only about 2,500–5,000 SHU on the Scoville scale, making it a great option for those just venturing into this whole hot sauce thing.
Other popular sauces from this region include Frank's Red Hot, most well-known for its use in spicy-hot buffalo wings, and Crystal.
Southwest & the west coast
Head west, and you'll start to find more green-chile-based sauces and many that leave the vinegar out altogether -- especially in New Mexico. Keep going to California, and there you'll find a few beloved sauces that, perhaps surprisingly, originated right here in the U.S. (Sriracha or Tapatio, anyone?!) But because their culinary roots are in Thailand and Mexico, respectively, we'll talk about them below.
Artisan hot hot (hot!) sauces from every state
Just when you thought you had the hottest of the hot, in the U.S., there is always a hotter sauce around the corner. The American take on the condiment is often more about the heat than the flavor, with words and phrases like "Kick Yo' Ass," "insanity," "hellfire," "inferno guts," "brain damage," and just plain "pain" making an appearance in titles. The hottest of the hot? Blair's 16 Million Reserve, which was named so because of its purported 16,000,000 Scoville units. Ouch!
We love Bon Appetit's state-by-state guide on American hot sauces - be sure to check it out if you're looking to sample a few new ones.
Recipes to try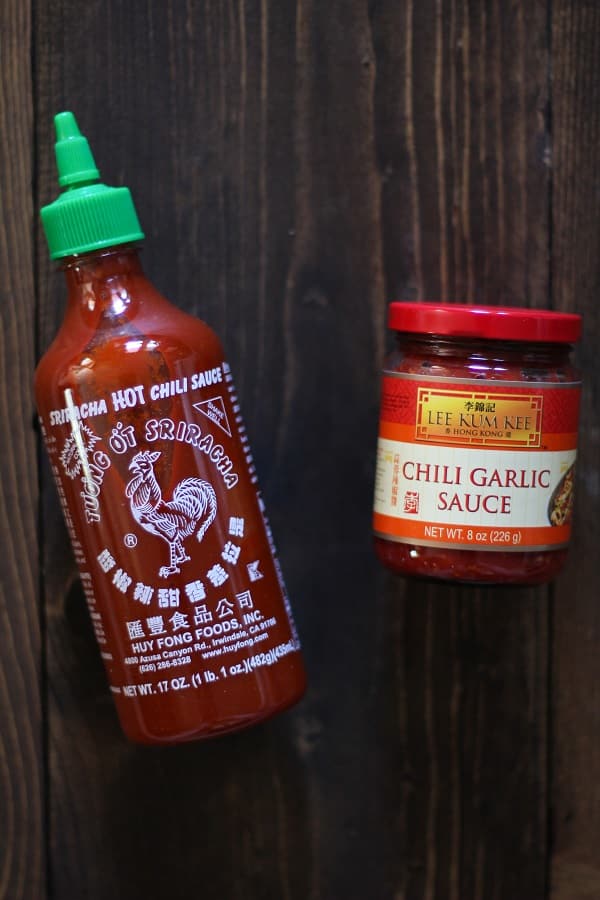 Asian
Asian cooking tends to include a variety of sauces, from sweet and sour to spicy. For this reason, the line between hot sauce and cooking sauce is blurred. For instance, while curry paste can be spicy, it is not used as a hot sauce. Generally, Asian hot sauces are made using Thai chiles (also known as bird's eye chiles) and tomato paste or puree, along with garlic, ginger, and Asian spices. They are more paste-like and thicker than U.S.-made sauces and are sometimes coarse, rather than smooth. The most common Asian sauces sold in the U.S. are Sriracha and Chili Garlic Sauce.
Sriracha is named after Si Racha, Thailand, and is made from red Thai chile pepper paste, garlic, sugar, and distilled vinegar. The squeezable, green-capped "rooster sauce" most everyone knows and loves is actually made by California-based Huy Fong Foods. It's excellent for jazzing up a bowl of pho or adding a kick to mac and cheese. Just remember, a small dab of Sriracha goes a long way!
Used for both cooking and as a condiment, Chili Garlic Sauce has a salty, tangy, garlicy, spicy flavor, making it a great topper for a variety of meals. It's actually a sauce that's often used as a main ingredient in other sauces.
Chile-infused oils or simply raw chiles are more commonly used in Chinese, Japanese, Korean, and Thai cooking. Aside from spicy chiles, Asian sauces also derive heat from garlic, ginger, and/or wasabi.
Recipes to try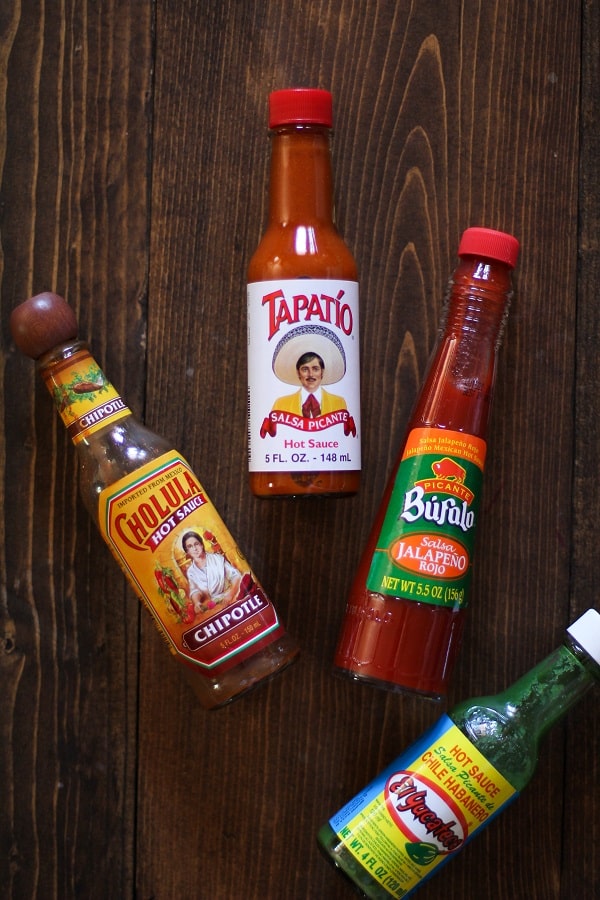 Mexican
The United States is greatly influenced by Mexican hot sauces; however, Mexican hot sauces typically don't contain as much vinegar as U.S.-made versions. Authentic Mexican hot sauces usually include a mix of chipotle, habenero, jalapeño, pequin, and/or arbol chiles. Common Mexican brands are Cholula, El Yucatan, and Bufalo.
Made with pequin and arbol peppers along with a proprietary spice blend, Cholula is one of the most popular hot sauces in the world. It comes from Jalisco, Mexico and was introduced to the U.S. in the 1990s, where it quickly became a favorite in restaurants and homes nationwide.
El Yucatan makes several popular varieties of hot sauce, some made with habanero peppers, another with chipotles. Their Extra Hot Habanero Sauce registers nearly 12,000 units on the Scoville scale. That's a nice kick!
Tapatio, another beloved sauce, has Mexican roots, but it's actually made in California. This one's another versatile (and addicting!) sauce that, like Tabasco, enhances just about everything it's drizzled onto.
Recipes to try
Other International Sauces
While U.S., Asian, and Mexican sauces tend to dominate the market, specialty food stores and natural food stores often carry a variety of hot sauces from all over the world. The sky's the limit!
In some countries, hot spice blends or pastes might make an appearance instead of the typical hot sauce. Here's a quick look at how other countries spice it up:
Jamaican cuisine is commonly known for Jamaican jerk -- a paste, sauce, or spice blend made with scorching Scotch Bonnet peppers, garlic, and various other spices like allspice, cloves, and thyme. Usually, chicken and other meats are marinated in the spicy blend and then grilled or roasted.
Pastes and thick sauces are found in Indian cuisine more often than thinner, bottled sauces. Kashmiri red peppers are commonly used in Indian cuisine. As far as heat goes, they're on the milder side, but they're also used for the red hue they add to a dish. Chutney is also a popular condiment in India, which can be made sweet, spicy, tangy, or a combination of all three. Chutneys can be made with chiles, garlic and onion, fresh or dried fruit, spices, and even nuts.
Many African countries grind spices with oil and bird's eye chiles for harissa, a popular (but potent!) paste. Often used in stews or mixed in with couscous, harissa is as commonly used in North Africa as ketchup is in the U.S.
They like it hot in the United Kingdom. Two of the hottest chiles in the world, the Naga Viper and infinity chiles, were developed here, and often make an welcome appearance in sauces.
In South America, you'll find many variations of aji, a dipping sauce especially popular in Peru, Columbia, and Ecuador. It can be made red or green and may contain tomatoes or cilantro in addition to aji amarillo peppers, other red chile peppers, or even jalapeños.
Recipes to try
Make Hot Sauce at Home
Are you over shopping for hot sauce? How about making your own from scratch? Here are a few homemade hot sauce recipes to try.