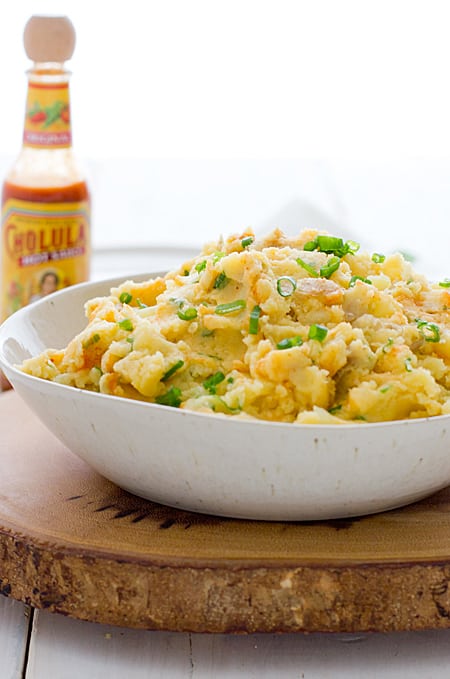 There must be something about February that makes me want mashed potatoes, because the last mashed potato post I did was in February too.
In that Truffled Mashed Potato Gratin post, I talked about how everyone has their favorite way to make mashed potatoes, and I wrote about how I made them with milk and just a little bit of butter. Oh, how things have changed in a year!
I've been making my mashed potatoes differently now. I happened upon Steamy Kitchen's Very Best Mashed Potatoes recipe last summer, and I gave it a try. I liked it a lot, but since I prefer my mashed potatoes a little bit chunky and with the skin on, I tweaked it a little.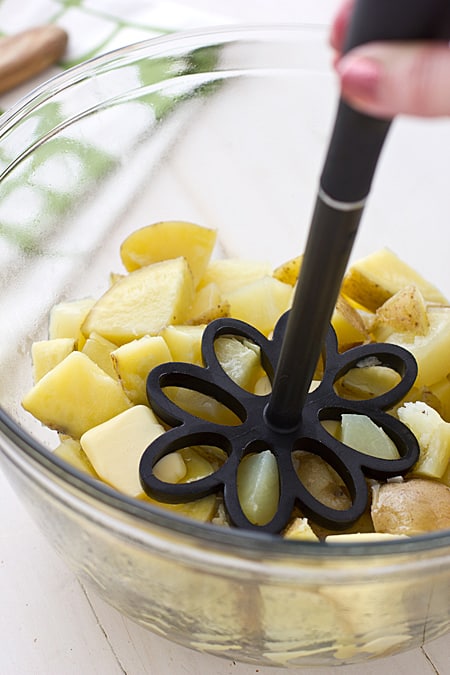 Like the Steamy Kitchen recipe, I steam the potatoes instead of boiling them. I used to always boil, but steaming seems to keep the potatoes much lighter. I now omit the milk and mash the potatoes with more butter than I used to. (I mean, we only have mashed potatoes once every 2 or 3 months--a little extra butter is okay!) Instead of putting the potatoes through a ricer like the Steamy Kitchen recipe suggests, I mash them by hand--this keeps the mashed potatoes a little lumpy, which I like, and it lets me keep the skin on.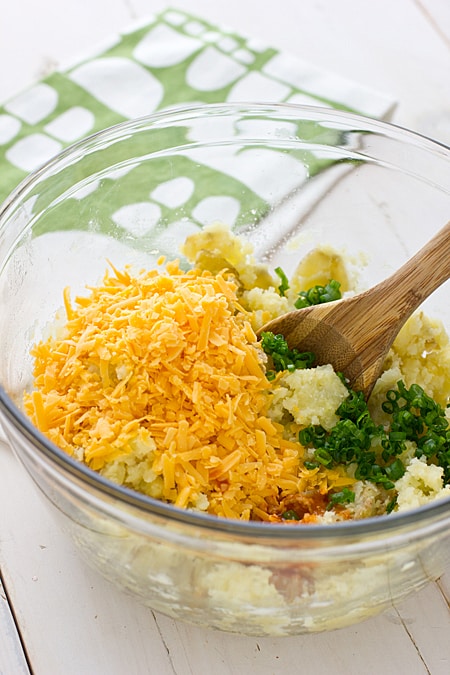 You can stop there and serve your mashed potatoes with some mushroom gravy, but I like adding in other crazy ingredients too. So with this particular batch, I added cheddar cheese, green onions, and a healthy amount of Cholula hot sauce.
Yes, Cheddar & Cholula Mashed Potatoes. Yes, these are totally like something you would order at TGI Friday's and they'd have a name like Blazin' EXXtreme Cheeze Smashed Taters. And then you'd order them and feel really embarrassed to say the name out loud.
"I'd like the Very Vegalicious Ooey Gooey Quesadillas, and on the side I'll have the Blazin' EXXtreme Cheeze Smashed Taters. And then I'll also have the Razz-A-Tazz-Tazzberry Mojito, thank you."
And a little bit of your dignity is lost that day.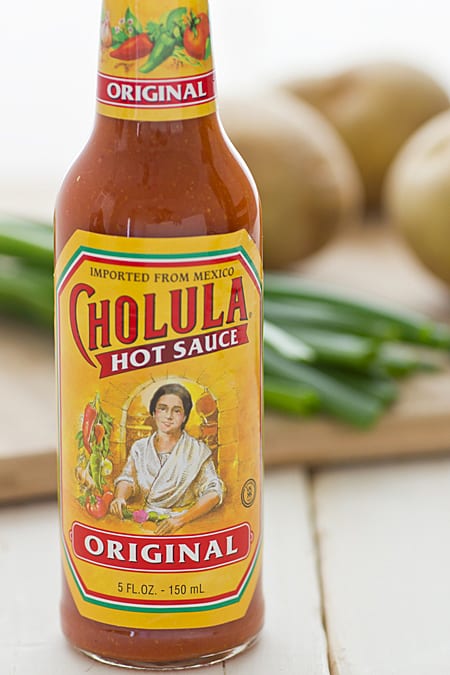 So yes, they're a little bit over-the-top with the Cholula and the cheddar and the carbs, but they are worth every bit of EXXtreme cheezy carbiness. Chris and I quibbled a little bit about the amount of Cholula in the recipe; my personal opinion is that 2 tablespoons is plenty, but you can always serve Cholula on the side and add a little extra (like spicy, spicy gravy!) if needed.
This post was originally published on February 11, 2013.
Recipe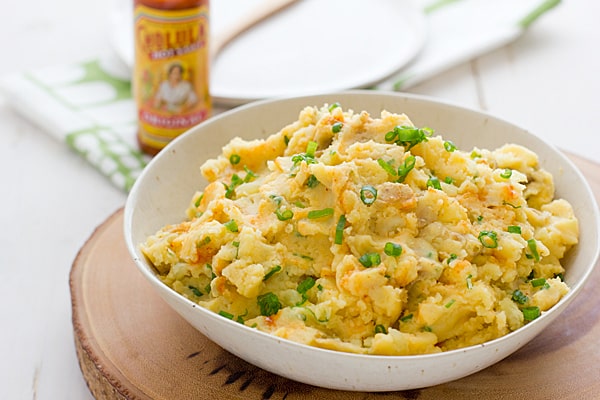 Ingredients
1 ½

lbs.

Yukon Gold potatoes

quartered

3

tbsp.

salted butter

1

c.

shredded cheddar cheese

¼

c.

thinly sliced green onions

2

tbsp.

Cholula Original hot sauce

salt to taste

optional--I didn't use any
Instructions
Place potatoes in steamer basket set over about 2 inches of boiling water. Cover and steam over medium-high heat for about 20 minutes, or until potatoes are tender. (If water boils off before potatoes are done, add more.)

Transfer steamed potatoes to a large bowl. Add butter and mash with a potato masher. Fold in cheese, green onions, Cholula, and salt. Serve with additional Cholula and garnish with extra green onions, if desired.
Nutrition
Calories:
454
kcal
Carbohydrates:
32
g
Protein:
19
g
Fat:
29
g
Saturated Fat:
18
g
Polyunsaturated Fat:
1
g
Monounsaturated Fat:
8
g
Trans Fat:
1
g
Cholesterol:
86
mg
Sodium:
654
mg
Potassium:
828
mg
Fiber:
4
g
Sugar:
2
g
Vitamin A:
1032
IU
Vitamin C:
42
mg
Calcium:
461
mg
Iron:
2
mg
Craving more veg-friendly recipes?
Shop our collection of vegetarian and vegan cookbooks, including our new Vegan Thanksgiving and Vegan Christmas cookbooks!