Are we excited about summer officially starting next week? Yes we are! This week's meatless meal plan is full of summer favorites like fresh sweet corn (okay, you might have to get frozen if you live up north), tomatoes, cherries, and lots of zucchini. Let's dig in!
Monday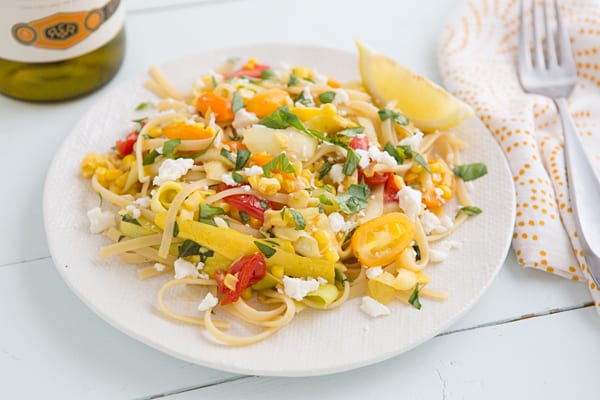 Summer Vegetable Linguine with Feta from The Comfort of Cooking // It's summer on a plate! This light, fresh pasta dish is laced with ribbons of zucchini, cherry tomatoes, and sweet corn. If you like lots of stuff in your pasta, this recipe is for you.
Tuesday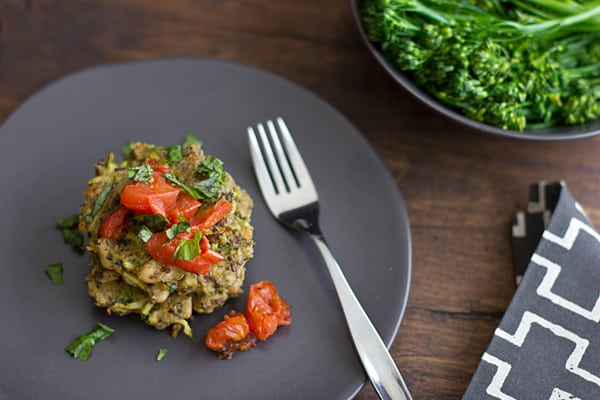 Pesto Quinoa & White Bean Cakes with Roasted Tomatoes from Oh My Veggies //
Roasted tomatoes make a perfect topping for these oven-baked quinoa-and-bean cakes. This recipe can also be adapted to make veggie burgers -- make the cakes bigger and serve them on a ciabatta roll with the tomato topping.
Wednesday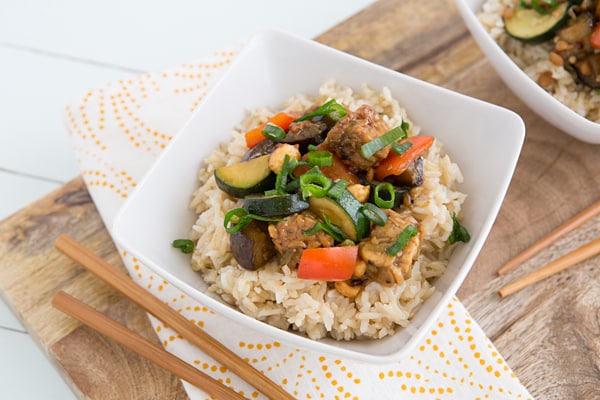 Kung Pao Veggies from Oh My Veggies // A lot of Kung Pao recipes call for dried whole peppers, but our version calls for red pepper flakes instead -- it might not be as authentic, but it's always nice to use ingredients you already have on hand, right?
Thursday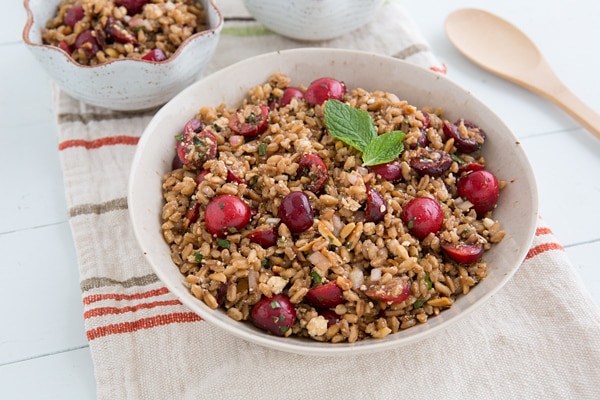 Cherry Almond Farro Salad from Eating Well // Farro is a favorite around here because of its delightfully chewy texture. Yes, it's not just chewy, but delightfully so. Pairing it with sweet Bing cherries makes for a perfect summer salad.
Friday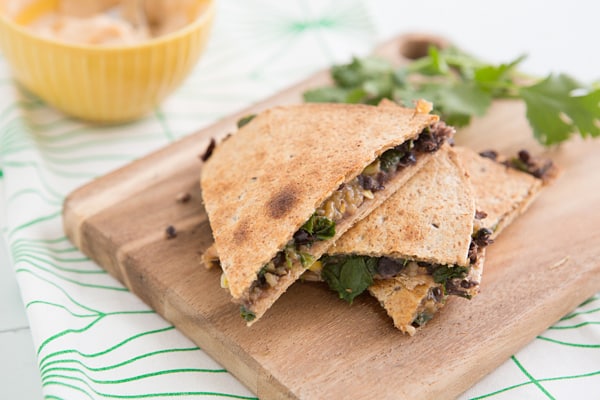 Crispy Vegetable Quesadillas from Cooking Light // These quesadillas are baked in the oven for maximum crispiness! Because we all know that soggy quesadillas are a sad, sad thing.
Tips for This Week's Plan
Yellow squash can be substituted for zucchini in any of these recipes, so if the zucchini isn't looking so hot when you're shopping, go for its often-overlooked cousin instead.
Can't find fresh corn yet? Bummer! Buy a bigger bag of frozen corn and use that instead for the linguine.
You can serve the Kung Pao Veggies over any grains you like, but since quinoa was on the shopping list anyway, we stuck with that. Oh, and if you don't like or can't find tempeh for the recipe? Just omit it!
The quesadillas call for cooking spray, but if you don't like to use it, an oil mister works just fine, and the canola oil in the recipe can be subbed out for any other cooking oil you have on hand.
The quesadilla recipe also calls for one of those little heat-and-serve pouches with a brown rice and quinoa blend. If you can't find one, make some extra quinoa when you're making the Kung Pao veggies and save it for Friday's dinner. Cooked millet would be a good filling too!
If you have the time, caramelize the leftover red onion from the salad to add to the quesadillas. We love caramelized onions in our 'dillas!

Click here for a printable version of this week's meatless meal plan and shopping list, then click on the links above to print out each recipe. Now you're set for the week!

Find more dinner ideas from our Meatless Meal Plan archives.