This vegan coffee cake is a delicious addition to your morning cup of Joe! It's the perfect combination of fluffy cake and cinnamon streusel goodness—and it's completely vegan!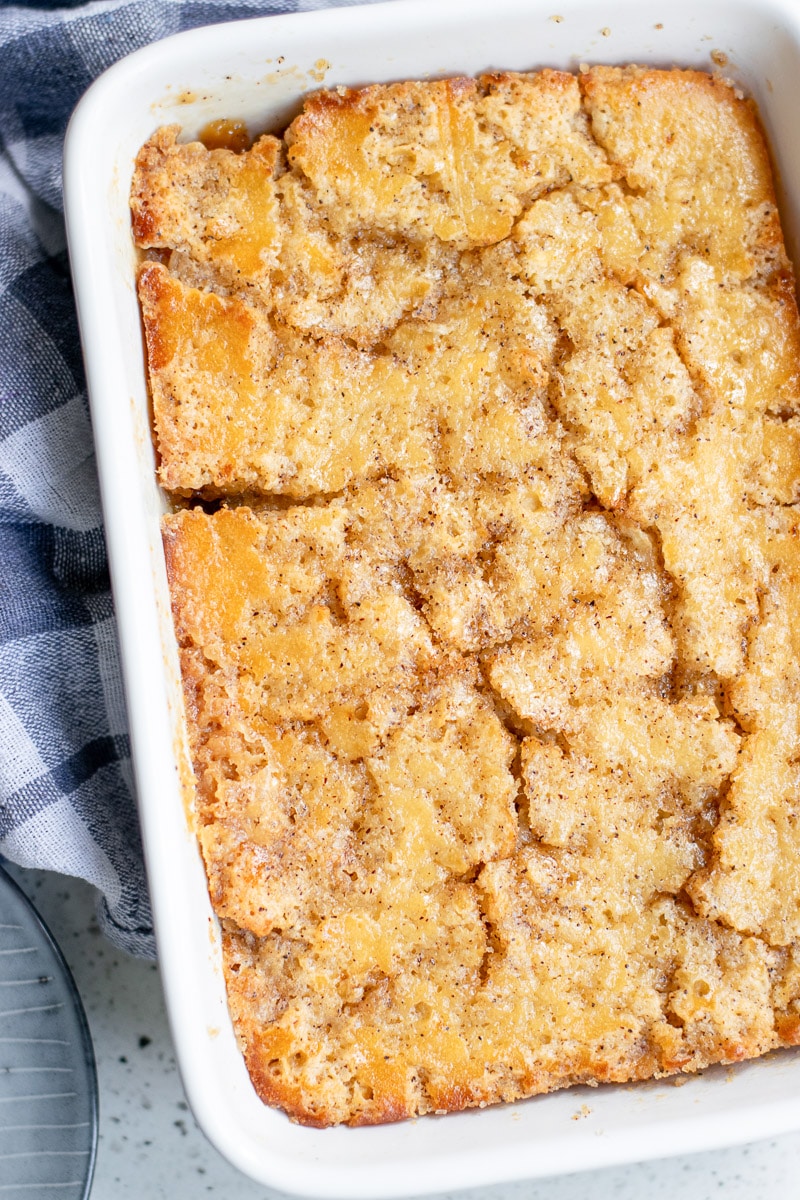 Jump to:
This insanely addictive vegan coffee cake is the latest addition to my growing collection of vegan cake recipes. And this one takes the cake (see what I did there?), because it can even pass for breakfast too!
Who says you can't eat cake for breakfast, anyway? 😉
This is super simple to make with just a handful of ingredients that you probably already have in your pantry. And it's delicious enough to serve for a holiday breakfast or special occasion.
This coffee cake tastes buttery and indulgent, but it's actually completely dairy-free!
This vegan coffee cake recipe is:
vegan
vegetarian
dairy-free
egg-free
Ready in 60 minutes!
A totally delicious treat.
So grab yourself a fancy coffee drink, and let's get baking!
If you love vegan baking, make sure you grab a copy of my free vegan baking cheat sheet while you're here. It's packed with all my favorite plant-based substitutions to help you vegan-ize any recipe!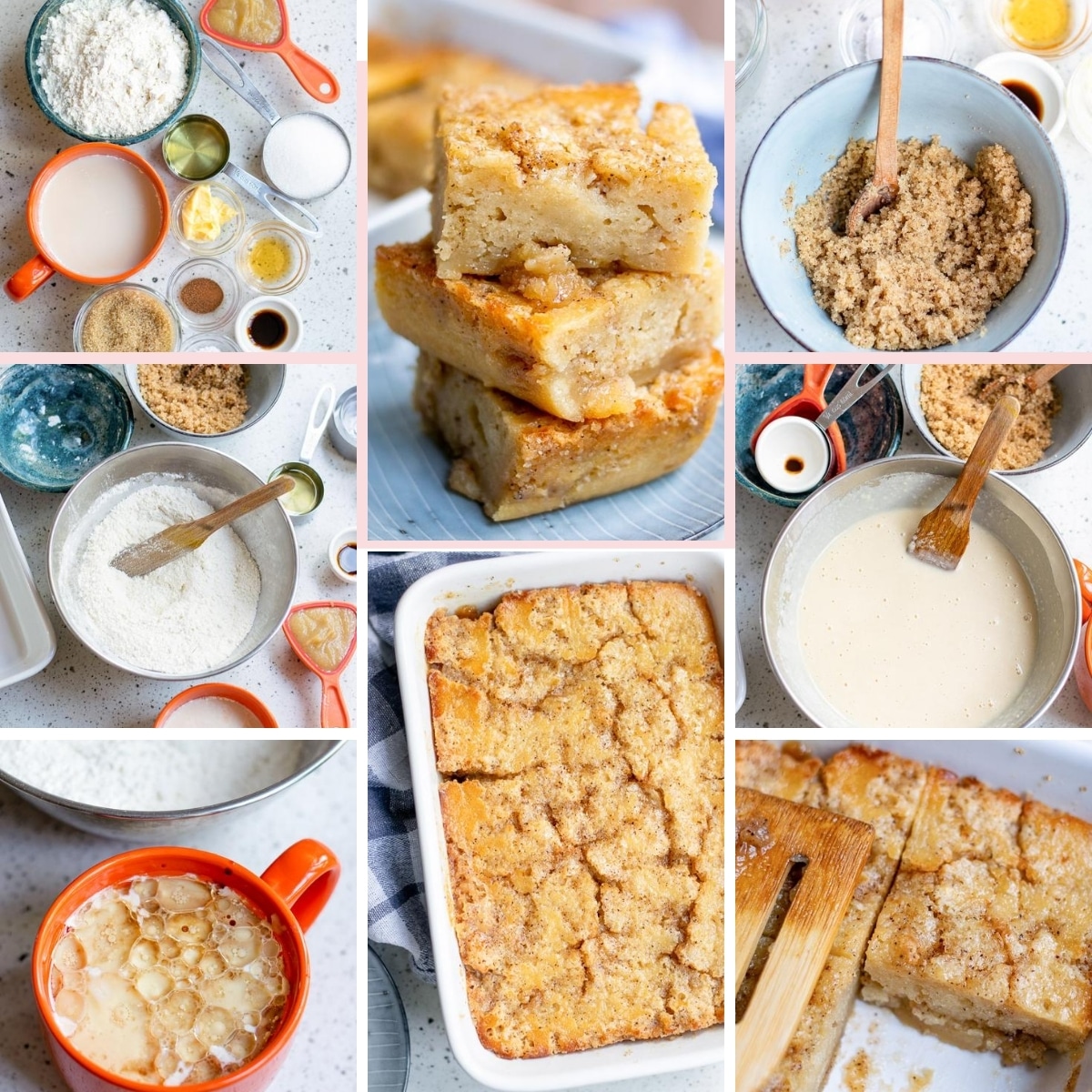 How to Make Vegan Coffee Cake
Make the cinnamon streusel by mixing together the brown sugar, vegan butter, and cinnamon in a small bowl.
In a small bowl, combine vinegar and plant based milk. Set it aside.
In a large mixing bowl, mix together flour, baking powder, salt, and sugar.
Add the milk mixture, oil, apple sauce, and vanilla extract to the dry ingredients.
Pour half the batter into the baking pan.
Sprinkle half the cinnamon streusel over the batter, and then pour the other half of the batter on top.
Sprinkle the rest of the cinnamon streusel on top of the batter.
Bake the cake and serve!
Scroll down for the full recipe with measurements and detailed instructions.
Tips & Tricks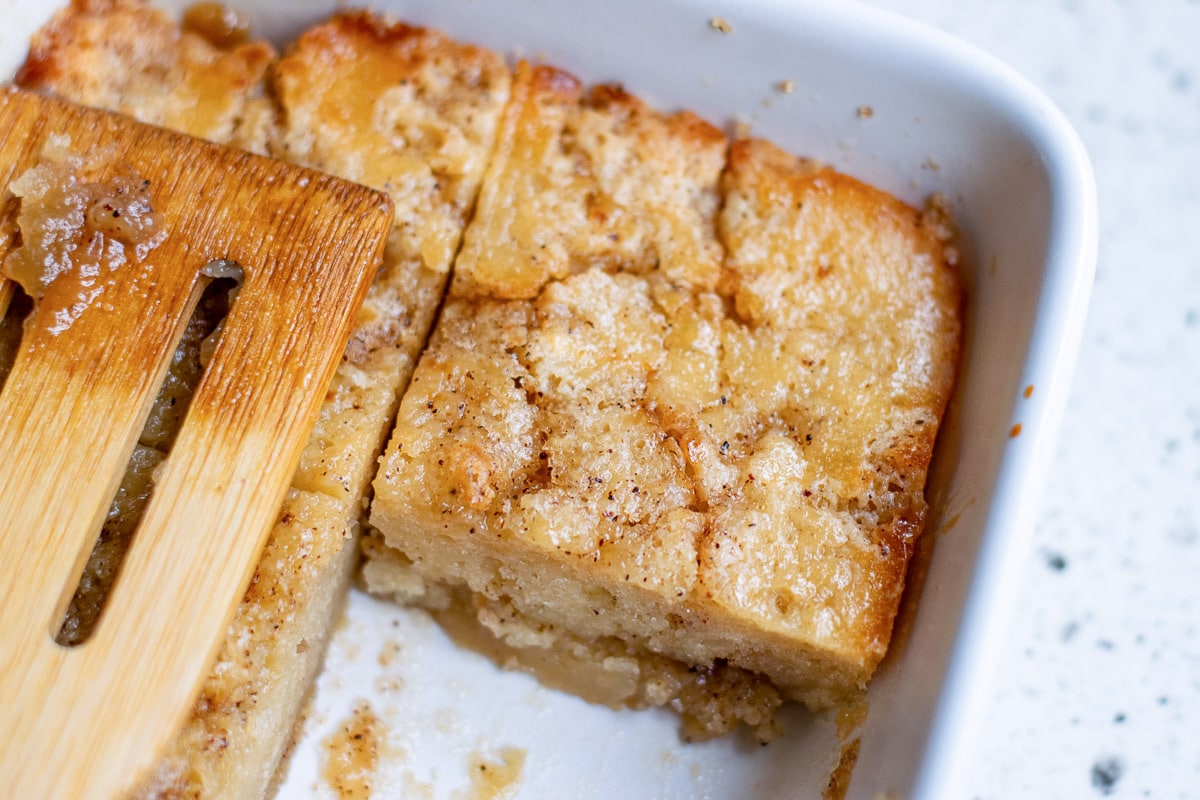 When is the cake done?
Not sure how to know if a cake is done? Double check that it's done by inserting a toothpick into the middle of the cake. If it's ready, the toothpick will come out clean.
If there's still some batter on the toothpick, then leave the cake in for a little longer. Keep repeating this process until the toothpick comes out clean.
Trying Using a Bundt Pan
If you don't want to make a loaf, you can try making this coffee cake in a round cake pan or a Bundt cake pan.
A Bundt cake pan is a circular pan with a hole in the middle. This makes it easy to make a beautiful cake without any extra work.
Plant-based Milk
Any plant-based milk that you prefer will work fine for this vegan coffee cake. Options include soy milk, oat milk, rice milk, almond milk, cashew milk, coconut milk, and even hemp milk.
Every plant-based milk has a slightly different flavor, so try out different types to see which you like best. (I used almond milk for this recipe!)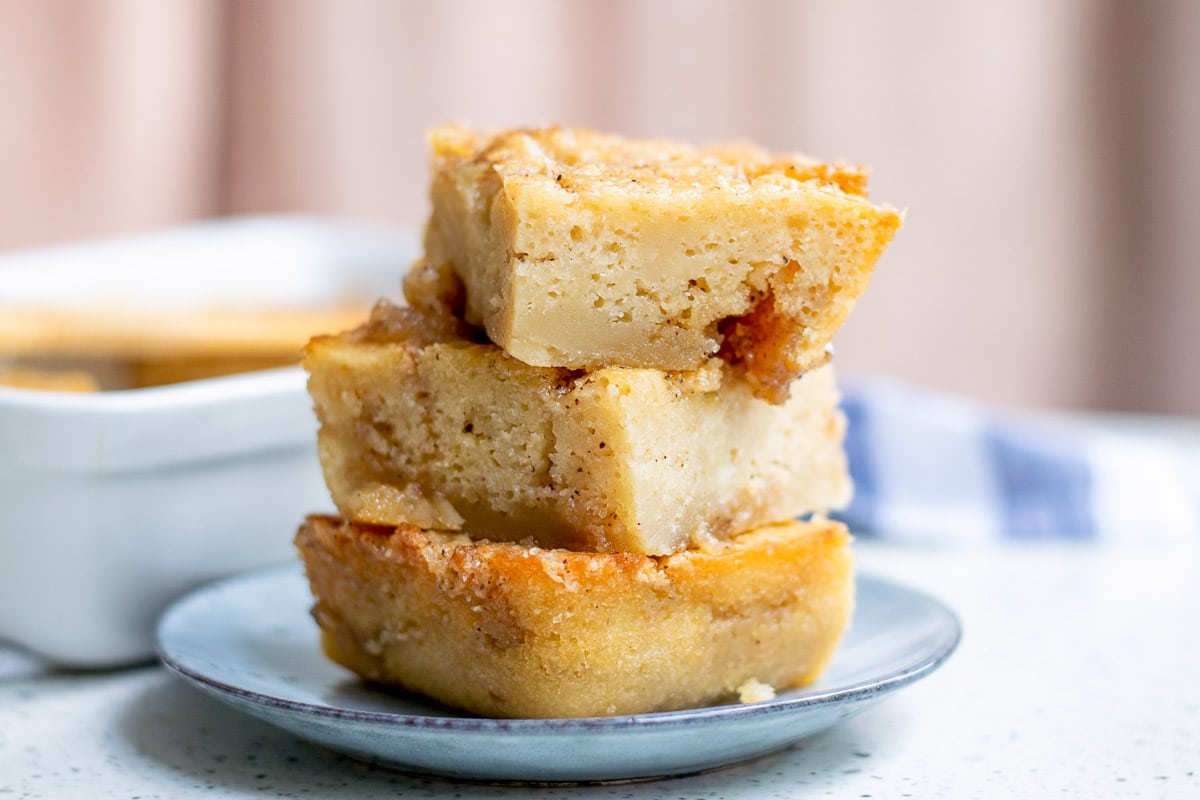 Variations
Coffee Flavor
Originally coffee cake was flavored with actual coffee, so if you want your coffee cake to be more realistically coffee flavored, add a bit of instant espresso grounds to the cake batter.
You can also replace some of the plant based milk with a strong brewed coffee.
Fruit
If you want to add another flavor and a bit of freshness to your coffee cake, you can try mixing some fruit into the batter.
Blueberries and cranberries are both great options for coffee cake! Just make sure to wash the berries and then dry them before you add them to the batter so there's not too much liquid added into the cake batter.
Oats and Nuts
For another variation, try adding a few tablespoons of nuts or rolled oats to your vegan coffee cake for a little bit of crunch.
More Vegan Cakes
If you love this vegan coffee cake, be sure to check out these other delicious vegan cake recipes:
And don't forget to grab a copy of my free vegan cheat sheet too! It's packed with my favorite easy substitutions to help you make just about any recipe vegan!
Recipe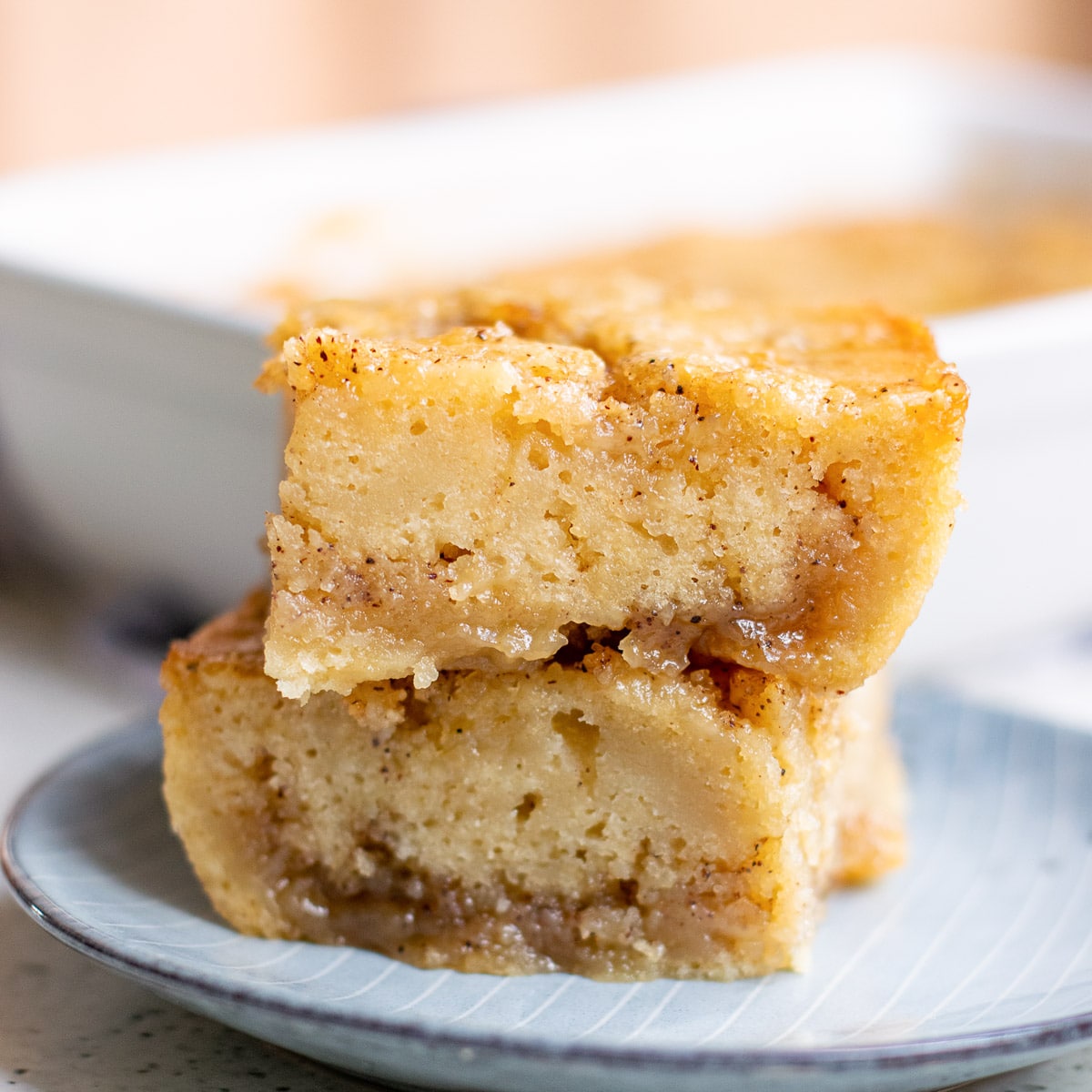 Ingredients
Cinnamon Streusel Topping
Instructions
Preheat the oven to 350 F / 172 C, and spray a 6 x 9 inch cake pan with cooking spray.
Prepare the Cinnamon Streusel
In a small bowl, mix the brown sugar, vegan butter and cinnamon together.
Make the Coffee Cake
In a small bowl, combine vinegar with the plant based milk. Stir then set aside.

In a large mixing bowl, add dry ingredients - flour, baking powder, salt and sugar. Combine with a wooden spoon.

Pour wet ingredients - milk mixture, oil, apple sauce and vanilla extract - into the dry ingredients. Combine.

Then pour only half of the batter into the baking pan.

Sprinkle half of the cinnamon streusel over the batter in the pan, then pour the other half of the batter over top. Sprinkle again with the rest of the streusel.

Bake for 40 - 45 minutes. Double check by inserting a toothpick in the middle- it's ready when it comes out clean. Remove and let cool down before serving.
Notes
See article above for tips, tricks, and variations.
Nutrition
Calories:
314
kcal
Carbohydrates:
54
g
Protein:
4
g
Fat:
9
g
Saturated Fat:
1
g
Sodium:
114
mg
Potassium:
199
mg
Fiber:
1
g
Sugar:
35
g
Vitamin A:
145
IU
Vitamin C:
3
mg
Calcium:
121
mg
Iron:
2
mg
Craving more veg-friendly recipes?
Shop our collection of vegetarian and vegan cookbooks, including our new Vegan Thanksgiving and Vegan Christmas cookbooks!