In our new monthly feature, My Veggie Kitchen, we visit the kitchens of some of our favorite veg-friendly bloggers. We're kicking off the series by starting with our contributors and this month, we're visiting with Liz from Floating Kitchen.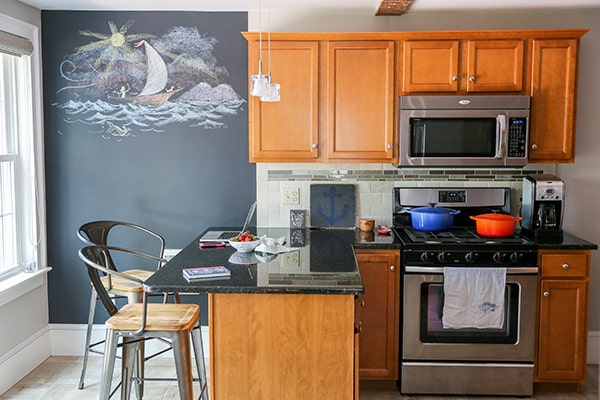 Chalkboard art by Alan Bull
What made you start blogging? How has your blog evolved since you started?
Ever since I can remember, I've enjoyed cooking and sharing food with others. It's something I've always taken great pleasure and pride in, but I had always considered it to be just a hobby. Then in 2012, I made the decision to leave my career as a research scientist. I started working in a couple of restaurants as a cook. And around the same time, I started building my website.
When I first starting blogging, I literally had no idea what I was doing. I knew how to cook delicious food. But that was about it. I didn't know anything about running a website, food photography/styling, or how to navigate social media. So needless to say, my blog has evolved a lot since it first launched! I cringe looking back at some of my original posts. My writing was awkward and my photography wasn't particularly appealing either. The only thing that hasn't changed much is the quality and type of recipes that I create. I've always been committed to cooking with fresh, seasonal ingredients. And I try to keep a healthy mix of good-for-you savory recipes with a few indulgent treats and cocktails thrown in!
Tell us about your refrigerator and pantry. What 5 things do you always have on hand and how do you use them?
I'm happiest when things in my life are well organized, and that includes my kitchen. My refrigerator and pantry are well stocked, but certainly not overflowing. I don't like having too much excess stuff around. I go to the grocery store about every 3 days, so I only need to buy enough fresh ingredients to last me a few days at the most.
I'm obsessed with Mason jars and other small glass containers, so you'll find lots of them lined up in my refrigerator and pantry. They help keep me organized. And I like to be able to see what's inside of them with just a quick glance. This also helps to prevent food waste, as I have good visual cues for what I have leftover that needs to be eaten.
When I'm not testing out recipes for my blog, I actually cook and eat very simply. I always have avocados and bread on hand for making avocado toast. It's one of my favorite things to make and eat at any time of the day. I also have lots of nuts, which I like to add to everything from oatmeal to salads. And I have a big sweet tooth, so I keep lots of fresh fruit on hand, especially berries, to help satisfy that. Oh and peanut butter. I don't think I could go a day without eating peanut butter. I spread it on toast, add it to smoothies and eat it with cut up fruit.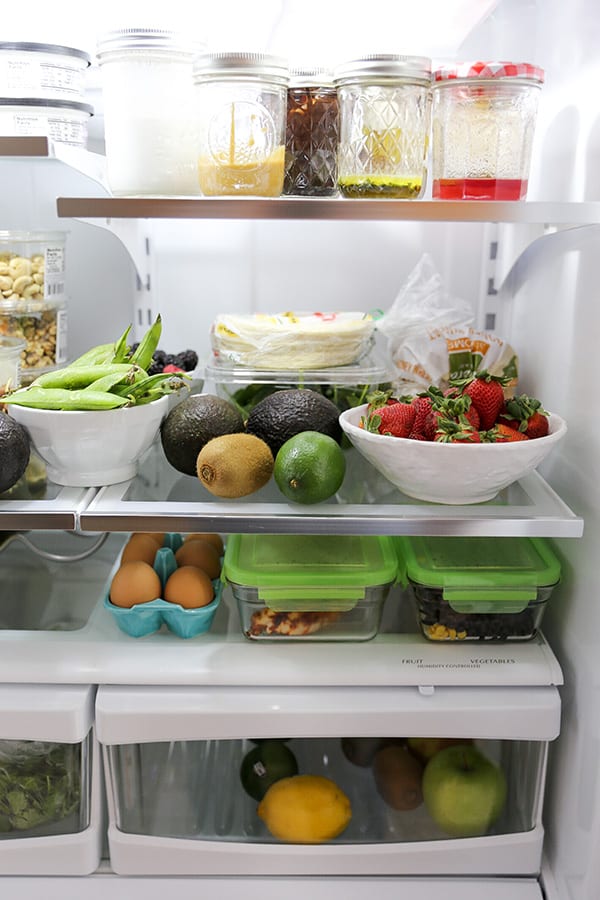 If you had to part with every kitchen tool except 1, which would you keep and why?
That's a tough question! I'd have to say my food processor. It's probably the most versatile appliance that I own, and I use it almost every single day. From chopping vegetables to making salad dressings, it's a real workhorse in the kitchen. I'd be sad if I had to part with it!
What's your most-used cookbook?
Vegetable Literacy by Deborah Madison is the cookbook that I reach for most frequently. It's like an encyclopedia for vegetables and herbs. And it's a book that every plant lover should own!
What's the most popular vegetarian recipe on Floating Kitchen? And what's your personal favorite?
My Grilled Romaine Salad with Corn and Avocado is the most popular vegetarian recipe on my site (it's also vegan and gluten free, too!). And I'm going to pick two personal favorites, because I can't seem to decided! My Bruschetta with Ricotta and Pesto, which is great for entertaining. And my Roasted Strawberry Smoothie Bowl, which is full of superfoods and is also the most charming shade of pink.