This red lentil curry recipe only requires 30 minutes to cook. It's delicious, simple, creamy—and you can make this delicious curry with ingredients you probably already have in your pantry!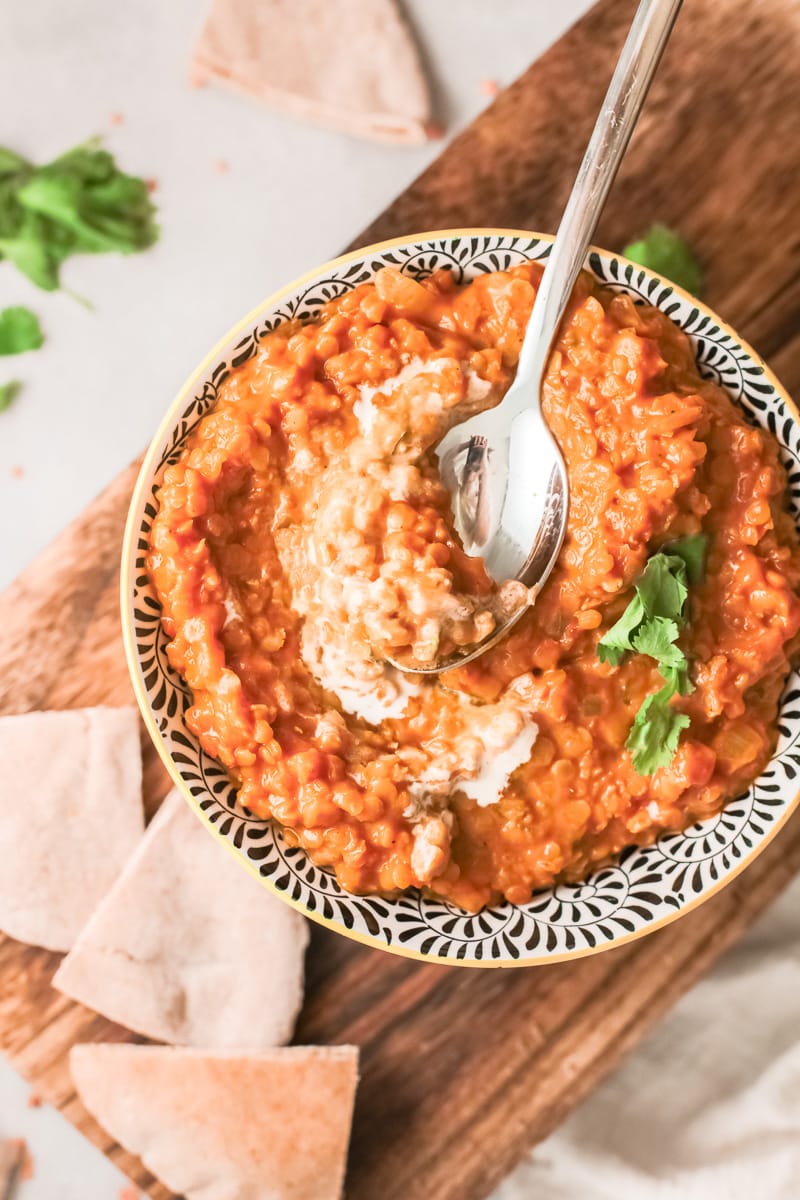 Serve your curry over a bed of rice, quinoa, etc. However you serve up this vegan lentil curry, it is going to tickle your tastebuds.
Red lentils have a nice quick cook time, so we always keep them stocked in our pantry for quick vegan dinner ideas.
This Red Lentil Curry is...
Full of curry flavor
Vegan
Vegetarian
Easy
Quick dinner
Better than takeout
Gluten-free
Made with coconut cream
How to Make Red Lentil Curry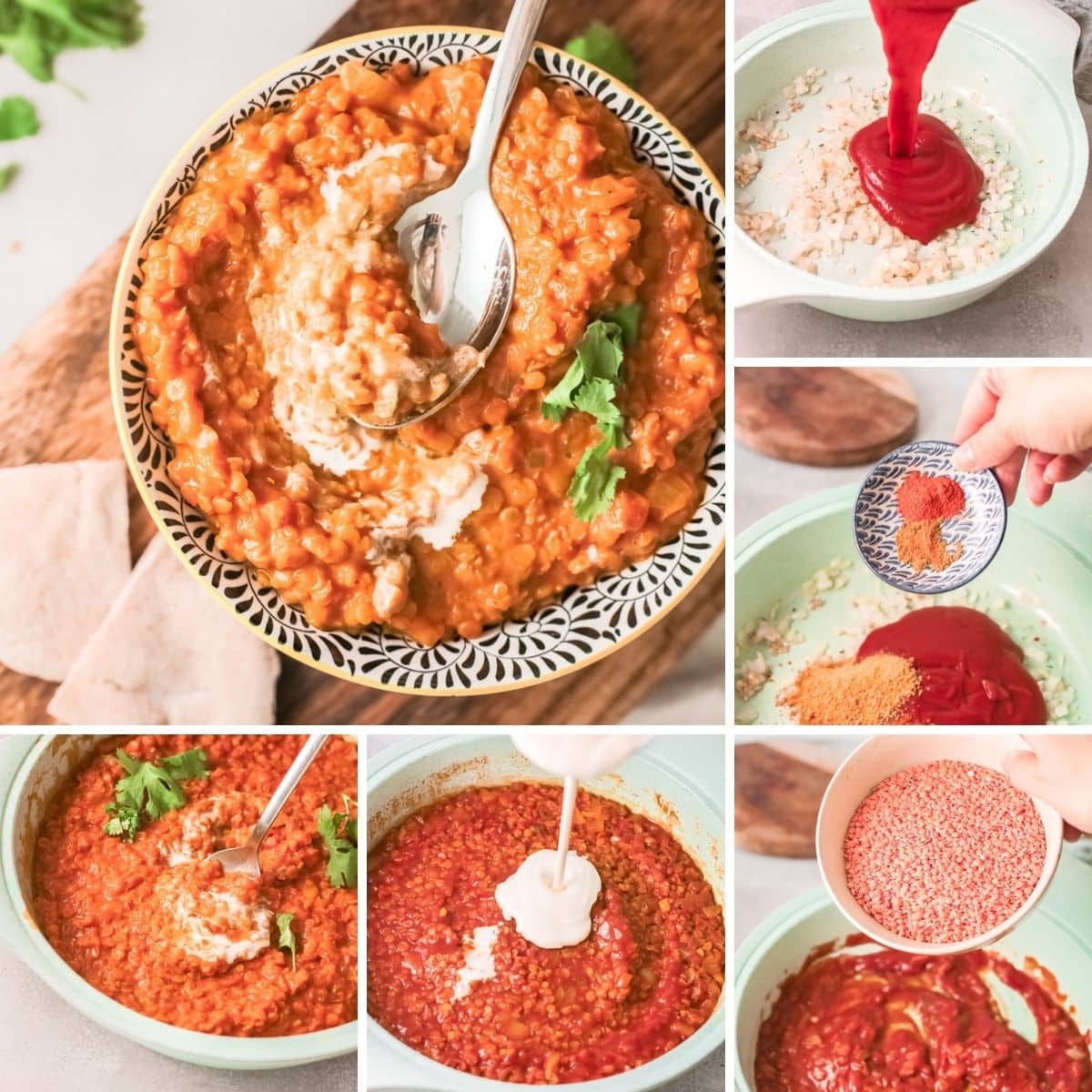 Grab a large pan and heat oil over medium heat. Toss in the onions and sauté them.
Add in the garlic clove and ginger; sauté till both are fragrant.
Now add in the tomato, brown sugar, curry, garam masala, and cayenne. Mix until incorporated.
Pour in the lentils and vegetable broth. Stir and cover with a lid, then cook on low.
Cook until the lentils are fully cooked. Remove from heat and stir in the coconut cream. Season with salt and pepper.
Serve and enjoy this red lentil curry.
Tips and Tricks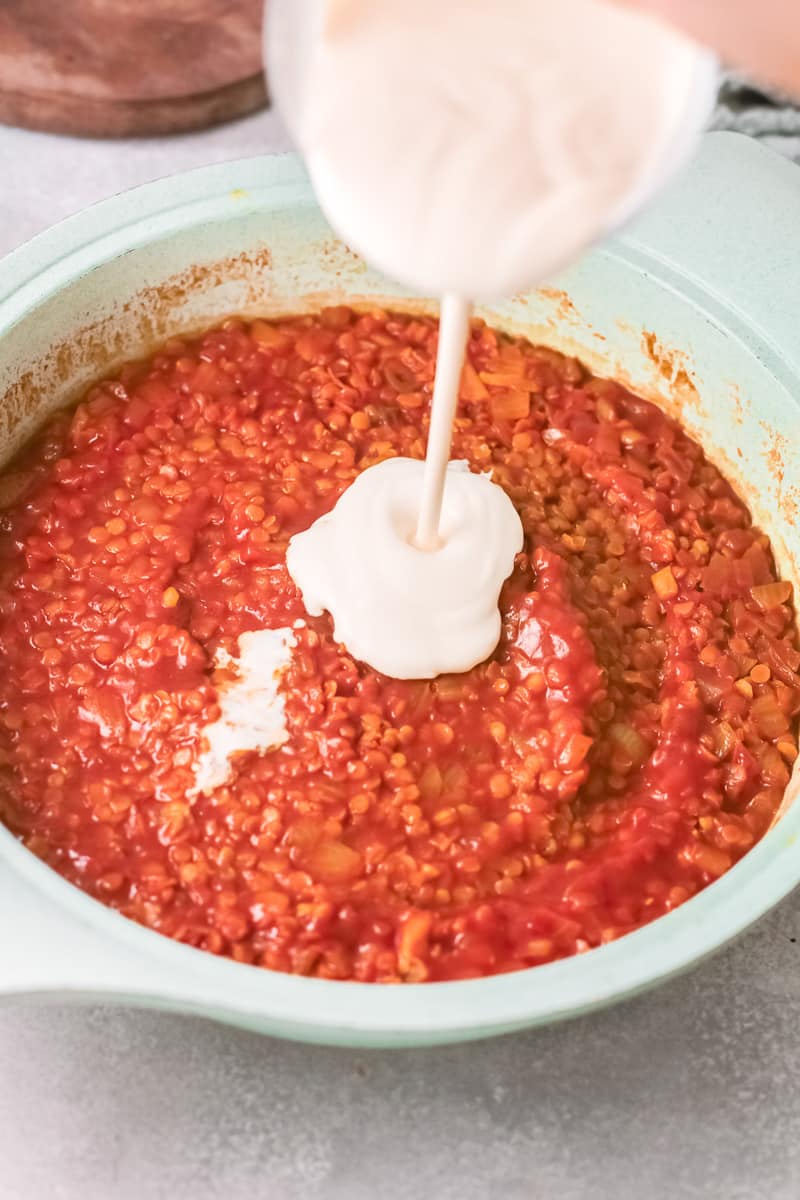 Quality Pan
I recommend using a quality pan when you are making lentils. You'll want to use a heavy-bottom pot or pan that will cook your lentil curry mixture evenly.
Rinse Lentils
Make sure to rinse your red lentils in cold water and remove any that don't look good. Then simply drain off the water and add lentils into the recipe.
Garlic Press
I have found that a garlic press is a huge help when it comes to getting freshly minced garlic for recipes. A garlic press gives you minced garlic in seconds!
Alternately, you can use a lemon zest to "mince" the garlic as well.
Variations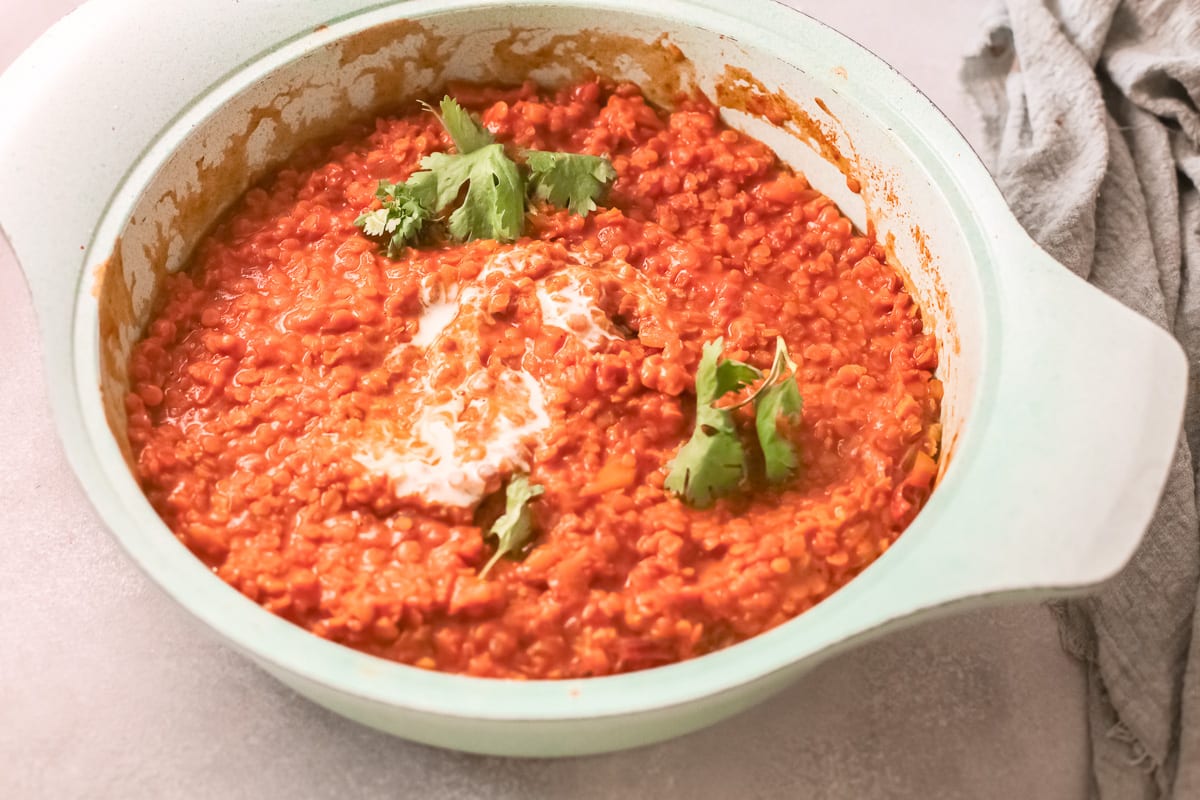 Adjust The Heat Factor
With curry, it is up to you on how hot or mild you want the curry to taste. Keep in mind, the coconut cream will also help tone down some of the heat at the end.
If you don't love a lot of hot spices, you can adjust the recipe to fit as much or as little spice as you would like. I would use ¼ teaspoon of cayenne pepper instead of ½ teaspoon for less heat.
Change Up Lentils
Want to use a different variety of lentils? Go right ahead! Just make sure to adjust the cook time depending on the type of lentils you choose to use. Red lentils cook a lot faster than other types, so just make sure to add cooking time to your dinner plans.
Red Lentil Curry FAQs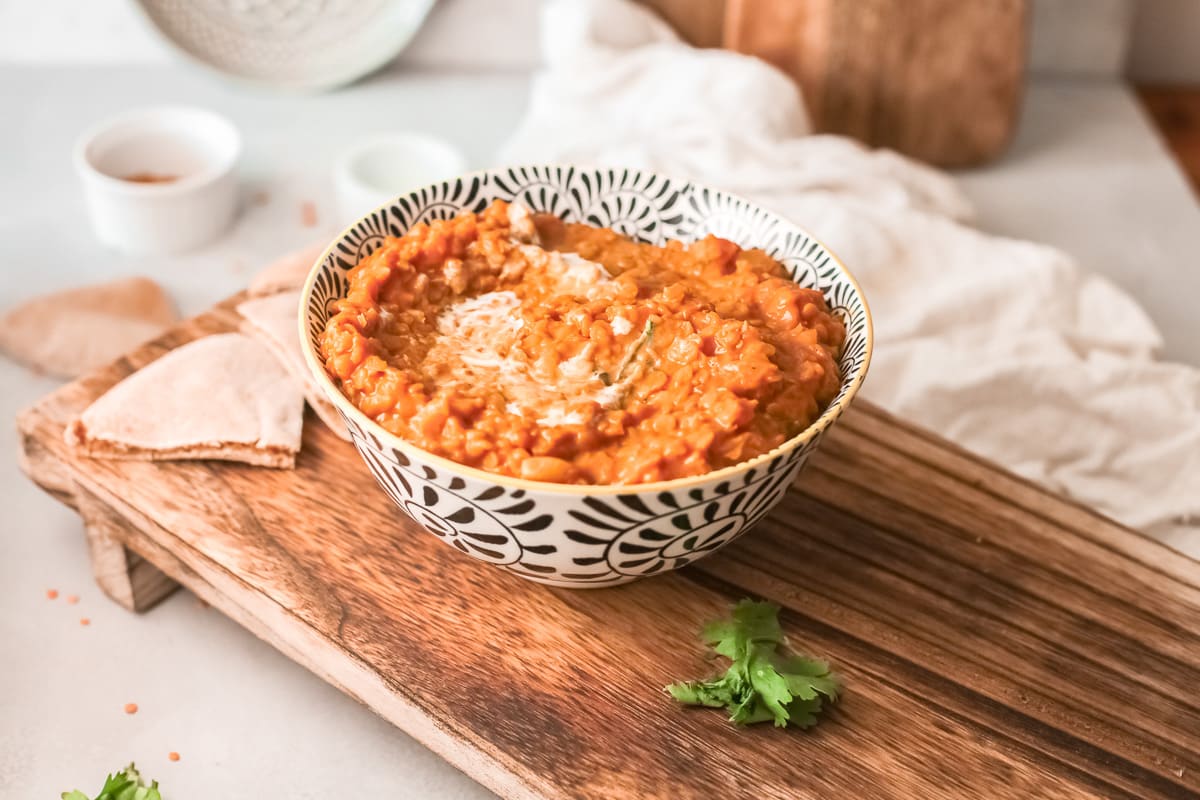 What does the coconut cream offer to the curry?
Coconut cream is going to give an ultra rich and creamy flavor to your curry. You'll want to swirl it in at the end, once you are done cooking.
Can You Freeze Red Lentil Curry?
Your curry can be frozen for 3–4 months if you store it properly. Make sure to use a freezer bag or airtight container. This is important to protect the mixture from freezer burn.
If you freeze the curry in a container, leave room for it to expand as it freezes. Otherwise, you run the risk of your lid coming off the container. 
More Recipes
If you love this red lentil curry, be sure to check out these other tasty ideas: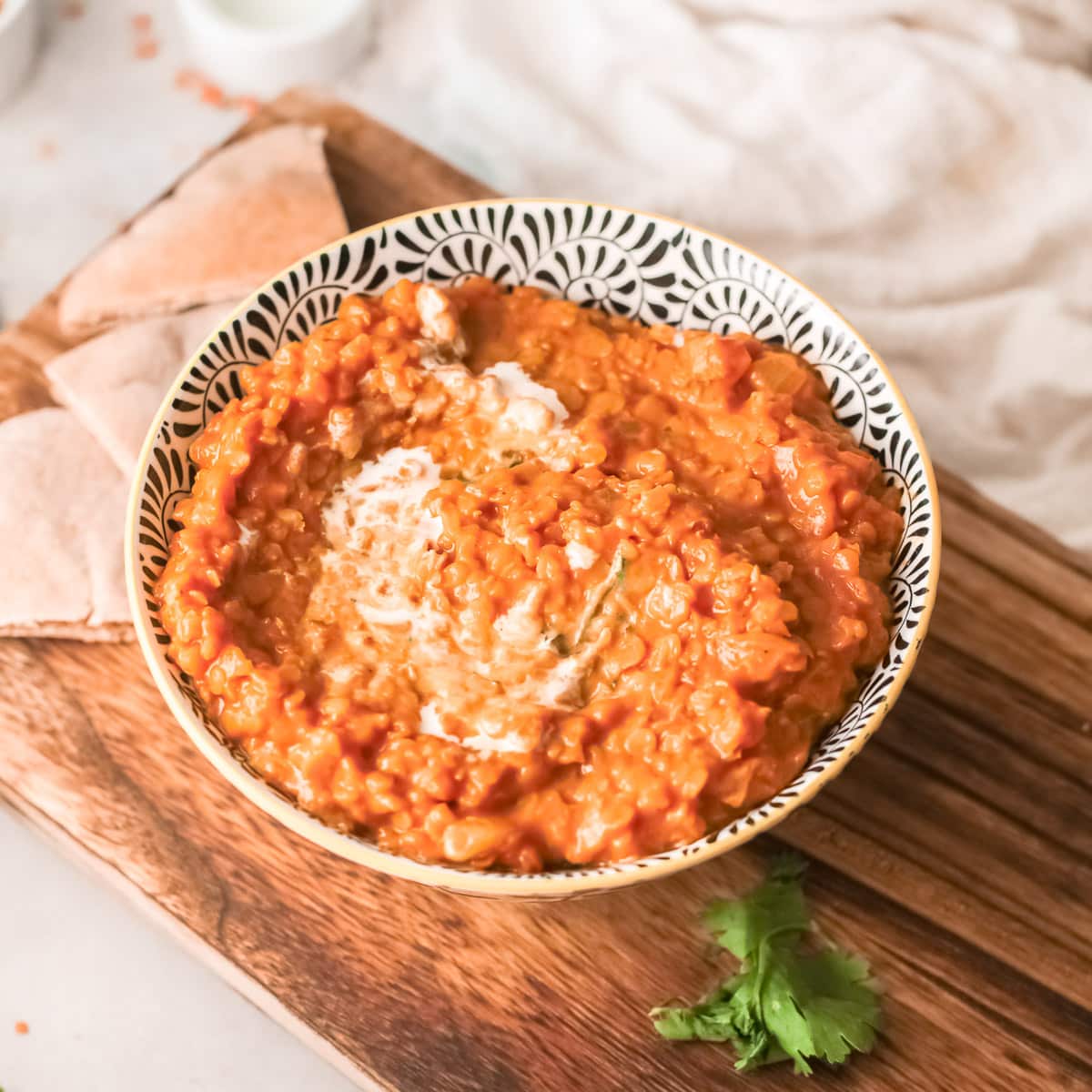 Instructions
Heat the oil in a large pan over medium heat. Add the onion and sauté until soft and slightly caramelized, around 7 minutes.

Add the garlic clove and ginger and sauté for 30 seconds or until fragrant.

Add the tomato, brown sugar, curry powder, garam masala, and cayenne pepper; stir to incorporate.

Add the lentils and the vegetable broth and stir.

Cover with a lid and bring to a gentle simmer. Reduce the heat down to low and cook for 20 minutes, stirring at the 10 minute mark.

Remove from heat and stir in the coconut cream.

Season with salt and pepper, and serve.
Notes
This curry is incredibly delicious! You can eat it as is, serve it with some toasted pita, or serve it over rice.
Red lentils cook incredibly fast making them a great pantry staple.
Nutrition
Calories:
393
kcal
Carbohydrates:
46
g
Protein:
14
g
Fat:
19
g
Saturated Fat:
10
g
Trans Fat:
1
g
Sodium:
1349
mg
Potassium:
858
mg
Fiber:
17
g
Sugar:
13
g
Vitamin A:
976
IU
Vitamin C:
10
mg
Calcium:
61
mg
Iron:
6
mg
Craving more veg-friendly recipes?
Shop our collection of vegetarian and vegan cookbooks, including our new Vegan Thanksgiving and Vegan Christmas cookbooks!