You only need seven ingredients to make this tasty recipe. This creamy vegan rice pudding is made with almond milk and flavored with orange, maple, and warm cinnamon spices.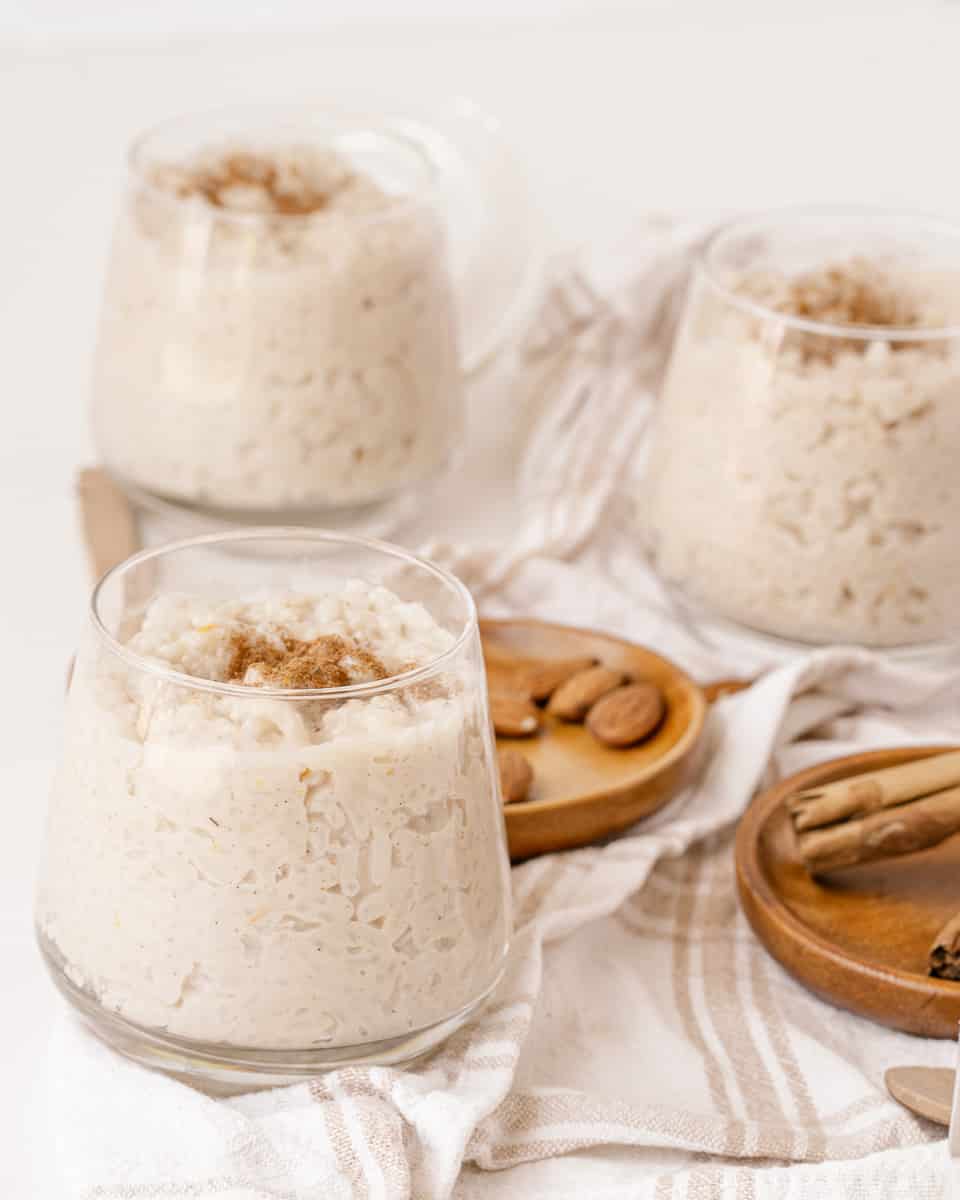 When you take a bit of this dairy-, coconut-, and gluten-free rice pudding, you'll find that it doesn't lack any flavor. Whip up this vegan pudding for a delicious dessert today. 
This Vegan Rice Pudding is...
Easy to Make 
Simple (Few Ingredients) 
Coconut-Free 
Dairy-Free 
Gluten-Free
Vegan Friendly 
Vegetarian 
Loaded with creamy flavors 
How to Make Vegan Rice Pudding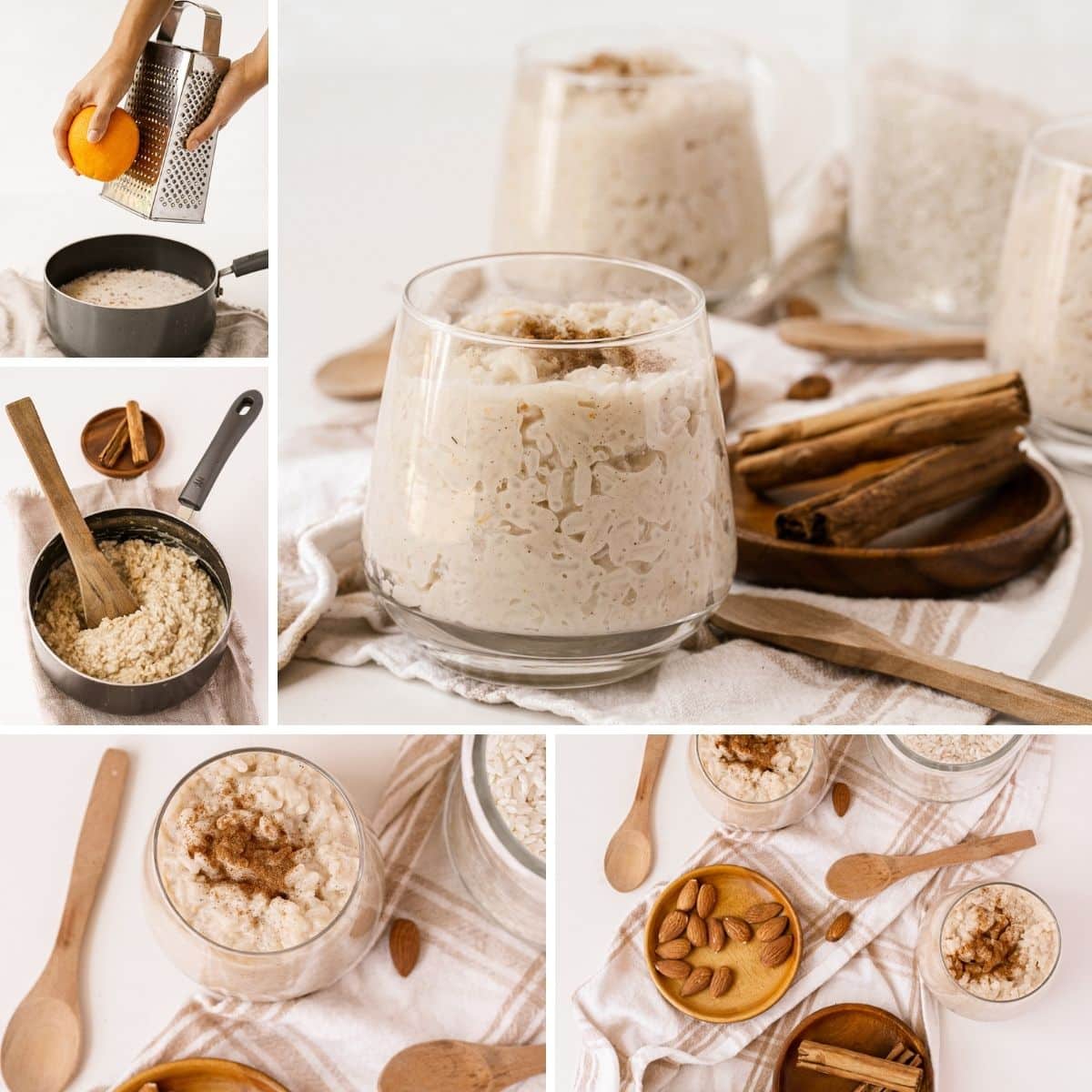 Grab a pot and place it on the stove. Add in all your ingredients. 
Whisk together the mixture and bring to a boil, stirring occasionally. 
Once the rice thickens, stir continuously until the rice is fully cooked. 
Remove from the stove and add your favorite rice pudding toppings. 
Scroll down for the full recipe with measurements and detailed instructions.
Tips & Tricks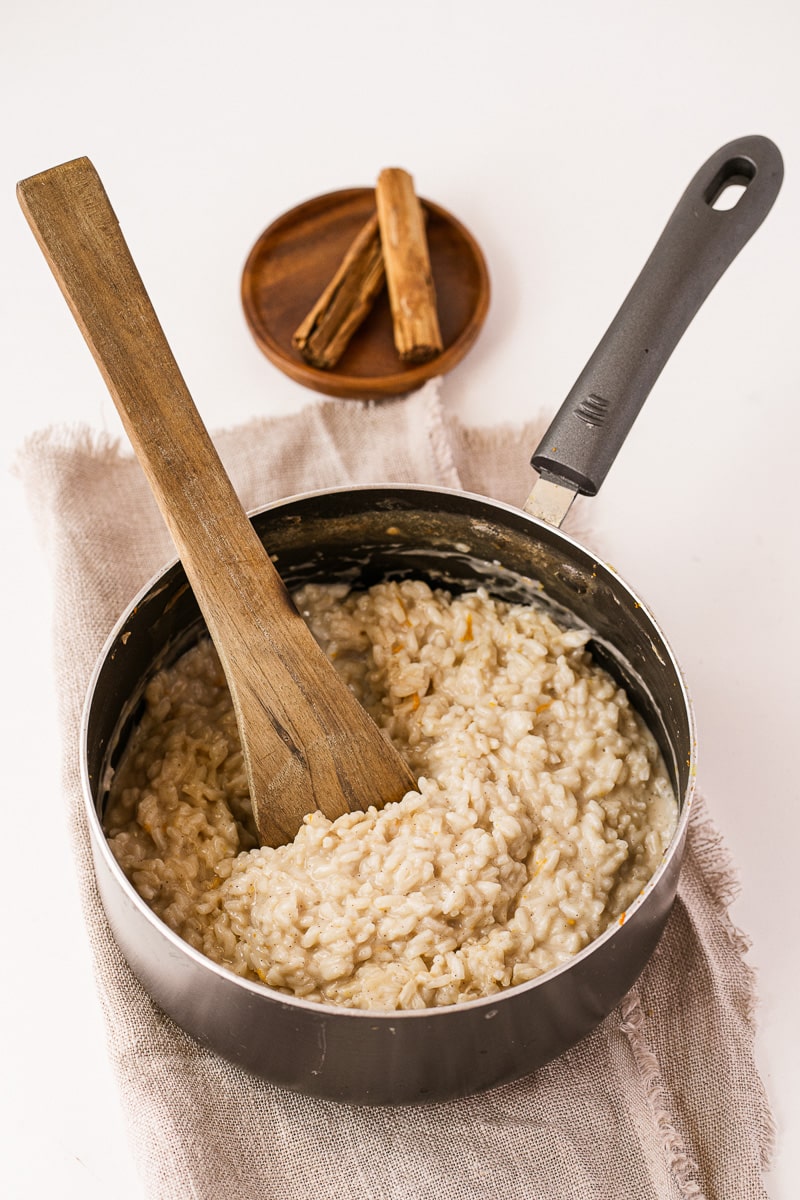 Variety Of Rice
I find a long grain white rice does best with this recipe. You will find that other varieties, like brown rice, etc., won't produce the same creamy, flavorful texture. 
Heavy-Bottom Pot 
You will find that investing in a great heavy-bottom pot is important. A nice heavy-bottom pot is going to help your rice to cook evenly without burning. 
Whisk
I love using a whisk to incorporate all the ingredients and mix while the pudding is boiling. Using a whisk allows me to safely break up any lumps of rice that might be developing. 
Variations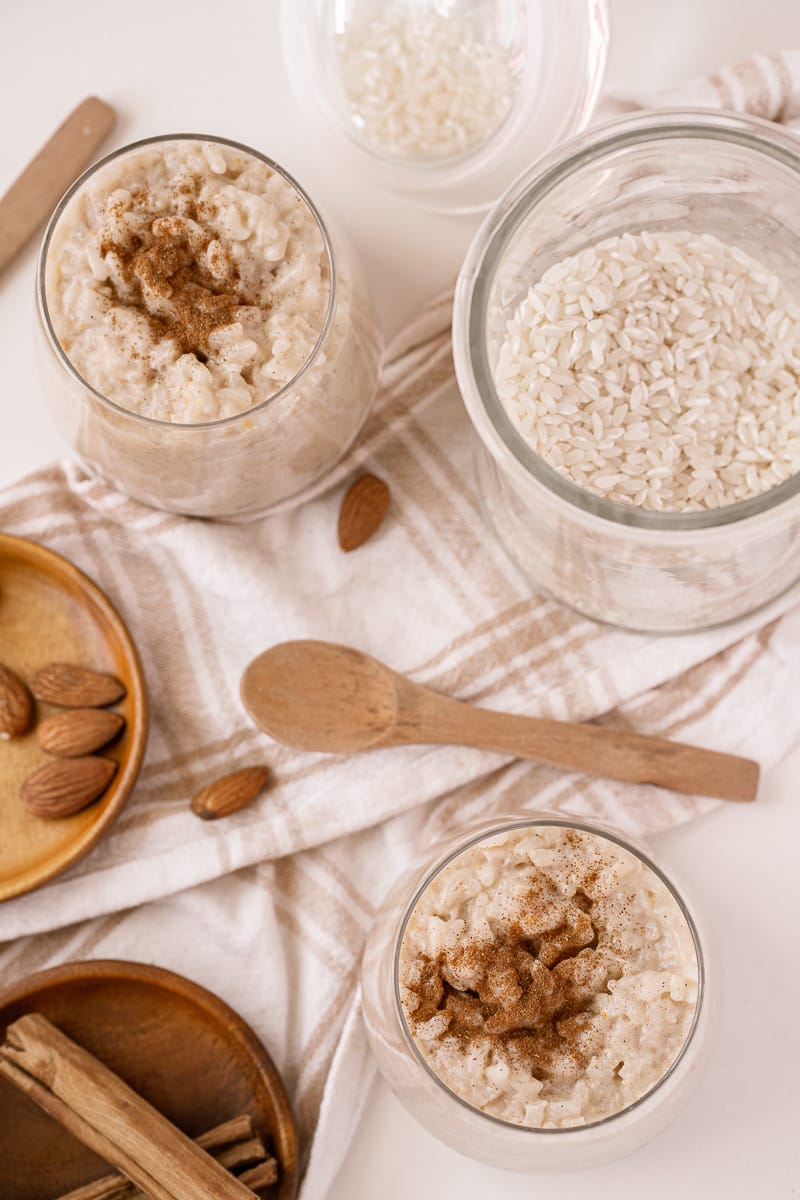 Raisins
Raisins add a great flavor to the rice pudding—just toss them in at the end of cooking. The liquid will soak into the raisins, plumping them up a bit. 
Toppings
Top your vegan rice pudding with some fresh jam, diced fruit, a drizzle of chocolate, etc. Toppings really elevate the flavor of this delicious pudding. 
Vegan Rice Pudding FAQs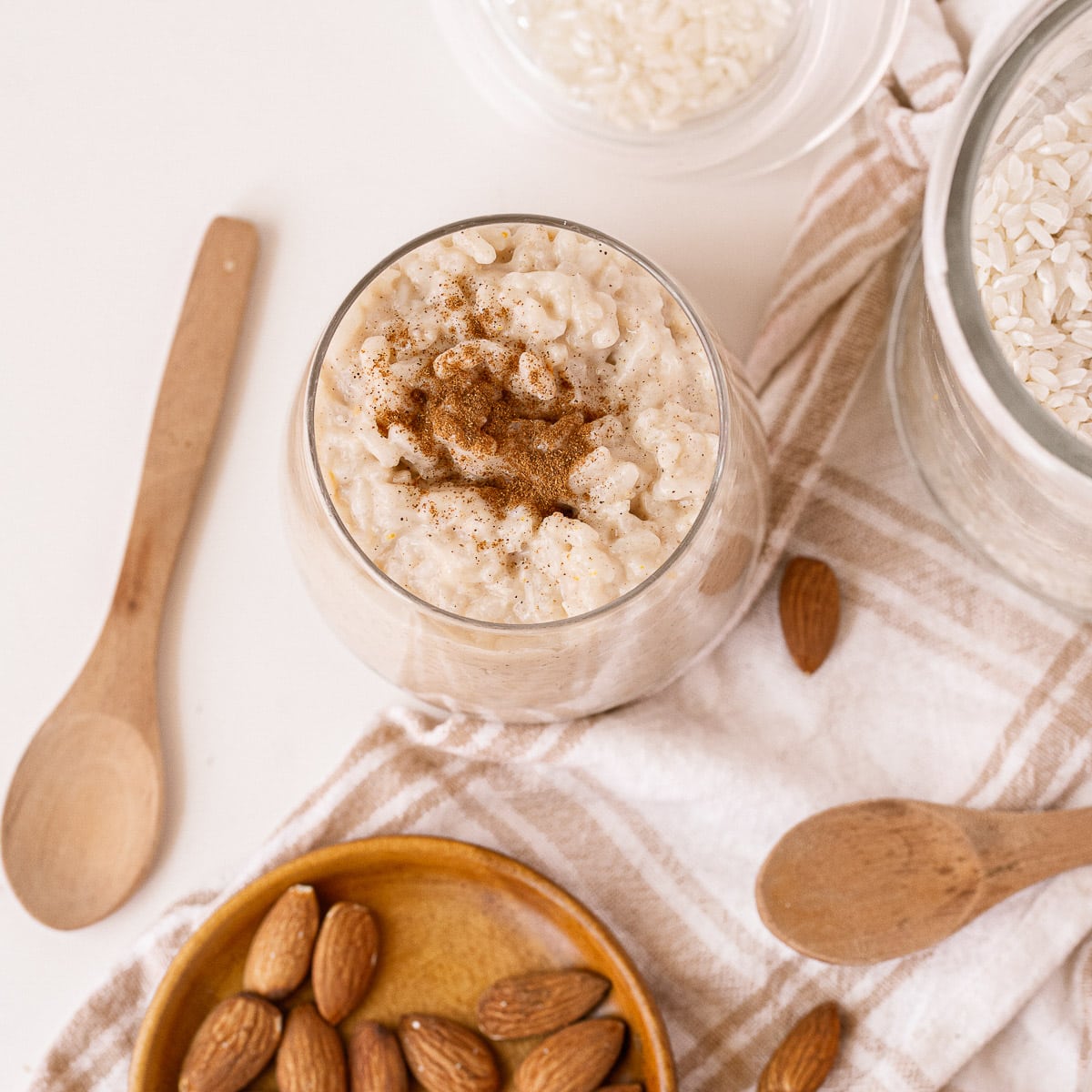 Do you need egg for a creamy rice pudding?
No! You do not need to use an egg in this recipe. You will find that this recipe makes rice pudding just as creamy and rich as it would be if eggs were used. 
Can you make rice pudding ahead of time?
I love rice pudding warm fresh from the pan on the stove. But, if you want to, you can make some and store it for 1–2 days in the fridge. Then serve pudding cold or warm it back up on the stove. 
If you opt to warm it up on the stove, make sure to add more almond milk to help thin out the pudding as it heats up. It will thicken a lot as it cools down. 
Can you freeze almond milk rice pudding?
You can freeze this rice pudding by storing it in a freezer for up to 3 months. Then when you want to eat some, let it thaw in the fridge overnight. 
Eat it cold or warm it up in the microwave or on the stove. Do a low and slow heat on the stove to prevent it from burning.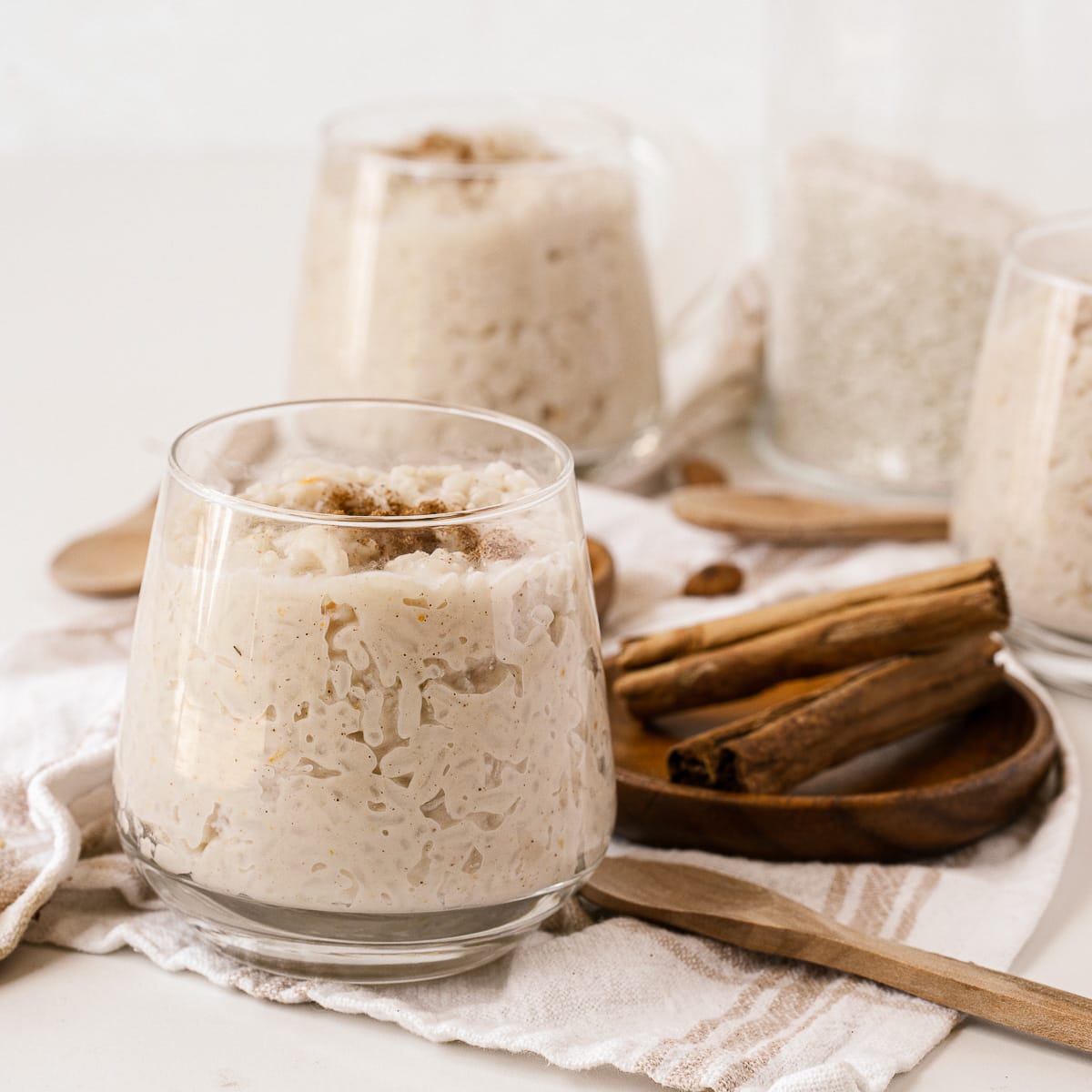 Instructions
Place all the ingredients in a pot.

Grate the orange. Whisk ingredients together well.

Put the pot over the stove to boil, stirring occasionally to make sure the rice doesn't stick to the bottom.

When it starts to thicken, stir continuously until rice is cooked.

Serve warm with more cinnamon sprinkled on top.
Nutrition
Calories:
254
kcal
Carbohydrates:
52
g
Protein:
4
g
Fat:
3
g
Saturated Fat:
1
g
Sodium:
542
mg
Potassium:
102
mg
Fiber:
1
g
Sugar:
12
g
Vitamin A:
1
IU
Vitamin C:
1
mg
Calcium:
267
mg
Iron:
1
mg
Craving more veg-friendly recipes?
Shop our collection of vegetarian and vegan cookbooks, including our new Vegan Thanksgiving and Vegan Christmas cookbooks!