In our new monthly feature, My Veggie Kitchen, we visit the kitchens of some of our favorite veg-friendly bloggers. We're kicking off the series by starting with our contributors and this month, we're visiting with Ashley from Cook Nourish Bliss.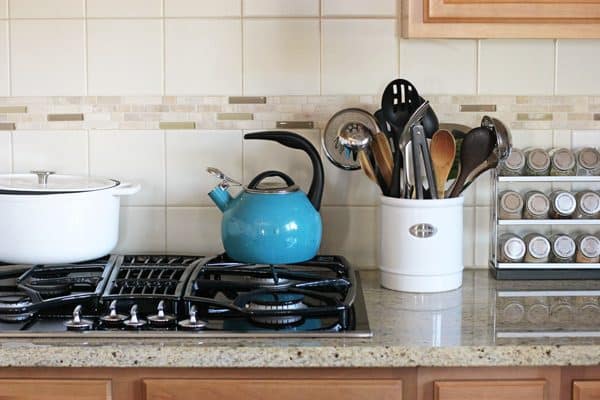 What made you start blogging? How has your blog evolved since you started?
I started my blog a few months after I got married. I received all these awesome kitchen tools and gadgets as gifts, and decided it was time to actually learn how to use them. I'd always enjoyed cooking, but I really only was comfortable making a handful of recipes that my mom and grandma had showed me growing up (and to be honest, outside of those recipes, I was pretty much a disaster in the cooking department). The blog was a fun way for me to chronicle what I was making and learning along the way.
The site has come a long way since then! And so have my cooking skills! Now, I share recipes that I've created myself. Also, over the last five or so years, my husband and I have transitioned to eating an almost completely meatless diet, and I started to care a lot more about what I was putting into my body. So the recipes I share now reflect those personal changes.
Tell us about your refrigerator and pantry. What 5 things do you always have on hand and how do you use them?
When we moved to North Carolina from the DC area, I for the first time got a real pantry. And a huge fridge. It's amazing! As far as what I have on hand, these are my top five.
Avocados - I eat them all the time. With everything. For avocado toast, in salads, on sandwiches, on tacos, in smoothies. You name it.
Nuts and nut butters - I keep a slightly ridiculous amount of assorted nuts in the house. But we do use them! For snacking, adding crunch or protein to dishes, etc. And the nut butters are a huge snack time favorite (especially with an apple!).
Almond milk - Specifically unsweetened vanilla almond milk. I use this mostly for my morning smoothies but also for milk for tea (and lattes!).
Hummus - I pretty much always have a tub (or multiple tubs) of hummus in the fridge. It's great for pulling together a super easy meal and also for snacking with
carrots and cucumbers!
Dark chocolate - I adore dark chocolate and this is purely for when I want a little something sweet!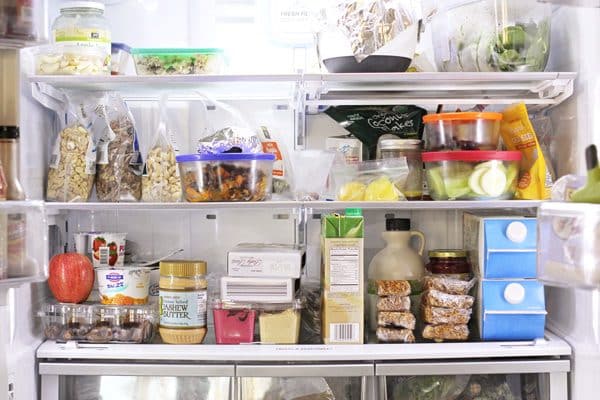 If you had to part with every kitchen tool except 1, which would you keep and why?
My knives! If I had to pick just one, most definitely my santoku knife. I received a nice set as a wedding gift and had no idea what I was missing until then. They make a world of a difference!!
What's your most-used cookbook?
King Arthur Flour's Whole Grain Baking cookbook! More often than not, I'm testing savory main dish recipes and we eat whatever I'm working on for dinner. So I don't use too many cookbooks these days. Except for this one! Baking has always been relaxing for me and I love making recipes from this book when I'm in the kitchen just for fun (the wheat baguettes are fantastic!).
What's the most popular recipe on Cook Nourish Bliss? And what's your personal favorite?
This skillet Mexican brown rice casserole has been the most popular recipe on my site for a long time now! Everything cooks all in one skillet (even the rice) and there's lots of mexican flavors and cheese. We love it at our house too!
My personal favorite recipe is this Thai red curry with peppers and cashews. It is a complete staple in my weeknight dinner rotation and I still look forward to it every single time I make it. It's filled with plenty of veggies, chickpeas, creamy coconut milk and so much flavor. It was my attempt to recreate a dish from a thai restaurant that we used to live near (and frequent very often)!