We're starting a new feature on Oh My Veggies to highlight some of our favorite veg-friendly food bloggers. And what better way to kick off the series than to spotlight our own contributors! This month, we're chatting with Alissa from Connoisseurus Veg.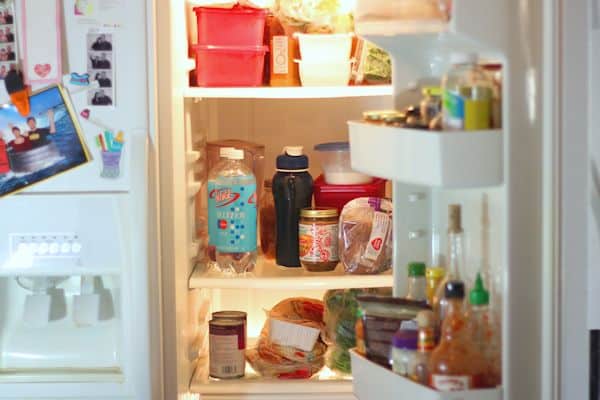 When I mention your blog to people, so many of them seem to know it from the dinosaur in your header. How did you come up with the name and logo?
Honestly, I'm not sure if anything in particular inspired either one, but I think I came up with the name by random brainstorming. What I really remember was shortly after that getting the idea for a picture of a tyrannosaurus rex clutching a carrot and thinking it would be hilarious. Once I got that in my head it pretty much had to happen. I spent a few weeks painstakingly drawing my logo by hand and was pretty happy with the result. I don't know if it was the name was the best decision, because I've had so many people tell me they have no idea how to spell it. Also, right after I initially added the logo to the site my mom called me concerned that the dinosaur would never get the carrot in his mouth (which I really just thought was funny and made me like the logo even more). At this point I'm so attached to the dinosaur that I'm pretty sure both it and the blog name are here to stay.
Tell us about your refrigerator and pantry. What 5 things do you always have on hand and how do you use them?
Rice is my number one staple. I try to keep lots of varieties on hand, but if I have to pick just one I stick with short grain brown rice. I feel like if I've got that on hand there's always an easy meal I can construct around it, whether it be a stir-fry or curry, both of which I cook lots of, or even just basic rice and beans.
On that note, beans are definitely next in line after rice. I'm trying to get in the habit of cooking and freezing dried beans, but for the most part I stockpile cans of beans. Chickpeas, black and red beans are my go-tos. In addition to rice and beans I'll throw them on salads for protein, whip up a batch of hummus, or turn them into homemade veggie burgers.
I eat a ton of tofu and always keep a few packs of extra-firm in the fridge. In my early vegetarian years I probably didn't get enough protein, and as a result I didn't feel that great. Learning how to cook tofu was a game changer. For a quick meal I'll often pan-fry a couple slices of tofu until they're crispy and then season with anything from balsamic vinegar to hot sauce to simple salt and pepper. From there I'll stuff my tofu into a sandwich, use it to top a salad or even just throw it onto a plate with some veggies as side dishes.
I always keep my pantry stocked with non-dairy milk. I was never a fan of dairy milk to begin with, and shortly after going vegetarian I discovered soy milk and was totally sold. I liked the taste and texture of plant milk way better than dairy, and it's available in shelf stable form, so I can keep lots of it on hand for baking or pretty much any recipe that calls for dairy milk. I even like to make my own soy or almond milk when I have the time. It's delicious and I really like the fact that I know exactly what goes into it.
Finally, I always stock tons and tons of salad greens. I think this has been one of the best things I've done in terms of keeping my diet healthy. I tend to eat what I have around, and if I've got a fridge full of veggies, that's what I'll turn to when it's time for a quick meal or side dish.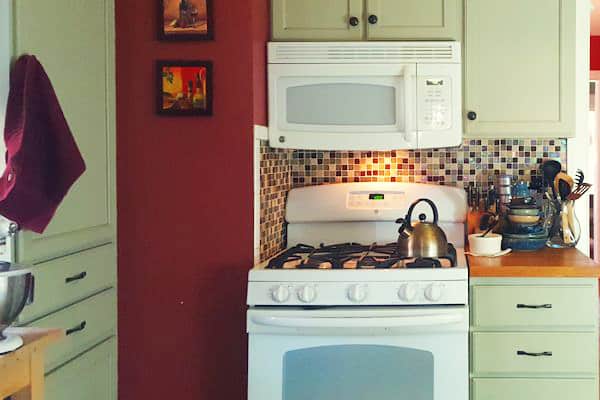 If you had to part with every kitchen tool except one, which would you keep?
Without a doubt, my big cast iron skillet, which is a relatively new addition to my kitchen. When I first met my husband he was surprised that for someone who loved cooking as much as I did, I didn't have any cast iron cookware. I'd never really given it much thought, and I'd actually been misinformed that cast iron had to be seasoned with bacon grease and other non-vegetarian friendly fats. I did a little research, found that that was totally not the case, and started my cast iron cookware collection, which is still a work in progress. What really floored me was how much better even the most basic things cooked up in cast iron, even stuff like frozen veggie burgers. My biggest piece is fifteen inch skillet, and I use it for everything and absolutely love it.
What's your most-used cookbook?
This is going to sound a little odd coming from a vegan blogger, but here it is. When I was in my early teens and just starting to get interested in cooking, a family friend gave me an old copy of The Good Housekeeping Cookbook. At the time I mostly used it for baking, but as I got older and became interested in creating vegetarian and then vegan versions of traditionally meat-based dishes, it became an awesome resource for me. Because I was pretty young when I stopped eating meat, I never got a chance to try lots of American and European classic dishes. Nowadays whenever I think of or come across a meat-based dish that I'm not familiar with I'll look it up in there, and it's usually in there. I might be like, "Hmmm...what's beef wellington all about?" and I can generally bust out the book, look it up, and 99% of the time it will be in there, complete with photos and instructions on any cooking techniques involved that I'm not familiar with. From there I can brainstorm on how I might make creative substitutions for any non-vegan or vegetarian ingredients.
What's Connoisseurus Veg's most popular recipe? And what's your personal favorite?
My most popular recipe is my sticky sesame cauliflower. I don't know why, but this surprised the heck out of me. I loved the recipe, but was completely shocked at how it took off. It really looks like bits of fried chicken covered in sugary sauce, so I guess I should've figured that lots of people looking for a healthy(ish) comfort food fix would've jumped on that one.
My favorite is my ginger tempeh stuffed sweet potatoes with almond butter sauce. Sometimes I come up randomish seeming combinations of ingredients, thinking I'll try them out and maybe after a couple of takes have a recipe I'm happy with. This recipe was like magic though. I instantly loved with the way the flavors and textures came together. I think because of the randomness of the ingredients it never really got as much attention as I'd hoped, but I do get comments coming in from time to time from readers who seem to love it as much as I do, and it always makes me smile.