Are you wondering how start your own food blog? Well, you're making a good choice there, friend. Running a food blog is not only a ton of fun but can be pretty profitable as well. So whether you have some awesome food hacks you want to share or want to bring in some side income, a food blog is a great place to start. But as with any new project, it's important that you start with the right knowledge and tools. So, here are some tips and tools on how to start your own food blog that will help you on the way to internet food fame.
How To Start Your Own Food Blog
There is a huge variety of culinary niches waiting to be filled on the internet. So no matter what type of food captures your particular interest, there is sure to be a readily available audience... if you can capture their interest as well. And the best way to do that?
High-quality content.
So let's break down how you're going to produce it.
Identify Your Niche
First things first, let's break down how to start your own food blog. You need to figure out what kind of food you're going to focus on. You might like a wide variety of food and have a hard time picking one that really interests you. And that's fine, but here's the thing: the internet is massive. And you aren't going to have the resources to compete with the big sites who post content on every kind of food.
You need to focus in on one particular type of food and don't be afraid to get very specific. If you want to do an entire website about coffee mug microwave desserts, that's totally fine.
See the advantage of specializing is that you become a bigger fish in a smaller pond instead of a tiny fish in the vast ocean of the internet. While the total number of people looking for something as specific as "coffee mug microwave desserts" is much smaller than people looking for "easy dinner recipes," you're going to capture a much larger percentage of the people who are searching for your type of content.
So identify what you're good at and what really interests you and laser in on it. Your goal is to be the authority on one very specific kind of food.
Photography
Now here is what really makes or breaks you when you're considering how to start your own food blog. People coming to your website are looking for ideas about what to eat. And like in any restaurant, they should be getting hungry just looking at the stuff you are offering. And the best way to do that is with high-quality photography.
I'm sure you've noticed that when you snap a picture of your meal for Instagram it doesn't look nearly as good as it does in real life, right? And I'm sure you've also noticed that on a good food blog the recipes always look better on the site than they do in real life.
So, how are they doing that? Well, the answer is that it's a ton of work to get a great picture of food. And while you're whipping out your iPhone for a quick picture, someone running a good food blog is carefully laying out the meal they're presenting and using professional lighting and photo equipment. Seriously, there are fashion shoots that are photographed with less care than that delicious looking plate of vegan risotto on your favorite food blog.
But you absolutely have to do it if you want to build an audience. People want pictures first and recipes second. You want to entice them into viewing your post, and the best way to do that is with a mouth-watering picture.
Audience Engagement
And speaking of viewers, you want them to keep coming back after they tried your recipe. I mean that's obvious, but your goal isn't to build a site so much as a community. That's how the best food blogs are run. And when you're thinking about how to start your own food blog, you should keep this in mind from the beginning.
You have to engage with your audience. Integrate a comments section into your website, and always make sure to answer any questions politely and promptly. This will lead to more regular viewers, which means more clicks every month. And that means a more successful blog.
Finally, you have to leverage social media these days if you want to get anywhere. Make sure to post everything to social media and encourage your readers to share it. You can even hold give-aways or sweepstakes to help boost your shares.
Networking
As far as communities go, there's actually a huge network of food bloggers out there who can give advice on how to start your own food blog and you should try to tap into it. Take time to post on the blogs you really enjoy. Tell them how much you loved their work and ask if you can feature it on your blog.
After you build a bit of a rapport with the person running the blog, you can ask them to feature some of your content as well. This will help you get access to their audience, which means wider exposure for your blog. And you can even make some lifelong food blogging friends while you're at it.
That's a win-win situation if there ever was one.
Some Tools To Help You
Now, here is some bad news: Running a food blog can be a lot harder than you might think. There are a hundred things to manage on a daily basis from viewer engagement to server issues, to security. And that's not even to mention the process of coming up with great content and photographs to show off your culinary talent.
But there's also some good news: There are tons of programs and gadgets out there to help. Here's a little list of some of the most useful stuff an aspiring food blogger can pick up.
Photography
Photography is one of the biggest issues when it comes to how to start your own food blog. You need a top notch rig to capture images that will keep your readers coming back for more. And knowing how to do a little photo editing certainly helps.
Canon EOS Rebel T6 Digital SLR Camera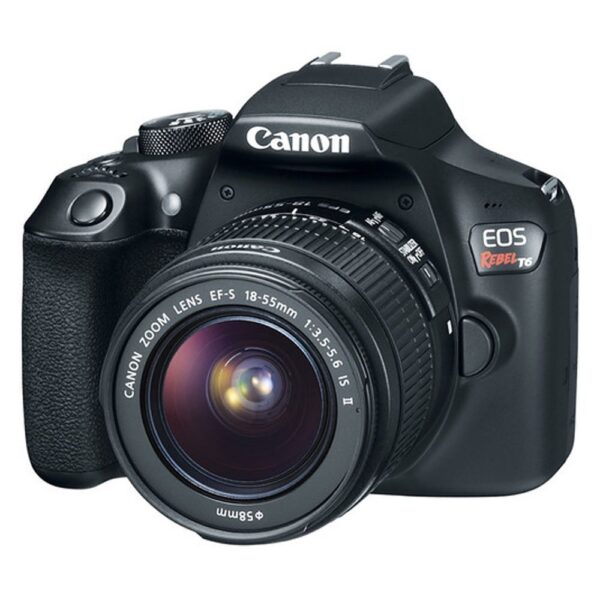 Image: Amazon
Obviously, the first thing you're going to need is a high-quality camera. The problem is that like with any piece of quality electronics, a good camera isn't cheap. But if you're really serious about this blogging thing, there really is no other choice.
You need a top of the line camera and the Canon EOS Rebel T6 Digital SLR is a great one.
It has some extreme resolution, meaning that you can capture the delicate steam rising off a bowl of homemade chicken noodle soup or that lasagna in all of its cheesy goodness.
And it even captures 1080p HD video if you feel like trying out some video content. So all in all, if you're thinking about making a serious investment in your blog and pulling the trigger on an HD camera, this is a good choice.
Nikon AF-S FX NIKKOR 50mm f/1.8G Lens 
Of course, maybe you already have a camera and just want to give it a little extra versatility. This 50mm lens from Nikon is one of the most popular camera lenses out there and is a neat little thing to have in your toolbox. It has an autofocus feature so unlike a lot of lenses you don't have to spend time cranking the aperture to get a clear image.
It's great for still photography, which is primarily what people use 50mm lenses for, and as someone who is going to photographing a lot of food (which doesn't tend to move much), it's a nice addition to your camera bag.
Photoshop 
So here's the thing: even with a top notch camera, you're not always going to get the exact picture you want. Luckily, photoshop makes it easy to touch up your images before they go live. And Photoshop has a lot of other great features like design tools that can help you spruce up your whole website.
It's worth investing in if you want to get serious about photography.
How Do I Do That In Photoshop 
Of course, if you're new to photoshop, buying a copy isn't going to do you much good. With all the features and confusing interface, it's often tough to figure out how to do the things you want to do. That's why if you're picking up photoshop, you need a good guide to figuring out all the different features. There are a ton on Amazon, but How Do I Do That In Photoshop is great because it's to the point, offers easy walk-throughs, and is budget friendly at around $15.
Food Photography: From Snap Shots to Great Shots 
And as far as books go, you might as well pick up one from a professional food photographer. Food Photography: From Snap Shots to Great Shots is loaded with tips about how to take great pictures of your meals for your blog.
And it turns out that it's a bit more complicated than put it down and snap a pic, so a guidebook is a must for anyone who wants to get serious about food blogging.
High Speed SD Card 
The last thing you're going to need for your photography work is a good memory card. DSLR cameras require special SD cards to capture images. This is a nice one from Polaroid with a ton of memory and a quick uploading speed.
Site Resources
Content is only half of how to start your own food blog. You also have to worry about the technical side of running a website. Luckily, there are plenty of resources to make it easier on you.
Now if you're pondering how to start your own food blog, the first technical hurdle you'll need to overcome is building the site itself. Luckily, you don't need a degree in computer science to build a great site these days thanks to sites like Square Space.
Square Space has an easy to use site building tool and can even host your site for you. Plus there is plenty of technical support available through their company if you accidentally delete six months of content. It's a great way to get started with web design.
Now if you already know how to build a site and just want a hosting service, Dream Host is great. It handles all the mechanics of getting your site up and lets you register domain names.
And it's one of the cheapest options out there for a dedicated hosting service.
Word Press is like Square Space in that it's a combination website building tool and hosting service. It has an easy interface for putting your site together, and it offers all the support that Square Space does. It has lots of themes to choose from.
Plus it even has lots of plugins for things like social media and image posting to make them a bit more manageable. As to which one you choose between Word Press and Square Space, it's a matter of personal choice. Both are great.
Just remember as you're setting out on your journey to the heights of the food blogging world to temper your expectations a bit. The web is a big place and it will take time to get noticed. You shouldn't expect to become the most popular blog overnight, or you will end up discouraged.
Stay determined and stick with it and you'll do great.