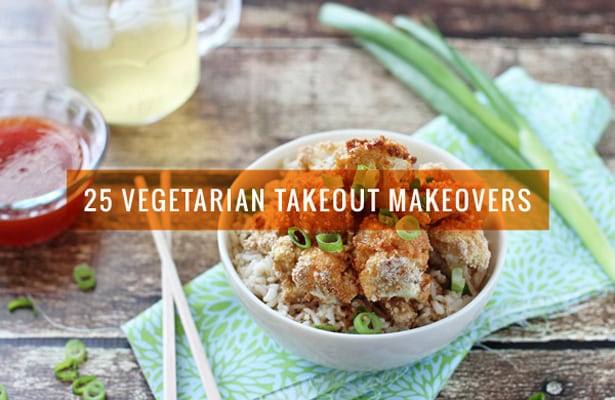 Just because you've given up meat doesn't have to mean you need to give up all of your favorite takeout dishes too. These 25 recipes are some of our favorite vegetarian takeout makeovers--because what would life be like without Pad Thai and cheesesteaks and burritos?!
Black Bean & Veggie Baked Tostadas
Tostadas are normally fried, but this version bakes them to crispy perfection in the oven.
Grilled Portabella Muffuletta
A vegetarian version of the classic New Orleans sandwich.
Garden Veggie Freezer Burritos
Skip Chipotle and opt for these veggie-packed freezer burritos instead!
Baked Fried Brown Rice
By baking instead of frying, you can get that perfect fried rice texture without having to use tons of oil.
Grilled Veggie Gyros
A creamy cucumber dill sauce stands in for tzatziki in these vegan gyros.
Firecracker Cauliflower
Crispy baked cauliflower with a sweet-and-spicy sauce--who needs shrimp?!
Baked Portabella Mushroom Taquitos
Mushrooms are the "meat" in this lighter take on taquitos.
Homemade Calzones
Store-bought pizza dough makes this recipe doable for a weeknight dinner.
General Tso's (Not) Chicken Bowls
Our meatless version of this Chinese takeout favorite replaces the meat with seitan.
Beer-Marinated Grilled Mushroom Tacos with Pepita Relish & Chipotle Crema
These grilled mushroom tacos rival anything you'd buy at a restaurant--they're one of our favorite recipes!
Grilled Veggie Banh Mi Sandwiches
Most vegetarian banh mi recipes use tofu to replace the meat, but this one uses grilled vegetables instead.
Sweet Potato and Millet Falafel
Millet adds a nutritional boost to this homemade falafel recipe.
Sweet and Sour Tempeh
Thinly sliced pieces of tempeh are perfect for soaking up the sauce in this meatless version of Sweet and Sour Chicken.
Meatless Monte Cristo
Hello comfort food! This sandwich is smoky, cheesy and grilled to perfection.
Sweet Potato Bibimbap
Roasted sweet potatoes make a delicious addition to bibimbap.
Thai Red Curry with Asparagus and Tofu
Thai curries can be easily customized with seasonal produce, like this version made with asparagus.
Tomato and Mozzarella Panini
Our copycat version of Panera's Tomato and Mozzarella Panini.
Veggie Pad Thai
No ketchup or peanut butter here--this Pad Thai is made with tamarind, just like the restaurant version!
Buffalo Tofu Wings with Creamy Ranch Dip
Crispy baked tofu slathered in hot sauce--and don't forget the vegan ranch dip!
Tofu Vindaloo
This spicy Indian favorite is easy to make at home!
Portabella Mushroom Cheesesteaks
These meatless cheesesteaks are a reader favorite.
Kung Pao Veggies
Vegetables and tempeh make this Chinese takeout makeover both filling and healthy.
Smoked Cheddar Mac & Cheese with Baked BBQ Tofu
We replaced the BBQ pork with tofu in this remake of a dish from Noodles and Company.
Asian Lettuce Wraps
These colorful lettuce wraps are perfect for parties--or even as a light dinner.
Quinoa Sushi Rolls with Miso Sesame Dipping Sauce
We substituted quinoa for rice to add some protein to these veggie sushi rolls.