Photos by Lindsey Johnson
If there were ever one quintessential Thai dish, it would have to be Pad Thai. I mean, the name even says "Thai."
Pad Thai was the first Thai dish I ever tried while dining out. For years after that I gobbled the stuff, eventually expanding my horizons to curries, stir-fries and all sorts of other Thai delights. It was a new vegetarian's dream. I was in bliss, until one dark day when a helpful server noted that I had requested tofu Pad Thai (as opposed to the other option, which was probably shrimp), "...because I'm a vegetarian." That was when I learned that Pad Thai is typically not vegetarian. Nor, sadly, were many of the curries and stir-fries I'd also been enjoying. The culprit: fish sauce.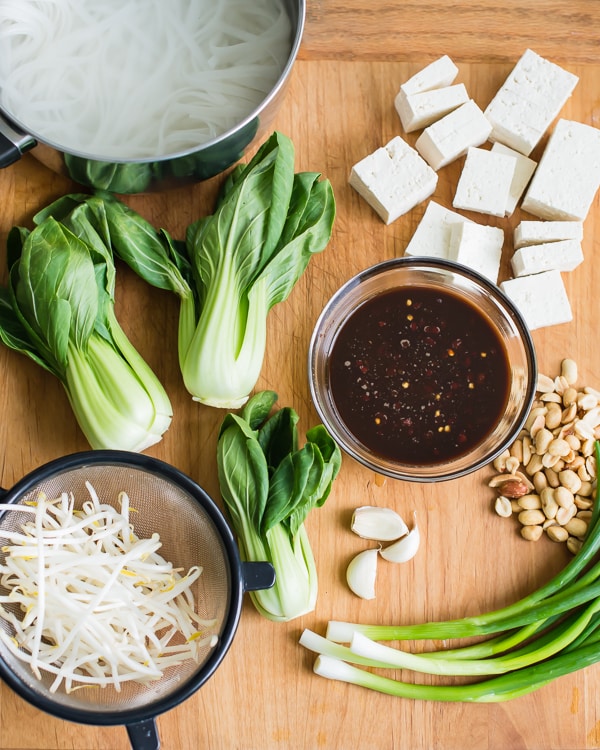 Oh what a sad, sad day that was. Can there be anything worse than going home from a Thai restaurant hungry? It hurts to think about it.
I still go out for Thai. I've learned that lots of places will leave the fish sauce out if you request it, for a truly vegetarian Pad Thai. I've also learned that making your own Thai food at home isn't that difficult. Happy day!
While I see lots of vegetarian Pad Thai recipes online and in cookbooks, I don't see many that replicate classic Pad Thai. Peanut sauce over noodles is a popular vegetarian dish you'll often see, and it's usually delicious. However, my goal for this post was to replicate the dish I was painfully denied while dining out, all those years ago. That dish would be made with stir fried rice noodles in a tangy tamarind sauce, which is what you'd probably get in Thailand if you ordered this from a street vendor. (Yes, they sell this stuff to you right on the street in Thailand. Can you imagine?!)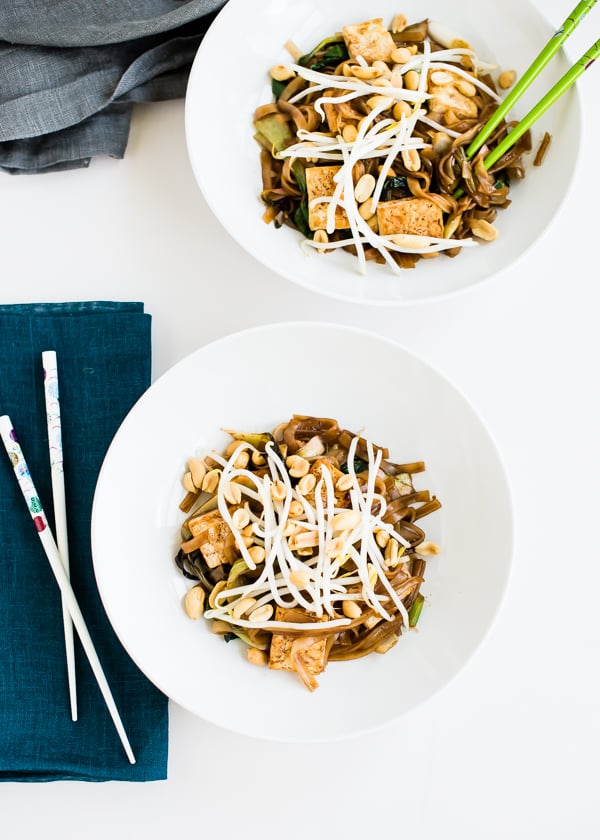 You have the option of including tofu and eggs in my version. Tofu replaces the shrimp and adds some protein. The eggs add a touch of authenticity but are certainly not required, and leaving them out makes the dish totally vegan, for those who prefer to roll that way.
Recipe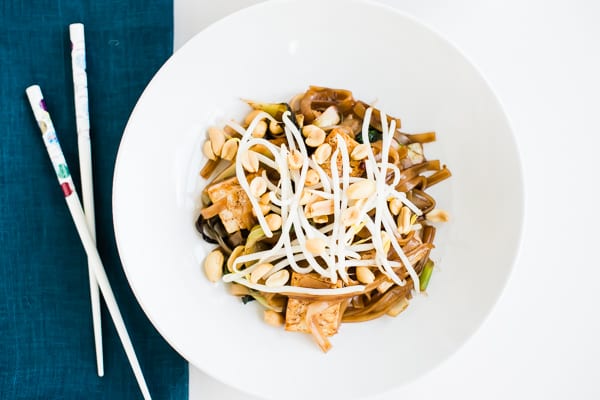 Ingredients
For the Pad Thai:
1

15-ounce package extra firm tofu, pressed for at least 15 minutes and cut into ½ inch strips (optional)

¼

cup

cooking oil

plus a little extra (see note)

8

oz.

Pad Thai

flat rice noodles

4

heads baby bok choy

3

garlic cloves

minced

2

eggs

optional

4

scallions

sliced into 2-inch pieces

¼

cup

chopped peanuts

1

cup

bean sprouts
Instructions
Add the sauce ingredients to a small bowl and whisk together to combine. Set aside.

If using tofu, heat a small amount of oil in a large skillet over medium-high heat. Place the tofu strips into the skillet and cook 3-5 minutes on each side, until golden brown. Transfer to a paper-towel-lined plate and set aside.

Fill a large saucepan or stock pot with water. Bring to a boil and remove from heat. Add the noodles and allow them to soak until just a little firm -- think one step ahead of al dente. This normally takes about 8-10 minutes, but since different brands may vary, refer to your noodle package instructions. Once the noodles are done soaking, drain them in a colander and rinse with cold water.

Separate the baby bok choy into individual leaves and slice each one lengthwise into 2 or 3 strips.

Place oil in a wok over medium-high heat. Add the garlic and baby bok choy. Stir fry until the bok choy just starts to wilt and turns deep green, about a minute.

Add the noodles and sauce to the wok. Stir fry until the sauce thickens and the noodles are tender, about 3 minutes.

If you're using eggs, push the noodles to the side of the wok to create a little space. If the wok looks a bit dry at this point you can add another splash of oil. Add the eggs into the space you've created and break them up with a spatula; scramble for about a minute. Do your best to keep the eggs separated from the noodles until they're cooked.

Add the scallions and tofu to the wok. Stir fry everything for another 30 seconds or so, just to get everything hot and the flavors blended. Remove from heat.

Divide the noodles onto plates. Top with peanuts and bean sprouts.
Notes
If you're not into baby bok choy, or it just isn't available, feel free to sub other veggies. Snow peas, carrots, baby corn and broccoli all work great. You'll need about 3 cups of whatever vegetables you use.
Any neutral-flavored cooking oil that you have on hand can be used for this recipe.
Nutrition
Calories:
567
kcal
Carbohydrates:
74
g
Protein:
18
g
Fat:
23
g
Saturated Fat:
3
g
Polyunsaturated Fat:
7
g
Monounsaturated Fat:
12
g
Trans Fat:
1
g
Cholesterol:
82
mg
Sodium:
718
mg
Potassium:
458
mg
Fiber:
5
g
Sugar:
20
g
Vitamin A:
5311
IU
Vitamin C:
58
mg
Calcium:
221
mg
Iron:
4
mg
Craving more veg-friendly recipes?
Shop our collection of vegetarian and vegan cookbooks, including our new Vegan Thanksgiving and Vegan Christmas cookbooks!