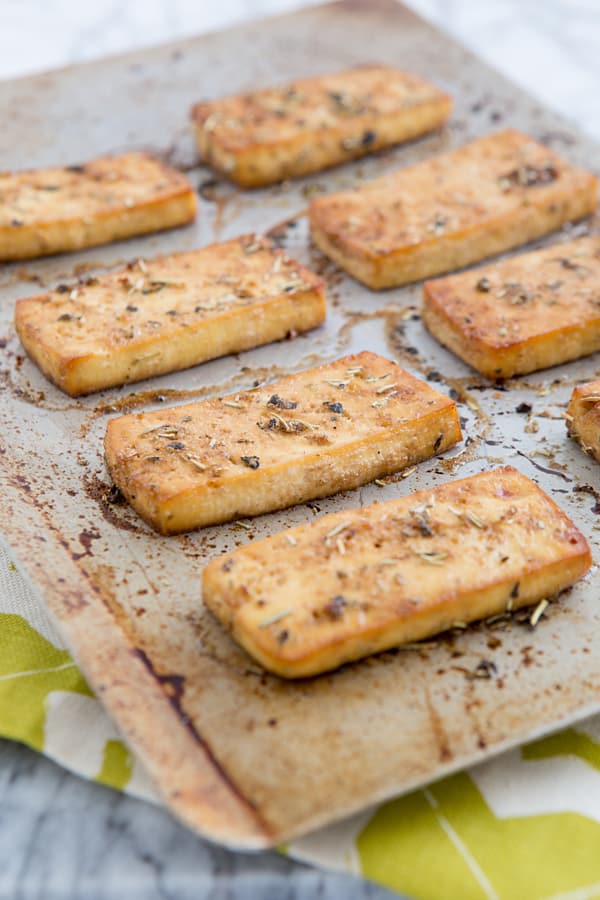 I am going to confess something really shameful to you right now. When I decided to make this recipe, I realized that the dried rosemary in my pantry was 12 years old. Escandalo! If my rosemary were a person, she would have Justin Bieber posters in her room and be sass-mouthing me when I ask her to do her chores. Herbs! They grow up so fast! I think you're supposed to keep dried herbs for a year, so this is pretty embarrassing. In my defense, I hardly ever use dried rosemary in my cooking. Which is good because when I opened it up, it smelled like dust and nothing instead of smelling like rosemary.
Whenever I post a tofu recipe, people ask me how to press it. There are some cooking techniques that I never know if I should take the time to explain because I'm not sure if people know about them already. I don't want you guys to be like, "Duh, thanks, I knew that." But I don't want you to be confused either! So I thought I'd post another baked tofu recipe and explain how to press tofu. Then when I post a tofu recipe in the future, I can link back here.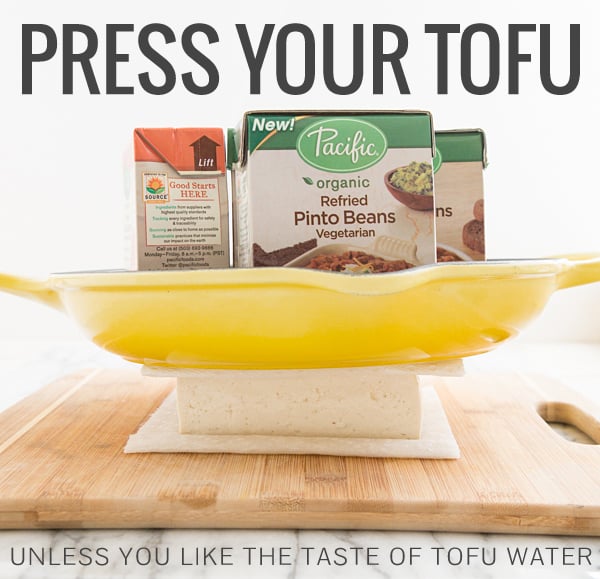 In my opinion, the best way to press tofu is with a tofu press (which you can read about here). But pressing tofu with a tofu press is self-explanatory and if you have a tofu press, odds are, you know how to use it. So if you don't have a tofu press, all you need to do is:
1. Take two paper towels and fold them in half and in half again.
2. Place one of the folded towels on a cutting board. Make sure the cutting board is on a surface that can get wet, like your countertop.
3. Take the tofu out of the package, drain off the water, and put it on top of the first paper towel.
4. Put the second paper towel on top of the tofu.
5. Place something heavy on top--either a plate, another cutting board, or a skillet. I usually put additional weights on top of that too. Make sure the weight is evenly distributed or the plate/skillet/cutting board will fall off, usually smashing one side of your tofu in the process.
6. Let this sit for 30 minutes. You can change out the paper towels once or twice if needed.
Is this worth it? HECK YES IT IS WORTH IT. When you press out all that tofu water, the tofu can better absorb the flavors you add to it. Even if a recipe doesn't call for me to press my tofu, I still press it. I can't stress enough how important this is.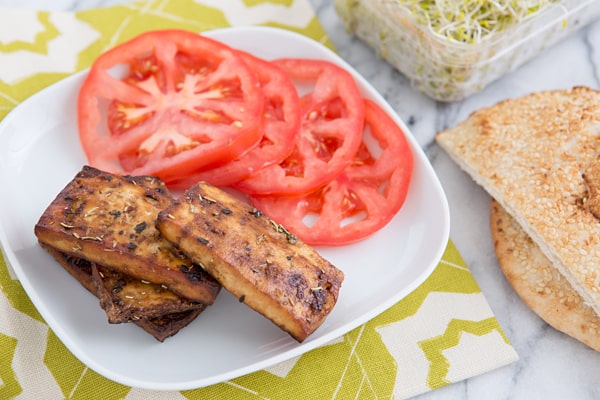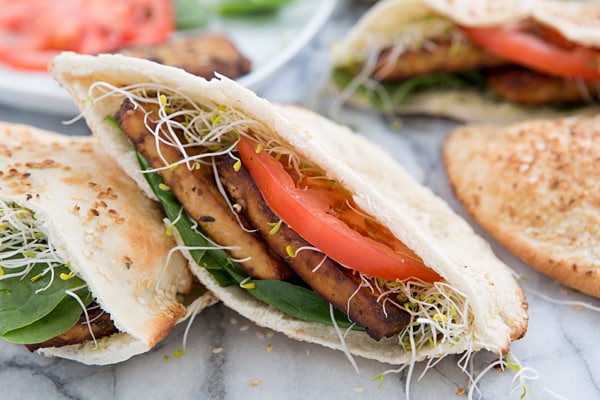 So this gave me a good excuse to make Baked Italian Herb Tofu, which had been on my to-make list for a while. I used to buy it, but they stopped selling it locally, which was a bummer. This tofu is simple to make and it's a delicious addition to pasta, sandwiches, and salads. You can bake the slices for 30 minutes, which results in tofu that's soft and golden brown in color, or you can bake them for a full 40 minutes, which makes the tofu browned and chewy.
Instructions
Whisk together the liquid aminos, oil, water, vinegar, garlic powder, herbs, and pepper in a small baking dish. Place the tofu slices in the baking dish and marinate for 30 minutes, turning the slices over after 15 minutes.

Preheat oven to 400ºF. Transfer the tofu slices to a baking sheet that's been lined with parchment paper or sprayed with cooking spray. Rub any remaining marinade onto the tofu and season with a few sprinkles of salt. For softer baked tofu, bake for 30 minutes; for chewier tofu, bake for 40 minutes. Flip the tofu over halfway through cooking time.
Nutrition
Serving:
2
g
Calories:
95
kcal
Carbohydrates:
3
g
Protein:
8
g
Fat:
5
g
Saturated Fat:
1
g
Polyunsaturated Fat:
1
g
Monounsaturated Fat:
3
g
Sodium:
544
mg
Potassium:
173
mg
Fiber:
1
g
Sugar:
1
g
Vitamin A:
6
IU
Vitamin C:
1
mg
Calcium:
39
mg
Iron:
1
mg
Craving more veg-friendly recipes?
Shop our collection of vegetarian and vegan cookbooks, including our new Vegan Thanksgiving and Vegan Christmas cookbooks!