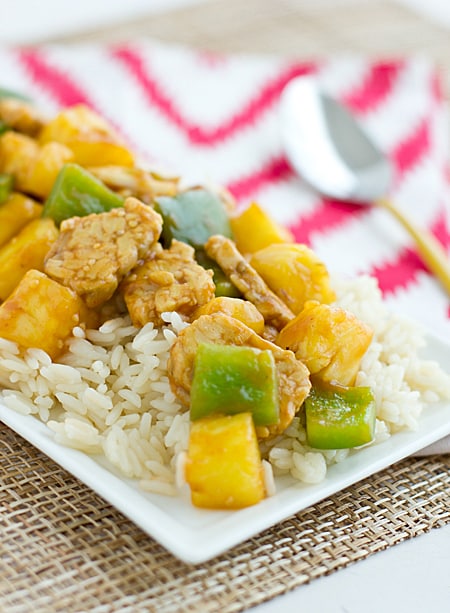 This Vegan Sweet and Sour Tempeh recipe is one of my favorites. It only takes about 20 minutes to make and it's delicious—perfect for Meatless Monday!
The Mid-Aughts
If you've been a vegetarian for a while, maybe you remember that in the mid-aughts, Gardenburger was a really big deal. (Sidenote: Don't you love the word "aught"? It's so old timey.) When it came to vegetarian convenience foods, there was Gardenburger and there was Amy's. But then Gardenburger went bankrupt and they were bought out by Kellogg's and suddenly all the yummy frozen meals were no more. They still make the burgers, but even those aren't in every grocery store like they used to be. And when I can find them, it's only the Original flavor, not any of the others. This makes me sad!
When I had a bunch of pineapple to use, I was brainstorming for ideas and I remembered the Gardenburger Sweet and Sour Pork that I used to buy constantly when I was in school—my favorite part was always the little bits of pineapple. The whole faux pork thing doesn't appeal to me so much anymore, but I still think of that frozen meal once in a while, so I thought I'd try recreating it using tempeh.
About the Recipe
I've written about using tempeh before; for a recipe like this, I like to cut the tempeh into thin pieces so the sauce is fully absorbed. I'm not fond of tempeh's natural flavor and bigger chunks mean the center usually tastes like tempeh. For me, I want the texture of tempeh, but the flavor of the sauce.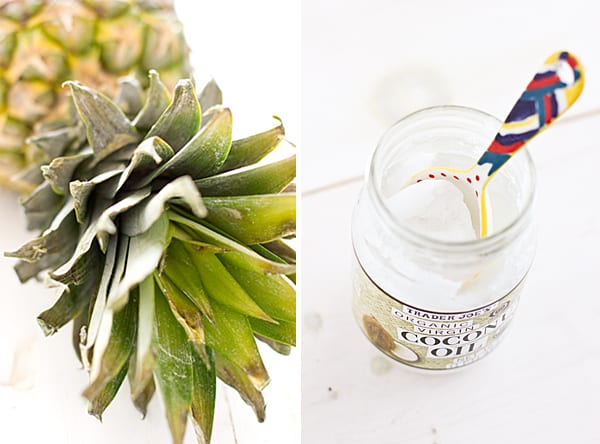 And let's talk about the sauce! The nice thing about making your own sweet and sour sauce is that you can control the sweet-to-sour ratio. I think the default at a lot of restaurants is to error on the side of sweet. I like my sauce on the sweet side too, but not that sweet. I used coconut oil to cook the tempeh, green pepper, and pineapple, which adds a subtle tropical flavor to the dish. I'm not on the "let's add heaping tablespoons of coconut oil to everything we eat!" train (because let's face it, even if it's better than other oils, it's still an oil and it's still high in calories), but I do like substituting it for other oils, especially when I feel the coconut flavor would work well with the other flavors in a recipe.
I was pretty excited about how my Sweet And Sour Tempeh turned out (and Chris was too). Tempeh is way better than fake pork and fresh pineapple chunks beat frozen little bits any day of the week. Although I love all the recipes I post, this one definitely makes my list of favorites for 2013. So I guess what I'm saying is, I think you're going to like it too.
Recipe
Ingredients
2

tbsp

soy sauce

or tamari

1

tbsp

cornstarch

⅓

cup

rice vinegar

¼

cup

ketchup

2

tbsp

brown sugar

½

cup

water

1

tbsp

coconut oil

2

8 oz packages tempeh, quartered and cut into thin strips

1

large green pepper

seeded and diced

2

cups

fresh pineapple chunks

5

cloves

garlic

sliced

cooked white rice

for serving
Instructions
Whisk together soy sauce, cornstarch, rice vinegar, ketchup, brown sugar, and water. Set aside.

Heat coconut oil in a large skillet over medium-high heat. Add tempeh, green pepper, pineapple, and garlic. Cook until just beginning to brown, 5–7 minutes.

Whisk sauce again and add to skillet. Cook until sauce is thickened, 1–2 minutes more, then remove from heat. Serve over rice.
Notes
I like my sauce more sweet than sour, but if you're the opposite, start with one tablespoon of brown sugar and add more, one teaspoon at a time.
Nutrition
Calories:
170
kcal
Carbohydrates:
33
g
Protein:
2
g
Fat:
4
g
Saturated Fat:
3
g
Polyunsaturated Fat:
1
g
Monounsaturated Fat:
1
g
Sodium:
645
mg
Potassium:
291
mg
Fiber:
2
g
Sugar:
27
g
Vitamin A:
247
IU
Vitamin C:
37
mg
Calcium:
41
mg
Iron:
1
mg
Craving more veg-friendly recipes?
Shop our collection of vegetarian and vegan cookbooks, including our new Vegan Thanksgiving and Vegan Christmas cookbooks!