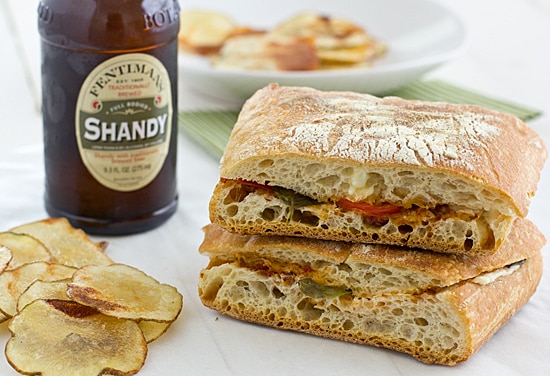 I love Panera's Tomato and Mozzarella Panini so much that I decided to make it myself. This vegetarian recipe comes pretty close to the original!
Things I Can't Stand
There are a lot of universally loved things that I can't stand:
Movies - Yes, that's right, I hate movies. Movies in general. I hate how loud they are. I hate cinematic scores. I hate going to the movies. And sitting in one spot, doing nothing else but watching a movie is just torturous to me.
Greek Yogurt - Stop telling me how thick and creamy it is. I don't care. I will never eat it. "Thick and creamy" does not make up for "sour and fetid."
Greeting Cards - Unless and until someone comes out with a line of cards for emotional cripples like me ("Hey, you're alright. I don't hate you. Cordially, Kiersten"), greeting cards just aren't my bag.
Fresh Tomatoes - Not only do I not like fresh tomatoes, I've never even tried one. I just know I don't like them.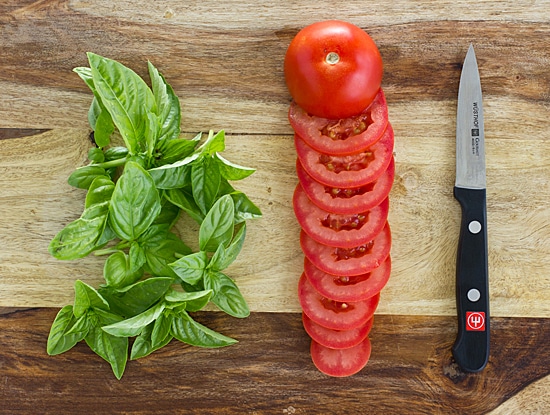 So let's talk about that last one. Fresh tomatoes. You might find it odd that my favorite sandwich at Panera is the Tomato and Mozzarella Panini, considering that it has the dreaded fresh tomatoes on it. But as soon as I get it, I take it apart and carefully pick off the fresh tomatoes before I start eating. And let's be real, it's not like vegetarians have a ton of other options at Panera. So the Tomato and Mozzarella Panini it is.
Unfortunately, we don't have a Panera in our town, so what used to be a fairly frequent lunch stop in between weekend errands has now become a rare occurrence. I started really missing that panini, so I had the brilliant idea of trying to make a copycat recipe, fully knowing that most of my attempts at copycat recipes are unmitigated disasters. But this seemed simple enough!
About the Recipe
The first thing I had to do was deconstruct Panera's Tomato and Mozzarella Panini. What makes it so delicious? Well! There's a tomato pesto spread on the ciabatta bread. Then that's topped with oven-roasted tomatoes and (my hated) fresh tomato slices. There's fresh mozzarella on top of that and a few basil leaves—not many!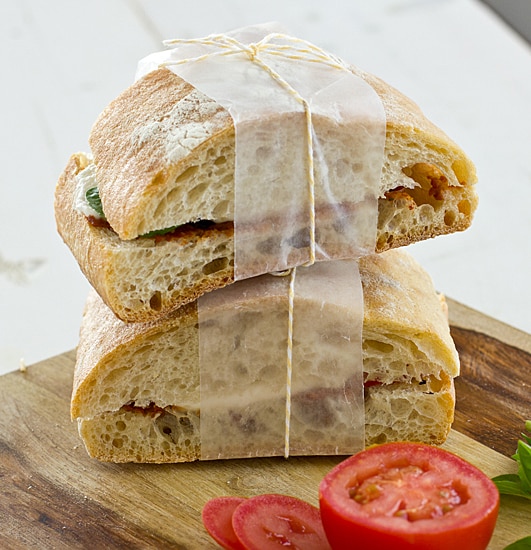 You'll have to make this and tell me what you think, but I kind of think I nailed it. Is it an exact replica of the Panera sandwich? Okay, maybe not. But it's really, really close! Unlike the Panera one, which only comes grilled, you can do this one cold too. If you're a fellow fresh tomato hater (SOLIDARITY!), you can make yours without. And if you love fresh tomatoes, you can add extra. Everyone wins.
Recipe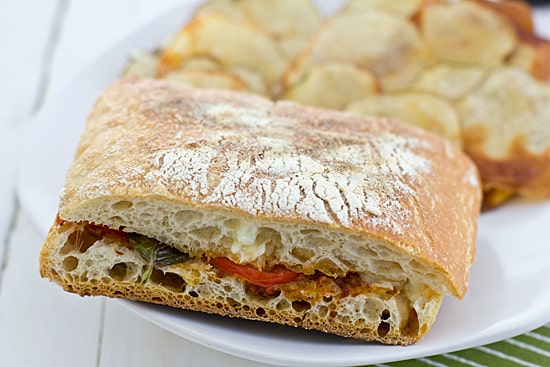 Ingredients
Tomato Pesto
½

cup

sun-dried tomatoes

the kind that come in a jar of oil

1

tbsp

oil from sun-dried tomato jar

2

tbsp

shredded Parmesan cheese

5

basil leaves
Sandwiches
1

large loaf of ciabatta bread

Tomato Pesto

Roasted Tomatoes

1 to

mato

thinly sliced

¼

cup

basil leaves

4

oz

fresh mozzarella cheese

cut into 8 slices

olive oil to brush grill or panini press
Instructions
Roasted Tomatoes
Preheat oven to 400°F.

Place tomato slices on a rimmed baking sheet that's been lined with parchment paper. Drizzle with olive oil and balsamic vinegar, then sprinkle with Italian seasoning, salt, and pepper.

Bake for 20–25 minutes or until softened and beginning to brown.
Tomato Pesto
Combine all ingredients in food processor and process until smooth.
Sandwiches
Cut ciabatta bread into 4 equal sections and then cut each section in half lengthwise. Spread tomato pesto onto the bottom of each ciabatta section. Top with roasted tomatoes, fresh tomatoes, basil leaves, and mozzarella.

Brush grill with olive oil. Place panini onto press and heat until cheese has melted, about 8–10 minutes (depending on the brand and type of press you use).
Nutrition
Calories:
438
kcal
Carbohydrates:
65
g
Protein:
19
g
Fat:
12
g
Saturated Fat:
5
g
Polyunsaturated Fat:
1
g
Monounsaturated Fat:
5
g
Cholesterol:
24
mg
Sodium:
810
mg
Potassium:
696
mg
Fiber:
4
g
Sugar:
8
g
Vitamin A:
964
IU
Vitamin C:
15
mg
Calcium:
202
mg
Iron:
2
mg
Craving more veg-friendly recipes?
Shop our collection of vegetarian and vegan cookbooks, including our new Vegan Thanksgiving and Vegan Christmas cookbooks!
This post was originally published on 2 July 2012.